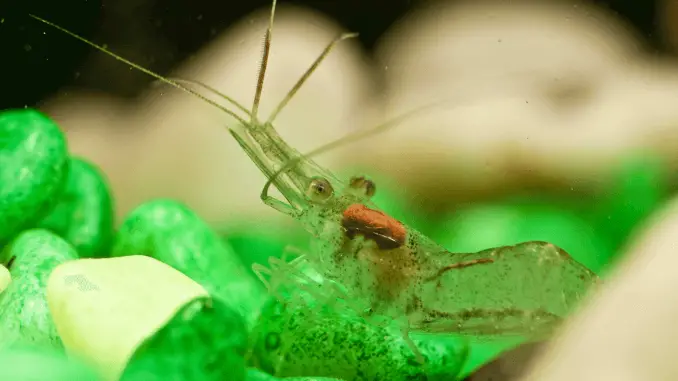 The ghost shrimp is a freshwater shrimp of the Palaemonetes family. This species is small and primarily clear in color, which is why it got its name.
These shrimp are popular among aquarists because the shrimp are easy to care for and act as tank cleaners.
Ghost shrimp make the perfect addition to any tropical community consisting of other small non-aggressive fish.
Ghost Shrimp Facts & Overview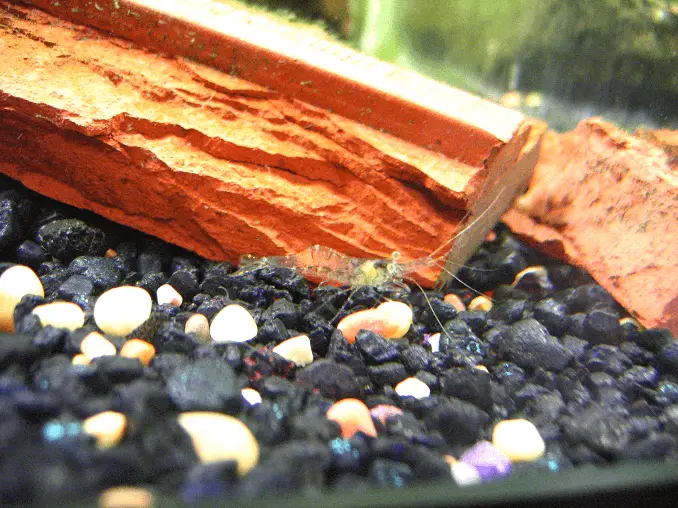 | | |
| --- | --- |
| Scientific Name: | Palaemonetes paludosus |
| Common names: | Ghost shrimp, glass shrimp, eastern glass shrimp |
| Distribution: | North America |
| Size: | 1.5 inches |
| Life expectancy: | One year |
| Color: | clear |
| Diet: | Omnivore |
| Temperament: | Peaceful |
| Minimum tank size: | 5–10 gallons |
| Temperature: | 65–82°F (23–28°C) |
| pH: | 7.0–8.0 |
| Hardness: | 3.0–12.0 dGH |
| Care level: | Easy |
Origin
Although ghost shrimp fossils suggest this crustacean's existence in the Cretaceous and Jurassic periods, these tiny crustaceans were first described in North America in the 1850s.
Ghost shrimp can frequently be seen on sand beaches and coastal regions around the Pacific Ocean.
Adult Size & Life Expectancy
Adult ghost shrimp grow up to 1.5 inches long. Females can grow up to 2 inches long.
A lifespan of only one year means these small shrimp aren't known for their longevity.
Availability
Ghost shrimp are available at most pet stores, especially stores specializing in aquatic creatures. They typically cost $0.50–$3 per shrimp.
You can buy this freshwater species at AquariumFish or Aquariumfishsale.com.
Appearance & Behavior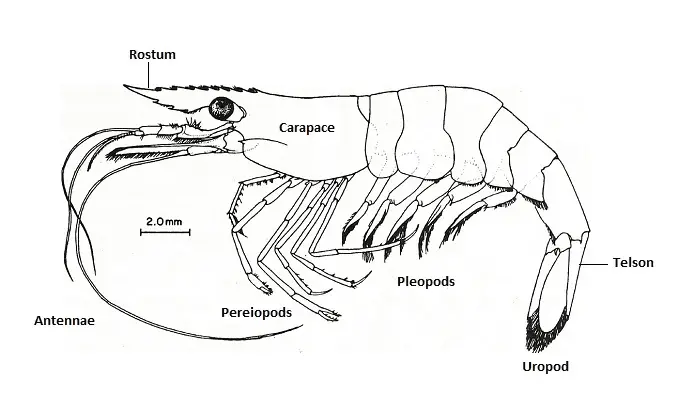 The ghost shrimp's transparent body gives it a quirky appearance — especially since the clear body allows others to see what the shrimp have eaten that day.
This species' peaceful and shy nature makes the ghost shrimp an ideal tank companion for other peaceful species.
Colors, Patterns, and Size
Ghost shrimp are transparent. This unique physical characteristic helps these shrimp avoid predators and makes the species attractive in any aquarium. This species doesn't vary in color, but some ghost shrimp have colored spots on their back. ​​Females develop green markings on their sides when approaching puberty.
Ghost shrimp are small. Females grow up to 2 inches long, but males only grow 1.5 inches. Unlike fish, ghost shrimp don't have fins and use their tails to move.
This species molts regularly, as it grows too large to fit its shell. When these small shrimp shed their shells, they're especially vulnerable until the new shell grows. During this time, keep your ghost shrimp away from any boisterous fish to avoid injury.
Typical Behavior
Ghost shrimp are known for being passive and peaceful, making them the ideal tank mates for busy tanks with many other species.
These shrimp can be found swimming around the middle of the tank or cleaning leftover food and algae from the bottom. They tend to stay active and busy during the day and occasionally burrow in the sand.
While this tranquil species enjoys being in a group, a single shrimp will survive happily on its own.
Ghost Shrimp Tank & Water Requirements
Any aquarist hoping to house a ghost shrimp should ensure the shrimp's tank is consistently warm and has a capacity of at least 5 gallons.
Habitat and Tank Requirements
Ghost shrimp enjoy decorations such as driftwood, rocks, and sand. Only use rounded rocks in the tank, as sharp rocks can injure the shrimp's exoskeleton.
Avoid nitrates accumulating in the tank. To remove nitrates from the tank's water, introduce fast-growing floating and root-feeder plants to the tank.
Avoid plants with sensitive roots, as the shrimp's burrowing habits may damage them.
Water Conditions
The ideal tank conditions for a ghost shrimp should be as follows:
| | |
| --- | --- |
| Water type: | Hard, freshwater |
| Tank size: | Minimum 5 gallons |
| Water temperature: | 68–82ºF |
| Acidity: | 7.0–8.0 pH |
| Water hardness: | 10–15 dGH |
| Water supplements: | Calcium |
The tank conditions for a ghost shrimp should mimic the shrimp's natural habitat — warm freshwater, with a layer of sand at the bottom and a range of plants to enjoy.
Ghost shrimp don't require excessive filtration — purchasing a filter to match the size of your tank is sufficient, and a sponge filter is ideal. The shrimp enjoy swimming in the bubbles created by an air pump.
Avoid creating a current that's too strong, inhibiting your shrimp's ability to swim.
Care & Diet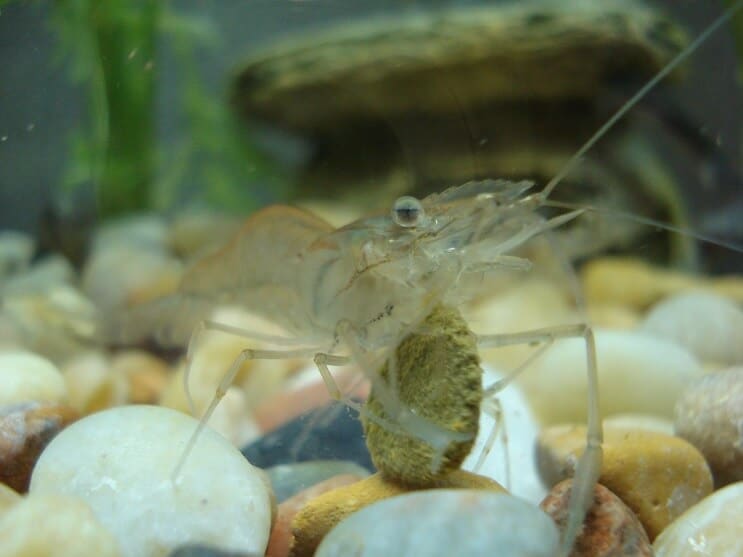 Caring for a ghost shrimp is relatively easy. These shrimp enjoy a varied diet, including algae off the side of their tank.
Ghost shrimp's delicate exoskeleton increases their risk of injury, so keep your shrimp's tank free of sharp decorations.
Diet and Feeding
Feed your ghost shrimp a diet consisting mainly of algae, aquatic plants, larvae, weeds, and pellet foods. It's also worth feeding ghost shrimp calcium supplements to help them form a hard shell.
Due to the shrimp's small size, these crustaceans only require small amounts of food, most of which they can acquire from their tank mates' leftovers. If you keep your ghost shrimp alone or just with tank mates of the same species, you'll need to give them their own food.
The amount of food the shrimp require depends on how much algae is in the tank. The more algae there is, the less you'll need to feed them.
A group of four shrimp needs feeding once every other day, and just one ghost shrimp only requires food once every few days. This species' scavenging nature means you don't need to be too strict with its feeding routine.
General Care
Caring for ghost shrimp is straightforward because of their lack of stringent feeding needs, relatively small tank size requirement, and peaceful nature.
Supplement your ghost shrimp's food and water with calcium to keep their shell strong. Bright lights and access to hiding places within the tank will keep this species entertained.
Common Problems
Ghost shrimp react negatively to improper water conditions, such as pH outside of the 7–8 range, or the presence of ammonia in the tank. The shrimp are also particularly susceptible to the vorticella parasite and several bacterial infections.
Vorticella is a parasite that appears as a white fungus on the ghost shrimp's tail and the tip of their nose. This parasite may cause a loss of appetite and energy in ghost shrimp and can be treated with aquarium salt and a good filter.
Bacterial infections will appear as a pink, swollen spot on a ghost shrimp's body. Unfortunately, bacterial infections are usually fatal for ghost shrimp, so the best course of action is to separate the infected shrimp from their tank mates to stop the infection from spreading.
Is a Ghost Shrimp Dangerous?
Ghost shrimp are not considered dangerous. However, aquarists should avoid keeping too many of these shrimp in a tank together, because the species can become aggressive and attack its tank mates when it has to fight for space.
Tank Mates
Ghost shrimp make ideal tank mates for small, calm, bottom-dwelling fish, due to both species' shy and non-aggressive natures.
These tiny crustaceans' size makes them vulnerable to being eaten, so avoid pairing them with large predators.
Ideal tank mates for ghost shrimp include:
Lifespan and Molting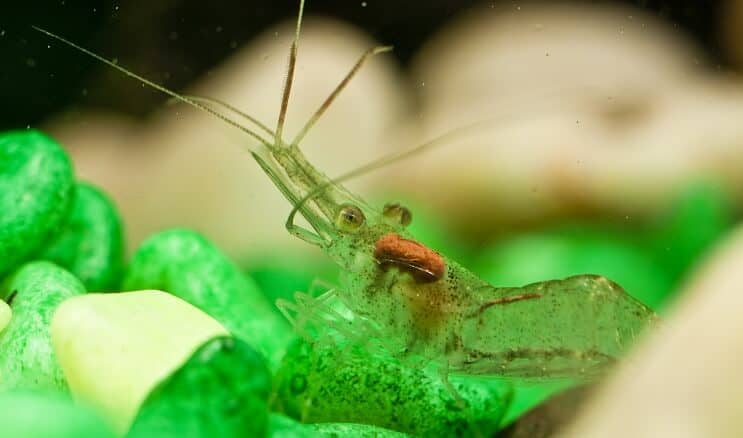 Ghost shrimp live for around a year, but this can vary depending on the individual and the place of origin.
Because they are so cheap and easy to breed, these shrimp are often used as feeder fish for larger species in the home aquarium, and as a result, are often kept in high densities with poor filtration.
This makes them more likely to die during transport and increases their mortality rate. It is common for some individuals to die a few days into life in their new tank, even if the tank is perfectly healthy.
Although their lives are short, ghost shrimp molt regularly as they eat and grow, becoming too large for their previous shell. This can become fairly frequent. It all depends on how much they eat and how fast they grow.
Once ghost shrimp have shed their old shell, they will be particularly vulnerable until their new shell hardens. While you don't need to worry too much during this time, don't be surprised if your ghost shrimp takes damage through rough behavior from boisterous fish.
Ensure that your tank has crevices and plants for molting shrimp to hide in.
When you see a molted shell sitting on the sediment, it's natural to panic and assume it's a dead shrimp. However, upon closer inspection, the hollow interior of the husk should clearly identify it as a discarded exterior.
When your ghost shrimp sheds its shell, you don't need to remove it from the aquarium immediately because it will usually become food for other shrimp in the tank.
Breeding
Ghost shrimp are easy to breed provided they're kept in a healthy environment without predators. For an optimal chance of breeding, stock the tank with twice as many females as males. You can establish which shrimp are female by their larger size and green saddle, located under their bodies.
To simulate the shrimps' warmer mating months and encourage breeding, raise the tank's temperature to around 80°F. After a few weeks, the females will produce eggs, which will appear as green dots around their legs.
Allow a few days for the males to fertilize them. Having high levels of calcium in the tank will improve the chance of these eggs maturing.
Once the eggs are fertilized, move the females to a different tank to allow the young to hatch, as ghost shrimp have been known to eat their own young.
The babies' environment should match the main tank, with a thin layer of sand and some smooth decorations. Adding a robust sponge filter to the tank will ensure none of the young get sucked into the aquarium's equipment. Feed the baby shrimp small amounts of particle food until they grow legs, at which point you can feed them the same diet as an adult ghost shrimp.
Shrimp are fully grown at five weeks old, at which point you can move them back to the main tank with their parents.
Should You Get a Ghost Shrimp for Your Aquarium?
If you're looking for a crustacean with a unique appearance and peaceful nature, a ghost shrimp is ideal. These tiny shrimp will not only entertain you with their energetic antics, but they'll also keep the tank clean and free from algae.
The ghost shrimp's small size and ability to get along with tank mates make this crustacean a fascinating addition to any aquarist's tank.
Ghost Shrimp FAQs