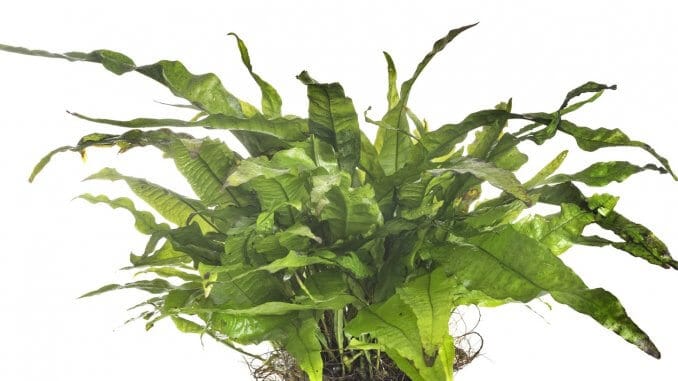 Java fern is a freshwater plant species that is used as a midground plant in aquariums. This green aquarium plant is a member of the Polypodiaceae family, which includes more than 60 different genera.
Java fern is green in color with a leathery texture and grows approximately 14 inches tall. The plant is popular with aquarists because it's affordable and resilient.
Java Fern Facts & Overview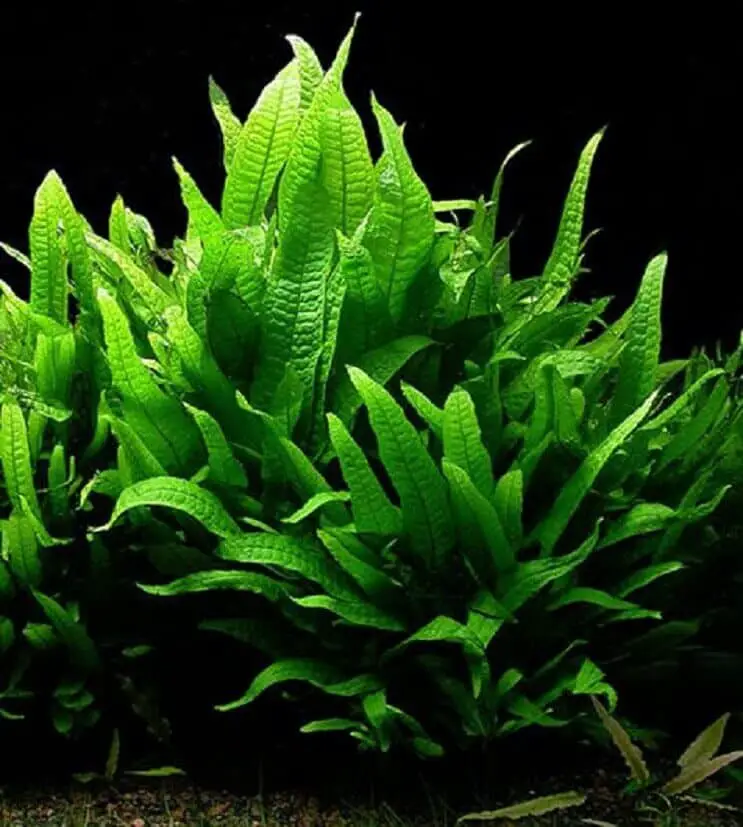 | | |
| --- | --- |
| Scientific name: | Microsorum pteropus |
| Common names: | Java fern |
| Origin: | Southeast Asia |
| Height: | 12–14 inches |
| Growth rate: | Slow (1 inch per month) |
| Color: | Green |
| Aquarium placement: | Midground |
| Water type: | Freshwater |
| Temperature: | 68–80°F (20–26°C) |
| pH: | 6.0–7.5 |
Distribution
The Java fern is native to the tropical jungles of Southeast Asia, where it grows on rocks and near waterfalls, and is often submerged partially or entirely underwater.
Availability
Java ferns are available at most pet stores that sell aquarium plants. They typically cost $4 to $9 depending on size.
You can buy this freshwater plant at AquariumCoop or AquariumFish.
Appearance & Size
The Java fern is a green, leafy plant made up of two main components — the rhizome and the leaves. A rhizome is a group of thin brown stalks that act as a stem for the fern by attaching themselves to surfaces.
This plant's main attraction is its lush green leaves, which come in several shapes and colors. The leaves are long, slender, and can grow thickly, giving the fern a bushy appearance.
These plants grow slowly, at a rate of around one inch per month. When fully grown, you can expect your fern to reach a height of 13–14 inches. As it matures, its leaves sometimes develop dark brown bumps.
There are some rare types of Java fern that differ in appearance from the most common variant:
Narrow-leaf Java fern — This variant has narrow leaves which grow at a steep angle. Narrow-leaf Java ferns typically grow to be 12 inches tall.
Windelov Java fern — With a typical height of 8 inches, Windelov Java ferns are smaller than the common variant. The leaves of this variant split into three smaller leaves, creating a fork-like effect.
Needle leaf Java fern — The needle leaf fern has even thinner leaves than the narrow leaf variety. This rare variant grows to be only 6 inches tall.
Trident Java fern — This is one of the rarer variants with its unique feathery, lobed leaves. This variant is shorter than the narrow leaf fern, but it grows more quickly.
Benefits of Java Fern in Aquariums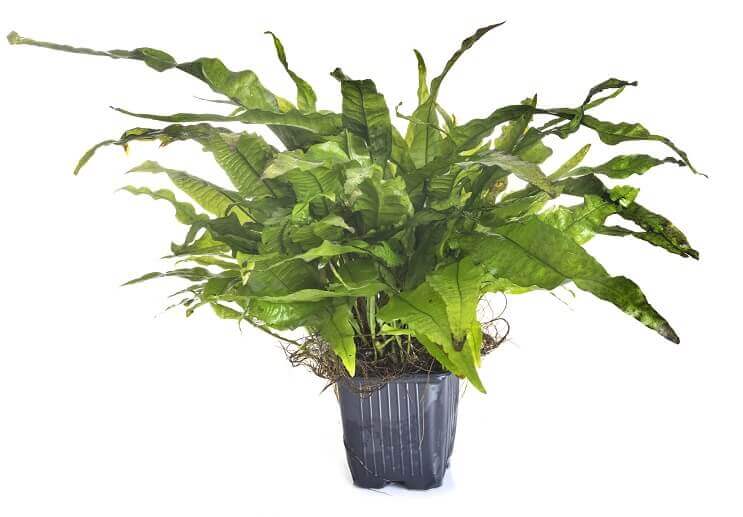 Java ferns absorb carbon dioxide from the water, making them a beneficial addition to any tank. This plant also requires minimal lighting, which reduces the likelihood of algae growing in the tank, and the plant's leaves provide a great hiding place for small shy fish.
Compatible Tank Mates
Due to its robust nature, the Java fern is compatible with a huge variety of fish, including fish that are prone to damaging sensitive plants. If you plan to keep your fern in a tank with aggressive fish, plant it firmly on large rocks or driftwood to avoid accidental tipping.
Suitable tank mates for Java ferns include:
They are compatible with most other freshwater plants, so adding one of these ferns to your aquarium doesn't require much consideration.
Java Fern Tank Conditions & Requirements

Java ferns are easy to care for because they have minimal requirements and are resilient in nature. In the wild, you'll typically find them in shady areas, so the plants require similar low-lighting conditions in the tank.
They don't require substrates such as gravel or sand, making them ideal for bare-bottom tanks. If you include substrate in the tank, don't bury your fern in it, because doing so will rot the plant. Instead, grow your fern on a rock or piece of driftwood.
Tank Requirements
Java ferns are jungle plants, so they prefer tank conditions that mimic a similar shady, humid environment.
These plants thrive on the jungle floor where the water is soft and acidic, so keep the tank's pH, temperature, and lighting similar to that of a damp and shady tropical forest. These freshwater plants will survive most conditions, but excess light can damage their leaves.
Tank Conditions
Java fern tank conditions should be as follows:
| | |
| --- | --- |
| Water type: | Freshwater |
| Tank size: | Minimum 10 gallons |
| Water temperature: | 68–80ºF |
| Required substrate: | None |
| Tank placement: | Midground or background |
| Acidity: | pH level 6.0–7.5 |
| Water hardness: | 3–8 dGH |
| Filter: | Any filters can be used with Java ferns |
| Light type & strength: | Subdued fluorescent |
| Hours of light: | Six hours per day |
While Java ferns are resilient and can grow in cold water, they prefer to be kept in a tank with warm water.
Tank Placement & Aquascaping
Java ferns decorate best in the mid-ground or background of the tank. Having a large fern at the front of your tank can obscure the view of fish or decorations.
These plants can grow to be bushy, so if you're planting a few ferns in one tank, plant them far apart from each other.
How to Plant Java Fern in the Aquarium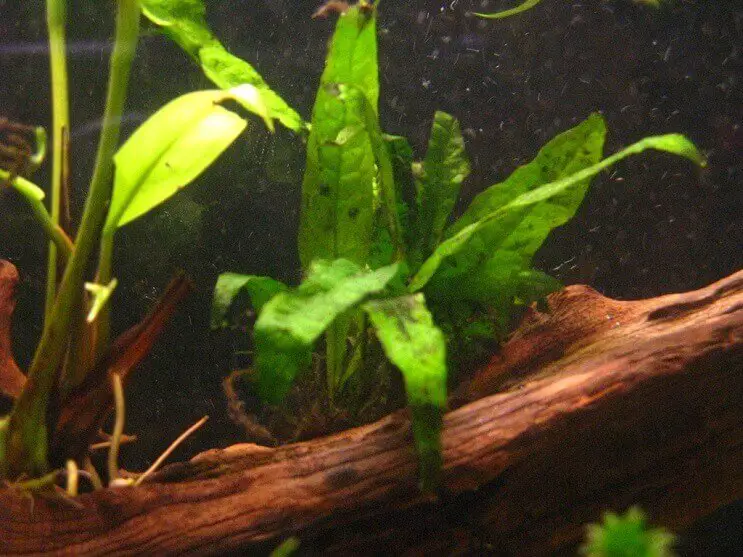 In order to safely introduce a Java fern to your aquarium, you must first quarantine the plant to ensure it is free of any pests and chemicals that could harm your fish.
Follow these steps to quarantine the plant:
Remove any dead or dying leaves.
Wear disposable gloves and mix one part unscented bleach with twenty parts water, then submerge your plant into the mix for up to 150 seconds.
Rinse the plant thoroughly for a couple of minutes before introducing it to a quarantine tank.
Your fern should stay in the quarantine tank for three to four weeks before being moved to the aquarium with other fish and plants.
To plant your Java fern in the main tank, put the plant near driftwood or rocks so it can attach itself to its preferred location. If you want to plant the fern on a particular rock or piece of wood, tie the plant there using a cable tie until it attaches itself.
Alternatively, simply place the fern in the tank and it will eventually find its own piece of wood or rock to attach to. Avoid burying the fern's rhizome under sand or gravel because it will rot.
Java Fern Care & Growing Guide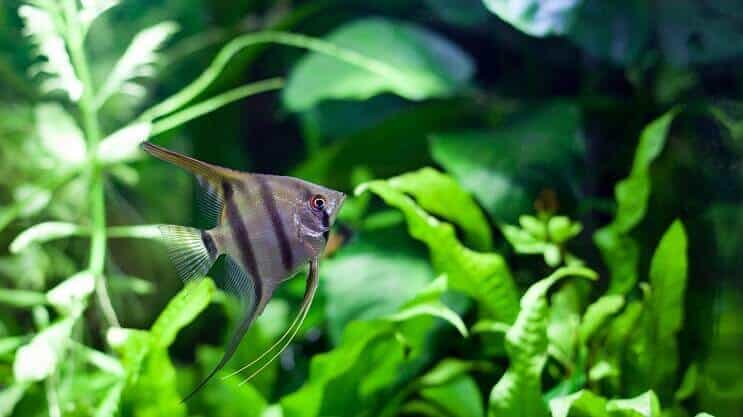 Java ferns' hardy nature makes them easy to care for and virtually unkillable when kept in the right conditions.
Nutrition
The Java fern's ability to draw nutrients from the water through its leaves means it doesn't require fertilizer. However, if you want to encourage quicker growth, introduce a liquid fertilizer to the tank during water changes.
While CO2 isn't necessary for Java fern growth, adding it to the tank will speed up the plant's growth.
Maintenance
Avoid planting a Java fern in substrates such as gravel and rocks because doing so will rot the rhizome. You can tell if the rhizome is rotting when the Java fern turns brown.
Aquarists sometimes mistake black spots on the fern's leaves as a disease when in fact, this is where the fern's sprouts bud. However, if the black spots don't grow new ferns after a few weeks, the black spots could indicate burns, so reduce the lighting level in the tank.
Java fern melt is another common problem that these plants face. Symptoms of melt include large brown spots that cause the fern to turn mushy. Melt typically occurs as a result of too much light or excessive algae in the tank. To treat melt, snip off the affected leaves and improve the tank lighting and algae conditions until the plant's health improves. Fertilizer can help, too.
These plants don't require regular pruning, but you can trim the fern occasionally if it grows too large for the tank.
To trim your fern, start by lowering the water level so you can reach the plant. Then remove any dead leaves using sharp scissors. You can then trim larger leaves and any small shoots to manage the fern's growth.
How to Propagate Java Fern
Java fern propagation is relatively simple and doesn't require special conditions.
Propagate your fern with one of the following two methods:
Cut off a section of the rhizome with a few plants attached, and replant it. The separate plants will then grow if tied down to a spot in the tank
Wait for the plant to develop tiny black spots on its leaves. These are tiny java ferns. Once they start to sprout, cut the tiny ferns off the leaves and plant them elsewhere in the tank
Should You Get a Java Fern for Your Aquarium?
Java ferns have minimal lighting and substrate requirements, so any budding fern owner simply needs a 10-gallon tank with a suitable water temperature.
This freshwater plant will remove carbon dioxide from the water and look attractive while doing so, making it the ideal addition to any aquarist's tank.
If you've struggled to look after aquarium plants in the past, a Java fern could be the easy plant you're looking for. Even plant veterans benefit from keeping this unique, colorful plant alongside other freshwater species.
Java Fern FAQs