Does anyone else think of Dr. Suess's "one fish, two fish, red fish, blue fish" when they look at their betta? We bet you probably want a name better than one, two, red, or blue.
Since they are well known for their bright colors, fancy fins, and independent lifestyles, we have crafted a list of good pet names.
Royalty, cool, funny, color-based, and much more! We have come up with over 160 names just so you can find the best fit for your new Betta fish.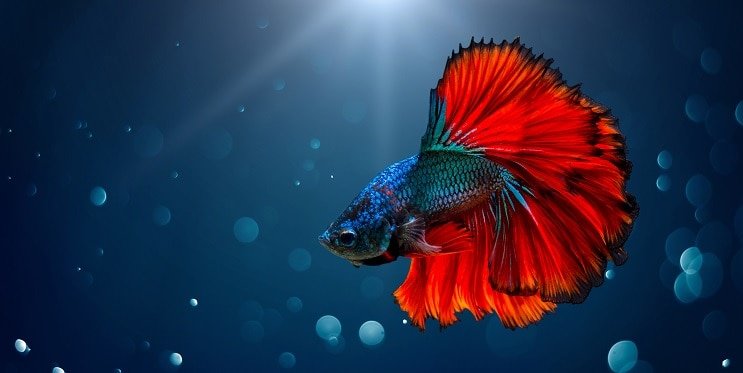 Male Betta Fish Names
Just like your Betta deserves a proper tank set up; they also deserve a name to match their personality.
Male Betta's tend to carry the same masculinity that men do: if you put two of these masculine fighters together, they are sure to get super competitive and feisty.
| | | |
| --- | --- | --- |
| Bruno | Leif | Nigel |
| Shiloh | Marino | Ernie |
| Zeus | Moses | Jedrek |
| Darius | Ortun | Hungry |
| Albert | Tao | Morado |
| Anchor | Thistle | Barnaby |
| Bay | Gentian | Akira |
| Caspian | Spike | Gusti |
| Kai | Clint | Kumar |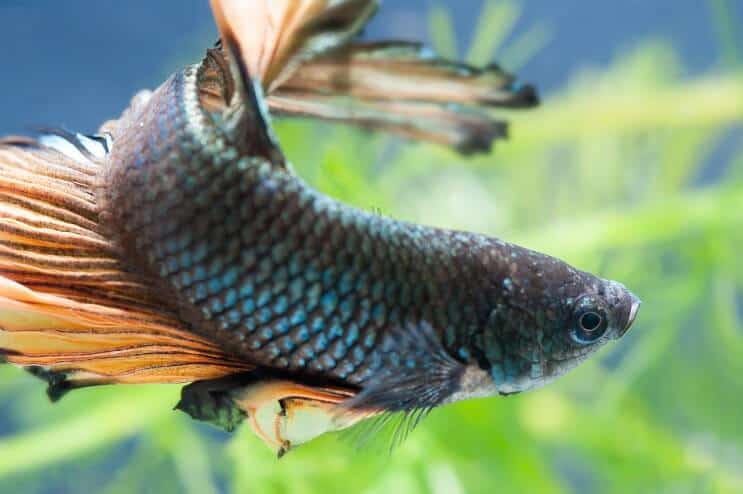 Female Betta Fish Names
Some female Betta fish have less vibrant coloring and less elaborate features compared to the males.
Nonetheless, even if her fins are not as long or her colors are not as flamboyant, that doesn't mean she doesn't deserve a beautiful name.
| | | |
| --- | --- | --- |
| Celeste | Nerissa | Uma |
| Aiza | Pearl | Tabitha |
| Aoi | Sela | Ambar |
| Coral | Donatella | Luna |
| Cordelia | Indira | Violet |
| Doris | Sarnai | Aurora |
| Isla | Ratu | |
| Marina | Saki | |
Names for Betta Fish
Veiltail
Not only does Veiltail sound ridiculously cool, but it is also one of the most common tail types of Betta fish. It is a name that rhymes and directly embodies your little fish's key feature.
Crown
This name is inspired by the popular Crowntail Betta fish. These Bettas have spiky fins around their crown. Make your swimming pal a member of royalty with this clever and classic name.
Comb/Comby
Perhaps this choice is rather odd at first glance; you might not think about the object you detangle your hair with when naming your little fish. However, do consider it if you have adopted a Combtail Betta – it is fitting, cute, and to the point.
Double Trouble
If you have a Doubletail swimming around your fish tank, this could be a great name. Double tails are a unique Beta fish, so you should embrace their special tails.
Spadetail
Keeping the word tail at the end makes Spadetail sound even more electric than simply Spade. Feel free to use either name, but it is worth consideration for your spade-finned fish.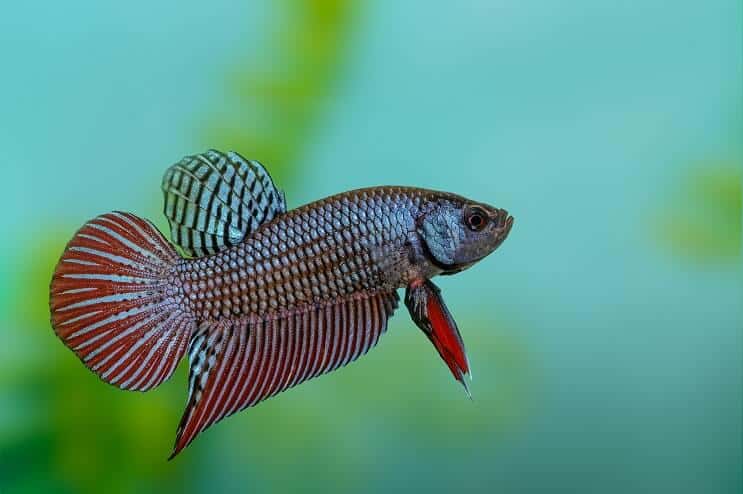 Halfmoon
As one of the most desired Betta fish, the Halfmoon deserves its tail type to be its name. With a strikingly large tail, flaring with a fin fan of about 180 degrees; this one is a show stopper.
Delta
What is the need in naming your fish Alpha when you have got a beautiful Delta? The Delta's distinct feature tail widens near the tip of the fin and accentuates their triangular shape.
Half-sun
With a tail type that is a hybrid of the Crowntail and Halfmoon, what better way than to name your fish after its type?
Rosetail
To make the name more feminine, you could stick to just Rose, but to add a masculine flair, Rosetail is ideal. The tail is a rose-like style because it has extravagant branching that overlaps on the rays of its fins.
Feathertail
Think of your Feathertail like a Rosetail with mascara – the feathertail has a lot of similarities, except it is much more voluminous with extra ruffling.
Plakat
The plakat betta is also known as the shortfin betta. Just because your betta has a shorter tail than the rest, does not mean it is any less mighty!
Dumbo
These fish are called Dumbo Ears or Elephant Ears because they have large pectoral fins, mimicking the shape of abnormally sized ears. There is no better way to name your big-eared Betta than to reference one of Disney's most beloved characters.
Cardinal
Like the color red, but better. It is not uncommon to name your fish after its vibrant colors – after all, it is one of their most distinctive features. We do not think you need to settle for the generic word red, so the name 'cardinal' is both quintessential and original.
Azure
Like the color blue, but better. Azure will capture your blue Betta's shade range and its eccentric features. This name is just as vibrant and as magnificent as your new pet's flowing fins.
Blue Betta Fish Names
We know how tempting a color-coordinated name truly is.
One of the most fun ways to name your blue fish is to use the word blue translated in another language.
| | | |
| --- | --- | --- |
| Bleu | Aquamarine | Sea |
| Blauw | Midnight | Ocean |
| Asul | Sapphire | Iris |
| Modrý | Indigo | Neptune |
| Polū | Turquoise | Topaz |
| Periwinkle | Sky | Blueberry |
| Baby Blue | Cloud | Zir |
Red Betta Fish Names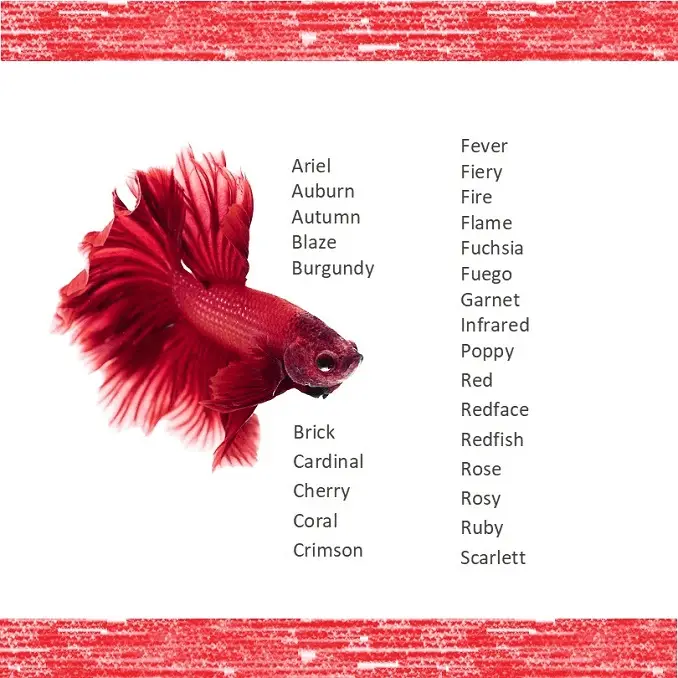 Can't relate to the Betta Blue? Maybe you have a Betta with a bit more fire, a bit more feistiness, and a whole lot more red.
Whether it is a Crowntail, Delta, or Veiltail, we are ready for the challenge. Here are some of the most popular names for your red Betta fish.
| | | |
| --- | --- | --- |
| Rouge | Auburn | Fuego |
| Rood | Venetian | Cherry |
| Pula | Rosewood | Chili |
| Rooi | Scarlet | Velvet |
| Ula(ʻula) | Rufous | Garnet |
| Crimson | Flame | |
| Cerise | Ruby | |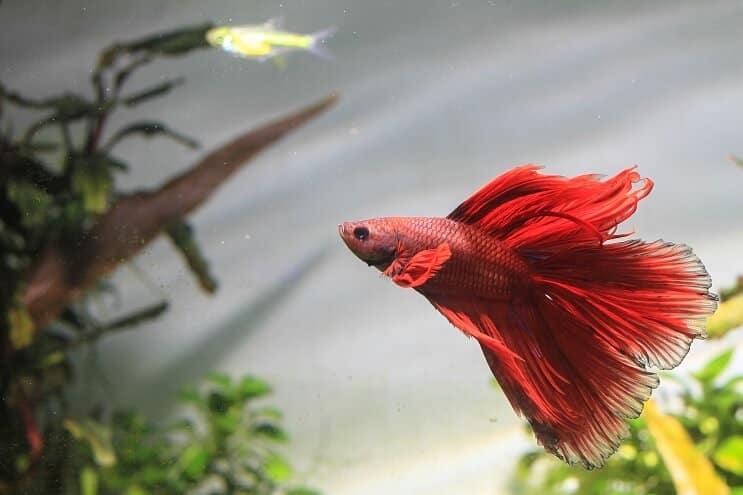 Cool Betta Fish Names
So your Betta is not like the rest – we get it, your Betta is just as cool as you! So how about a really cool name to match?
Your Betta fish will have a lifespan of around 3 years, so you really should take your time choosing the perfect name.
If you have a Crowntail, it could be a cool idea to name him or her after some famous royalty.
Queen Elizabeth
Queen Victoria
Princess Pingyang
Alexander the Great
Genghis Khan
King Arthur
Damask
Eden
Sunsprite
Lunar
Moonlight
If you don't want to name your Betta after their cool tail shape, how about some generally cool Betta fish names?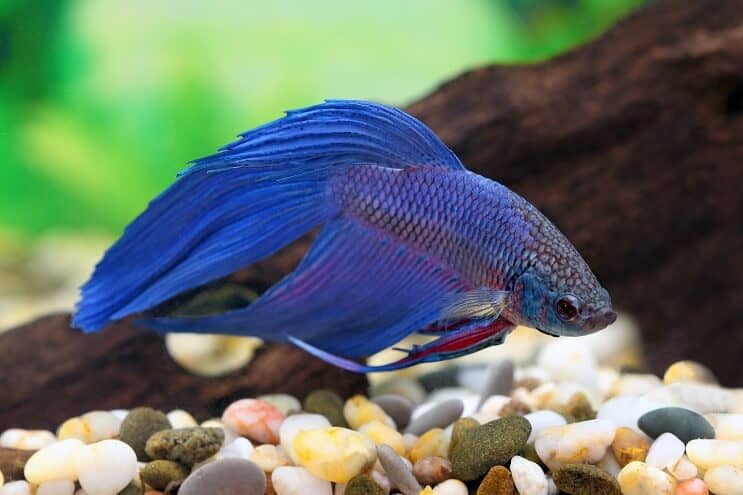 Electric
Warrior
Nemo
Dory
Crush
Marlin
Lola
Lenny
Funny Betta Fish Names
Betta, betta, betta, rockin' everywhere! Hopefully, you laughed and sang the song in your head; but if not, that's okay, we are sure to make you chuckle at some of these unavoidably laughable and witty Betta names.
We are so sure you will find the funniest fish names here, even your Betta will giggle too!
Blueface
John Cena
Rhythm and Blue
Ice Cube
Sasha Banks
Bowie
Swedish
Chyna
DJ Slime
Mr. Miyagi
Ronda Rousey
Gill-bert
Karate Kid
Muhammad Ali
Gill-ty
Sumo
Floyd Mayweather
Clownfish
Swim Shady
Mike Tyson
Magikarp
Moby Dick
Laila Ali
Salmon and Gill-funkle
Hulk Hogan
Christy Martin
The Undertaker
Lucia Rijker
Unique Betta Fish Names
Your fish is really unique and we want to make sure, that its eccentric essence is captured by one of these names:
Ivy: Can mean faithfulness – if you think you have the most trustworthy Betta around, this might be a top choice.
Rosaleen: In Irish, it is known to mean "little rose". Perhaps your little red Betta is your own little rose.
Keva: Often known to mean gentle, beautiful, and precious.
Jacintha: The Greek meaning of the name is "beautiful".
Fayre: Also has an origin meaning beautiful.
Belinda: Derived from Italian, meaning beautiful or pretty.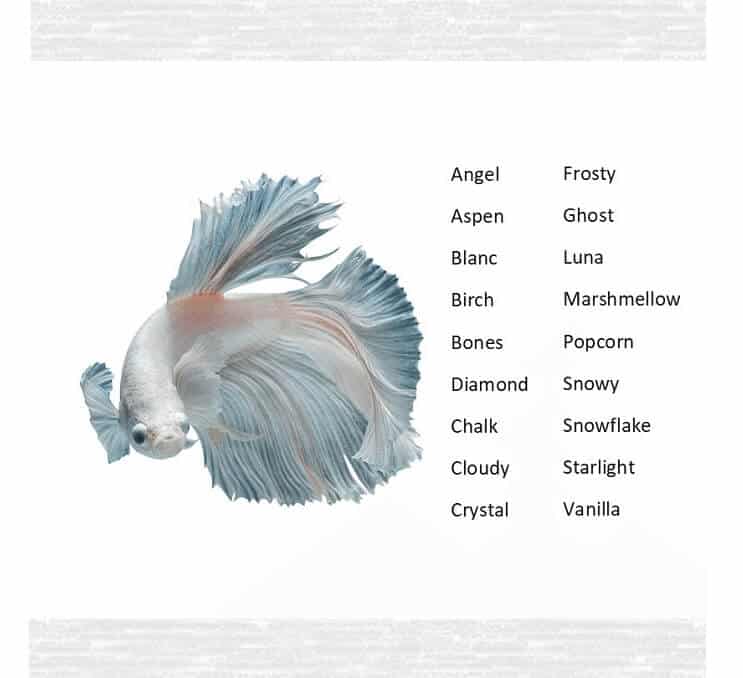 Tazanna: Derived from Native American language, meaning princess.
Orabelle: Meaning beautiful seacoast.
Scout: A lookout; your personal, tiny bodyguard.
Bo: A Chinese name that means "precious".
Afia: This name just sounded appealing and if your favorite day of the week is Friday then your little finned-friend can remind you of this. Afia means 'born on Friday' in Ghanaian.
Ekon: Most commonly means strength.
Bubba: An affectionate term for a sibling (usually a brother).
Summary
As a beautifully distinctive pet fish, the Betta really does deserve a name that captures all of its special qualities.
It is a difficult task to come up with a name for your new little pet. We know that along with the many responsibilities your little friend will require, such as choosing a tank, one of the most exciting responsibilities is choosing their name.
Whether your Betta is a male or female, a joke master, blue, red, or unique, we hope we have made this process swimmingly simple, enjoyable, and informative.
Comment below your favorite names from the list or any names that you think would be a good addition that we may have left out…