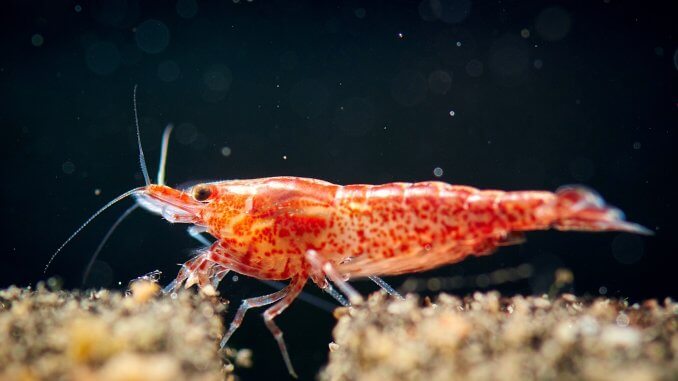 The cherry shrimp is a freshwater shrimp of the Atyidae family. These shrimp are graded by their color. There are five color grades available: standard cherry shrimp, sakura cherry shrimp, fire red cherry shrimp (in low and high grades), and painted fire red cherry shrimp.
Regardless of their grading, cherry shrimp are small, vibrant invertebrates that are easy to care for. The shrimp are popular among aquarists due to their affordability and their tank-cleaning habits.
Cherry Shrimp Facts & Overview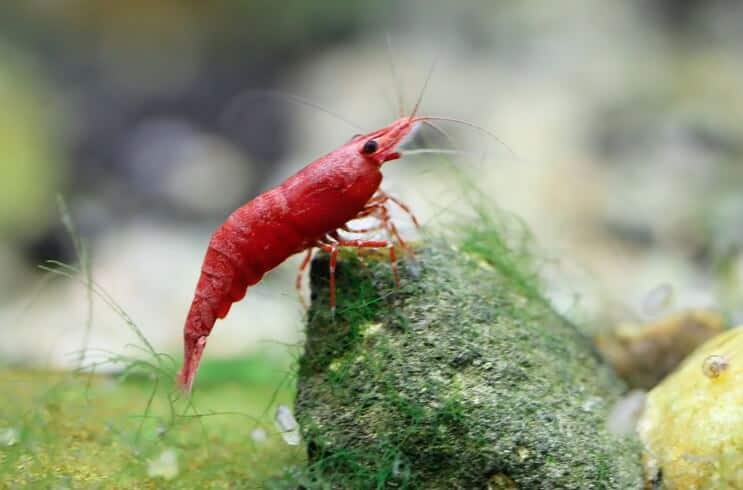 | | |
| --- | --- |
| Scientific name: | Neocaridina davidi |
| Common names: | Cherry shrimp, red cherry shrimp, cherry red shrimp, fire cherry shrimp, fire shrimp |
| Distribution: | Taiwan |
| Size: | 1.5 inches |
| Life expectancy: | 1–2 years |
| Color: | Various shades of red |
| Diet: | Omnivore |
| Temperament: | Peaceful |
| Minimum tank size: | 5 gallons |
| Temperature: | 65–85°F (23–29°C) |
| pH: | 6.5–8.0 |
| Hardness: | 4.0–14.0 dGH |
| Care level: | Easy |
Origin
Wild cherry shrimp originate in Taiwan, where they're still commonly found today. The shrimp's natural environment is rocky streams and ponds with dense vegetation.
Adult Size & Lifespan
Adult cherry shrimp grow up to 1.5 inches long. Males are smaller than females and grow to about 1 inch in length.
The average lifespan of a cherry shrimp is 1–2 years. Most of these shrimp only live up to 1 year because they struggle to thrive during changes to their environment, such as fluctuating water conditions.
Availability
Cherry shrimp are widely available in pet stores. With that said, the biggest selection of cherry shrimp is online.
You can find cherry shrimp in the following reputable fish stores:
The cost of a cherry shrimp depends on the shrimp's grading. Standard cherry shrimp are the cheapest, costing between $1.50 and $3 per shrimp. High grades of cherry shrimp cost up to $8 per shrimp. Commonly, stores sell cherry shrimp in groups of 3, 6, 12, or more.
Appearance & Behavior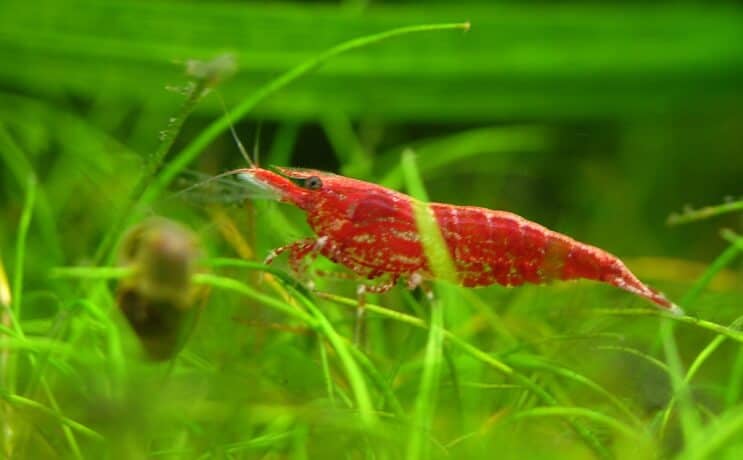 Cherry shrimp are small shrimp in various shades of red. These shrimp are easygoing but nervous. This species of invertebrates spends most of its time scavenging in the bottom of the tank.
Colors, Patterns, and Size
Cherry shrimp have a distinctive shrimp-shaped head, with a pointy rostrum (nose) and four antennae — one pair longer than the other. The shrimp have eyes that protrude on stalks on either side of the rostrum. The species also has three pairs of short legs beneath the mouth that help the shrimp scavenge for food.
The cherry shrimp's abdomen has six overlapping shell segments as a covering and five pairs of legs for swimming.
Cherry shrimp come in a range of reddish colors, and are graded based on their vibrancy:
Standard cherry shrimp — are pale or transparent with red markings
Sakura grade cherry shrimp — have more red coloring on their bodies than standard cherry shrimp, but still have clear patches
Fire red low-grade cherry shrimp — are almost entirely red
Fire red high-grade cherry shrimp — are completely red
Painted fire red cherry shrimp — are solid red, with full coverage of color that includes their legs
Aquarists also selectively breed cherry shrimp to produce other color morphs, including blue velvet, green jade, yellow sakura, chocolate, and orange sakura shrimp.
Females have bolder coloring and are larger than males. When the shrimp reach sexual maturity, females develop egg-holding saddles on their stomachs. When stressed, cherry shrimp become paler than usual. The shrimp lose pigment as they age.
Typical Behavior
Cherry shrimp are shy and peacefully inhabit the lower region of the tank. These shrimp are most comfortable in groups of at least four.
The species is known to hide in caves and behind plants for the first few weeks after being introduced to a new tank. These shrimp should eventually feel comfortable enough to explore their surroundings in daylight. Cherry shrimp enjoy eating algae from the walls, rocks, and other surfaces in the tank.
Cherry Shrimp Tank & Water Requirements
The habitat for a cherry shrimp should include a warm, well-established tank with plenty of plants, crevices, and moss. The tank should be at least 10 gallons in size.
Habitat and Tank Requirements
Mimic the cherry shrimp's natural habitat as closely as possible with a pebbly substrate and driftwood for the shrimp to eat algae off of.
Java moss is a great moss to use in a cherry shrimp tank because the moss provides an ideal hiding space for shrimp. Other live aquarium plants, like java fern and anubias, provide good cover for the shrimp when molting. Plants also collect biofilm which is a nutritious food source.
Cherry shrimp don't have specific lighting requirements, so tank lighting can be tailored toward healthy plant growth.
The shrimp don't need a resting spot to breathe air above the water as long as the water's oxygen levels are adequate.
Water Conditions
Ideal tank conditions for cherry shrimp are:
| | |
| --- | --- |
| Water type: | Slightly soft, acidic, well-oxygenated freshwater |
| Tank size: | Minimum 10 gallons, or 2–5 shrimp per gallon |
| Water temperature: | 65–85°F (23–29°C) |
| Substrate: | Fine pebbles |
| Tank setup: | Lots of plants, driftwood |
| Acidity: | 6.5–8.0 pH |
| Water hardness: | 4.0–14.0 dGH |
| Filter: | Yes. Cherry shrimp are sensitive to nitrite and ammonia spikes, so a strong filter is required to maintain clean water. Sponge filters are safest for shrimp |
| Lighting: | Not necessary if natural lighting is available, although lighting can be used for plant growth |
| Water heater: | Yes, to maintain a warm water temperature in the tank |
| Bubbler: | Yes. A bubbler oxygenates the water, which the shrimp need to survive |
Cherry shrimp become easily stressed if they're housed in changing water conditions. It's essential to maintain consistently clean, soft, and oxygenated fresh water in the tank.
Care & Diet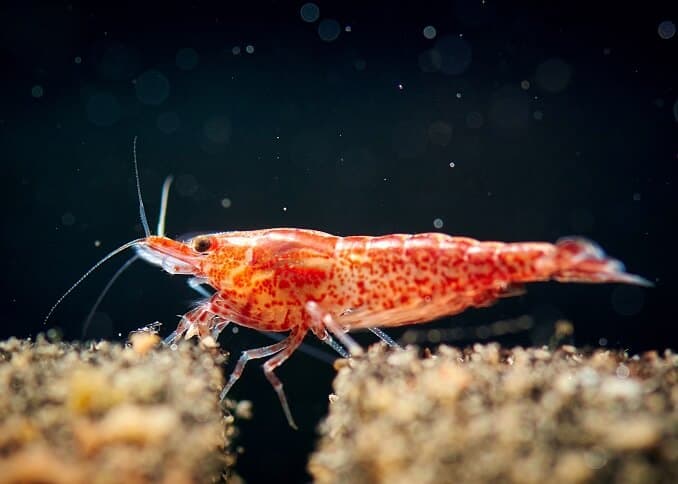 Caring for cherry shrimp is easy. These invertebrates eat a diet of algae and tiny microorganisms. Common issues affecting cherry shrimp are molting problems, shell diseases, and parasites.
Diet and Feeding
In the wild, cherry shrimp are scavengers that feed on whatever they can find, such as plant matter and microorganisms. The shrimp are omnivores and are happy to eat most foods that they can fit in their mouths.
Feed cherry shrimp a diet of shrimp pellets, algae wafers, and blanched vegetables in captivity. These shrimp are tiny and should only be fed a small pinch of food two or three times per week. Remove leftover food two hours after feeding the shrimp to prevent it from polluting the tank.
Cherry shrimp enjoy eating algae off the walls and surfaces in the tank. Encourage algae growth by adding lots of plants to the tank and placing the tank in an area that receives several hours of direct sunlight per day.
General Care
The cherry shrimp is one of the hardiest shrimp species and requires minimal care and upkeep. However, poor water quality can have a drastic effect on these shrimp, so you should invest in a powerful sponge filter and perform two 30% water changes per week to prevent a buildup of waste in the tank.
Cherry shrimp are social shrimp and should be housed in groups of at least 10. This species of shrimp is nervous and needs plenty of shelters to hide and breed.
The shrimp don't need any special lighting, and supplements aren't necessary if you provide them with nutrient-fortified foods. If you prefer, add measured amounts of liquid calcium to the tank according to the product's instructions.
Common Problems
Cherry shrimp are sensitive to environmental changes and subject to several common health problems.
Water treatments like copper, malachite green, and CO2 can be dangerous to cherry shrimp, so be wary of the treatments used for fish inhabitants.
Molting Problems
In healthy conditions, young cherry shrimp molt every one to two weeks, and adults molt every three to four weeks.
Poor or fluctuating water conditions can lead to molting problems, such as the White Ring of Death, which occurs when the shrimp's exoskeleton splits into two. This causes the shrimp to get stuck in its molt and potentially die.
Prevent molting problems by maintaining clean, optimal water conditions and consider adding calcium supplements to the tank.
Parasites
Cherry shrimp can contract several different parasites, such as a parasite known as Vorticella, a white, fuzzy, mold-like growth on the shrimp's body. If Vorticella is left to multiply, it can eventually get into the shrimp's gills. This growth will reduce oxygen levels and suffocate the shrimp.
Prevent Vorticella by keeping the tank clean. Speak to your veterinarian about potential treatments for affected shrimp.
Is a Cherry Shrimp Dangerous?
Cherry shrimp are small, delicate, and safe to handle. Handling the shrimp isn't recommended due to their small size. Using an aquarium net is the safest way to transport shrimp.
Cherry shrimp are peaceful invertebrates that don't display hostile behaviors or attack other tank inhabitants. These shrimp are shy and retreat from conflict when possible.
Breeding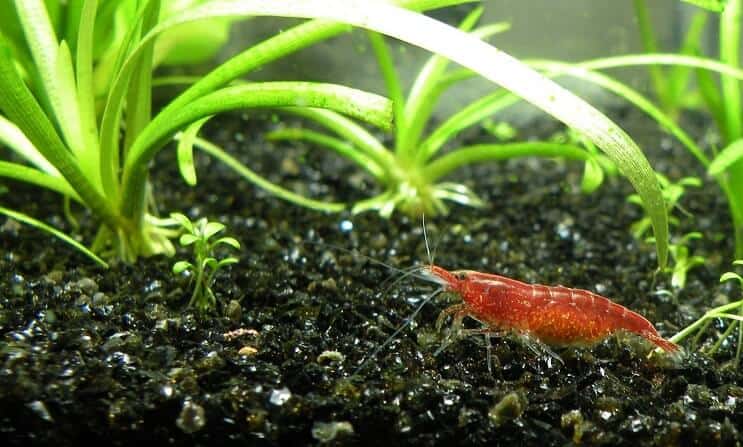 The cherry shrimp is one of the easiest types of shrimp to breed. This shrimp species reaches sexual maturity between four and six months of age.
Here's how to successfully breed cherry shrimp in captivity:
Prepare the aquarium for breeding. Ensure the tank is heavily planted to provide security during the breeding process. Raise the water temperature to 82°F. The aquarium should be established, not newly-cycled, to ensure that the tank contains organisms for the shrimp babies to feed on
Condition a group of around 10 male and female shrimp for breeding by feeding them a high-protein diet of pellets
When the females are ready to breed, they release sexual hormones into the water to attract the males. The males will find the females and deposit their sperm
After mating, females carry their eggs beneath their tails and fan their tails to provide the eggs with oxygen
The eggs will hatch after about 30 days. Keep the babies in the same aquarium as the parents. The babies are independent from birth and will eat biofilm and algae for their first few days of life
Continue to feed the adults as normal. Eventually, the babies will join in with the adult feeding
Tank Mates
Cherry shrimp are small, peaceful, nervous invertebrates that get along well with similarly-sized, slow-moving, peaceful tank mates.
The shrimp should live in groups of at least 10, and shouldn't live with large or predatory fish that tend to eat shrimp. Unsuitable tankmates include cichlids, oscars, and discus.
Ideal tank mates for cherry shrimp are:
Suitable non-fish tank mates for cherry shrimp are:
Should You Get a Cherry Shrimp for Your Aquarium?
Cherry shrimp are peaceful, hardy, and brightly-colored invertebrates. These shrimp are useful tank-cleaners and can be entertaining to watch.
You should get cherry shrimp if you have a peaceful aquarium with enough room for at least 10 bottom-dwelling inhabitants. Don't get cherry shrimp if your tank contains predatory fish that could eat the shrimp, or if your tank's water conditions are unsuitable for this shrimp species.
Despite their nervousness and need for well-established, consistently clean water, cherry shrimp are ideal for beginner fish keepers who want to learn how to look after a non-fish aquatic species.