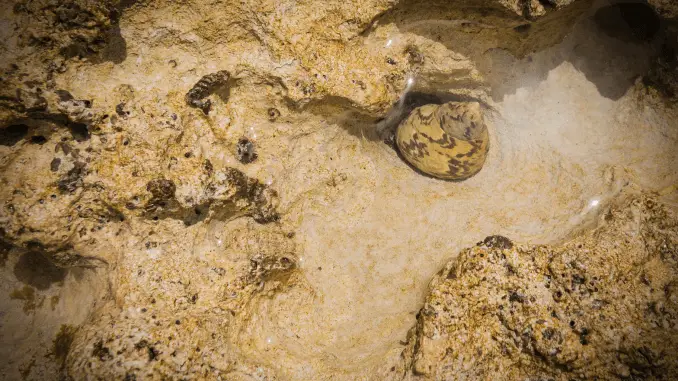 The nerite snail is a species of the Neritidae family, that can live in freshwater and saltwater. These tiny snails are less than 1 inch long and are a beneficial addition to any tank, thanks to their cleaning abilities.
Nerite snails are popular with fishkeeping beginners because these snails are easy to look after and have a peaceful temperament. Their minimal tank requirements and care needs make these snails desirable pets.
Nerite Snails Facts & Overview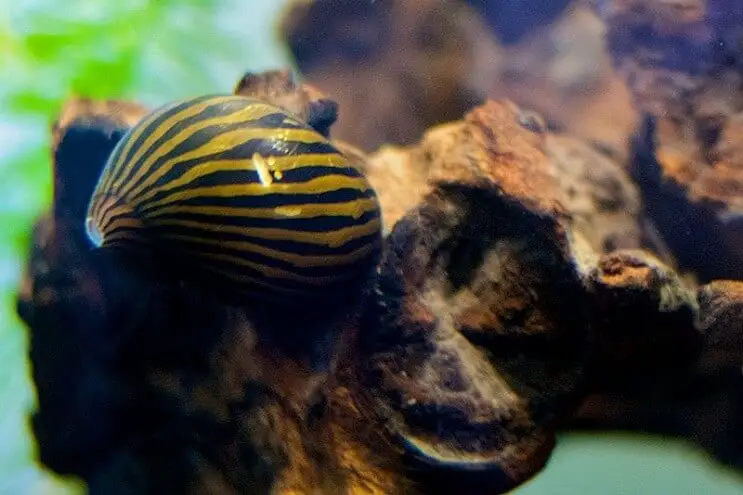 Scientific name:
Vittina natalensis
Common names
Nerite snail, spotted nerite
Distribution:
Eastern Africa
Size:
1 inch
Life expectancy:
1–2 years
Color:
Various
Diet:
Herbivore
Temperament:
Peaceful
Minimum tank size:
5 gallons
Temperature:
72–78°F (22–25°C)
pH:
8.0–8.4
Hardness:
6.0–12.0 dGH (freshwater)
15.0–18.0 dGH (saltwater)
Care level:
Easy
Origin
The nerite snail is typically found in Eastern Africa where it inhabits a mix of saltwater from the sea and freshwater from rivers. Saltwater varieties of nerite snails live on the Caribbean or Pacific coast.
Adult Size & Lifespan
Adult nerite snails measure around 1 inch long, with females typically slightly larger than males. Different species of nerite snails have different shell colors and patterns, but all species are the same size. Healthy nerite snails live up to two years.
Availability
Nerite snails are readily available at most pet stores that specialize in aquatic creatures. This snail species is cheap, typically costing up to $4, but you can expect to pay less per snail if you buy a few at once.
This tank-cleaning invertebrate is available online at Flip Aquatics and LiveAquaria.
Appearance & Behavior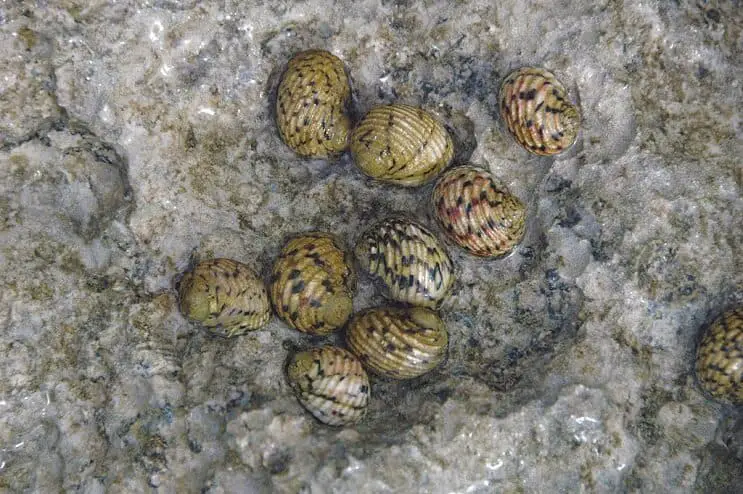 Nerite snails can be striped, horned, or solid-colored. These invertebrates are peaceful and unlikely to behave aggressively towards their tankmates.
Colors, Patterns, and Size
Nerite snails have a large shell that comes in various colors and hides a foot that the snails use to move. Most nerite snails grow to around 1 inch long, with females growing slightly longer than males.
Zebra nerite snails — Have yellow or black stripes across their shells, pointing towards the center of the coil
Olive nerite snails — Are a solid olive color. This species of nerite snail is prevalent among aquarists
Tiger nerite snails — Have stripes similar to the zebra nerite species, but the stripes are orange, resulting in a look similar to a tiger's coat
Horned nerite snails — Have black and yellow stripes with a series of spiky horns along one stripe
Red racer nerite snails — Are bright red (or sometimes yellow) with a stripe running down the middle of their shells. This species of nerite snail is a colorful addition to any aquarist's tank
Typical Behavior
Nerite snails are peaceful herbivores that tend not to bother their tankmates. As a result of their gentle nature and small size, they can become prey to large, aggressive fish.
The snails are slow movers that spend most of their time consuming tank algae in captivity. These invertebrates are skilled climbers, so they sometimes escape from the tank. Invest in a tight-fitting lid for your tank to avoid your nerite snail escaping.
Nerite Snail Tank & Water Requirements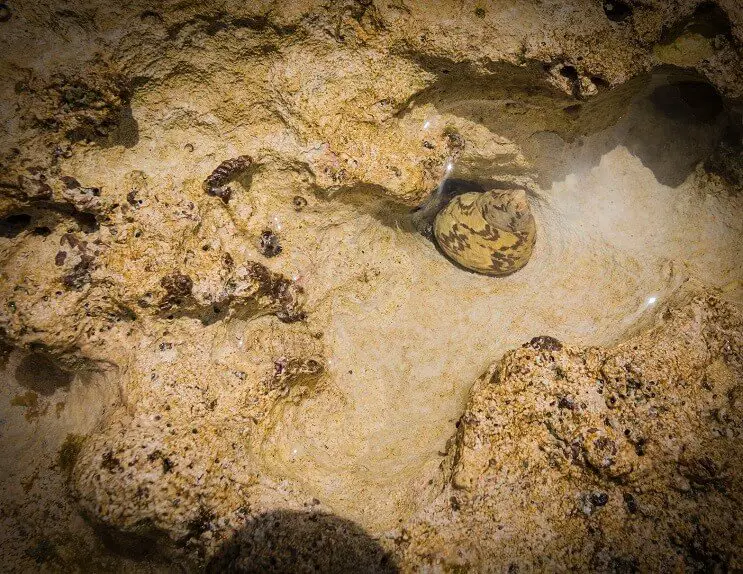 One nerite snail requires a 5-gallon tank, and the more snails you have, the bigger the tank should be. Allow 5 gallons for each snail.
These snails can live in saltwater and freshwater, but they can only breed in saltwater.
Habitat and Tank Requirements
Nerite snails occasionally come to the water's surface, so keep the tank water a couple of inches below the tank lid to give your snail this option.
Nerite snails are sensitive to very bright light, so use low to moderate lighting for your snail's tank. Avoid exposing the tank to direct sunlight because this can dry out the snail.
Add rocks to the tank to encourage algae growth, which will give the snails something to eat. Aquarists should wait to add nerite snails to their tanks until a moderate amount of algae has grown in the tank.
Many of the nerite snail's requirements depend on whether they are kept in salt water or fresh water. Freshwater tanks should have a substrate of mud or dark sand, and saltwater tanks should have calcium sand. The high calcium substrate will encourage healthy shell growth. Hard, scratchy substrate can damage the snail's soft body, so avoid using hard substrate in the tank.
Water Conditions
| | |
| --- | --- |
| Water type: | Freshwater or saltwater |
| Tank size: | 5 gallons per snail |
| Water temperature: | 72–78°F (22–25°C) |
| Substrate: | Soft sand or mud |
| Acidity: | 8.0–8.4 |
| Water hardness: | 6.0–12.0 dGH (freshwater) 15.0–18.0 dGH (saltwater) |
| Lighting: | Moderate lighting, no sunlight |
| Water supplements: | Calcium |
Water conditions vary slightly depending on whether you're keeping your snail in freshwater or saltwater, but the tank size, temperature, and pH level should stay the same.
Saltwater tanks require the addition of marine salts to keep the water hard. Keep your nerite snail's water free from ammonia and nitrate for maximum health.
Care & Diet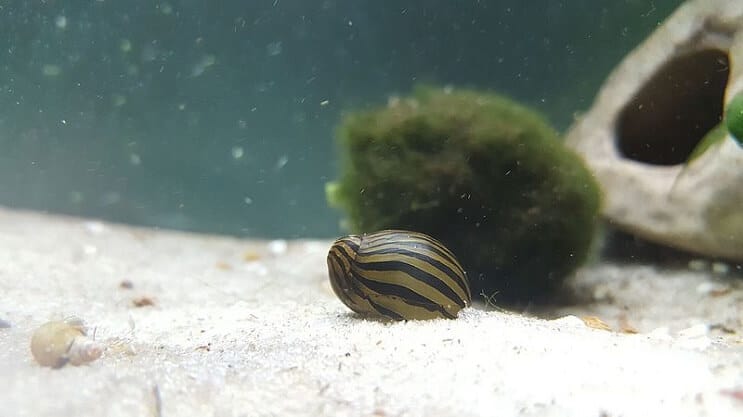 Caring for nerite snails is relatively easy, so they're suitable for fishkeeping beginners. These snails benefit from eating calcium-rich foods including green leafy vegetables. These small snails tend to be healthy, but common health problems typically affect their shells.
Diet and Feeding
Nerite snails have minimal feeding requirements because their diets mostly consist of the algae in the tank.
However, if the tank is running out of algae for the snail to eat, add spinach, lettuce, and kale to the tank. If you notice the algae stops disappearing from the tank, reduce the amount of vegetables you feed your snail until it returns to eating the algae.
Avoid overfeeding or underfeeding your snail because imbalance can cause health issues. You should be able to judge the amount of vegetables your snail needs based on the amount of algae in the tank.
General Care
Thanks to the nerite snail's minimal food requirements and adaptability to different water conditions, this species is relatively easy to care for. This species benefits from calcium supplements that keep their shells hard, and minimal lighting to avoid damage from bright lights. Replicate the nerite snail's natural habitat with rocks for it to hide under and eat algae from.
Common Problems
Nerite snails are generally healthy but they are prone to certain health issues.
If your nerite snail overeats, its shell will become discolored. The discoloration is a sign to stop feeding your snail vegetables and reduce its diet to just the algae in the tank.
If your snail's shell is cracked or damaged, this is a sign that the shell isn't strong enough. Strengthen the shell by adding calcium supplements to the tank.
Older snails are prone to edema, which can restrict the snail's movement. Unfortunately, there's no treatment for this edema, so give your snail the best comfort and quality of life to minimize discomfort.
Copper is toxic to most invertebrates, so never use copper in the nerite snail's tank.
Is a Nerite Snail Dangerous?
A nerite snail is a peaceful creature, so fishkeepers can handle it safely. Avoid pulling on the snail's shell too hard or you could injure the snail.
Breeding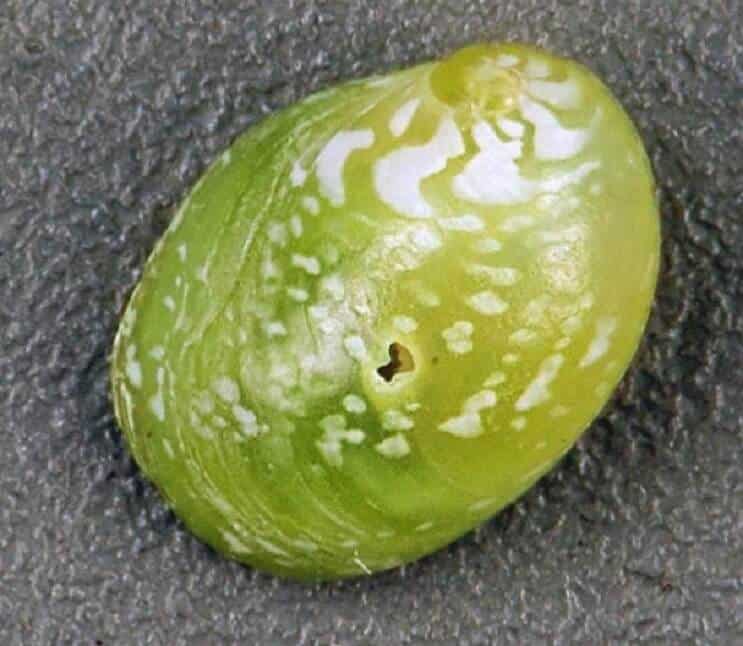 Unlike other snails, nerite snails don't reproduce asexually. Instead, female nerite snails lay eggs that males then fertilize.
Nerite snails can breed in freshwater tanks, but the eggs won't hatch because the larvae need brackish water to survive. You'll need to put your nerite snails, or the eggs, in brackish or salty water for successful breeding. You can either move the eggs to a tank with brackish water or breed with snails that are already accustomed to and kept in a saltwater tank.
There's little you can do to force nerite snails to breed, but the best thing to do is put an even ratio of males to females in a tank and have patience. As many snails as can fit in the tank, while allowing enough space for each snail to thrive, gives the best breeding results.
Tank Mates
Nerite snails are peaceful and easygoing, so they don't pose a risk to tank mates. However, their small size makes them vulnerable to being attacked or killed by large, aggressive fish, so these snails should only share their tank with peaceful fish.
Great tank mates for nerite snails include:
Should You Get a Nerite Snail for Your Aquarium?
If you're looking for a peaceful invertebrate that can join other non-aggressive aquatic creatures in your aquarium, a nerite snail is ideal.
If you've struggled to care for fish or snails with more complex needs, you may find the nerite snail easier to care for.
When provided with a peaceful environment and the correct water conditions, these small snails make excellent additions to any aquarist's tank and will help keep the tank clean and free from algae.