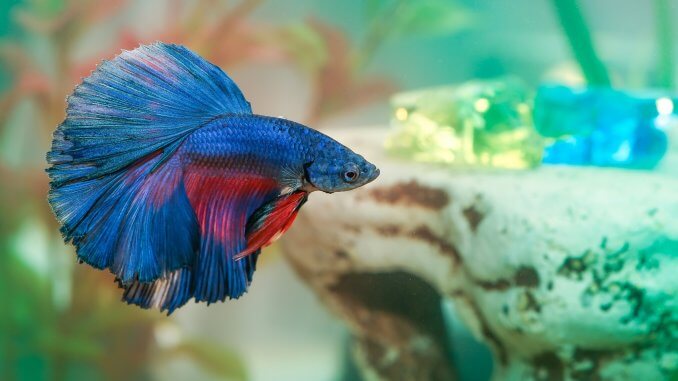 First-time fish-keepers often underestimate how much care their new pets will need. Betta fish (also known as Siamese fighting fish) are beautiful and popular pets that need plenty of care to flourish.
This article discusses how fish keepers can keep their bettas happy and healthy, and how to recognize signs of illness in your pet, and whether or not caring for a betta fish is suitable for beginners.
Quick Betta Fish Care Guide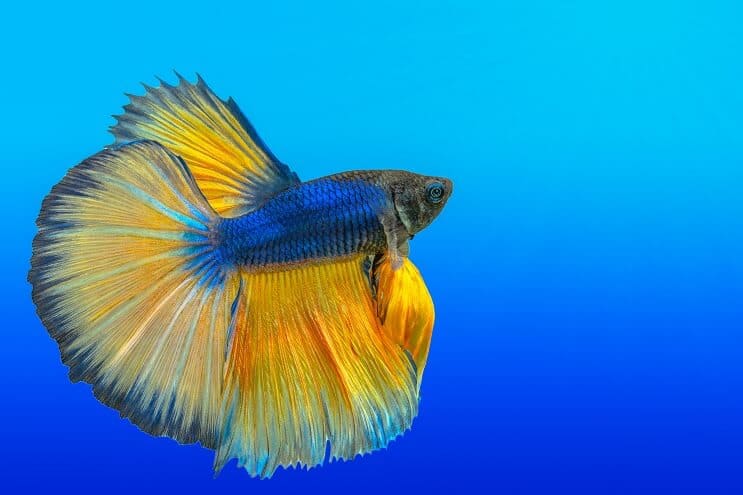 With a little preparation and care, first-time fish owners can raise healthy, happy bettas.
Here's a quick list of everything you should consider before you buy a new betta fish:
Diet and feeding: Betta fish need a combination of flakes, pellets, and freeze-dried or live food
Tank setup: Betta fish need a five-gallon tank, or larger, along with a good water filter and heater. A low-level air pump can help to oxygenate the water, but remember that bettas prefer still water
Habitat and maintenance: Bettas like having places to hide. Put decorations, including live plants, in the tank. Maintain water temperature between 76 and 85°F. Change 15% to 40% of the water weekly
Characteristics and compatibility: Bettas — especially males — can be aggressive. Keep female bettas together, and don't combine males with females or with other males. Some bettas are more territorial than others. Bettas are compatible with placid, bottom-feeding, dull-colored fish
Betta fish health: A healthy betta is active, alert, and eats regularly. The males should have vibrant colors and show an active interest in their surroundings. Bettas that don't eat, have dull colors, and act lethargic could be sick
Betta Fish Care Tips
Any good pet owner wants their pet to thrive. Keep betta fish healthy with the proper tank set-up. Here are a few tips that can help you make sure your betta is thriving in its environment:
Buy a bigger tank than you need: Bettas aren't very active fish, but maintaining a larger tank is easier than maintaining a smaller one. If you intend to add more fish to your tank besides your betta, you'll need plenty of extra space
Check your fish every day: Betta fish have recognizable signs of illness and stress. Inspect your betta fish daily for signs of poor health
Feed your betta a varied diet: A healthy betta has a good appetite and thrives on a varied diet
Wait at least two to four weeks before adding new fish: Betta fish need at least two to four weeks to settle into their new home before adding new fish
Diet and Feeding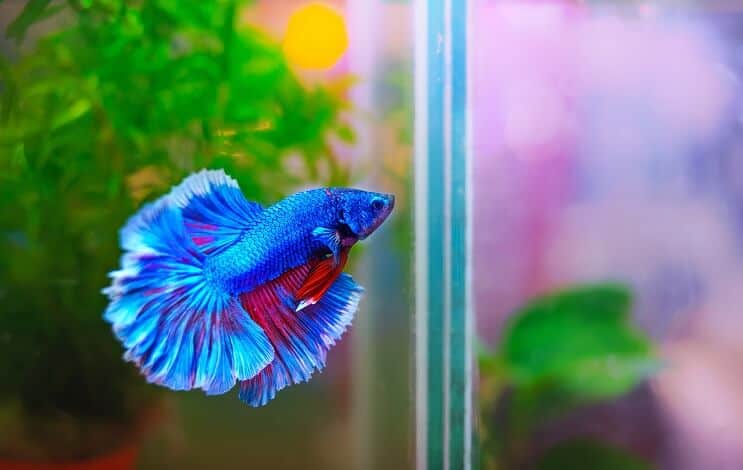 In the wild, bettas eat small insects and other small invertebrates. You may struggle to feed your bettas live insects, but you can get frozen foods that are suitable for these fish.
Here are a few things to consider when feeding your bettas:
Feed bettas a varied diet of pellets, flakes, and frozen or live foods
Feed sparingly, once a day. If given the chance, betta fish will eat more than they need. Uneaten food will dissolve and pollute the tank. Feed bettas an amount they can eat within two minutes, and scoop out any uneaten food
Feed baby bettas a diet of finer flakes and crushed pellets
Give bettas occasional treats. Bloodworms, live food, and finely chopped meat are suitable for bettas. Scoop out any uneaten food
Tank Setup
Prized for their beauty, bettas are very popular fish. Unfortunately, this has led to some pet owners keeping betta fish for their looks and not bothering to take care of them. A common myth is that bettas do just fine in tiny, undecorated glass vases.
Keeping any fish in a tiny living space is cruel, and bettas are no exception. Bettas need clean water and a sizable, decorated tank to thrive.
Before you bring home your new betta fish, set up and cycle the tank.
Here's what your betta tank setup will need:
Tank size: At least 5 gallons in size. If you plan to add more fish to your aquarium, start with a minimum of 10 gallons
Water temperature: Between 76 and 85°F.
Water quality: Calm water, without strong currents, and with a pH of between 6.8 and 7.5. Use a pH testing kit to regularly check whether or not the tank water is suitable
Decorations: Provide plenty of hiding places and decorations for your fish to explore. Live plants can be a good way of introducing oxygen into the water, and can also provide hiding places for your betta
Large fish bowls with the proper equipment are suitable for bettas, but never put any fish into a bare, empty, small bowl.
Habitat Maintenance

Keep the betta fish's tank clean and mimic the fish's habitat to keep the fish healthy.
Water Changes
How often you change the tank water will depend on the size of your tank and how many fish you're keeping in it. For example, smaller tanks need more maintenance and more frequent water changes than larger tanks. The more fish you have, the more frequently the water will need to be changed.
Replace 15% to 40% of the tank's water with fresh water every week.
Never change all of the water in the tank at once, even with your fish stored safely somewhere else. Tanks build up their own delicately balanced ecosystem of bacteria, and changing all of the water resets this ecosystem.
Putting your fish back into what is essentially a brand new tank could seriously damage the fish's health, or even kill the fish.
Check Temperature
Bettas are tropical fish and need a water temperature of 76 to 85°F. The fish can tolerate slightly warmer or colder temperatures, but too hot or cold can lower your betta's immunity and leave it weak and lethargic.
During hot or cold weather, weekly temperature checks can help you make sure the tank water is at optimal temperature.
Check Water Acidity
Bettas thrive in water with a pH of 6.8 to 7.5. If pH levels are out of balance, the tank water could contain high levels of ammonia or another substance that may hurt your betta. Too much ammonia will lead to gill burn, lethargy, and eventually death.
You can buy pH kits that allow you to quickly and easily check the water quality every week.
Inspect Decorations and Substrate
Unless there is an illness or algae problem in the tank the decorations in the tank don't need to be cleaned often. However, it's wise to inspect the decorations regularly, looking for wear, tear, or anything that might injure your fish.
It's a good idea to use a gravel vacuum to clean the substrate when you're doing a water change. Debris and algae can build up in the gravel.
Observe Your Betta Fish
While you're conducting tank checks, you should have plenty of time to observe your beautiful betta. Look to see if the betta colors look vibrant and if the fins look healthy. If not, check the pH, temperature, and cleanliness of the tank and adjust as needed.
Characteristics and Compatibility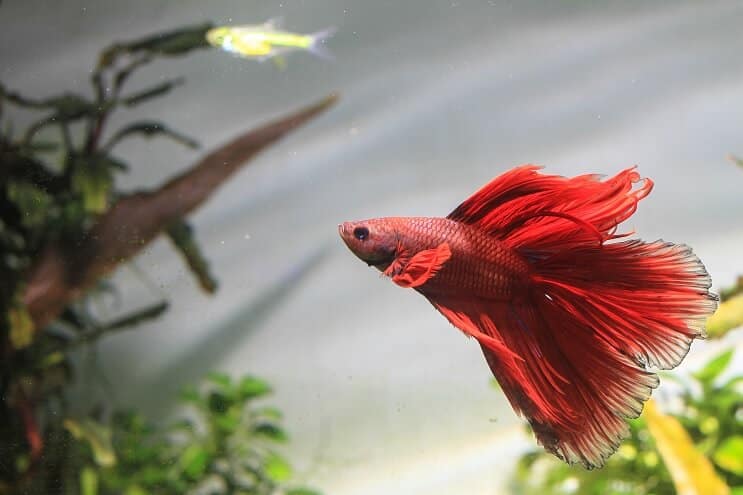 Betta fish tend to be aggressive towards some fish. Male bettas are territorial and mustn't be kept with other males.
Male and female bettas have feisty, vibrant personalities. These fish are fun-loving, intelligent, and quickly learn to recognize their owners.
When choosing tank mates for your bettas, keep in mind that not every fish is compatible. Colorful fish with long fins or aggressive fish aren't suitable for male bettas. Female bettas can also be territorial in some cases, although they're generally less aggressive than males.
Here are a few fish that make good tankmates for bettas:
Tetras (neon, amber)
Corydoras (albino, bronze, and panda)
Ghost shrimp
Feeder guppies (not fancy guppies — male bettas may mistake them for other males and attack)
Make sure you have a big enough tank for all of your fish. For every inch of fish that is added, the tank will need another gallon of water. For example, a fish that measures two inches, plus a betta fish, require a minimum of 7 gallons of water, preferably more.
Ideally, for a community tank, plus a betta fish, you should start with a 10-gallon tank.
How to Take Care of a Betta Fish's Health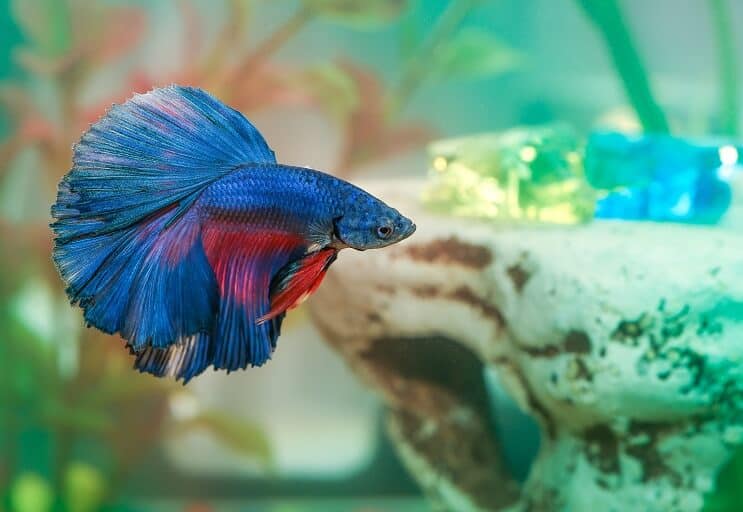 Sometimes your fish may get sick. It's your responsibility to keep an eye on how your fish are doing and take steps to help them.
These are signs of a healthy fish:
Vibrant colors: Bettas are renowned for their bright colors. Strong colors indicate that your fish is in good health
Energetic swimming and a good appetite: Some bettas are lazier than others, but you should still see energy in your fish
Alert: A healthy betta responds to outside stimuli by turning to or away from the stimuli
Here are a few signs that a fish is sick:
Loss of color
Loss of appetite
Unnaturally colored spots on the fins or body (white and red are very common)
Unnaturally frayed fins (crowntail bettas already have naturally frayed fins)
Lethargy and listlessness
Erratic swimming
Bloating
Labored breathing
Solving Common Betta Fish Issues
There are a few common health issues that plague betta fish. Some can be resolved by a water change, but others may need medication and veterinary attention.
Here are a few issues to watch out for:
Fin rot: The fins look ragged or damaged. This can also be caused by keeping your betta with "fin nippers" — smaller fish that tend to bite. Improve the water quality of the tank, and do regular water tests. Consult a veterinarian for more advice
Ich: White spots on the fins and body. The fish breathes rapidly and rubs itself against the substrate and tank decorations. Ich is highly contagious. Remove the infected fish to a quarantine tank immediately. There are commercial antifungal treatments for ich. Add the medication to the tank water as directed
Ammonia poisoning: Lethargy, gulping for air, red, burned-looking gills, possibly aggression towards other fish. Conduct water changes immediately, or move the fish to a safe tank. Use pH testing kits to check the water
Fungus: White cottony growth on the fins or body, and maybe eye discoloration. Quarantine the fish immediately, and use a commercial antifungal treatment as directed
Should You Get a Betta Fish?
Bettas are beautiful, unique, and highly rewarding fish to keep. With a little care and attention, even new fish-keepers can keep their bettas healthy, happy, and flourishing.