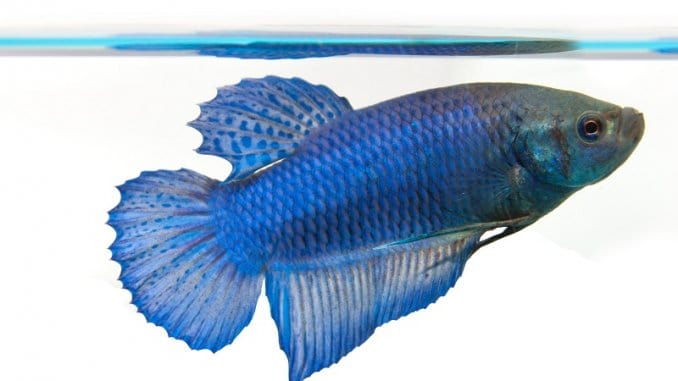 Male or female bettas are beautiful, rewarding fish for any aquarium keeper. Males are known for their vibrant colors and long, flowing fins, whereas females tend to have noticeably smaller fins and tails.
Unlike males, female betta fish can be kept together in one tank. A group of female bettas is known as a sorority. This article will discuss how to care for female bettas.
Female Betta Fish: A Quick Guide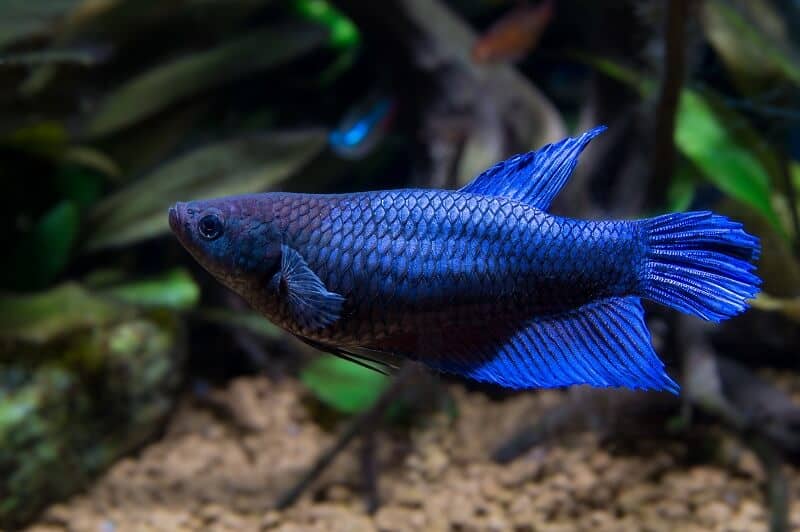 Caring for a female betta fish is very similar to caring for a male betta. For example, both males and females need the same kind of tank size and water conditions, although their temperaments are different. Let's discuss a few key points which will help you care for your female betta fish.
Lifespan: Both male and female bettas live for up to 3 years. With proper care, bettas have been known to live longer than this
How to tell if a betta fish is female: Female betta fish have smaller fins than the males and are slightly smaller and slimmer. They are less vibrant and have an egg spot. Side by side, it's very easy to tell a male betta apart from a female. It's more difficult to tell males and females apart before they reach maturity
Size: Betta females grow up to 2.5–3 inches, which is slightly smaller than the average male betta
Tank size: A single female betta fish needs at least a 5-gallon tank. If you plan to keep a sorority, you'll need at least a 20-gallon tank
Water type: Freshwater, with a pH of 6.5–7.5, and a temperature of 78–80°F
Food: Female betta fish are carnivorous, like the males, and should be fed a diet of fish pellets specifically for bettas. You can also feed your betta snacks such as bloodworms or even finely chopped meat
Temperament: Females are less aggressive and territorial than male bettas, but some individual bettas can still be aggressive. However, female betta fish can be kept with other female bettas. Female betta fish are less showy than males, but that doesn't mean that they're any less rewarding to keep and care for
Female Betta Fish Behavior and Care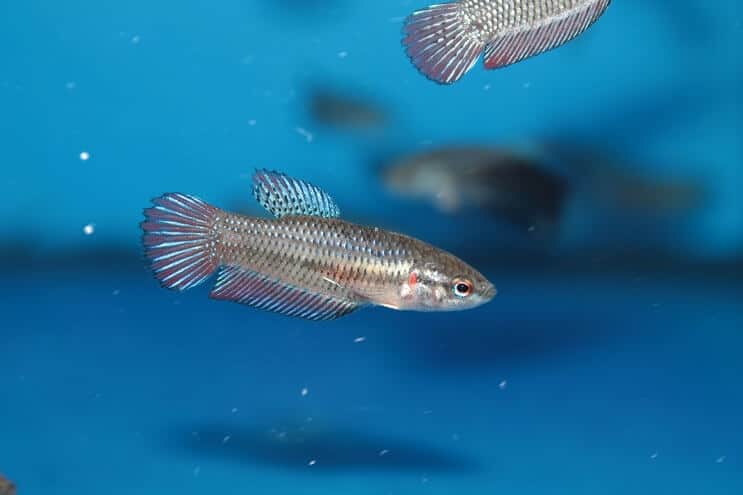 Every fish has its own unique needs and characteristics, and female bettas are no exception. Even if you're used to keeping males bettas, looking after females is a new experience because they have a few different needs.
Let's discuss the key elements you need to know before bringing home a female betta.
Behavior
Female betta fish are less aggressive than males, but any kind of betta fish will display aggression and territorial behavior. Remember, bettas are called "Siamese fighting fish" for a reason. While female betta fish can and do live comfortably together (which certainly can't be said of male bettas), there may be fighting and other incidents.
Any sorority will take some time to get comfortable with each other, and social order will need to be established first. Some individual female betta fish are too aggressive to be kept with others.
Keep a close eye on your fish, and learn their personalities. This is especially important when you first bring your fish home. Moving to a new tank can be stressful, and stress can encourage other problems, like aggression and territorial behavior.
Finding tank mates for female betta fish is easier than finding mates for males. When choosing tank mates for a male, you need to be careful not to choose a showy fish that could be mistaken for another male. Female betta fish are much more tolerant of other fish. However, a female betta will still act aggressively if it feels threatened, so be sure to pick peaceful fish as tank mates.
Starting and Maintaining a Sorority
A sorority is made up of four to six female bettas, preferably all of the same age. It's important to give the sorority as much tank room as possible. Any tank smaller than 20 gallons can lead to aggressive behavior, as the female bettas feel cramped and threatened.
Once you've added your sorority to a tank, keep a close eye on the fish. Not every female betta is suited to a sorority, so watch for any aggression or fighting. A social order needs to be established inside the sorority, and this can be a challenge. Have another tank cycled and ready in case one fish needs to be separated from the group.
Don't add any new fish while your sorority gets established, even if you plan to start a community tank later. Aside from making your bettas feel threatened and cramped, adding new fish can cause the ammonia levels in a tank to spike, which can be fatal for your fish. This is the same for any fish, not just female betta fish.
Tank Conditions/Personal Space
As tropical fish, bettas need warm water of around 78–80°F, with a pH of 6.5–7.5. Male and female betta fish have similar requirements when it comes to tank conditions and water quality. For example, female bettas — just like males — like plenty of places to hide and explore, so feel free to add decorations and hiding spots in the female betta's tank.
Just like humans, bettas like their own space. This is why decorations, caves, and hiding places are essential. If tensions get high among your sorority or bullying starts to become a problem, your fish should have places to hide.
For a single female betta, you'll need at least a 5-gallon tank. You'll need at least 20 gallons if you plan to host a sorority. As with most fish, more space is better. If your bettas feel cramped or threatened, they'll be more susceptible to illness, and can also become aggressive towards other fish.
It's best to stick to the 1-inch-per-1-gallon rule, which means that every extra inch of fish needs another gallon of water in the tank. This prevents overcrowding and stress in your aquarium. Always give your bettas at least a month to settle into their new home before adding extra fish.
Laying Eggs
Female betta fish lay eggs after they've successfully bred with a male betta. If you decide to breed your bettas, take both the male and female out of their respective tanks and put them into another tank without any other species. The female will need to be removed soon after laying eggs, and the male is left to care for the eggs until they hatch — male bettas make surprisingly good fathers.
Identifying the "egg spot" is a good way to tell male and female bettas apart. The egg spot is a mark on the underside of the female's body, between her fins and tail. This is where eggs will be laid. The spot is actually the protruding ovipositor and can be noticed on a female betta before the difference in fins becomes obvious.
Female Betta Fish Colors and Types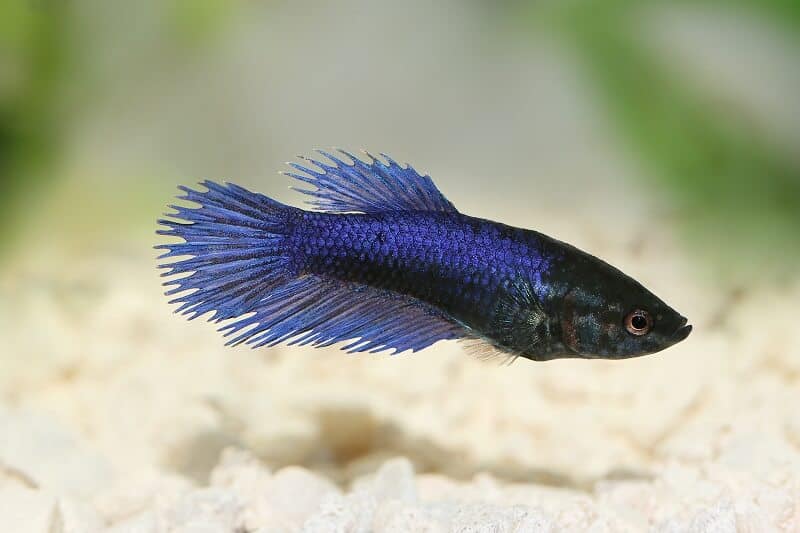 There are fewer types of female betta fish than male bettas, and it can be hard to identify a female's type. Male bettas are usually the most colorful, but that doesn't mean females aren't beautiful too.
There are several types of female betta:
Female Veiltail Bettas
Veiltail bettas are by far the most common type of betta, both male and female. Female veiltails have intense colors, just as spectacular as the males, but their fins and tails are considerably shorter. Female veiltails are available in just about every color you can imagine, due to the extensive breeding of betta fish. Females often have the same patterns as males, such as dragon, butterfly, and marble.
Female Halfmoon Bettas
Halfmoon bettas are known for their fabulous, 180-degree tail fins. Female halfmoons are available in every color and pattern you'll see on a male halfmoon betta, but the female's tail and fins are not quite as spectacular as the male's.
Female Crowntail Bettas
Crowntail, or combtail, bettas have fringed or pointed tails and fins, giving them a "crown" shape. Both male and female crowntails are popular due to their uniquely shaped fins.
Female Koi Bettas
Koi bettas have a distinctive marbled pattern consisting of red, white, gold, black, and orange. Female koi bettas look similar to males, but with shorter fins and tails. Koi bettas and veiltail bettas are the easiest types of bettas to care for.
How to Tell If Your Betta Is a Boy or a Girl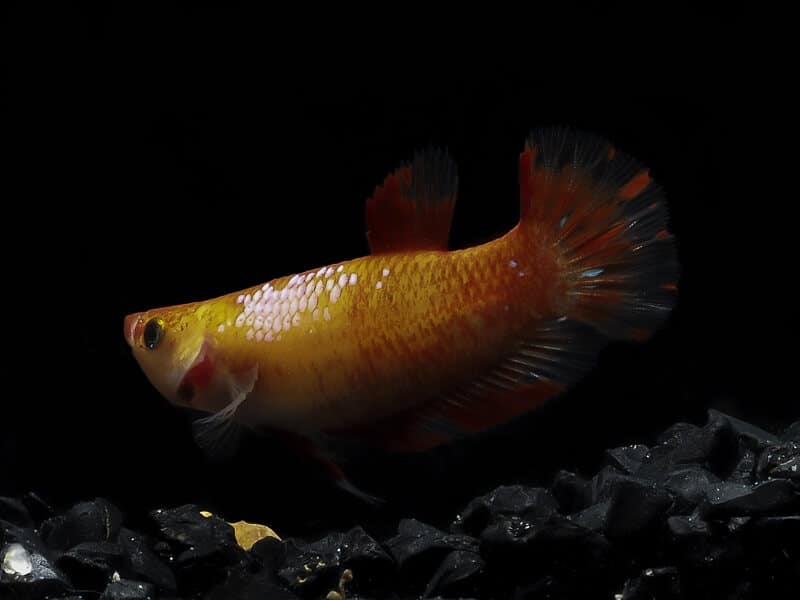 Tail and fin-type can be used to distinguish between male betta fish, but this is less obvious when it comes to females. It's harder to use tail type to distinguish between females, due to their shorter fins.
Essentially, female bettas look the same as the males, albeit with shorter fins and a few other indicators.
When bettas are young, it's difficult to tell males and females apart. This is because male and female bettas are both vivacious and beautifully colored and the main difference between these fish — the male's famous, spectacular fins — haven't yet grown in.
If you're worried about accidentally putting males and females in the same tank and ending up with a host of baby bettas, here are a few ways to tell your bettas apart:
Behavior and Temperament
Going by your betta's behavior alone isn't the best way to tell males from females, as individual bettas are different. However, males are more territorial and aggressive, especially towards other males.
Some male bettas have been known to be aggressive enough to try and attack their own reflections. While some females can also be aggressive, they're more peaceful than males and get on well with other females and most other fish.
Color and Fins
The best way to tell male and female betta fish apart is their fins. Males have long, beautiful fins, and females have noticeably shorter fins.
Female bettas often have duller colors in comparison to males, but they are still colorful and beautiful fish. Every color and pattern spectrum is found in both male and female bettas.
Body Shape
Male bettas are slightly larger than females. Males have thicker, heavier bodies, whereas females are smaller and slimmer. The average female grows to around 3 inches, and the average male grows to anywhere between 3–5.5 inches. Male bettas' long fins also make them seem larger.
Egg Spot
Female betta fish have an ovipositor for laying eggs during mating. This spot can be seen as a protruding, white mark, like a grain of salt, on the underside of the female's body.
Telling the difference between males and females based on their size while they're young can be difficult, so spotting the ovipositor is one of the best ways to identify a young female betta fish.
The Bottom Line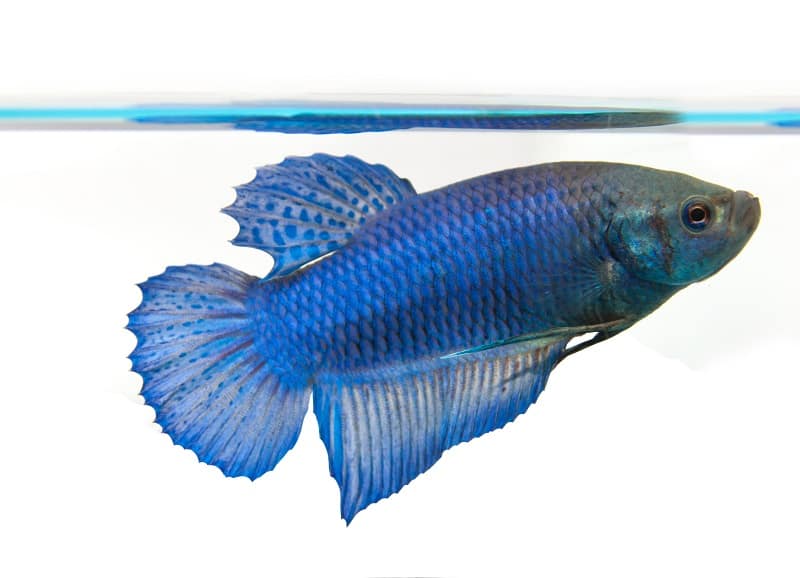 Unfortunately, male bettas seem to get most of the attention from fishkeepers. With their dramatic fins and vibrant colors, males typically stand out more in a fish tank.
Females look a little dull in comparison and can be overlooked in favor of the brighter males. However, female betta fish are beautiful in their own right. These fish have bright colors, vivid patterns, and their own unique personalities.
Female betta fish can also be kept with other bettas, and tend to be more peaceful than males. This can make it easier to create a varied and exciting community tank, with all your fish getting along together. Like male bettas, a female betta's bright colors can be used as a highlight in a fish tank.
Owning female betta fish can be just as rewarding as owning males, perhaps even more so. Female bettas are entertaining and fascinating, and you won't have to stress about their behaviors if you choose to keep them in a group. If you've never owned bettas before, females are a good option to start with.