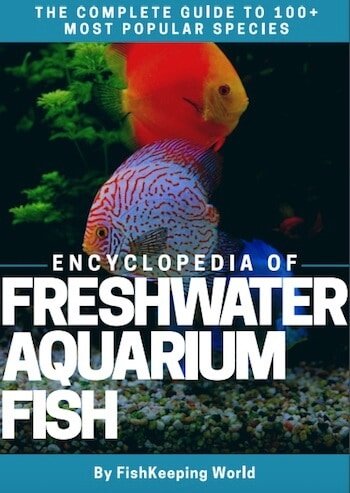 Encyclopedia Of Freshwater Aquarium Fish: The Complete Guide To 100+ Most Popular Species
$14.99 USD
We have created the authoritative reference book for freshwater aquarium fish that is suitable for both the beginner or longtime enthusiast.
Within this book you will find more than 100 of the most popular freshwater aquarium fish including all-time favorites, popular new comers and much more. For each fish we offer practical guidance on: scientific and common names, behavior, size and appearance, tank needs, diet and feeding, compatibility and care advice.
It is compact yet comprehensive, with beautiful color photos of each species, and carefully compiled information. We wanted to create a reference book that is a must in every aquarist's library.
We have also included the best community tank setups, a complete fish compatibility table and expert guidance throughout which makes it perfect for anyone who already has or is interested in starting their own freshwater aquarium.
We wanted a book that is clear and concise with practical information, making it perfect for identifying, and keeping the most popular freshwater aquarium fish.
What Is Included:
Encyclopedia Of Freshwater Aquarium Fish: The Complete Guide To 100+ Most Popular Species (300+ Page PDF).
Hands-on authoritative species reference for identifying, buying, and keeping the 100+ most popular freshwater fish. Our information-packed handbook covers all the fish most often seen by enthusiasts.
Complete fish compatibility table so you can quickly figure out what type of fish you have and check the compatibility of specific fish against each other.
Species index which makes it easy to navigate so you can quickly find a particular species or family group.
What Our Customers Think:
Mustafa Bayrak – Freshwater Aquarium Hobbyist For 3 years

For a long time, aquarists have needed an up-to-date guide about our hobby. Most aquarium books and guides are old and insufficient. Finally, this book "The Complete Guide 100+ Most Popular Species" is simple, clear, very useful and most importantly up-to date with color pictures. You can find nearly evey popular aquarium fish species, how to set up a freshwater tank, maintenance, community setups and more. I enjoyed the book very much.
Kevin Hardin – Owner Of Kasper Aquatics

The Freshwater Aquarium Fish Encyclopedia is one of the most comprehensive, well written books this hobby has seen in many years. The information on the individual species and the color photos is so well done. The information is so detailed and well thought out. The book reads well and is full of tips and advice for the hobbyist, New and old alike. The compatibility table is a great addition to the hobbyist who may not know what works together in the tank.
Frank Weier – Freshwater Aquarium Hobbyist For 52 years

This an excellent encyclopedia of freshwater aquarium fish and an asset to all aquarium hobbyist's library. I was drawn immediately to the full color photographs of each fish documented in the book – this was the highlight for me. Pertinent information was included for all aspects of fish care in an easy to read format which was clear and concise.