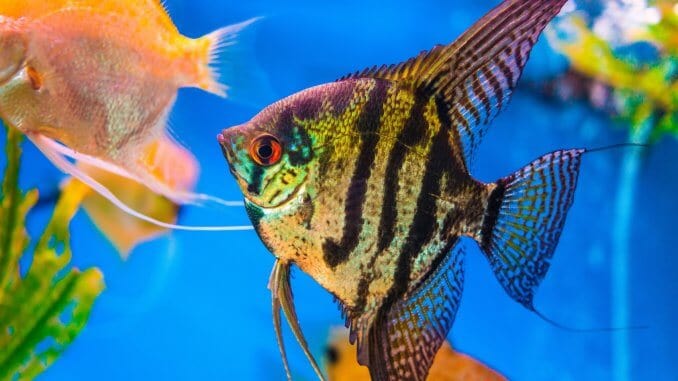 The angelfish is a freshwater fish of the cichlid family. There are two types of angelfish: freshwater angelfish and saltwater angelfish. This guide will focus on freshwater angelfish.
Angelfish are popular among aquarists because of their unique arrowhead bodies with beautiful, flowing fins. Although angelfish are usually peaceful, the fish are known to prey upon small fish and fight amongst fish of their kind, especially during breeding season.
Freshwater Angelfish Facts & Overview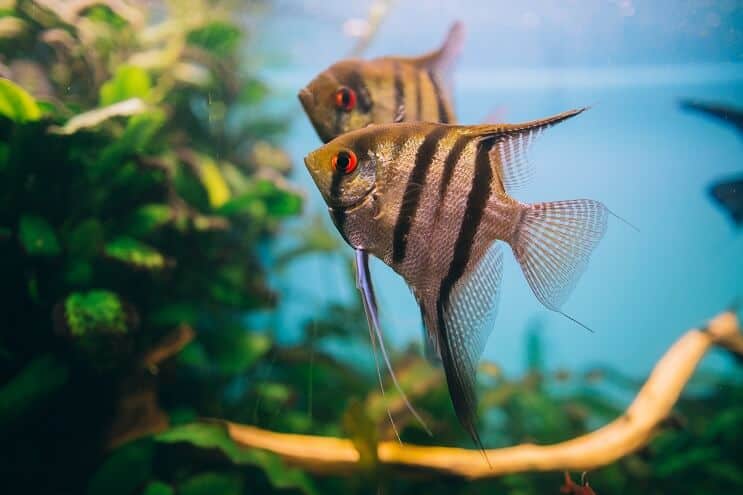 | | |
| --- | --- |
| Scientific name: | Pterophyllum |
| Common names: | Angelfish |
| Distribution: | Tropical South America |
| Size: | 3–4 inches |
| Life expectancy: | 10–12 years |
| Color: | Black, silver, or gold, with vertical black bands |
| Diet: | Omnivore |
| Temperament: | Semi-aggressive |
| Minimum tank size: | 20 gallons |
| Temperature: | 75–82°F (25–28°C) |
| pH: | 6.8–7 |
| Hardness: | 4–12 dGH |
| Care level: | Easy |
| Breeding: | Egg layer |
Origin
Angelfish are native to tropical South America, including most of the Amazon water system in French Guiana, Brazil, Guyana, Columbia, and Peru. The fish are commonly found in slow-moving streams, floodplains, and swamps, in warm, acidic water with no salinity.
The fish's natural habitat is swampy with a sandy riverbed and lots of vegetation. Although this water is swampy, it isn't dirty — sunlight can easily penetrate the water and reach the fish.
Adult Size & Lifespan
Fully-grown adult angelfish reach a body length of three or four inches and a height of six inches. Female angelfish have smaller, more rounded bodies than male angelfish.
The average lifespan of an angelfish is 10 to 12 years.
Availability
Angelfish are commonly available to buy online and in pet stores.
When buying angelfish for a freshwater tank, make sure to buy freshwater angelfish (Pterophyllum) not marine or saltwater angelfish (Pomacanthidae). Saltwater angelfish are more common than freshwater angelfish.
The average cost of an angelfish is $8 to $40, depending on the fish's markings. Marbled angelfish are the most expensive angelfish. You can find angelfish in the following online stores:
Appearance & Behavior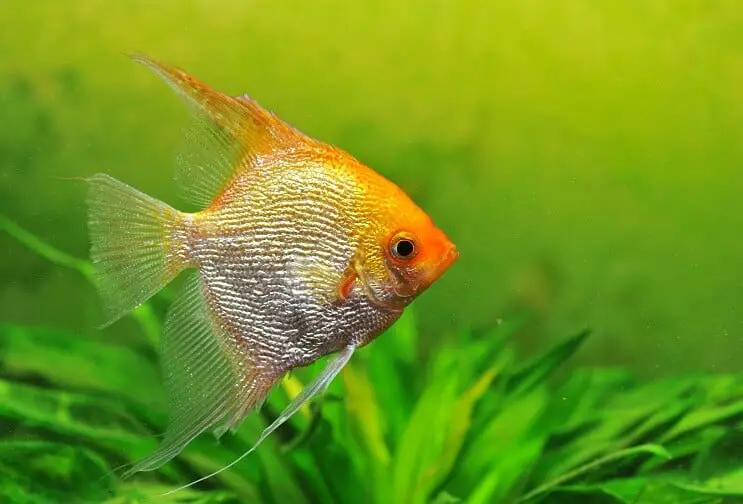 Angelfish have a beautiful, striking appearance that is unique from any other aquarium fish, with long, spectacular fins and arrowhead-shaped bodies. Angelfish are peaceful fish with occasional aggressive tendencies.
Colors, Patterns, Fins, and Sex Differences
Angelfish have wide bodies, triangular snouts, fan-shaped caudal fins, and long, flowing dorsal and pectoral fins.
Angelfish are available in several colors, and the most common angelfish color is silver with four vertical black stripes. Juvenile angelfish have seven black stripes on their bodies, but as the fish mature, the number of stripes decreases.
In addition to silver, angelfish are found in gold, black, white, orange, and yellow. Marbled angelfish have no black stripes, but have a combination of marbled black, white, orange, yellow, gold, and silver on their bodies.
Albino angelfish have pure white bodies with red eyes, yellowy-orange heads, and red-hued tails. Platinum and gold angelfish are pure silver or pure gold, with no black bands.
Panda angelfish are a color variation of angelfish with white bodies and black patches that resemble a panda's markings.
The brightness of an angelfish's coloring depends on the fish's mood and stress levels. When angelfish are stressed or asleep, the fish appear duller in color. Healthy, well-nourished angelfish living in ideal water conditions have vibrant colors.
Male angelfish have bolder colors than usual when attracting females for breeding.
Typical Behavior
Angelfish are active, showy fish that swim in the mid-levels of the tank, weaving in and out of aquarium plants. The fish are diurnal, meaning that they're more active during the day than at night.
With enough space to claim their own territories, angelfish are peaceful fish, but when housed with too many fish of their kind, angelfish fight to defend their space or claim a mate.
Although angelfish form schools, the fish aren't sociable with other angelfish and rarely interact with one another. However, angelfish are less aggressive than other cichlids and are unlikely to bully other fish species in the tank.
Angelfish Care & Tank Requirements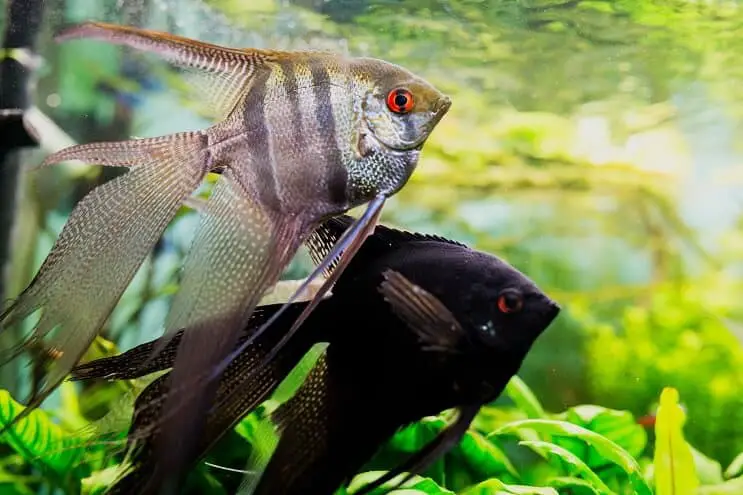 Angelfish are hardy fish that are easy to care for. The fish require tropical freshwater with a slow-moving current, replicating their natural habitat. Feed angelfish an omnivorous diet.
Habitat and Tank Requirements
The angelfish's natural habitat is slow-moving waters in the Amazon basin. Angelfish are used to warm, slightly acidic water with a fine substrate, plenty of plants, and lots of sunlight.
Set up your angelfish tank to mimic the conditions that the fish is used to in the wild. Angelfish require a tank size of at least 20 gallons, with an extra 10 gallons per extra fish, due to the fish's large, tall body and territorial nature.
Use a soft substrate, such as sand or mud, in your angelfish tank. Angelfish enjoy digging in the substrate, so don't use harsh gravel or materials that could scrape and injure the fish's body.
Freshwater angelfish are used to slow-flowing currents, which can be achieved with a low-flow aerator. Provide an aquarium light that mimics the sun, such as an aquarium LED light, and ensure the light is switched on for between 8 and 12 hours per day.
Use plants that are native to the Amazon river, such as Amazon sword and anacharis, to ensure angelfish feel at home in the tank. Additional plants to consider are Java fern and Java moss, which are sturdy and hardy.
Avoid using floating plants, which block out the light and overcrowd the tank.
Provide caves, rocks, and other hollow decorations for angelfish to use as hiding places and territorial spots in the aquarium.
Tank Conditions
The ideal tank conditions for angelfish are:
| | |
| --- | --- |
| Water type: | Slightly acidic, slow-flowing freshwater |
| Tank size: | Minimum 20 gallons, plus 10 gallons for every extra fish |
| Water temperature: | 75–82°F |
| Substrate: | Soft sand or mud |
| Tank setup: | Plants, caves, strong lighting |
| Acidity: | 6.8–7.0 pH |
| Water hardness: | 4–12 dGH |
| Filter: | Yes, to provide a slow current and keep the tank clean |
| Pump: | Not necessary |
| Bubbler: | No, the filter can provide sufficient aeration without the use of a bubbler |
| Lighting: | Yes, standard aquarium lighting to keep the plants healthy and mimic the sunlight that angelfish are used to in the wild |
| Water heater: | Yes, to maintain a tropical water temperature |
Provide consistent water parameters in the tank to prevent angelfish from becoming stressed or ill.
Disease
There are several common freshwater diseases that affect angelfish in captivity:
Ich
Ich, or white spot disease, is caused by stress, which usually results from poor tank conditions. The protozoan parasite, Ichthyophthirius multifiliis, causes white, itchy spots on the fish's body. Ich also causes lethargy and a lack of appetite.
Treat ich by quarantining the affected fish in a separate tank. Increase the water temperature by a couple of degrees to speed up the protozoan's lifespan and add one teaspoon of salt per gallon of water in the tank.
Dropsy
Dropsy is a symptom of an underlying bacterial infection, which can occur if the fish's immune system becomes compromised. This bacterial infection causes a bloated appearance, scales that stick out from the body, protruding eyes, rapid breathing, lethargy, and loss of appetite.
Treat dropsy with antibacterial medication recommended by your veterinarian, and add ⅛ teaspoon of Epsom salt to every five gallons of water.
Fin Rot
Fin rot is a bacterial infection that is commonly caused by fluctuating water parameters. This disease attacks the fins from the edges, working towards the body. There are several types of flavobacteria that are responsible for fin rot, including Columnare and Aeromonas. Fin rot causes shredded, milky fins and difficulty swimming.
Treat fin rot by cleaning the tank and carrying out 20–50% water changes for at least two weeks. Speak to your veterinarian about using antibiotic treatment.
Tank Mates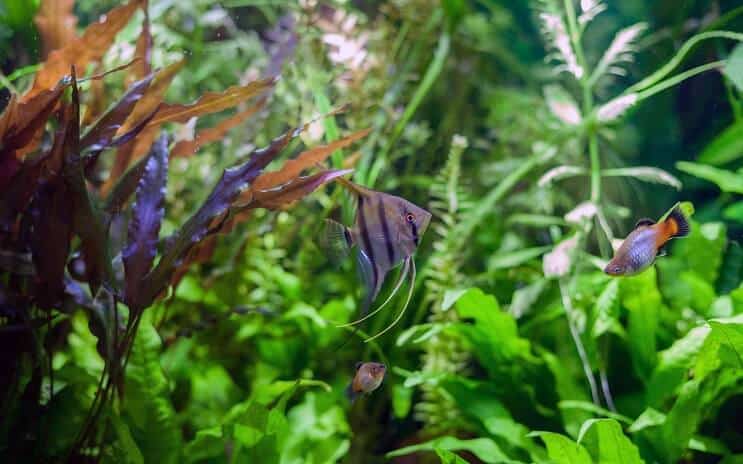 In the wild, angelfish live in one of the most diverse habits, with thousands of other fish.
In an enclosed tank habitat, the fish's territorial, aggressive nature is heightened, so don't house angelfish with shy species that are intimidated by pushy, boisterous fish.
Great tank mates for angelfish are:
Other angelfish. Angelfish can be housed in groups of up to six, as long as the tank is big enough to help them avoid conflict.
Other compatible cichlids, such as discus and dwarf cichlids
Don't house angelfish with non-fish tank mates because angelfish are likely to harass or attack crabs, shrimp, and other invertebrates.
Diet and Feeding
Angelfish eat a diet of small live prey, including insects, larvae, crustaceans, and small fish in the wild.
Replicate this diet in captivity by providing a high-protein, high-fiber diet with limited plant matter.
Feed angelfish live foods such as tubifex worms, which are a vital source of protein for the fish. Brine shrimp and live water fleas are other good protein sources for angelfish.
Aside from live prey, provide nutritious, high-protein fish flakes or pellets, and a small amount of high-fiber plant food, such as blanched spinach or zucchini.
Angelfish require at least two feedings per day. Provide only a pinch of food at a time, ensuring the fish eat for two whole minutes. Remove uneaten food to keep the tank clean.
Breeding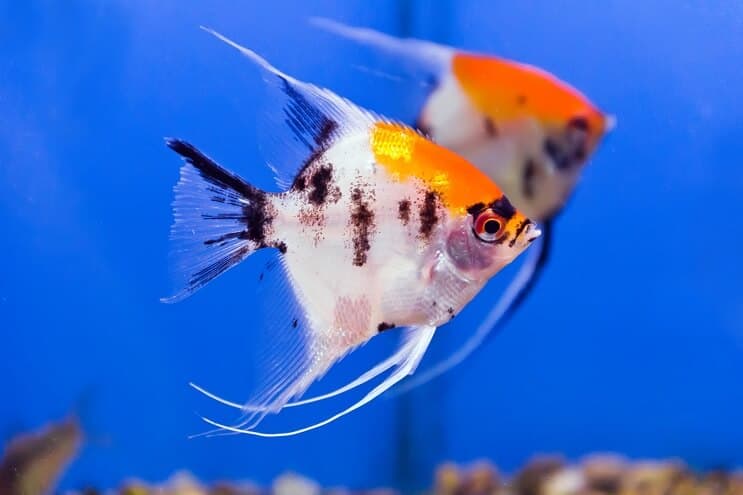 Angelfish are some of the easiest-to-breed freshwater aquarium fish. Freshwater angelfish reach sexual maturity between six months and one year of age.
To breed angelfish in your tank, follow these instructions:
Observe your school of angelfish. The fish should pair off naturally and set territories for themselves.
Create a separate 20-gallon breeding tank for a fish pair, with slow-flowing water, a temperature of 82°F, and a suitable slanted spawning surface, such as anacharis or PVC pipes.
Condition the fish by feeding them a high-protein diet of tubifex worms or bloodworms, four times per day.
Move the pair to the breeding tank and watch their behavior. When the female lingers next to the spawning surface, she is getting ready to lay her eggs.
The female will lay up to 400 eggs, which the male will fertilize externally.
The eggs will hatch after two or three days. The parents will look after the fry for about up to a month. Remove the parents after four weeks and return the fish to their home tank.
Feed the fry brine shrimp larvae until the fish reach six weeks old. Then, move onto a diet of flakes and dried food.
After six weeks, the angelfish are large enough to be moved to a community tank.
Should You Get an Angelfish for Your Aquarium?
Angelfish are beautiful fish that are occasionally aggressive.
Consider getting an angelfish for your aquarium if you have enough space to house this fish species, and you have experience looking after other freshwater fish. Don't get an angelfish if your tank contains shy, nervous fish, or your tank is crowded with lots of fish already.
Despite their occasionally territorial behavior, angelfish are colorful, majestic fish that will have an impact on any aquarium.
Angelfish FAQs