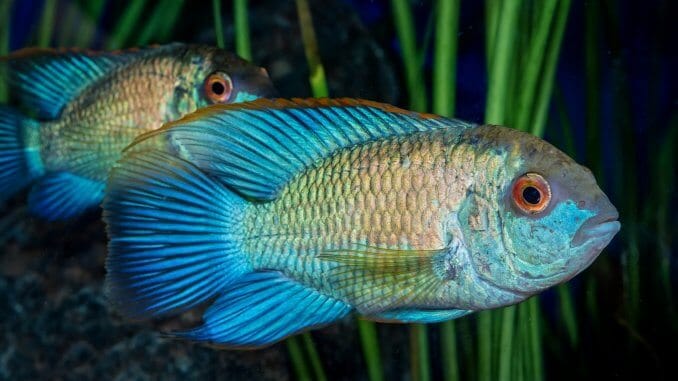 The electric blue acara is a freshwater species of the cichlid family. The fish is related to more than 1,650 cichlid species and is a man-made variation of the regular blue acara.
Electric blue acaras have bright blue bodies that shimmer under aquarium lighting.
Aquarists love electric blue acaras because the fish are bold, beautiful, hardy, and live up to 20 years. These fish are also calmer than most other cichlids.
Electric Blue Acara Facts & Overview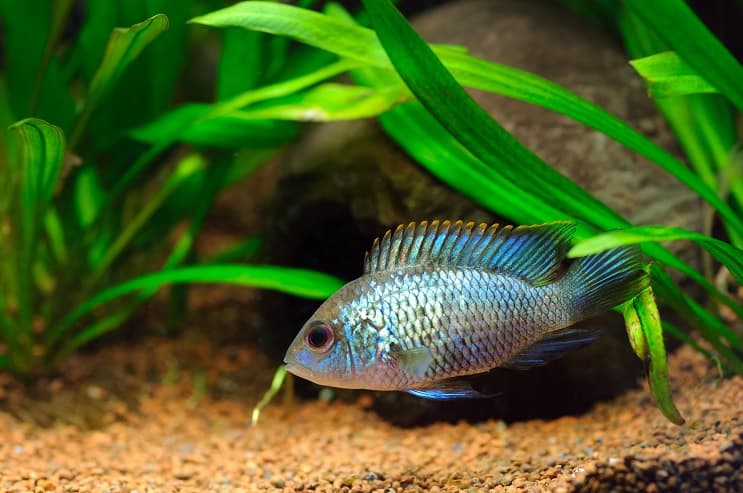 | | |
| --- | --- |
| Scientific name: | Andinoacara pulcher |
| Common names: | Electric blue acara, electric blue acara cichlid, Andinoacara pulcher hybrid |
| Distribution: | Man-made hybrid of a species from Central and South America |
| Size: | 6–8 inches |
| Life expectancy: | 10–20 years |
| Color: | Bright blue with yellow/gold tones |
| Diet: | Omnivore |
| Temperament: | Peaceful |
| Minimum tank size: | 30 gallons |
| Temperature: | 68–82°F (20–27°C) |
| pH: | 6.0–7.5 |
| Hardness: | 6–20 dGH |
| Care level: | Easy |
| Breeding: | Egg layer |
Origin
The electric blue acara is a man-made hybrid of the blue acara, which is commonly found in slow-flowing freshwater rivers and streams in Central America, South America, and Trinidad.
The fish's habitat is heavily planted and sheltered from the sun, and is home to tons of invertebrates and small fish species.
Blue acaras are adaptable fish that live in a variety of habitats in the wild, including murky, clean, flowing, and still waters.
Adult Size & Lifespan
Full-grown electric blue acaras are 6–8 inches long. Males are longer, more slender, and have a longer and more pointed dorsal fin than females.
The average lifespan of this fish species is 10 years, but with the right care in a captive environment, the fish can live up to 20 years.
Availability
The electric blue acara is a popular, widely available freshwater fish that's easily found in local fish stores and online. The fish costs between $7 and $12 depending on size and coloring.
You can buy electric blue acaras from:
Appearance & Behavior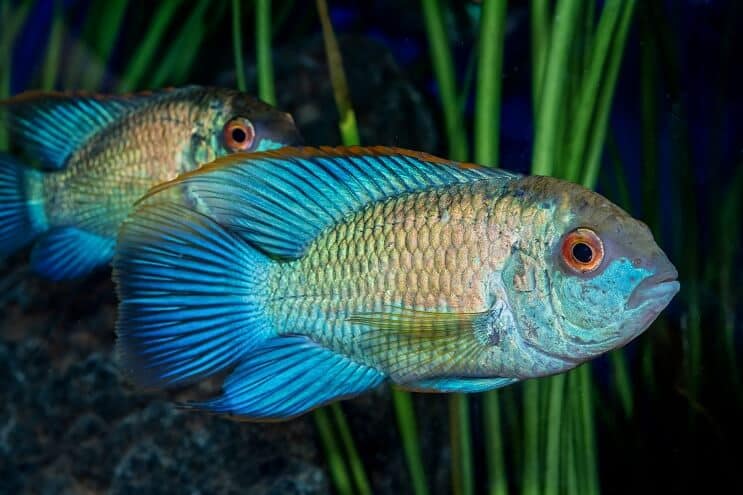 The electric blue acara has a vibrant blue body and a peaceful personality.
Colors, Patterns, Fins, and Sex Differences
Electric blue acaras have a spectrum of blue coloring across their bodies, bold blue dorsal fins that are darkest at the edges, blue-gray heads, and yellow-blue pectoral fins. The sides of the fish have a gold, silver, or yellow tinge over beautiful, densely-packed scales.
This fish has an elongated, tall body with flat, compressed sides and red or orange eyes with large black pupils. The shortest part of the fish's body is the section just before the tail.
Males and females look similar, but male electric blue acaras have a noticeable hump on the forehead and have longer, pointier dorsal and anal fins compared to females.
They are known to change color from blue to silver when they're breeding, sick, or stressed.
Typical Behavior
Cichlids have an aggressive reputation, but electric blue acaras are a peaceful, calm, sociable species that get along well with most other peaceful fish. These acaras swim quickly in the middle and bottom sections of the tank and enjoy burrowing in the substrate.
Electric blue acaras divide their time between swimming in the open and exploring hiding places like caves and plants.
The fish are unusually maternal, and the mothers find food for their offspring after the eggs hatch.
The electric blue acara is diurnal, meaning it's most active during the day and sleeps overnight, usually in caves or on the substrate.
Electric Blue Acara Care & Tank Requirements
Caring for electric blue acaras is easy because they're adaptable to a variety of water conditions in the wild. The fish need a medium-sized, planted freshwater tank and a protein-rich diet including plant and animal species.
Habitat and Tank Requirements
The natural habitat of the electric blue acara includes tropical, heavily-planted lakes and slow-moving rivers and streams. Mimic this environment in the tank by replicating wild water parameters, substrate, plants, and decorations.
Provide a tank of at least 30 gallons for a single electric blue acara, with an extra 15 gallons of space for every additional acara. Install a high-quality filter set at medium-high to provide flow and aeration.
Electric blue acaras like to dig, so the tank's substrate should be soft and non-abrasive. Rounded gravel and fine sand substrates are good choices.
Add plants, driftwood, rocks, and caves to the tank to give the fish hiding spaces and areas to explore.
Good plants for electric blue acara tanks are tolerant plants like Java ferns, Java moss, and anubias that have strong root systems. Floating plants like dwarf water lettuce provide a dim water environment similar to this species' natural habitat.
Tank Conditions
The ideal tank conditions for electric blue acaras are:
| | |
| --- | --- |
| Water type: | Tropical, slow-moving freshwater |
| Tank size: | Minimum 30 gallons and an extra 15 gallons per additional electric blue acara |
| Water temperature: | 68–82°F |
| Substrate: | Soft, fine sand or gravel |
| Tank setup: | Rocks, caves, plants |
| Acidity: | 6.0–7.5 pH |
| Water hardness: | 6–20 dGH |
| Filter: | Yes, to keep the tank clean and provide a slow current |
| Bubbler: | Yes, to oxygenate the tank |
| Lighting: | Yes — normal aquarium lighting to mimic natural day-to-night cycles |
| Water heater: | Yes, to maintain a consistently warm temperature |
As long as you provide enough open space for swimming, maintain consistent water parameters, and clean the tank thoroughly with a high-quality filter, the electric blue acara should be happy and comfortable in its tank.
Disease
There aren't any potential diseases that are exclusive to electric blue acaras, but the fish are still susceptible to several of the most common freshwater diseases.
Ich
Ichthyophthirius multifiliis, termed ich for short, is a parasitic skin disease that causes white spots on an affected fish's gills and body. Fish with ich rub their bodies against rough surfaces and exhibit lethargy, lack of appetite, and abnormal hiding behavior.
Treat ich by moving the fish to a quarantine tank and adding copper sulfate or antiparasitic medication to the quarantine tank's water.
Skin Flukes
Skin flukes, or flatworms, are common freshwater parasites that feed on the external layers of gill and skin tissue and are spread by improper quarantine, poor feeding, and poor water quality. Gyrodactylus spp. and Dactylogyrus spp. are two of the most common skin flukes affecting freshwater fish, causing flashing (itching against rough surfaces), missing scales, hazy skin, lethargy, and decreased appetite.
Treat skin flukes with antiparasitic medication recommended by your veterinarian.
Tank Mates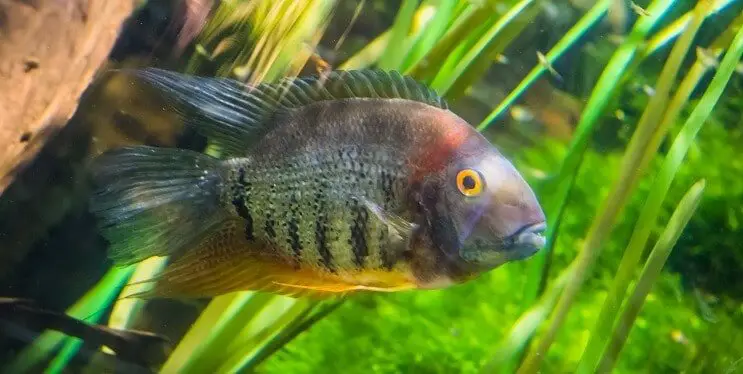 The electric blue acara is a peaceful fish that gets along well with most fish species of a similar size. Don't keep these fish with large or aggressive fish that could attempt to eat or fight with the acaras.
Ideal tank mates for electric blue acaras are:
Zebra cichlids
Velvet cichlids
Moga cichlids
Ideal non-fish tank mates for electric blue acaras include:
Diet and Feeding
In the wild, blue acaras follow a high-protein omnivorous diet, and they dig in the earth for insects and worms. The fish also eat small fish species and plants.
Replicate the fish's omnivorous diet in captivity by feeding the electric blue acaras bloodworms, shrimp, and mussels. Diversify your fish's daily diet to provide a range of nutrients.
Alongside live or frozen foods, provide premade fish flakes or granules, and plant-based foods such as flakes made from leafy vegetables.
Provide enough food for the electric blue acara to finish within two or three minutes, twice per day. Remove uneaten food after feeding to keep the water clean.
Breeding
Breeding electric blue acaras is easy. The fish reach sexual maturity between eight and 10 months old, or when they reach around 4 inches long.
They mate for life, so once you've successfully bred one pair, you can use the same pair for breeding in the future.
To breed the electric blue acara, follow these steps:
Set up a 20-gallon breeding tank with a sandy substrate, a water temperature of 77°F, and a neutral or slightly acidic pH. Decorate the tank with flat rocks and plants.
Introduce the male and female fish to the tank. The fish will form a pair and swim together at the bottom of the tank.
The male and female will choose and clean a rock to lay the eggs on. The female will lay between 150 and 200 eggs on the rock, and the male will fertilize the eggs shortly after.
The parents will take turns guarding the eggs for between two and three days, and both fish will dig a pit in the substrate for the fry.
The parents will move the fry once they hatch to the pit for another four days until the fry become free-swimming. They will bring the fry food for around two weeks, so add microworms and baby brine shrimp to the tank.
Remove the parents after two weeks of breeding to prevent them from breeding again. Upgrade the fry to a bigger tank of 40–90 gallons, depending on the number of fry. Forty to fifty fry fit well in a 40-gallon tank, and 100 or more fry should be in a tank of around 90 gallons.
By the end of their second month, the fry are ready to be moved into a community tank and fed normal adult food, or sold to local breeders.
Should You Get an Electric Blue Acara for Your Aquarium?
The electric blue acara is a beautiful, vibrant fish that's calmer and more sociable than other cichlids.
You should get an electric blue acara if you want to add a cichlid to your tank that won't cause drama with the other inhabitants, or you want a sturdy, easy-to-breed fish with low care needs.
Don't get the fish if your tank contains large or aggressive species or small fish that they might eat.
Electric blue acaras are ideal for beginners looking for colorful fish to safely add to their community tank.