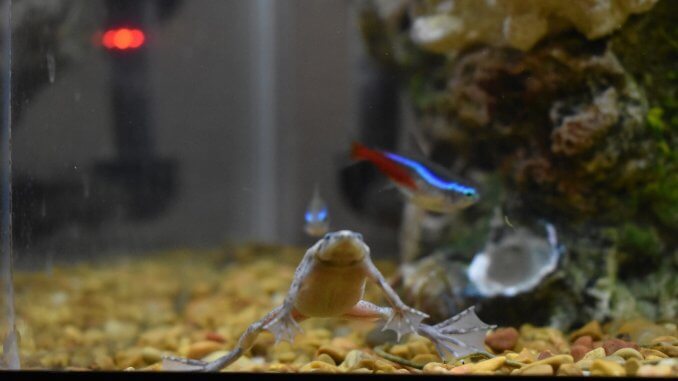 The African dwarf frog is a freshwater amphibian of the Hymenochirus family. This species is a great addition to freshwater tanks with its unique coloring and physical traits.
African dwarf frogs bring activity and entertainment to an aquarium. The species coexists peacefully with non-predatory fish species, making it popular with beginner and expert aquarists alike.
African Dwarf Frog Facts & Overview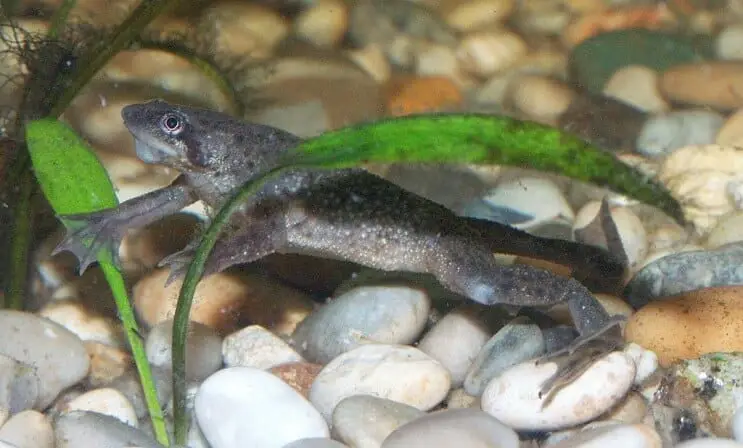 | | |
| --- | --- |
| Scientific name: | Hymenochirus curtipes |
| Common names: | African dwarf frog |
| Water type: | Freshwater |
| Distribution: | Native to Africa, especially equatorial regions |
| Size: | 2–3 inches |
| Life expectancy: | 5–10 years |
| Color: | Olive-green to brownish-green |
| Diet: | Omnivore |
| Temperament: | Peaceful |
| Minimum tank size: | 10 gallons |
| Temperature: | 74–80°F (24–26.7°C) |
| pH: | 6.5–7.8 |
| Hardness: | 5–20 dGH |
| Care level: | Intermediate |
Origin
African dwarf frogs are commonly found in the rivers and ponds in African countries like Nigeria, Congo, and Cameroon. However, these frogs have also spread to other African countries with warmer climates and substantial river systems.
Dwarf frogs are often kept by aquarists who don't want much cleanup, and who keep their tank nearby where they can watch the amphibians.
Adult Size & Life Expectancy
Adult female African dwarf frogs can reach a length of up to 3 inches, while male frogs are up to 40% smaller.
When kept in small-size tanks of less than 10 gallons, these frogs will not mature to the full 3-inch length, and may only reach a length of 1¼ inches.
African dwarf frogs typically live 5–10 years.
Availability
While the African dwarf frog isn't usually stocked by small pet stores, there are specialized breeders across the US and Canada that breed, sell, and ship them.
The average price for an African dwarf frog is $4.99–$6.99 when ordered from:
Appearance & Behavior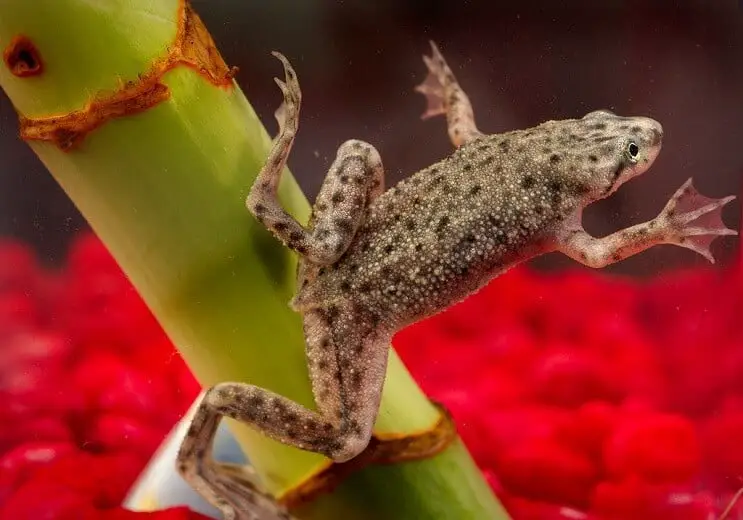 African dwarf frogs have an olive to muddy-brown base color, and occasionally present overlaying dark spots that achieve a mottled coloring. These amphibians are active and lively additions to any freshwater aquarium.
Colors, Patterns, and Size
Female African dwarf frogs are much larger than males, reaching up to 3 inches long. The females have a slightly more elongated body with more prominent genital areas, while males have white bulges behind their front legs.
Unlike other frog species, the African dwarf frog has no tongue or teeth, relying on simply swallowing the edible components of the aquarium.
African dwarf frogs are brown to olive in color, with darker spots across their bodies. Some subspecies have golden coloring or are paler, almost pinkish (known as a blonde coloring).
These frogs shed their skin as they grow. They pale in color during shedding, just before the old skin detaches and the new, darker skin appears.
Typical Behavior
African dwarf frogs are peaceful cohabitants of freshwater aquariums, and the frogs happily share tanks with other non-predatory frogs and fish. African dwarfs are not territorial, though they may hunt small fish.
The species likes to hang out at the water's surface where the frog breathes with its fully functional lungs. It also enjoys hiding in caves and around aquatic plants, and foraging for scraps near the bottom of the tank.
When dwarf frogs are comfortable in their tank, they swim actively and are amusing to watch. The species is vocal, and you may hear it grunting and humming in its tank at night, especially during breeding season.
African Dwarf Frog Tank & Water Requirements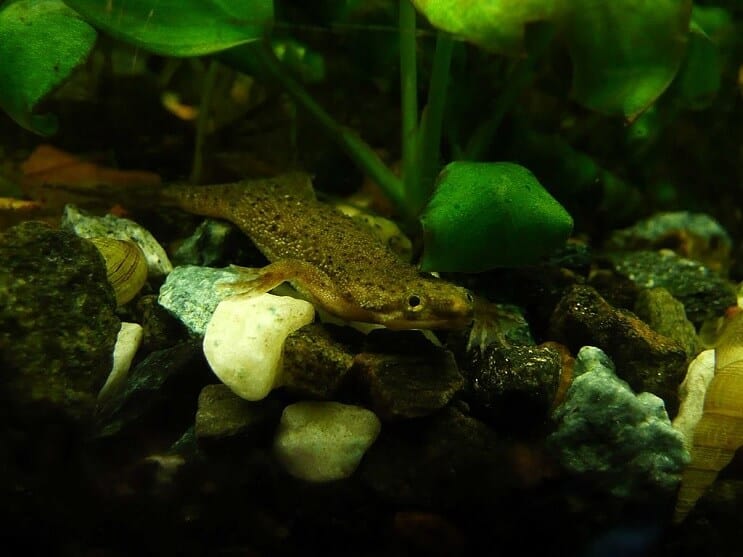 Simulate the African dwarf frog's natural habitat in the tank with warm water, enough space for swimming (at least 10 gallons), caves and planted aquatic forests to hide in, and good filtration to ensure an absence of disease.
Habitat and Tank Requirements
Start by providing a safe substrate for African dwarf frogs. Ensure the substrate pebbles are large enough so the frogs can't swallow them and potentially choke while foraging.
Decorate with some rocky caves and aquatic plants like Java fern or Java moss, Amazon sword plant, and duckweed for the frogs to rest and hide in.
Include rocky ledges or plants with large leaves at the surface where the frogs can hang out to breathe. However, if no support exists near the surface, the frog can also inflate, floating with arms and legs extended, so it can breathe near the surface.
Ensure the frogs can climb onto rocky ledges without scraping their skin, and ensure the ledge is easily accessible from the surface of the water. The frogs can quickly dry out and dehydrate without easy water access.
African dwarf frogs are nocturnal. Provide the tank with 10–12 hours of light per day for the frogs to regulate their internal sleep cycles. Standard aquarium lights provide the correct lighting cycle. Heat the water to the desired temperature by using one 5-watt heater per 1 gallon of tank water.
Ensure the tank size is 10 gallons or more, especially if you keep fish and other aquatic life too. A good quality filter with slow-moving water is best to ensure the tank water remains at the optimal pH and water hardness levels.
Water Conditions
The water requirements for the African dwarf frog are basic and should mimic the frogs' natural aquatic environment.
Aim for these specific water conditions:
| | |
| --- | --- |
| Water type: | Freshwater |
| Tank size: | Minimum 10 gallons |
| Water temperature: | 74–80°F (24–26.7°C) |
| Acidity: | 6.5–7.8 pH |
| Water hardness: | 5–20 dGH |
| Water supplement: | Start-up bacteria such as Tetra SafeStart |
If you keep freshwater fish in the tank with your African dwarf frog, be sure to find fish with the same tank requirements.
Care & Diet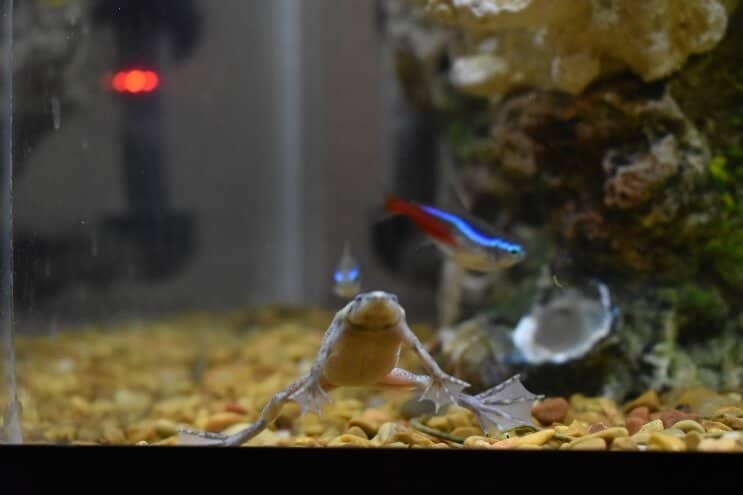 Caring for African dwarf frogs seems easy, though the requirements to ensure the frogs don't develop skin problems make them an intermediate-level pet to keep.
Feeding this species a balanced diet of carnivorous fish food pellets, live foods like shrimps, bloodworms, and fish fry, helps ensure it remains healthy.
Care for dwarf frogs by checking them for diseases, cleaning the tank water and substrate frequently, and meeting the frogs' social needs by keeping them with other dwarf frogs.
Diet and Feeding
Feed the frogs twice daily, and never add more food than what they can eat in two minutes. Monitor each feeding, and gently scare away any fish mates that try to eat the frogs' food.
Follow the frog's nocturnal life cycle by feeding them early in the morning and again at sunset. Feed the frog pellet foods for most meals, with some variety two to three times a week. These frogs can quickly become obese.
General Care
Caring for the African dwarf frog is easy. Be sure to change 10% of the tank water weekly (with a 25% change monthly), scrub the gravel, and vacuum the substrate weekly to remove uneaten food and feces.
African dwarf frogs happily cohabitate with large, non-aggressive fish species, and they love having other dwarf frogs around for mating and to sing to.
This frog isn't a good pet to handle, as it's easy to drop and injure due to its squirmy, slimy body.
Common Problems
Ailments that affect dwarf frogs include bacterial infections to the skin, eyes, and mouth, and fungal infections that may show up as a white fluffy growth on or near their eyes.
Treat both conditions by cycling the tank water, testing pH, and adjusting as necessary. Additionally, add healthy bacteria and clean the substrate. Quarantine affected frogs if there is more than one in a tank. Remove any ill fish from the tank if you need to treat them with copper supplements because copper is toxic to frogs.
Is an African Dwarf Frog Dangerous?
No, African dwarf frogs aren't dangerous, but a common hazard of keeping African dwarf frogs (or any frog species) is the spread of salmonella.
Salmonella can often be contracted by handling frogs with bare hands. An ill frog can affect the health of other frogs, which is why quarantining a sick frog is essential.
Tank Mates
African dwarf frogs are mostly bottom feeders, so partner them with non-aggressive fish that feed in the top strata of the tank.
Great tank mates for the African dwarf frog include:
Other African dwarf frogs
Breeding
Breeding an African dwarf frog is not hard because these amphibians are very fertile. To successfully breed these frogs, simulate the conditions that the frogs would experience in the wild when breeding season starts.
Start by gradually, over one month, lowering the water levels in the amphibian-only tank until the water reaches 3 inches deep.
Next, fill the tank with warm water at 85°F, maintaining the warmer temperature for three weeks.
Increase the feeding volumes and frequency, providing lots of protein-rich treats, while still ensuring there's no buildup of excess food that could rot and dangerously increase the nitrate levels of the tank water.
Within two to three weeks, the female frogs should begin growing bigger — a sign that they are developing eggs inside their egg pouches. The pairs will soon breed, and you can look forward to the mating calls and grumbling sounds of amorous frogs as the eggs are fertilized.
Tadpoles will hatch after three to six days. Ensure there are loads of hiding spaces in the tank, like ferns and caves, where the tadpoles can hide from hungry tank mates.
Should You Get an African Dwarf Frog for Your Aquarium?
Getting an African dwarf frog is a great idea for those who enjoy an active aquarium with character-filled occupants.
Consider the cost of setting up a tank that will suit your dwarf frogs, the time required to clean out the tanks, and whether you are able to safely handle the frogs if one of them becomes ill.
If you have fast-moving, predatory fish, then adding an African dwarf frog as a tank mate is not a good idea.
African Dwarf Frog FAQs