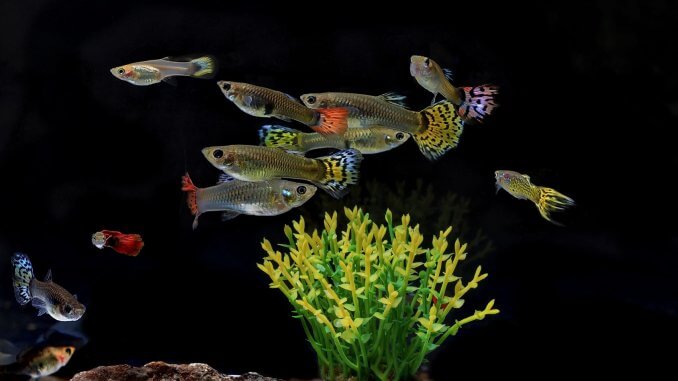 The guppy is a freshwater fish belonging to the Poeciliidae family. The guppy's beautiful, flowing fins and colorful body make this fish a popular choice amongst aquarists.
Guppies are some of the most commonly available tropical aquarium fish. They are shy, peaceful fish that are adaptable, low-cost, and easy to care for, making them good introductory fish for beginner aquarists.
Guppies Facts & Overview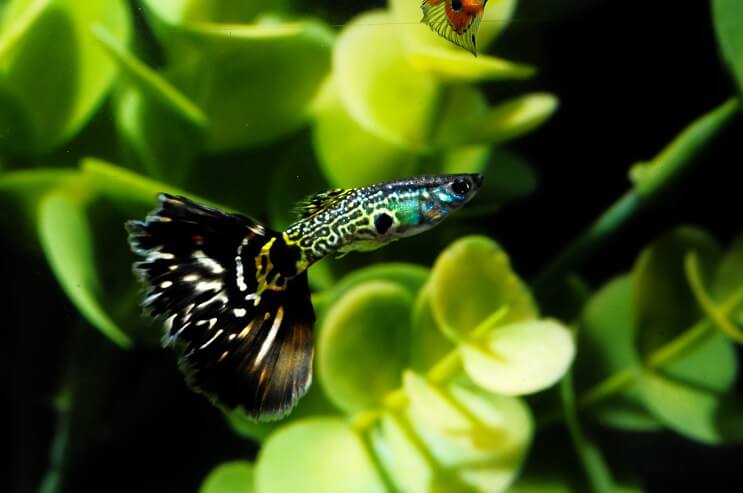 | | |
| --- | --- |
| Scientific name: | Poecilia reticulata |
| Common names | Guppy, millionfish, rainbow fish |
| Distribution: | Suriname, Antigua, Trinidad, Barbados, Guyana, Venezuela, and Tobago |
| Size: | 0.6–2.4 inches |
| Life expectancy: | Up to 2 years |
| Color: | A variety of colors including yellow, orange, blue, black, red, green, yellow, and pink |
| Diet: | Omnivore |
| Temperament: | Peaceful |
| Minimum tank size: | 5 gallons |
| Temperature: | 74–82°F (23–28°C) |
| pH: | 6.8–7.6 |
| Hardness: | 8–12 dGH |
| Care level: | Easy |
| Breeding: | Livebearing |
Origin
Guppies are native to parts of South America, including Suriname, Antigua, Trinidad, Barbados, Guyana, Venezuela, and Tobago. They have been introduced to regions beyond South America and are now widely distributed across the world.
In the wild, guppies live in large schools to protect themselves from predators like large fish and birds. Although guppies prefer freshwater habitats, the fish are highly adaptable and can survive in brackish environments too.
Adult Size & Lifespan
Fully-grown guppies are around two inches long on average. Female guppies grow to twice the size of male guppies. Males grow to about 1 ⅛ inches long, and females grow up to 2 ⅛ inches in length.
Male and female guppies have a lifespan of up to two years in the wild and in captivity. In the ideal tank environment, guppies can live longer than wild guppies because guppies in the wild are exposed to more predators.
Availability
Guppies are popular aquarium fish and are widely available in pet stores and online. Individually, guppies cost between $4 and $25, depending on the rarity and uniqueness of the fish. You should buy guppies in groups of at least three, bringing the total cost up to $12–$75.
You can find a range of guppies, including black guppies, red fire guppies, kohaku guppies, and lemon cobra guppies, available at LiveAquaria.
Imperial Tropicals also sells a variety of guppies including red blonde guppies, yellow tail tuxedo guppies, and cobra guppies.
Appearance & Behavior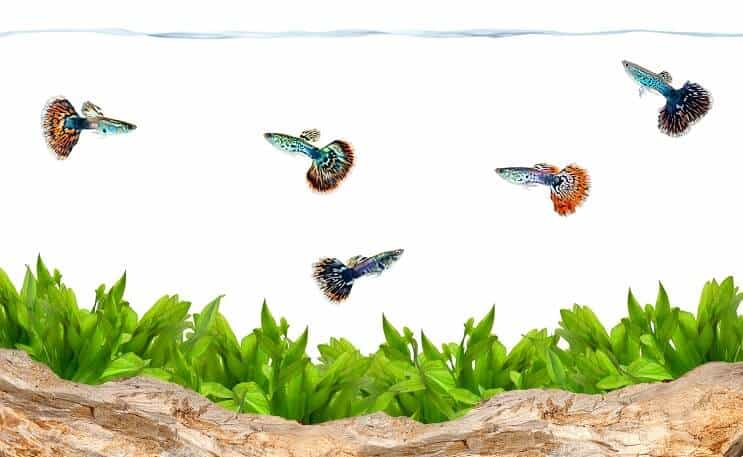 Guppies are calm, laid-back fish with no aggressive or territorial tendencies. They are recognizable due to their small, slim bodies. Different sub-species of guppies have their own unique colors, markings, and tail types.
Colors, Patterns, Fins, and Sex Differences
Guppies are available in a variety of colors and patterns, with different tail lengths and styles. They can be categorized according to tail type, color, and eye color.
Some of the common types of guppy tails are fantails, flag tails, round tails, spire tails, and veil tails. Some guppies have long, flowing tails, and others have short, flat tails.
Most guppies are two-toned or three-toned, with colors including red, orange, black, yellow, green, pink, purple, silver, and blue. Spots and stripes are patterns that can be found on the body, fins, and tail of the guppy fish.
The biggest difference between male and female guppies is size: females are about an inch bigger than males when fully grown. Males are more slender than females, and male guppies are more colorful than females.
Guppies become pale in color when they are stressed. When breeding, female guppies become rounder and paler than normal. Male guppies become brighter than usual when looking for a mate.
Typical Behavior
Guppies are peaceful fish that enjoy the safety and social aspect of swimming in groups. They are fast, active swimmers, and they spend most of their time exploring and chasing one another. Male guppies enjoy showing off to the females.
Aggressiveness is an uncommon guppy trait, but guppies can assert their dominance by bullying and fighting with other fish during feeding or if the tank is too small.
Guppies swim in all parts of the tank, but the fish prefer to spend most of their time at the top, near the surface of the water. Although guppies enjoy swimming in the open, the fish hide in caves and behind plants when they're playing or when they feel threatened.
Guppies sleep when it's dark and they're most active and prefer to eat during daylight hours.
Guppy Fish Care & Tank Requirements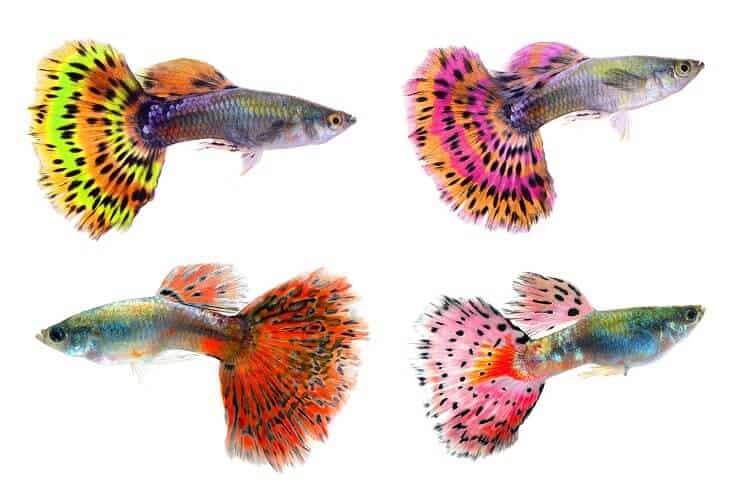 Establishing a tank for guppies is easy. Guppies thrive in warm freshwater environments, and you should replicate this in captivity.
They eat a varied diet in the wild and require a similar combination of proteins and plant foods in a home aquarium.
Habitat and Tank Requirements
The natural habitat of guppies varies widely. Guppies are found in streams, ponds, small pools of water, and brackish ecosystems. They are versatile fish — but in captivity, the fish prefer clean freshwater tank environments.
In order to provide a suitable habitat for your guppies in captivity, make sure the water parameters are correct and that the tank is cycled properly. Use plants and tank decorations to replicate the underwater rockery and greenery of the fish's natural environment.
Live plants like Java moss, flame moss, and wisteria offer coverage for guppies and keep the water clean by accelerating the nitrogen cycle. Guppies like to play and hide amongst pebbles and caves, and caves provide private space for guppies to mate.
Use sandy or rocky substrates to match the riverbeds and bottom surface of the ponds that guppies occupy in the wild. A specialized substrate isn't important for guppies because the fish rarely spend time at the bottom of the tank.
Tank Conditions
The desired tank conditions for guppies are listed below:
| | |
| --- | --- |
| Water type: | Hard, freshwater |
| Tank size: | Minimum 5 gallons, plus 1 gallon of water for every additional adult guppy |
| Water temperature: | 74–82ºF |
| Substrate: | Sand, rocks, vegetation |
| Tank setup: | Plants, caves, decorations |
| Acidity: | 6.8–7.6 pH |
| Water hardness: | 12–18 dkH |
| Filter: | Not essential, but can be used to maintain water quality |
| Bubbler: | Yes, to aerate the water |
| Lighting: | Not necessary unless the aquarium is heavily planted or doesn't have access to natural daylight |
| Water heater: | Yes, to prevent temperature fluctuations and maintain the ideal temperature range |
Guppies are hardier than most other fish, but you should still maintain consistent tank conditions to reduce the potential for disease and stress.
These fish thrive in a tank setup including water parameters that mimic their natural environment.
Disease
There are several diseases that guppies are prone to in captivity:
Protozoan Disease
Protozoan disease is often referred to as "guppy disease" because the disease is common amongst guppies. The disease is caused by a protozoan parasite called Tetrahymena sp. and usually occurs when the water quality is poor or the water isn't warm enough.
Symptoms of protozoan disease include loss of appetite, problems breathing, and excess slime. Treat the disease by improving water conditions and making sure water temperatures are within the 74–82ºF range.
Ich
Ich is a classic aquarium disease that affects all freshwater fish, including guppies. A guppy with ich will have white spots on its body and will rub its body against rough surfaces in the tank.
Ich is caused by a parasite called Ichthyophthirius multifiliis and can be treated by quarantining the affected fish and increasing water temperature by two degrees, which speeds up the parasite's life cycle. Dissolving one tablespoon of salt in every five gallons of the fish's tank water also treats ich.
Fin Rot and Tail Rot
Guppies with long, flowing fins are prone to fin rot and tail rot. This bacterial infection is caused by stress, overcrowding, and inconsistent water parameters.
Symptoms of fin rot include discolored or milky-colored, and ragged, frayed, shortening fins. Treat fin rot and tail rot by carrying out a full water change and using antibiotics recommended by your veterinarian.
Tank Mates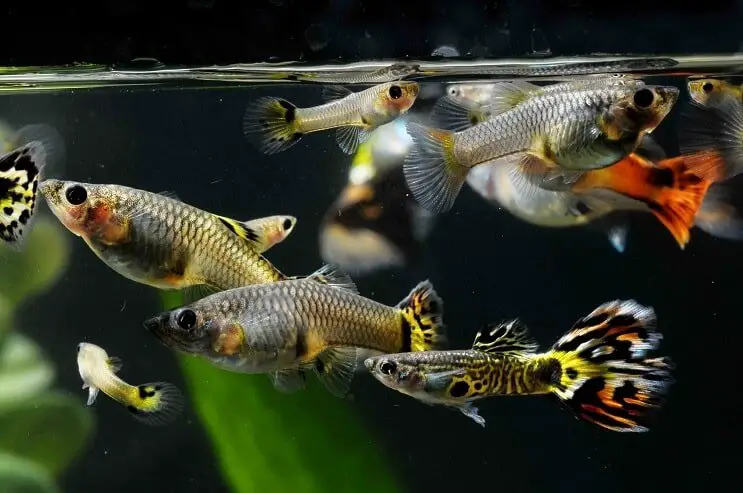 Guppies are friendly fish that get along with most other fish species. However, the guppy's small size makes the fish a target for aggressive fish and a food source for large fish.
Keep guppies in a tank with other small, peaceful fish. Guppies swim near the top of the tank, so you should choose tank mates that swim in the middle and the bottom of the tank so that the fish don't get in each other's way.
Great tank mates for guppies include:
Non-fish tank mates for guppies include:
Guppies enjoy one another's company and prefer to be housed in groups of at least three, so you should make sure you have enough guppies in your tank before buying other fish.
Diet and Feeding
In the wild, guppies eat a varied diet of algae, invertebrates, insect larvae, and mineral particles, depending on food availability in the fish's habitat.
Feed guppies a varied diet in the aquarium similar to their diet in the wild. A combination of algae wafers, high-quality fish flakes, and frozen foods like bloodworms will ensure that guppies obtain a wide variety of nutrients, and have a low risk of deficiencies.
Feed baby guppies crumbled fish flakes and boiled egg yolk.
Set a twice-daily feeding schedule for your guppies, feeding the fish only as much food as they can eat within two minutes. Remove uneaten food to maintain good-quality water.
Breeding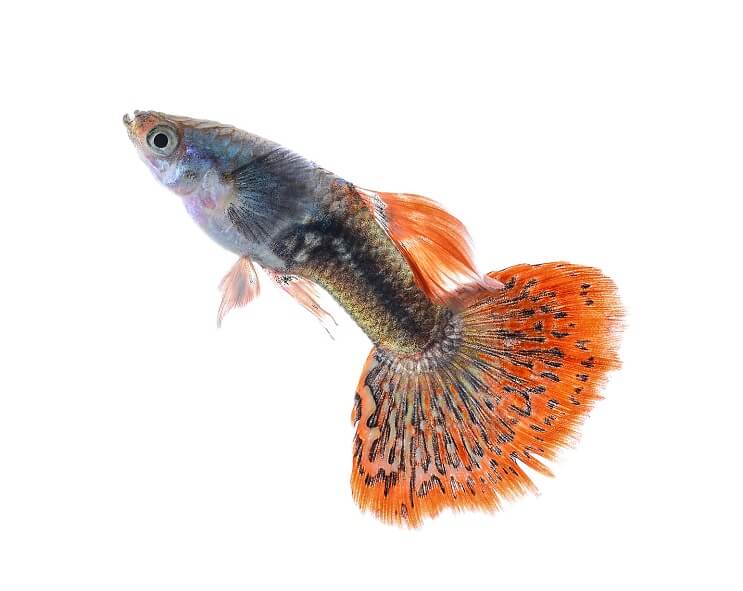 Guppies are some of the easiest-to-breed aquarium fish, and many guppies breed without prompting from their owners. Guppies are ovoviviparous, meaning that the females develop eggs inside their bodies, then release the eggs in time for hatching.
To breed guppies, follow these steps:
Select a healthy male guppy and up to three healthy females. Breeding is less stressful for the females when the male's attention is divided between the three.
Set up a 10-gallon breeding tank and install a gentle filter, low-floating plants for the fry, and caves for the guppies to breed. Set the water temperature to about 79ºF.
Place the guppies in the breeding tank and wait for the fish to breed. The male will breed with one or several of the females multiple times to ensure fertilization.
When you notice a dark mark on a female guppy's abdomen, it means she is pregnant. Check the females to see how many of the fish are pregnant, then remove the male and any non-pregnant females and return them to the home tank.
Wait for between 26 and 31 days for the gestation period. Feed the pregnant females three to five small, highly-nutritious meals per day.
Female guppies hide and shiver when they're about to give birth. Monitor the females during the birthing process and return the females to the home tank afterward to prevent them from eating the fry.
Feed the fry powdered fish flakes and brine shrimp and change 40% of the tank's water every three days until the fry are old enough to join a regular tank, or are at least six weeks old.
Should You Get Guppies for Your Aquarium?
If you're a beginner aquarist or you're looking for beautiful, peaceful fish for your tank, you should consider getting guppies. However, guppies aren't suitable for tanks with large or aggressive fish because the guppies could be bullied, injured, or eaten by these fish.
Guppies are easy to take care of and come in a range of brilliant colors. A school of guppies is a mesmerizing addition to a home aquarium.
Guppy Fish FAQs