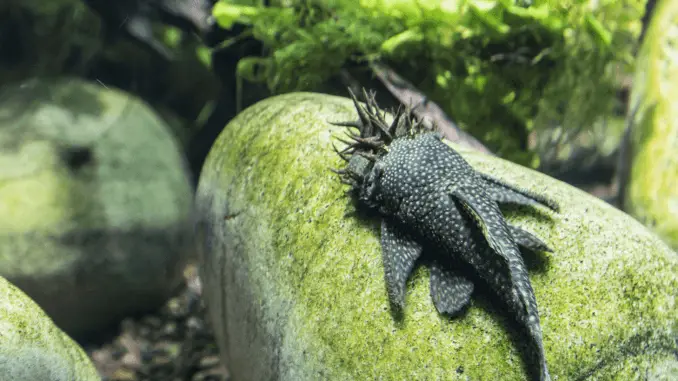 The bristlenose plecostomus is a freshwater species of the pleco family (a type of small aquarium catfish) and is commonly known as the suckerfish or simply, the bristlenose pleco.
Bristlenose pleco catfish have brown, flattened bodies covered with white or yellow spots. The most distinguishable feature of this fish is its tentacles, which protrude from its head.
These fish are popular aquarium fish because of their hardiness and tank cleaning abilities.
Bristlenose Plecostomus Facts & Overview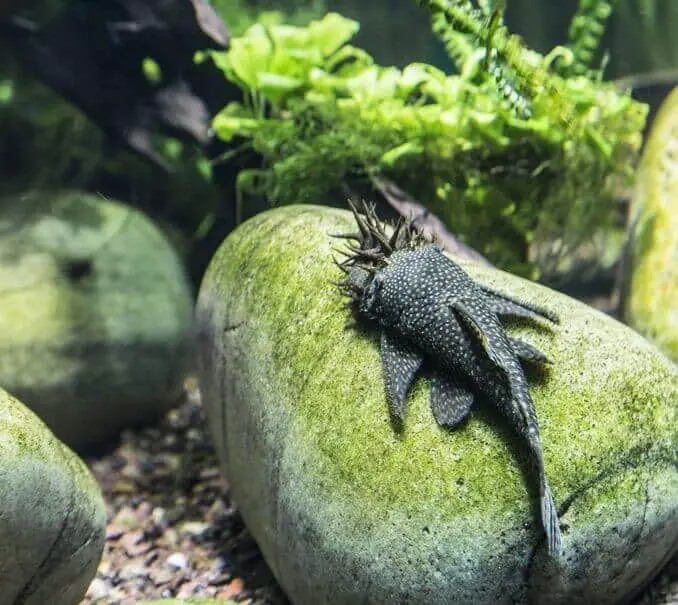 | | |
| --- | --- |
| Scientific name: | Ancistrus cirrhosus |
| Common names: | Bristlenose pleco, bristlenose plecostomus, bristlenose catfish, bushynose catfish, bushynose plecostomus |
| Distribution: | Fast-flowing waters in the Amazon Basin in South America |
| Size: | 4–5 inches |
| Life expectancy: | 5–8 years |
| Color: | Black, brown, olive, gray, albino |
| Diet: | Herbivore |
| Temperament: | Peaceful |
| Minimum tank size: | 30 gallons |
| Temperature: | 73–81°F (23–27°C) |
| pH: | 5.7–7.8 |
| Hardness: | 2–20 dGH |
| Care level: | Easy |
| Breeding: | Egg-layers |
Origin
Bristlenose plecos originate in the freshwater rivers and floodplain areas of the Amazon Basin in South America. The fish are also found in Panama.
Their preferred environment is shallow waters. In the wild, the fish use their mouths to hold onto plants and driftwood and to climb tree roots that poke out of the water. The powerful suction mouth holds onto rocks and wood in fast currents, anchoring the fish in place.
They are commonly found in the wild and are easily obtained in the pet trade.
Adult Size & Lifespan
Fully-grown bristlenose plecos reach up to five inches long, and females are larger and rounder than males. In the wild, the fish grow up to eight inches long.
With the right care, captive fish can live beyond five years, and some live for ten years or longer.
Availability
Bristlenose plecos are easy to find in pet stores and online. Most stores sell at least one type of this fish.
The average cost is $6–$30, depending on coloring and features.
You can find this soecies at the most popular online fish stores, including:
LiveAquaria — sells common, orange, and albino gold bristlenose plecos.
Imperial Tropicals — sells longfin albino, chocolate, super red, and blue eye lemon bristlenose plecos.
Bristlenose Pleco Appearance & Behavior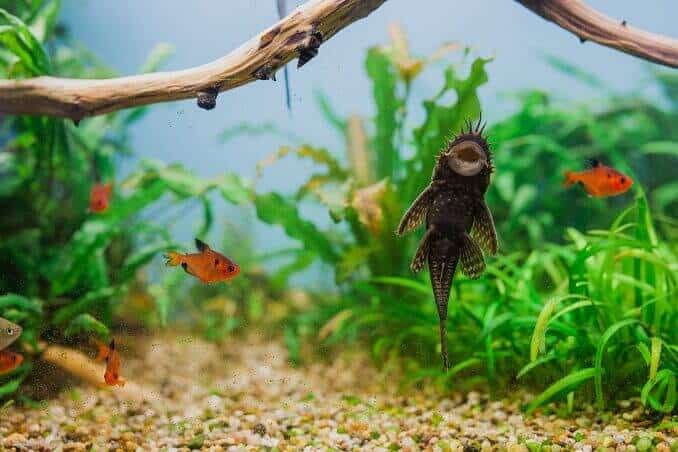 Bristlenose plecos are small catfish in shades of brown, green, gray, and (less commonly) red, white, and orange. They're calm, peaceful fish that are suitable for a friendly community tank.
Colors, Patterns, Fins, and Sex Differences
Bristlenose plecos have flat bodies, wide heads, bony plates, and fleshy tentacles that protrude from their heads.
Most have a dark, murky coloring, such as gray and brown, with white or yellow spots. However, there are several captive-bred solid color variations, including red, orange, lemon, and albino gold.
Common bristlenose plecos have short, fan-like fins and tails. The long-finned variation has fins about double the length of the common one.
Males have larger bristles than females. Males have whiskers and spikes on their fins, and tentacles on their head, while females have tentacles on their snouts. Babies develop bristles and tough skin about two months after being born.
When stressed or sick, the fish become duller in color than usual. The species changes color to blend in with its environment.
Typical Behavior
Bristlenose plecos are passive, peaceful fish that get on well with other peaceful fish in a community tank. Because bristlenose plecos spend most of their time swimming around the bottom of the tank, they don't disturb fish that occupy other parts of the water column.
During the day, the fish are sedentary, and with their brown coloring,  blend into their environment and become almost invisible. They enjoy hiding in caves and behind plants.
This species becomes active at night, swimming around and burrowing in the substrate. When the fish find a good source of algae, they will nibble at it until sunrise.
Bristlenose Pleco Care & Tank Requirements
Caring for bristlenose plecos is easy, so they're a good species for beginner or inexperienced aquarists.
In the wild, the species lives in tropical freshwater rivers and streams, and eats a combination of plant matter and tiny insect larvae. You can replicate the habitat by setting up a freshwater tank with the right water parameters, and feeding the fish a herbivorous diet.
Habitat and Tank Requirements
The natural habitat of the bristlenose pleco is fast-flowing rivers in the Amazon Basin, with a sandy, soily substrate and plenty of plants, rocks, and algae. Mimic this environment as closely as possible in captivity to ensure your fish is comfortable and happy in the tank.
A medium tank of between 30 and 40 gallons is required, with an extra 10 gallons per additional bristlenose pleco. The fish enjoy exploring the substrate, and a deep substrate of at least three inches is ideal.
A deep substrate will also allow for deep-rooted plants to thrive. Use a clay-based substrate topped with gravel that the fish can "vacuum" with their mouths when searching for food.
Caves and hollowed decor are good hiding spots. Make sure the tank decorations are secured in place and unable to fall into the holes in the substrate made by a burrowing fish.
Hardy, fast-growing plants like Java fern, Java moss, Amazon sword, and wisteria are good decoration options, because they're strong enough to stay rooted in place when the fish are foraging in the substrate for food.
Driftwood and large rocks also work well because these are found in this species' natural environment.
Tank Conditions
The ideal tank conditions for bristlenose plecos are:
| | |
| --- | --- |
| Water type: | Slightly soft, fast-flowing freshwater |
| Tank size: | Minimum 30 gallons, and an extra 10 gallons of water for one extra bristlenose pleco |
| Water temperature: | 73–78°F |
| Substrate: | Clay-based, topped with a fine gravel substrate |
| Tank setup: | Plants, hollow decorations, driftwood, caves |
| Acidity: | 5.7–7.8 pH |
| Water hardness: | 2–20 dGH |
| Filter: | Yes. Bristlenose plecos produce a lot of waste, and a strong, powerful filter is needed to keep the tank clean. Bristlenose plecos also enjoy a moderate current |
| Bubbler: | Not necessary, but a bubbler provides extra oxygen if desired |
| Lighting: | No, only natural lighting is required for plant growth |
| Water heater: | Yes, to maintain consistent tropical water temperatures |
This species becomes sedentary, stressed, and sick in the wrong water parameters. Aside from mimicking a natural environment, it's important to ensure water is consistently at the right temperature, hardness, and pH.
Disease
Bristlenose plecos are hardy fish that rarely suffer from major diseases. However, a number of common freshwater aquarium diseases can still affect the fish, including:
Ich
Ich is a parasitic disease caused by Ichthyophthirius multifiliis, and is characterized by white sprinkles on the fish's body. Fish with ich rub themselves against rough surfaces and appear lethargic. Ich in bristlenose plecos is usually caused by poor water conditions.
Quarantine fish with ich and increase the water temperature by two degrees. Add one tablespoon of salt per five gallons of water in the tank.
Hole in the Head
Hole in the head, also called 'head and lateral line erosion,' has no known cause, although early research suggests that activated carbon aquarium filters are contributors to the disease. Poor nutrition and subpar water quality are also thought to cause hole in the head. Symptoms of hole in the head include receding skin and small indentations on the fish's head.
Treat hole in the head by carrying out a 90% water change and removing activated carbon filters from the tank.
Dropsy
Dropsy, or Malawi bloat, is a symptom of a bacterial infection that causes loss of coloration and bloating. This infection is caused by malnutrition or liver dysfunction, and symptoms include swelling of the abdomen, bulging eyes, dull fins, and pale feces.
To treat dropsy, change 25% of the water in the tank every two days until the problem clears up. Speak to your veterinarian for treatment if the fish's symptoms don't improve within a week.
Tank Mates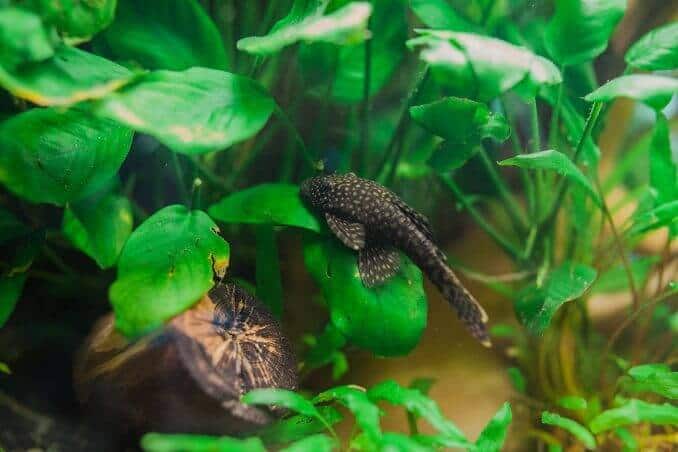 Bristlenose plecos are peaceful fish that are compatible with other non-aggressive fish that swim in the mid and top sections of the tank.
Don't house long-finned variations with fin-nipping fish like angelfish, kissing gouramis, tiger barbs, or some tetra species. Don't house more than one bristlenose pleco in the same tank unless you have enough room in the tank for each to claim its own territory.
Great tank mates include:
Non-fish tank mates include:
Diet and Feeding
In the wild, bristlenose plecos mainly eat algae. It's unlikely that your tank contains enough algae to provide a consistent food supply, so you should offer a variety of foods every day to maintain the fish's healthy coloration.
Fish flakes, bloodworms, algae wafers, and blanched spinach are nutritious foods for this species. Make sure the food sinks to the bottom of the tank, where it can be reached by bottom-dwelling fish.
Feed the fish twice per day, providing enough food for them to eat within two minutes. Remove uneaten food to keep the tank clean and to prevent overfeeding.
Breeding
The bristlenose pleco is a beginner-friendly fish to breed. In the wild, the fish breeds during rainy seasons, and attains sexual maturity at about 15 months of age.
To breed this species, follow the steps below:
Establish a separate breeding tank with cooler water than the main tank's water, or about 72°F. Decorate the tank with plenty of caves and hiding spots.
Select up to three healthy females and one healthy male pleco. Condition the fish for breeding while they are still in the home tank by feeding the fish bloodworms and reducing the home tank's water temperature by a couple of degrees.
Place the fish in the breeding tank. The male will look for a cave for the female(s) to lay their eggs in.
After finding a spot, the male will clean the cave and wait for a female visitor. When a female arrives, she'll assess the spot and lay bright orange, sticky eggs on the walls and floor of the cave.
An uninterested female will swim away without laying eggs. If several females are in the tank, at least one female should be interested.
The male will fertilize the eggs and the female will guard the cave. If there are other females in the tank, remove them now.
The eggs will hatch within 10 days, and the baby plecos will feed on their egg sacs for two or three days.
The fish don't usually eat their babies, but you can remove the adults once the fry are born because the babies are independent from birth.
Feed the fry algae and mashed vegetables until the fish reach full maturity at six months old.
Should You Get a Bristlenose Pleco for Your Aquarium?
Bristlenose plecos are peaceful, unique-looking fish that are a useful and entertaining addition to home aquariums.
You should get one if you're a beginner aquarist looking for a hardy species for your peaceful community tank. Don't get one if your tank houses aggressive fish species, or your tank isn't large enough to house it.
These fish are not only easy to care for — they're also fun to watch as they scavenge for food and "vacuum" the tank.
Bristlenose Pleco FAQs