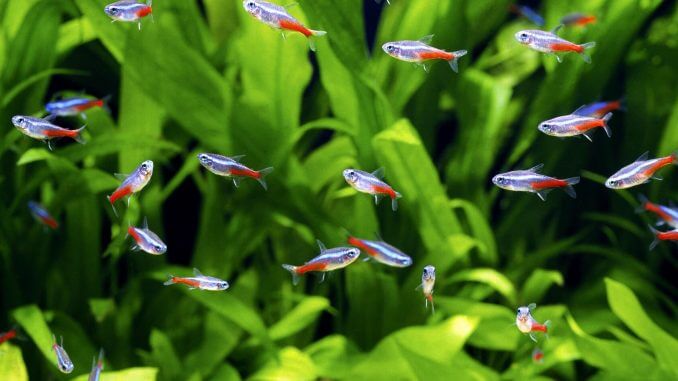 The neon tetra is a freshwater fish of the tetra fish family. Neon tetras have vibrant blue bodies with striking red markings from the belly to the tail.
Because of their hardiness, neon tetras have low care needs, making the fish a popular choice for beginner fishkeepers.
There are several variations of neon tetras available, including black neon tetras and diamond head neon tetras.
Neon Tetra Facts & Overview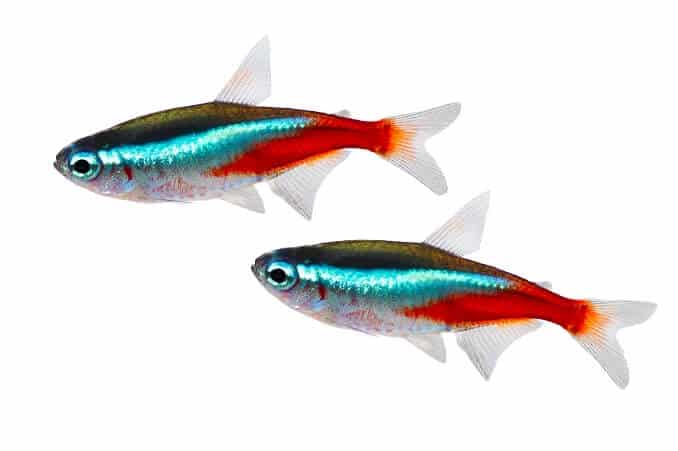 | | |
| --- | --- |
| Scientific name: | Paracheirodon innesi |
| Common names | Neon tetra |
| Distribution: | Brazil, Colombia, Peru |
| Size: | 1–1.5 inches |
| Life expectancy: | 6–8 years |
| Color: | Blue, silver, or translucent with red markings |
| Diet: | Omnivore |
| Temperament: | Peaceful |
| Minimum tank size: | 10 gallons |
| Temperature: | 70–81°F (21–27°C) |
| pH: | 6.0–7.0 |
| Hardness: | 2–10 dGH |
| Care level: | Easy |
| Breeding: | Egg scatterer |
Origin
Neon tetras are found in the northern and western Amazon basins in Peru, Brazil, and Colombia. The waters in this region are acidic, with a pH as low as 0.4. Neon tetras live in blackwater and clearwater streams.
The neon tetra's natural habitat is declining due to deforestation and farming, but there are still a lot of neon tetras in the wild. More than 1.5 million neon tetras are imported from fish farms to the U.S. every month.
Adult Size & Lifespan
Neon tetras are one of the smallest species of aquarium fish, and adult neon tetras only grow to 1.5 inches long. Males and female neon tetras are the same sizes, but males have longer dorsal and anal fins than females.
Male and female neon tetras have the same lifespan of up to eight years. In the wild, the fish can live for up to 10 years, depending on the population of predators in their habitat.
Availability
Neon tetras are widely available in the United States. You can buy neon tetras from local pet stores and online.
The average cost of a neon tetra is $3–$5. Neon tetras should be kept in groups of at least six, bringing up the average total cost to $18–$30.
LiveAquaria sells neon tetras and a couple of neon tetra variations, including black neon tetras.
Imperial Tropicals sells neon tetras in groups of three, 10, 25, and 50
Appearance & Behavior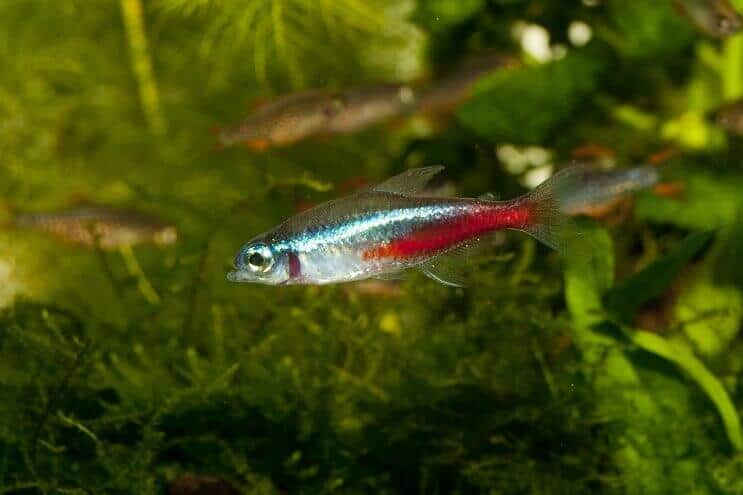 Neon tetras are vivid blue with a thick red line from the belly to the tail. Neon tetras are calm, peaceful fish and are rarely aggressive in a peaceful community tank setup.
Colors, Patterns, Fins, and Sex Differences
Neon tetras have bright blue heads and backs, with a deep blue stripe from the eye to the tail and an iridescent red stripe on each side of their bodies. The body of a neon tetra is narrow and torpedo-shaped, and the fish's fins and tail are compact, translucent, and pointed.
Breeders have introduced different types of neon tetras, which can only be found in captivity. Types of neon tetras include:
Longfin neon tetras – this species has fins nearly double the length of the wild neon tetra's.
Albino neon tetras – unique for their pale white bodies and pink eyes.
Diamond head neon tetras –the fish look like wild neon tetras but have diamond-shaped heads.
Golden neon tetras – these fish look like albino neon tetras but have more coloration than the albino fish.
Black neon tetras – these fish have silver bodies and a vertical black stripe that runs from behind the eye to the tail.
Male neon tetras are typically brighter in color than females. Males also have flatter bellies than females and straight blue stripes, while females have blue stripes that curve upward because of the female's rounded body shape.
When stressed, a neon tetra loses some of its bright coloring and appears faded. Neon tetras turn a dull violet-blue in the dark, and a brilliant blue-green when exposed to light.
Baby neon tetras are paler than adult neon tetras, and it takes several weeks for the fry to become bold blue in color.
Typical Behavior
Neon tetras are non-aggressive schooling fish that get along with other peaceful fish of a similar size. If stressed or uncomfortable, neon tetras show signs of aggression including fin-nipping.
Neon tetras are active fish with high energy requirements. They are most active during the day, and they spend most of their time darting around the tank.
These fish swim in the middle of the water column and enjoy playing and hiding in underwater vegetation. The more comfortable a neon tetra feels in its environment, the less frequently the fish will hide.
Neon Tetra Care & Tank Requirements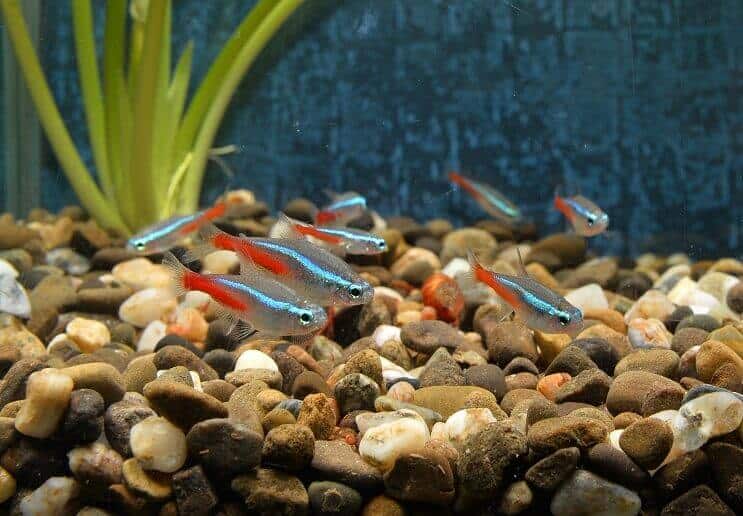 Caring for neon tetras is easy. Neon tetras are hardy fish that can adapt to brackish and clearwater environments, but a clean freshwater tank setup will ensure that the fish thrive in captivity.
Neon tetras are omnivores and have a varied diet in the wild, which you should replicate in your home aquarium.
Habitat and Tank Requirements
In the wild, neon tetras live in tropical flowing waters, with dense vegetation that includes floating plants and roots. You should replicate this habitat in the tank by providing low-light hiding places for your neon tetra.
Decorate your neon tetra tank with floating plants like hornwort and Java moss. These plants create shady, secluded hideaways that neon tetras enjoy. Driftwood can also be used to provide hiding places for the fish.
Neon tetras don't spend much time digging in the substrate, so the choice of substrate isn't as important to neon tetras as it is for bottom-dwelling fish. However, a dark substrate such as black sand will make your neon tetra feel at home and will showcase the fish's beautiful neon coloring.
Darkening three sides of the aquarium's glass helps to mimic the neon tetra's low-light, wild habitat.
Tank Conditions
The ideal tank conditions for neon tetras are:
| | |
| --- | --- |
| Water type: | Hard, freshwater |
| Tank size: | Minimum 10 gallons, and one extra gallon of water for every additional fish |
| Water temperature: | 70–81°F |
| Substrate: | Sand, rocks, pebbles |
| Tank setup: | Floating plants, caves |
| Acidity: | 6.0–7.0 pH |
| Water hardness: | 2–10 dkH |
| Filter: | Helpful because filters aerate the water and reduce the risk of disease, but not necessary because neon tetras survive without filtration |
| Bubbler: | No, as long as you have enough plants and a filter, which will do enough work without a bubbler |
| Lighting: | No, neon tetras prefer dark environments |
| Water heater: | Yes, to ensure a consistent tropical water temperature |
Although neon tetras adapt well to tank environments, you shouldn't add neon tetras to a startup tank because the fish don't tolerate changes to the water chemistry. Add neon tetras to a fully-mature tank to ensure the fish thrive in their environment.
Disease
In poor tank conditions or stressful environments, neon tetras are prone to several common aquarium diseases:
Neon Tetra Disease
Neon tetra disease is so-called because the disease was first identified in neon tetras. Caused by a Microsporidian parasite, neon tetra disease causes restlessness, loss of coloration, cysts, difficulty swimming, and, in advanced cases, a curved spine. The parasite that causes neon tetra disease spreads when fish eat infected live foods.
There is no known cure for neon tetra disease, so you should remove all affected fish from the tank to prevent the disease from spreading to the entire tank population.
Ich
Ich, otherwise called ick or white spot disease, is a parasitic disease caused by the protozoan Ichthyophthirius multifiliis. Fish with ich have white, salt-like spots on their bodies, tails, and fins, and rub their bodies against rough surfaces to relieve the itching.
To treat ich, quarantine the affected fish in a separate tank. Add one tablespoon of salt per five gallons of water to the tank and increase the water temperature by two degrees.
Fin and Tail Rot
Neon tetras housed in poor water conditions are at risk of developing fin rot and tail rot. This disease begins at the ends of the fins or tail and gradually works its way towards the fish's body, causing the fins to become ragged and frayed.
Treat fin rot by carrying out a complete water change and using antibiotics if recommended by your veterinarian.
Tank Mates
Neon tetras are peaceful and passive, making them suitable tank mates for a variety of fish species.
Similarly-sized, bottom-dwelling, non-aggressive fish can be added to a community tank with neon tetras.
Great tank mates for neon tetras include:
Non-fish tank mates for neon tetras include:
Neon tetras are a schooling species, so make sure your neon tetras are housed in groups of six or more before considering other fish species for the tank.
Diet and Feeding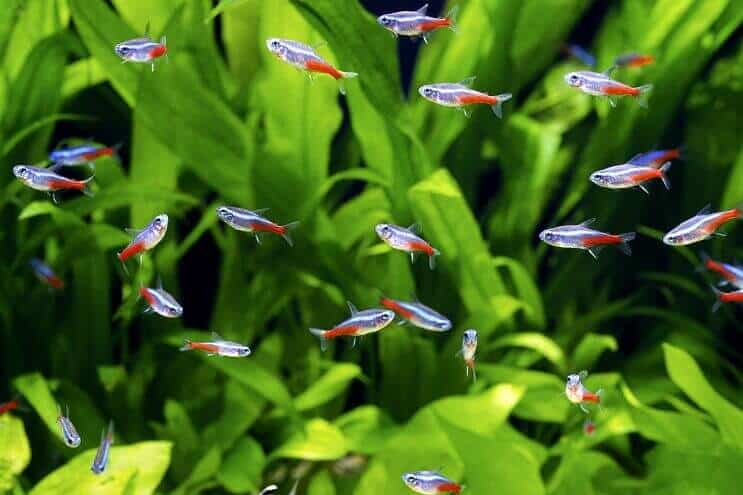 In the wild, neon tetras are omnivores, eating a varied diet of meat and fish. Depending on the food source available in the fish's habitat, a neon tetra will feed on insect larvae, small insects, algae, and other plant matter.
You should replicate the neon tetra's diet by providing a similarly varied selection of animal- and plant-based foods in the tank.
Good-quality fish flakes that are fortified with vitamins and minerals are a staple food to feed neon tetras. Several times per week, feed neon tetras live or frozen foods like bloodworms, daphnia, tubifex, and brine shrimp. Cut live food into small pieces to prevent the neon tetras from having problems swallowing the food.
Make sure your neon tetras get enough plant foods in their diet. Feed the fish algae wafers, grapes, cucumbers, and strawberries up to three times per week.
From six months old, neon tetras should be fed twice a day. Provide enough food for the tetras to eat for two minutes, then discard the uneaten food to maintain good water quality. Overfeeding neon tetras can make the fish sick, so stick to a feeding schedule and don't put too much food into the tank.
Breeding
Breeding neon tetras is difficult because specific water parameters are required to trigger mating. Experienced aquarists will have more luck than will beginners with breeding these fish in a home aquarium.
How to Breed Neon Tetras
To breed neon tetras, follow these steps:
Select a healthy male and female neon tetra. The fish should both be at least 12 weeks old and ready for breeding.
In the evening, place the tetras in a dedicated breeding tank. The tank should have a reduced pH level of between 5.0 and 6.0, and the water temperature should be reduced to 75°F. Place a filter in the tank and move the tank to a low-light location.
Allow the tetras to remain in the breeding tank for up to two days. If the fish aren't breeding, make sure the water temperature and pH are just right, and make the water softer than normal to mimic rainfall season in the wild.
After two days, if the tetras still haven't spawned, add a large amount of soft water to the tank.
If breeding is still unsuccessful, replace the female with another female and continue to adjust the tank conditions.
If successful, a male and female will spawn behind a plant or in a cave, and the female will scatter up to 130 translucent eggs across the substrate and plants in the tank.
As soon as you see the eggs, remove the parents from the tank to prevent the fish from eating their babies.
Up to 50 of the eggs will hatch after about 24 hours.
Baby tetras are light-sensitive, so you should keep the fish in the dark for their first five days.
The baby neon tetras will find enough nutrition for their first three days of life by eating their egg sacs.
For their first three months following the first three days of feeding on their egg sacs, feed the baby fish special fry food and baby brine shrimp.
After three months, place the babies in the home tank with the adult fish.
Should You Get a Neon Tetra for Your Aquarium?
Neon tetras are peaceful, hardy fish that are suitable for beginners and experienced aquarists. You should get a neon tetra for your aquarium if you have a freshwater tank with enough room for a school of at least six fish.
If your tank houses large or aggressive fish, either don't get a neon tetra or establish a separate tank to house these tetras. As long as neon tetras are kept in peaceful community tanks with the right water conditions, the fish will thrive in a home aquarium.
Neon Tetra FAQs