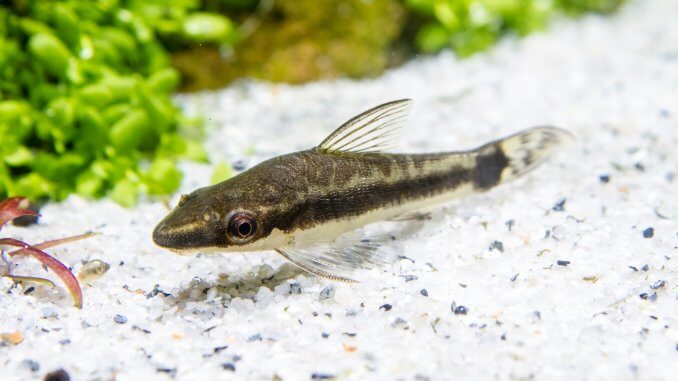 The otocinclus catfish is a freshwater fish of the catfish family. There are 22 known species of otocinclus catfish. These small fish grow up to 2 inches long and appear in various colors, usually with a horizontal brown stripe running along the fish's bodies.
Otocincluses are peaceful, skittish fish that are popular amongst aquarists because of their algae-eating behavior. Although these fish are peaceful, they're incompatible with large, aggressive, or predatorial tank mates.
Otocinclus Catfish Facts & Overview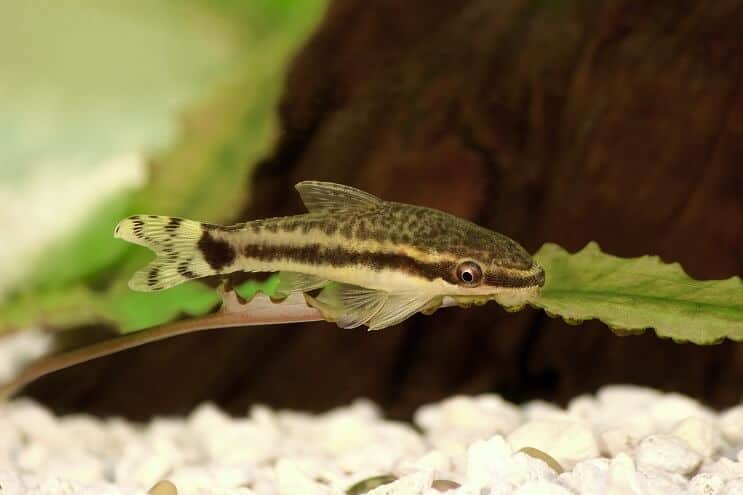 | | |
| --- | --- |
| Scientific name: | Otocinclus sp. |
| Common names: | Otocinclus, otocinclus catfish, dwarf sucker, dwarf armored catfish, oto, oto cat, otto |
| Distribution: | South America |
| Size: | 1–2 inches |
| Life expectancy: | 3–5 years |
| Color: | Various colors, usually with a horizontal brown stripe |
| Diet: | Herbivore |
| Temperament: | Peaceful |
| Minimum tank size: | 10 gallons |
| Temperature: | 72–79°F (22–26°C) |
| pH: | 6.8–7.5 |
| Hardness: | 7–15 dGH |
| Care level: | Easy |
| Breeding: | Egg-layer |
Origin
Otocinclus catfish are commonly found in slow-flowing shallow rivers and streams in South America.
In their wild habitat, the fish attach themselves to rocks, driftwood, and other stable surfaces to feed off algae. The waters in this habitat are moderately-vegetated, with good access to sunlight and a soft, sandy riverbed.
Adult Size & Lifespan
The otocinclus is a small fish that grows to 2 inches in length. Females are larger and broader than males when viewed from above.
The average lifespan of the oto catfish in captivity is 3–5 years, as long as the fish is cared for properly.
Availability
Otocincluses are a popular catfish species and are widely available in pet stores and online. Most stores at least sell common otos, and some sell other variations of otocincluses. The average cost of a common oto catfish is $3, and otos with unique patterns and markings cost between $13 and $18.
Reputable online stores that sell otocinclus catfish are:
Appearance & Behavior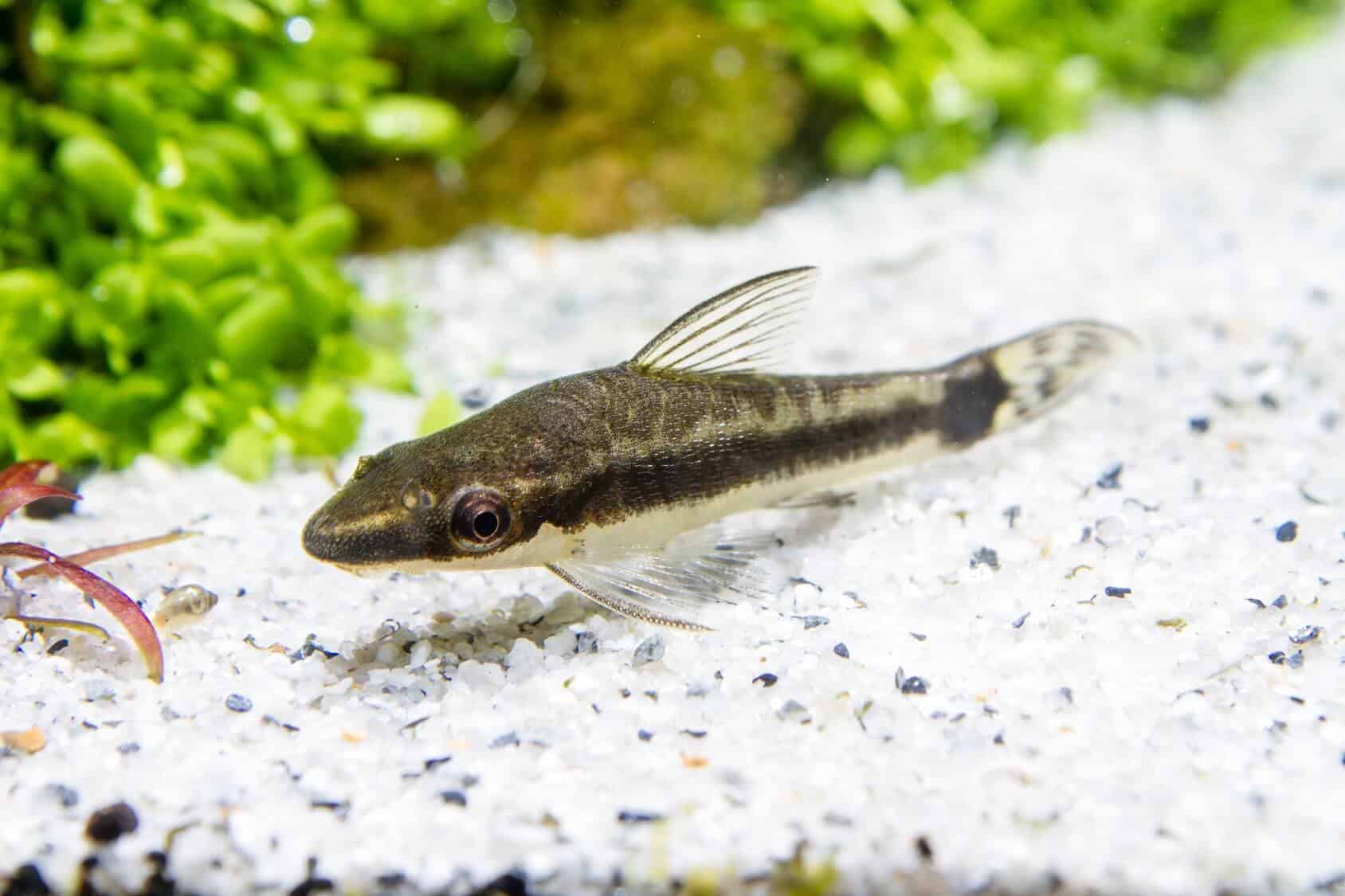 The otocinclus is a peaceful, nervous fish with a small, cylindrical-shaped body and a strong mouth that latches onto surfaces for feeding.
Colors, Patterns, Fins, and Sex Differences
Otocinclus catfish are small fish with narrow bodies, short fins, and powerful suckermouths designed for grazing on algae in flowing waters in the wild.
These fish are unique from other catfish species due to the rows of armor plating across their body, which protects them from other fish and rough surfaces. Oto catfish have a hollow space between the esophagus and stomach that gives them a limited ability to breathe air above the water's surface.
Different types of oto catfish have different colors and patterns. Some of the most popular otocincluses are:
Common Otocinclus: The most widespread oto catfish, with near-transparent fins, and a white lower body split from the speckled brown upper body by a horizontal brown stripe
Golden Otocinclus: Similar in appearance to the common otocinclus, but with more gold-like coloring
Zebra Otocinclus: An oto catfish that has vertical black-and-white zebra-like stripes from the head to the caudal fin. Appears in different color variations, including orange zebra
Giant Otocinclus: Extra-large oto catfish species growing up to 4 inches long, with mottled brown or gray coloring
Silver Otocinclus: An oto type that has the same lateral stripe as most other oto catfish species, but with brown coloration instead of silver
Dwarf Otocinclus: Similar in appearance to the common otocinclus, but with a large blotch on the tail and a lateral stripe that becomes pale before reaching the caudal fin
Alligator Otocinclus: Rare oto catfish species with mottled coloration in shades of black, brown, and gray
Regardless of the otocinclus's coloration or patterning, the fish becomes duller than usual when stressed or housed in poor water conditions. Breeding fish are bolder and brighter than usual to attract mates.
Typical Behavior
Otocincluses are shy, reclusive fish with interesting feeding habits. The fish are fast-swimming and dart across the tank to take cover when they sense danger — they're passive by nature and avoid conflict as much as possible.
Oto catfish are mainly nocturnal fish that spend most of their time latched by their mouths onto surfaces at the bottom of the tank, grazing on algae in groups. They get along well with other peaceful fish and are most confident when surrounded by other otos.
Otocinclus catfish occasionally swim to the surface of the water to breathe air, especially if oxygen in the water is lacking.
Oto Catfish Care & Tank Requirements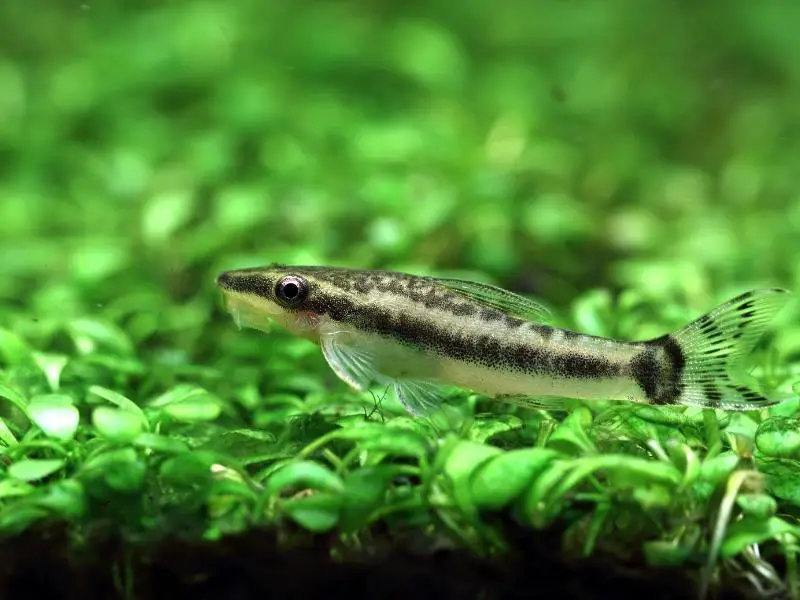 Caring for oto catfish is easy as long as you accurately mimic the fish's wild habitat in captivity. Establish a warm, freshwater tank with slow-flowing water, and make sure the fish have plenty of access to algae.
Habitat and Tank Requirements
The otocinclus's natural habitat is shallow, slow-flowing freshwater rivers and streams, with algae-covered surfaces and good access to sunlight. Replicate this habitat in the aquarium with a suitable substrate, decorations, and vegetation.
Choose a soft, fine-grain sandy substrate for the bottom of the tank. Oto catfish are bottom-dwellers that are known to dig in the substrate, so avoid coarse substrates that could injure the fish's body.
Decorations like rocks, caves, driftwood, and plants like staurogyne repens can be used to encourage algae growth and provide shelter and hiding spots.
Standard aquarium lighting is fine, but to speed up algae growth, providing a bigger food source for otocincluses, place the tank in a spot that has access to direct sunlight during part of the day.
Tank Conditions
Ideal tank conditions for otocinclus catfish are:
| | |
| --- | --- |
| Water type: | Slow-flowing, soft, well-oxygenated freshwater |
| Tank size: | Minimum 10 gallons, or 20 gallons for groups of more than 10 fish |
| Water temperature: | 72–79°F (22–26°C) |
| Substrate: | Soft sand |
| Tank setup: | Plants, rocks, driftwood |
| Acidity: | 6.8–7.5 pH |
| Water hardness: | 7.0–15.0 dGH |
| Filter: | Yes. Oto catfish are sensitive to poor water quality, and a good filter is required to minimize nitrite and ammonia levels |
| Lighting: | Standard aquarium lighting |
| Water heater: | Yes, to keep the water warm |
| Bubbler: | Yes, although not essential. Can be used to oxygenate the water |
Otocincluses are hardy fish, but they don't tolerate fluctuating water parameters, so keep the water conditions clean and stable to ensure the fish are healthy and stress-free.
Disease
There are no specific diseases affecting only otocinclus catfish, but the fish are prone to some common freshwater diseases.
Ich, or white spot disease, is the most common external parasite affecting oto catfish. This disease causes itchy, salt-like sprinkles on the fish's body and fins. Fish with ich appear lethargic, rub their bodies against surfaces in the tank, and may lose their appetites.
Treat ich by quarantining the affected fish and adding commercial treatments or aquarium salts to the tank, following the instructions on the packet.
Tank Mates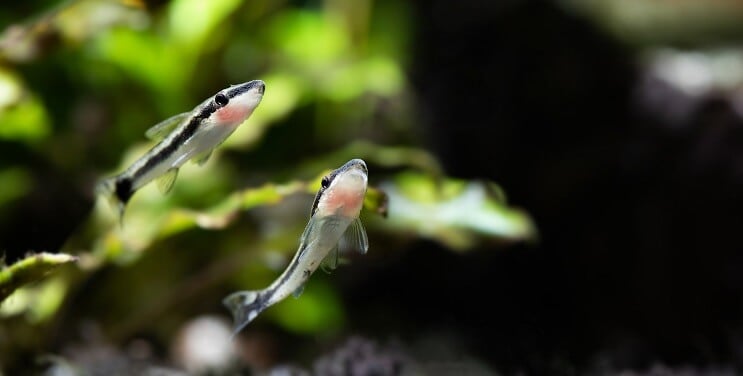 Otocinclus catfish are small, peaceful fish that are easy targets for large, predatory fish, like oscars and cichlids. Don't house oto catfish with aggressive fish or fish that have large enough mouths to eat this small catfish species.
Ideal tank mates for otocinclus catfish are similarly-sized, peaceful fish, including:
Other oto catfish — these social fish should be grouped in at least six of their kind
Zebra loaches
Good non-fish tank mates for otocinclus catfish include:
Diet and Feeding
In the wild, oto catfish are herbivorous and eat a diet that largely consists of algae, bacteria, and plant matter. Providing a plentiful source of algae in the tank is the best way to replicate the fish's diet in captivity.
Big groups of otocincluses may eat algae from surfaces faster than the plant can grow. Supplement the natural algae supply with commercial algae wafers and blanched vegetables, like zucchini, lettuce, and spinach. Add small pieces of these foods to the tank once per day, then remove uneaten pieces of food after 24 hours.
Otocinclus catfish are grazers, so there's less chance of overfeeding them than with other fish. The otocinclus's supplementary food intake and the tank's algae levels should still be monitored to ensure the fish's diet is consistent.
Breeding
Otocinclus catfish reach sexual maturity at six to nine months years old. Breeding the fish in captivity is difficult, and is only recommended for professional breeders.
There's little information available about the exact steps involved in breeding oto catfish. It is known that to stimulate breeding, the tank water needs to be perfectly clean, and the fish should be fed a nutritious, protein-rich diet. Raising the water above 79°F also encourages mating behavior.
When the fish are ready to breed, the males chase the females around the tank before fertilizing the females' eggs. The females lay their eggs on plants and bogwood, and the eggs hatch several days later. Oto catfish fry feed on bacteria and algae in the tank.
Should You Get an Otocinclus for Your Aquarium?
Otocinclus catfish are interesting, undemanding, peaceful fish available in a range of unique colors and patterns.
You should get oto catfish if you have enough tank space and suitable water conditions for at least 6 (and preferably 10 or more) bottom-dwelling algae-eaters.
Don't get oto catfish if your tank contains large or predatory fish that may eat the catfish, or if you can't maintain clean water conditions. Otocincluses are sociable, busy fish that will keep your tank clean and provide hours of entertainment.