Otocinclus are best known as algae eaters.
These fish are some of the best algae eaters around. It's their natural food that makes them very easy to feed. They're easy to look after too, so are great for beginners.
They're peaceful creatures and can be put in a variety of freshwater community aquariums.
This article will help you understand why these fish are so popular, covering everything from ideal tank setups to breeding, and much more.
Otocinclus Facts & Overview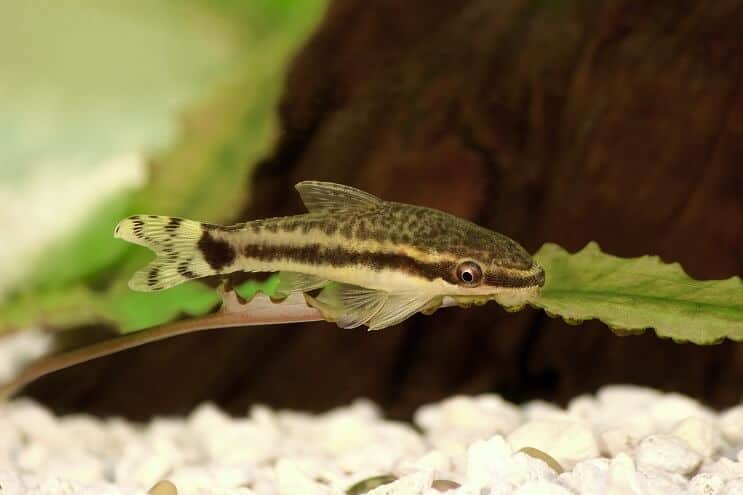 | | |
| --- | --- |
| Category | Rating |
| Care Level: | Easy |
| Temperament: | Peaceful |
| Color Form: | Various, most have a brown stripe down their body |
| Lifespan: | 3-5 years |
| Size: | 1-2 inches |
| Diet: | Herbivore |
| Family: | Loricariidae |
| Minimum Tank Size: | 10 gallons |
| Tank Set-Up: | Freshwater- sandy substrate with caves |
| Compatibility: | Peaceful community aquariums |
Otocinclus is a genus of freshwater catfish from the family Loricariidae. There are around 19 species of Otocinclus and they come in all different sizes, patterns, and colors. They're often referred to as "Otos" or "dwarf suckers".
They are native to South America, mainly the rivers of North Argentina and Venezuela. Unusually for South American tropical fish, they are not found in the large Amazon River which runs through the continent.
Most fish are added to a tank for their appearance, but Otos have a bonus purpose – they are great at clearing up algae.
If algae is getting out of control in your tank, these fish will work wonders and quickly graze the algae down.
They are great for beginners and won't take up much of your time.
You don't need much experience to look after them since they're an undemanding group, tolerating a range of conditions. If you can keep your tank clean, most species will live for 3-5 years.
Otos are popular bottom-dwellers so you shouldn't struggle to find them, they will be in most pet stores. You won't have to spend too much, $3-$5 is typical. This will vary depending on the species and age.
Typical Behavior
Otos are small and peaceful fish that try to stay out of the way.
They could easily be eaten by larger fish so they are skittish by nature. You will see them dart across the tank when they get scared. They can move very fast, which doesn't help when trying to catch them in a net!
Much of their life is spent at the bottom of the tank and on the surfaces of decorations, plants, and aquarium walls. If there are no algae, they will move onto a new surface.
A group tends to stick together, grazing the same areas. When a group is latched onto the sides of the tank you'll get an interesting view of their underside, revealing how they use their mouth to get a firm grip.
Appearance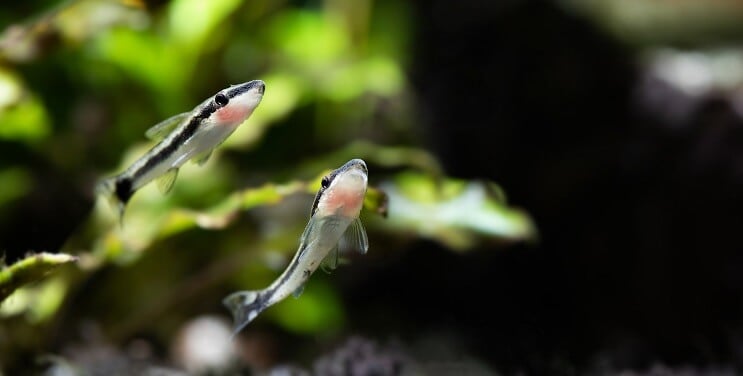 These catfish are great for small 10 gallon aquariums, because adults rarely exceed 2 inches. The smallest species (Otocinclus tapirape) only grow to be an inch long. The largest species is Otocinclus flexilis, which reaches 2.2 inches.
Their body is a simple cylindrical shape which narrows towards the head and caudal fin. On the head is a strong mouth that is used to latch onto surfaces.
Those in the family Loricariidae are different to a lot of other catfish groups because of the rows of armor plating across their body. This helps to protect them from boisterous fish and coarse substrates.
They have a limited ability to breathe air. A duct between the esophagus and stomach forms a hollow area which lets them breath.
It can be difficult to sex Otocinclus; females are usually larger and broader. This is more noticeable when looking from above or below.
As far as colors and patterns go, one species can look very different to another. Here are a few of the most popular species for home aquariums:
Common Otocinclus (Otocinclus vittatus)
This species has one of the most widespread distributions across South America, including the Amazon River.
The top of their body is a speckled brown, the lower parts are white. A brown stripe runs along their side from the head to the caudal fin. The rest of the fins are nearly transparent.
Golden Oto (Otocinclus affinis)
These are similar fish to Common Otocinclus, and they often get misidentified. The brown colors are less distinctive and can be closer to gold; hence their name.
Zebra Otocinclus (Otocinclus Cocama)
When a fish has a name including the word "zebra" you can usually guess the pattern across its body. This fish is no different.
Zebra Otos have vertical black and white stripes that span from just behind the head to the caudal fin. Horizontal stripes run along the head. The stripes of some individuals aren't as straight, so these fish get called Tiger Otos too.
Dwarf Oto (Otocinclus macrospilus)
This is another species that looks like the Common Oto.
However, there is an easier way to identify it. Though it has the same dark stripe across its body, the caudal fin has a different design. The lateral stripe stops, or becomes pale, before the caudal fin. The tail itself has a large blotch.
Silver Otos (Otocinclus vestitus)
Though they share the same lateral stripe as many of the other species, the browns are closer to silvers, as their nickname suggests.
Habitat and Tank Conditions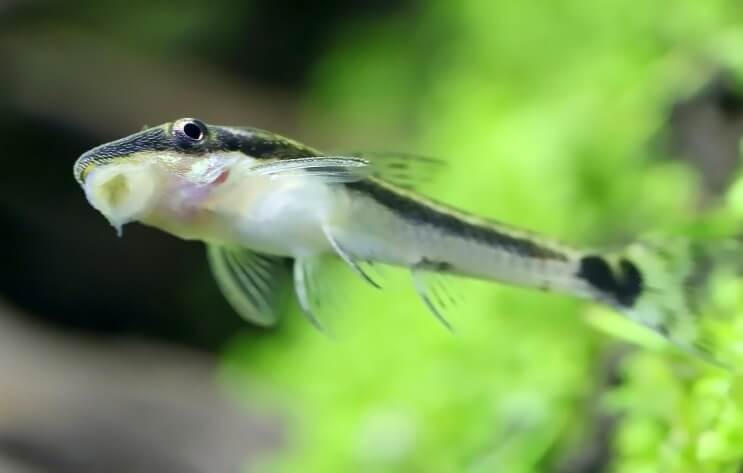 This group is mostly found in small streams or shallow rivers across South America. Here they attach themselves to the substrate or rocks in the search for algae.
The warm waters are slow-moving but well-oxygenated, pH is generally neutral. Below the water is a soft, sandy substrate. Perched on the substrate are pieces of debris like rocks, wood, and anything else being moved with the water.
Some plants are around, but not a lot of them. They have access to plenty of light and it penetrates through the shallow waters.
Lots of popular aquarium fish come from the rivers of South America so an Otocinclus setup is very similar to other freshwater species.
Tank Setup
They're bottom-dwelling fish so setting up the lower levels of the tank correctly is crucial. Pick a fine-grained sandy substrate; coarser grains can scratch their body and lead to health problems.
Pick some decorations and spread them across the substrate. Rocks can be used to create caves (these will be used as a shelter when your Otos are stressed).
Plants (such as Staurogyne repens) can be used to provide more shelter. They also provide more surfaces for algae growth too. Though they're vegetarians, Otos will stick to algae instead of eating your plants.
The water in the tank needs to be nice and clean, with ammonia and nitrite levels staying at 0ppm. Water changes every 1-2 weeks will help with this. The temperature should be 72-79°F and the pH should be as close to neutral as possible (between 6.8-7.5). Soft water is ideal, no higher than 15dH.
You don't need any special equipment to move the water. You could use a standard air pump for oxidation, but it's not necessary. Standard aquarium lights will be fine too.
Otocinclus Tank Size?
These are small fish, so they will be comfortable in small homes. A 10-gallon tank is suitable for a small group (4-6) of Otocinclus.
You can keep adding more fish to your group, each additional fish needs a couple of gallons.
The bottom of bigger tanks should have a larger surface area, rather than the tank being tall.
Tank Mates
Otos are small and peaceful so won't be an issue for any of your other fish – this means there are lots of possible tank mates.
Their small size makes them an easy target though, so large or aggressive fish need to be avoided. This means that a lot of cichlids aren't a good pick. An Oscar could hunt down and kill an Otocinclus with ease. A general rule is to stay away from species with an aggressive reputation or a mouth big enough to eat an Oto whole.
This still leaves plenty of species to choose from. Some popular choices include Angelfish, Cherry Barbs, Corydoras Catfish, Danios, Dwarf Gourami, Guppies, Harlequin Rasbora, Mollies, Tetras, and Zebra Loaches.
You also have the option of keeping invertebrates. Shrimps and snails are popular tank mates because of their different appearances and behaviors.
Keeping Otocinclus Catfish Together
These are social creatures that should be kept in groups of at least four. The bigger the group the better – just make sure the tank is big enough.
Diet
These fish are herbivores which restricts what you can give them.
They mostly eat algae which is what they would normally eat in the wild. Despite them eating algae, you still need to add some other food too. The algae will run out quickly if you keep a large group of Otos.
You can buy algae wafers from stores which should disappear over a few hours. Add one every couple of days.
If you don't want to buy fish foods, instead you can use items from around your kitchen.
Green vegetables are best, such as lettuce, spinach, and zucchini. Chop off a small piece or two and drop them into the tank a couple of times a week, making sure that they sink to the bottom of the aquarium. After 24 hours, remove any uneaten pieces from the tank.
You can use your vegetables to make some homemade fish foods too.
Just be careful not to overfeed your Otos. It's important to monitor algae levels in the tank and use this to decide how much supplementary food to give.
Care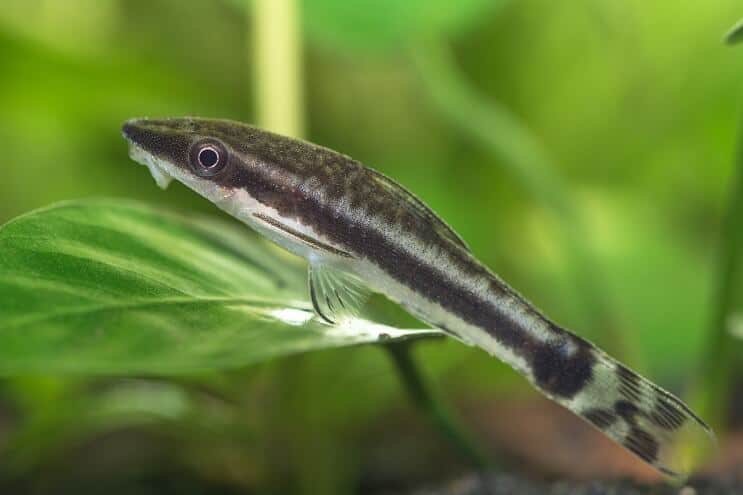 A healthy tank usually means that you will have healthy Otocinclus, but they can be fragile fish. Sometimes individuals can die shortly after being introduced to a new aquarium, even if they look healthy and the tank's conditions are perfect. Most will be fine though.
Algae is often seen as a problem that needs to be cleaned away but removing all the algae from your aquarium would take away their main food source. So, when cleaning the tank, perform water changes to reduce pollutants but don't completely wipe away all the algae you see.
This group isn't prone to any particular diseases, but they can suffer from some parasitic and fungal problems that are common among freshwater fish, like Ich.
By watching your fish, you can quickly spot disease. Loss of appetite, inactivity and an increased respiration rate are all signs of disease. Look out for color changes, spots and wounds as well.
The two most common causes of disease are:
Unclean tank
A poor diet
When you spot disease, check the parameters of the tank are where they should be. This includes temperature, pH, ammonia, nitrites, and nitrates. You can then fix the parameters that have changed.
Think about what you're feeding your fish too. Remove any foods that may not be nutritional from their natural diet. Sometimes switching up the diet slightly will give fish their appetite back.
It's best to quarantine sick individuals in a separate tank to protect the rest of your fish.
Breeding
These aren't the easiest fish to breed in captivity, but it can be done. It all depends on how picky your fish are, you will need to get lucky.
Conditions will need to be perfect, meaning that the tank needs to be clean and they have a nutritious diet.
Raising the temperature of the water a little helps spawning to occur; don't go above 79°F though. In the wild, rising temperatures would be a natural cue to mate.
When ready to mate, males will chase females around the tank. The males then fertilize the females' eggs, which are laid in small bunches on surfaces around the tank.
After a couple of days, the fry will be out and swimming. They will feed on the algae and bacteria around the tank. It won't take long until they can eat the same foods as the adults.
Is Otocinclus Suitable For Your Aquarium?
If you have a tank of small freshwater fish, Otos usually make great additions.
Of course, the tank conditions need to be suitable too, but this group enjoys the same conditions as lots of other freshwater fish.
They are easy to care for so people of all experience levels can have a go at looking after them, you are unlikely to make many mistakes with such an undemanding fish.
If you do end up getting some of these fish, you will get both a cleaner tank and a social group of bottom-dwellers.
Have you used Otocinclus to control algae? Let us know your experiences in the comments below…