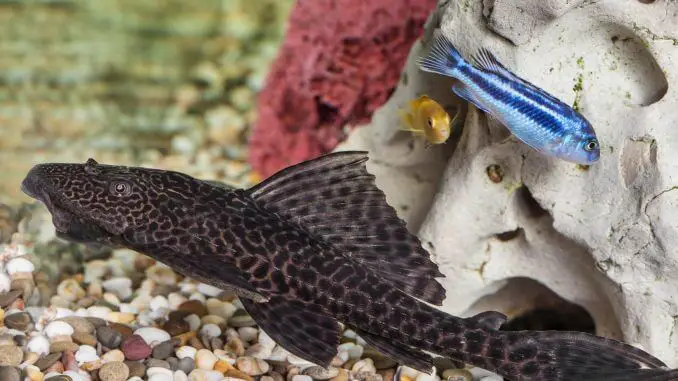 The plecostomus, or pleco, is a freshwater species of armored catfish belonging to the Loricariidae family. There are more than 150 species of plecos identified today.
Plecos come in a range of colors and patterns, and all plecos have elongated bodies with four rows of bone plates and large, curved fins. They help keep the tank clean by eating algae and unwanted food that sinks to the bottom of the tank.
Plecos are a popular choice amongst aquarists because of their unique appearance and tank-cleaning abilities.
Plecostomus Facts & Overview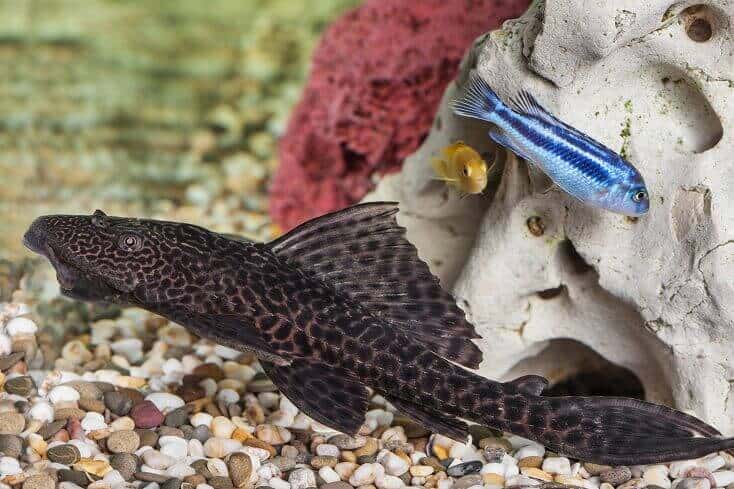 | | |
| --- | --- |
| Scientific name: | Hypostomus plecostomus |
| Common names | Plecostomus, plecostomus catfish, pleco, janitor fish, algae sucker/eater, pez diablo (devil fish) |
| Distribution: | Suriname, French Guinea, Guyana |
| Size: | 20–24 inches |
| Life expectancy: | 10–15 years |
| Color: | Brown, sand, gray |
| Diet: | Omnivore |
| Temperament: | Peaceful |
| Minimum tank size: | 30 gallons |
| Temperature: | 72–86°F (22–30°C) |
| pH: | 6.5–7.5 |
| Hardness: | 20–35 dGH |
| Care level: | Easy |
| Breeding: | Egg-scatterer |
Origin
Plecostomus catfish are found in freshwater rivers and streams in South America and West Africa. Plecos can withstand a range of water parameters in the wild and in captivity.
Plecos live in fresh and brackish water and survive seasons of drought by storing oxygen in their bellies and breathing through their skin. When its habitat dries up, the pleco can survive for up to 30 hours without water and wriggle across dry land in search of a new pool.
Plecos are common in the wild, and, since being introduced to US waters, the fish are some of the most geographically widespread species of their Loricariidae family.
Adult Size & Lifespan
Adult plecos grow up to 24 inches in length. Some plecostomus catfish are even longer than this — for instance, the pseudacanthicus major (not a popular home aquarium fish) grows up to 30 inches in length.
Plecos are sexually dimorphic, meaning there is a difference in appearance between the males and the females. Male plecostomus catfish grow larger and longer than females.
In an aquarium, plecos don't grow as large as they do in the wild. Most fish in captivity stop growing when they reach 15 inches long.
The lifespan of a plecostomus in captivity is 10–15 years. In the wild, plecos can live even longer than 15 years because the fish aren't at risk of common aquarium diseases.
Availability
The plecostomus is one of the most popular, and most widely available aquarium fish. You should easily find at least one type of pleco in your local pet store, and a large variety of fish online.
The average cost of a plecostomus is $7–$35, depending on how rare and exotic the species is. Some plecos cost more than $200 due to the cost of breeding and raising the fish.
Appearance & Behavior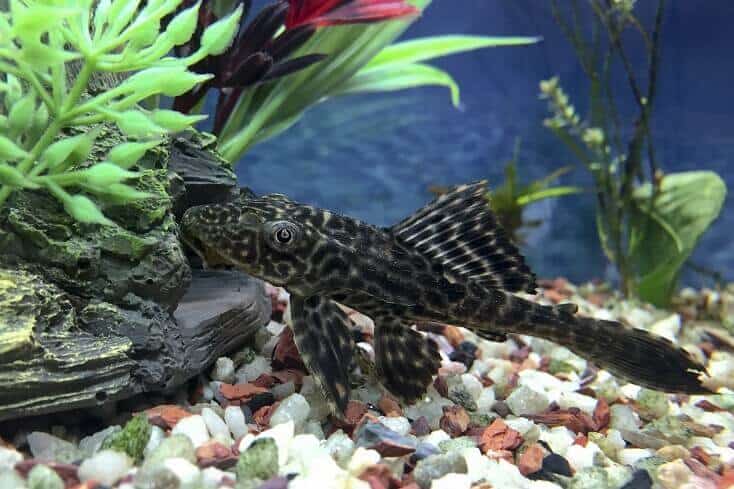 Plecostomus catfish have flat, elongated bodies and are usually gray or brown in color, with black or dark brown markings. Plecos are peaceful fish with aggressive and territorial tendencies.
Colors, Patterns, Fins, and Sex Differences
Plecos are found in shades of brown and gray, olive, and other shades of camouflage, with wide heads and long, narrow bodies.
The plecostomus catfish has no scales. Instead, the fish's body is covered by tough, armored plates.
Some of the most common types of plecostomus catfish are:
Male plecostomus catfish grow larger than females, and females have a more rounded body than males.
When stressed, the plecostomus catfish's color fades. Plecos also change color when they are hiding or sulking.
Typical Behavior
Plecos are peaceful fish that can be housed in a community tank. However, stress, competition over food and breeding, and unpleasant tank conditions cause the fish to show their aggressive and territorial sides by chasing and pushing one another around.
Plecos are also known to wound other fish like goldfish and discus fish by sucking their slime coats off of them.
A plecostomus spends most of its time slowly swimming along the bottom of the tank. When water oxygen levels drop, the pleco swims to the surface to breathe air.
Plecos are naturally nocturnal. They spend the daylight hours hiding in caves or deep burrows in the substrate and emerge at night for food.
Plecostomus Care & Tank Requirements
The plecostomus is easy to look after and doesn't have complex care needs. In the wild, plecostomus catfish are found in fresh and brackish water and prefer fast-flowing streams with pebbly riverbeds. You should provide a similar tank environment to make your plecostomus feel at home.
Feed plecostomus catfish a diet of plants, wood fiber, and crustaceans.
Habitat and Tank Requirements
The natural habitat of a plecostomus is fast-flowing rivers in tropical climates. Mimic this environment in the tank with suitable substrate and decorations.
Plecostomus catfish don't need substrate, but because plecos swim at the bottom of the tank and enjoy burrowing, a substrate is preferred. Use a combination of gravel, rocks, and clay to replicate the pleco's habitat in the wild.
Adding live plants to your plecostomus tank provides a food source and a space for the plecos to hide in. Plecostomus catfish are known to rip plants out of the substrate, so choose hardy, deep-rooted plants like Java fern, Amazon sword, and anubias.
Decorative ornaments like caves, castles, and shipwrecks provide great hiding options for plecostomus catfish. Most plecos love eating and resting on pieces of driftwood, so add these to your tank too.
Your pleco's tank should be at least 30 gallons and should be longer than it is wide. Plecos are larger than most aquarium fish and are used to having lots of space to explore. A 100-gallon tank is ideal for most plecostomus catfish, as this size gives the fish plenty of room to move and grow.
Because of their large size, plecostomus catfish are better suited to experienced fishkeepers who have the space and money to raise a large fish breed.
Tank Conditions
The ideal tank conditions for a plecostomus are:
| | |
| --- | --- |
| Water type: | Moderately hard, freshwater |
| Tank size: | Minimum 30 gallons, preferably 100 gallons as the fish grows, and an extra 30 gallons of water for every additional pleco |
| Water temperature: | 73–82°F |
| Substrate: | Gravel, pebbles, clay |
| Tank setup: | Deep-rooted plants, caves |
| Acidity: | 7.0–8.0 pH |
| Water hardness: | 20–35 dkH |
| Filter: | Yes, a strong filter with a good flow will maintain good water quality |
| Bubbler: | Yes, preferable for oxygen circulation |
| Lighting: | No, only natural lighting is required to keep plants healthy |
| Water heater: | Yes, to ensure a consistently warm water temperature |
Aside from keeping consistent water parameters, make sure your tank has a good filtration system. Plecos produce a lot of waste and enjoy swimming in strong currents. A good filter provides a well-aerated current and ensures that the tank stays clean.
Disease
Plecostomus catfish help contribute to a disease-free tank by "cleaning" surfaces and eating leftover food and algae. However, plecos are still susceptible to several common freshwater diseases if poor tank conditions or unsuitable water parameters exist.
Ich
Ich, or white spot disease, is a parasitic disease caused by a protozoan called Ichthyophthirius multifiliis. This disease causes white spots on a fish's body, and the affected fish will appear lethargic, lose its appetite, and rub its body against rough surfaces.
Quarantine fish affected with ich in a separate tank and add one tablespoon of salt to every five gallons of water to kill the protozoan. To speed up the lifespan of the protozoan, increase water temperature by two degrees.
Bacterial Diseases
There are several bacterial diseases that plecostomus catfish are susceptible to, including dropsy and fin rot. Plecostomus catfish are incredibly sensitive to changes in water conditions, and bacterial diseases can kill the fish in a matter of days.
Dropsy causes bloating and loss of coloration, and fin rot causes ragged, ripped, milky fins.
To treat bacterial diseases, make sure your water filter is working efficiently and carry out a 25% water change every day for several days. If the fish's symptoms don't improve, ask a representative at your local fish store for suitable medication.
Tank Mates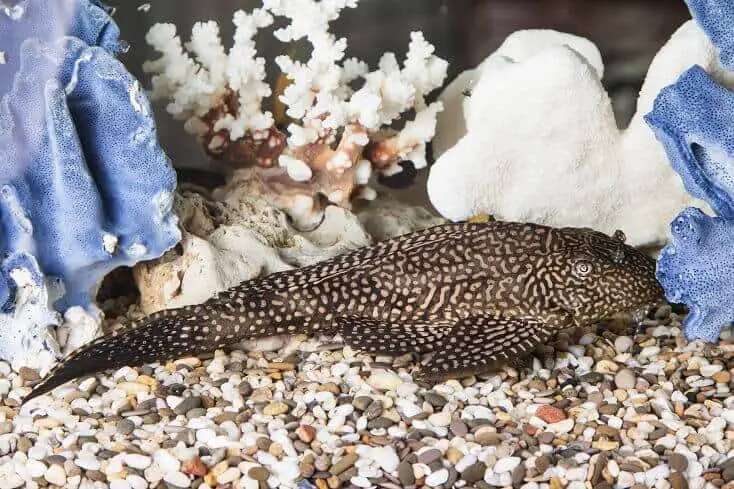 Plecostomus catfish are peaceful and sociable, and are rarely aggressive toward other fish. Plecos make for good tank mates for other peaceful fish that require the same water parameters.
Plecos are occasionally territorial and aggressive around food, during breeding, when housed with too many fish of their own kind, or if the tank is too small. Avoid fish mates that plecos see as competition, such as clown loaches, which are faster bottom-feeders than plecos.
Great tank mates for a plecostomus include:
Non-fish tank mates for a plecostomus include:
Limit aggression between pleco fish by housing a maximum of two plecos in one tank. Don't house plecostomus catfish with snails because the plecos will view the snails as food.
Diet and Feeding
Plecos are opportunistic scavengers and will eat anything they come across in the wild, including algae, wood, plant matter, and small insects.
You should replicate the pleco's wild habitat diet in the tank. Read up on the pleco species you buy to determine exactly what you should feed your fish. For instance, some plecostomus catfish enjoy eating driftwood, while some plecos predominantly eat plants.
Provide your plecostomus catfish a combination of algae, plant matter, and plant-based foods, including spinach, zucchini, cucumbers, lettuce, and shelled peas.
Worms are a nutritious live food that sink to the bottom of the tank, making them a good choice for bottom-feeding plecos.
Because plecos are nocturnal, you should feed the fish at night, just before you turn off the tank lights. Add two pinches of food to the tank.
Breeding
Plecos are easy to breed, and most plecos don't require a separate, dedicated breeding tank. To breed plecos, follow these steps:
Place a male and female plecostomus aged at least one year in the same community tank (if the fish don't already share a tank).
Reduce the temperature of the tank by three degrees to mimic rainy season and to stimulate breeding.
If the plecos are interested in breeding, the male will perform a mating dance and the pair will spawn. This usually happens at night.
The female will scatter her eggs in caves and on flat rock surfaces.
The eggs will hatch within one week. The fry are born independent and don't require care from their parents.
Should You Get a Plecostomus for Your Aquarium?
Plecos are interesting, attractive fish with useful tank-cleaning abilities. You should get a plecostomus if you're looking for a unique addition to your peaceful community tank.
However, plecos are intolerant to even the smallest tank water changes and require a large tank of up to 150 gallons. If you're an inexperienced fishkeeper or you don't have the space for a plecostomus tank, this fish isn't the right choice for you.
Plecos are easy to keep and provide plenty of entertainment in a home aquarium.
Plecostomus FAQs