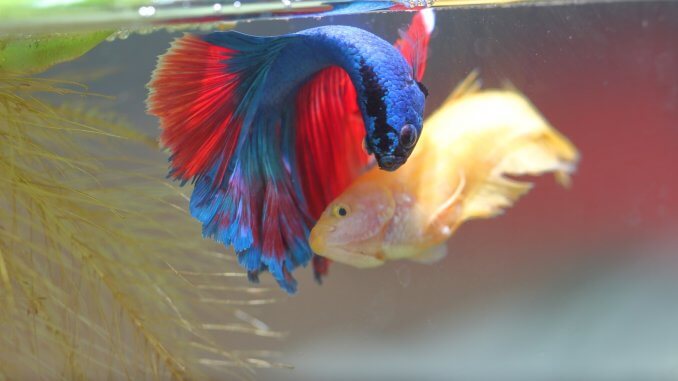 Beautiful, majestic, and easy to care for, betta fish are hugely popular among fish keepers. Bettas come in a wide variety of colors and shapes. This species variance has mainly developed due to selective breeding.
This guide will teach you how to breed betta fish and will discuss key information including when the fish are ready to breed, how to set up a suitable breeding tank, and much more.
Step One: Set up a Tank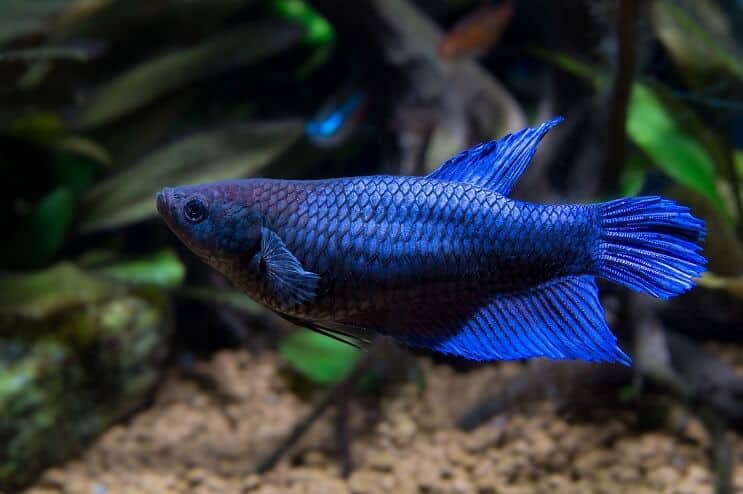 The very first step to breeding bettas is to set up a suitable breeding tank. A basic setup should include at least three tanks: the male betta's tank, the female betta's tank, and the breeding tank. You could also purchase an optional fourth tank for the fry to grow up in, but you may choose to just leave them in the breeding tank.
There are four main elements you should consider, when setting up a tank, to make sure the breeding goes smoothly: tank size, equipment, decorations, and safety.
Tank Size
The breeding tank should be at least 5 gallons in size. A 10-gallon tank is best, as it provides enough space for the bettas to hide from each other, if necessary, but won't make it difficult for them to come together.
The breeding tank should be separate from both the male and female's home tanks, and it's best to keep the tank away from other aquariums.
The tank won't need to be completely full, so 3 to 5 inches of water will be enough. If you can, keep the breeding tank in a quiet, private area.
Equipment
Betta breeding tanks are much more basic than regular tanks, and only need a few pieces of equipment. You'll need a heater to keep the water at around 78°F. Whether or not you choose to use a filter is up to you. Be aware, however, that a strong water current can destroy the male's bubble nest. Without a bubble nest, the female won't lay eggs.
It's also a good idea to use some clear plastic partitions to divide the tank and keep the male and female apart. This allows the pair to see each other without the male chasing or bullying the female.
Once you have the tank set up, you'll need to let it cycle before adding your bettas. Cycling takes at least a week.
Decorations
Your breeding tank will need some decorations, but you shouldn't overcrowd the tank. For instance, gravel or sand on the floor of the tank is a bad idea. Keep the floor of the tank bare. The eggs may settle in the gravel, or the male may not be able to find them.
For decorations, you'll need:
A hiding place — Male bettas are aggressive, especially during breeding. The female may need a break or somewhere to hide
Something to float on the surface of the tank — Live plants, leaves, or even a styrofoam cup will give the male a place to build his bubble nest
Live plants — Live plants aren't completely necessary, but they add oxygen to the water and will give the newly hatched fry something to eat. Live plants provide the female bettas with good hiding places. Bettas prefer shade and privacy during breeding, so leaves can add needed shelter.
It's best to keep decorations to a minimum. The breeding tank is only a temporary location, and you want the bettas to focus on each other.
Safety
Male bettas are aggressive. If you introduce the male and female too soon, the male may bully or even attack the female. This will leave your female betta exhausted and possibly even injured. An attack can result in a lack of eggs or, in a worst-case scenario, a dead betta fish.
Use a clear container or a plastic divider to keep the male and female apart until they're ready to be introduced. Keep an eye on your bettas while they breed, and be ready to take the female out of the tank once the breeding is over.
Bettas like privacy, so bright light can discourage them from breeding. If possible, put a lid or cover over the tank while breeding betta fish. You'll need to check on your bettas regularly.
Step Two: Choose Your Breeding Pair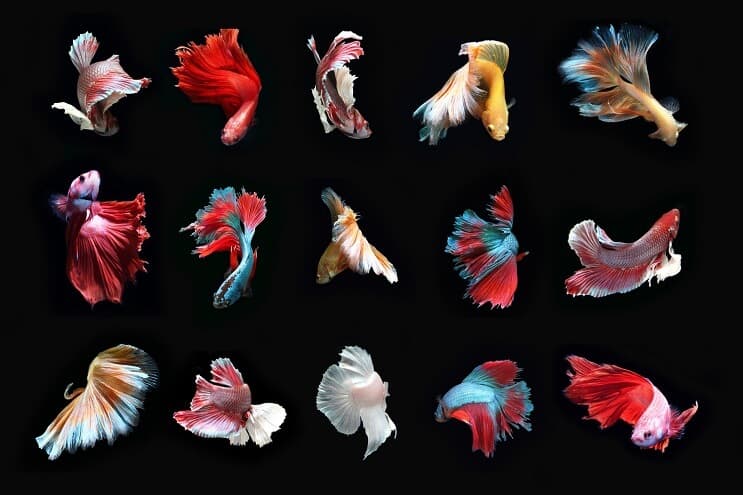 Now comes the fun part — choosing your breeding pair. Don't just pick the first two bettas you see. It's important to know what to look for in both males and females, which will give the best chance of healthy fry and happy parent bettas.
What to Look for In a Male Betta
Male bettas are known for their vibrant colors and long, flowing fins. In the wild, female bettas choose males based on their colors and the quality of their bubble nests.
In captivity, you can choose the color and style of a male betta that you'd like to breed. Here's what you should look for:
A healthy, energetic fish — The male betta will care for the eggs until they hatch, and he will need to be healthy and ready to deal with the stresses of courting and caring for his young
Vibrant colors with long, impressive fins — Bright colors are best, and red is the most popular color
The style of fin that you'd like the fry to have — For example, you may want to breed more combtail bettas. In that case, you'll want a combtail male, preferably with very impressive fins
The male betta's temperament should also be a factor when breeding betta fish. Overly aggressive bettas may make breeding more difficult, and may even injure the female.
What to Look for in a Female Betta
Courting and breeding are very stressful experiences for a female betta, so be sure to choose a strong and healthy female. Unlike males, color and fin length aren't so important in females.
Here's what you need to look for in a female betta:
A healthy, energetic fish — Your female betta should be happy, with healthy coloring and no visible illnesses or injuries
A fish with a good appetite — Make sure your female is eating well and not lethargic
A female around the same size as the male — A female of equal size to the male, or smaller, makes a good match
Most importantly, you need to know whether or not your female betta is ready to breed — and whether she likes that particular male betta. This will be discussed in more detail later. First, you need to replicate the perfect breeding conditions.
Step Three: Condition Your Fish and Create a Breeding Environment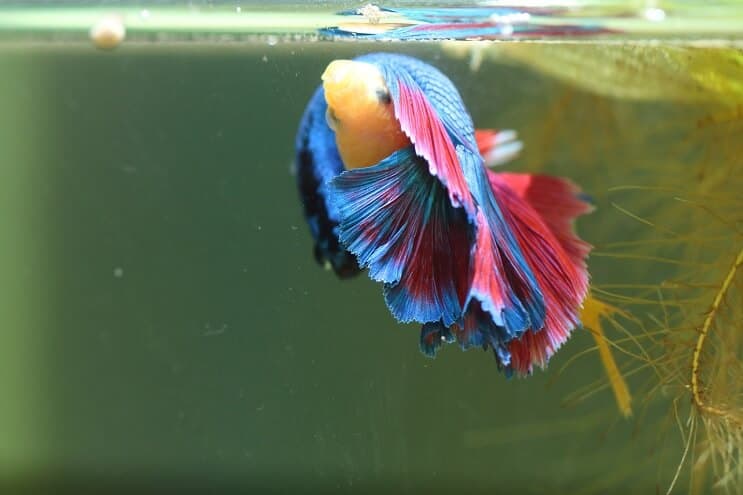 In the wild, water changes and other environmental factors tell a betta that it's time to breed. In captivity, you need to replicate those conditions. It takes about two weeks to condition a pair of bettas.
At this point, neither of your bettas should be in the breeding tank. Putting your bettas into the breeding tank and introducing them to each other is one of the final steps of breeding.
Live food is the best way to condition your bettas for breeding. Frequent water changes are also a good idea.
Start by feeding your bettas high-quality, live food two to four times a day. Some foods you can try include:
Bloodworms
Small insects
Daphnia
Tubifex worms
You can even feed your bettas finely chopped meat. This diet gets your bettas used to the idea of breeding and keeps them strong and healthy. If you can't use live food, frozen food will do.
Step Four: Introduce Your Breeding Pair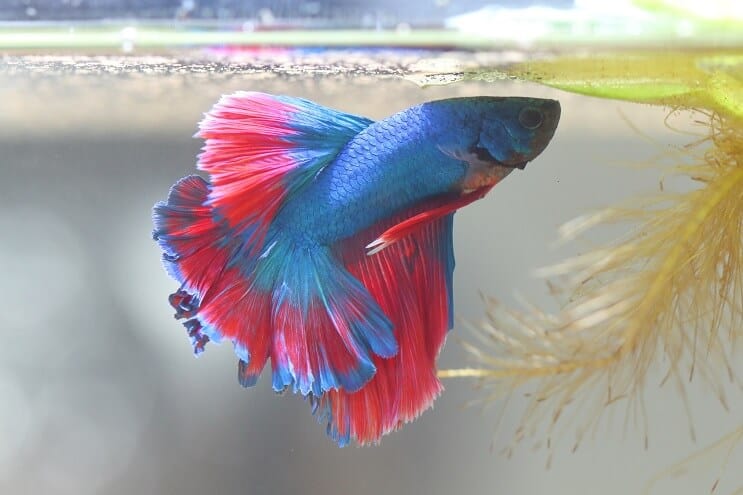 Once your fish are conditioned and you've set up the tank for breeding, it's time for action. You should introduce the female betta to the breeding tank first, and then the male.
This is the tricky part of breeding betta fish — even if both bettas are excited and ready to breed, the introduction can go wrong if you aren't careful.
Introducing the Female
The female needs to be added to the tank first and given around 30 minutes to settle in. Use a clear container or a plastic divider so that she has her own space. It's important to use see-through dividers so that the male and female can see each other.
Introducing the Male
Once the female is comfortable in her part of the tank, you can add the male to his section and let him settle in. Keep the female and male separated.
The two bettas should notice each other immediately. The male's color will darken and he will flare his fins, indicating that he's interested in the female. The female will display interest in the male — her color will darken and she'll display vertical stripes across her body. These stripes indicate that she's ready to breed.
The male might bite at the divider in an attempt to reach the female. This is normal behavior. After showing off for a while, the male should rush off and build a bubble nest. It can take up to 24 hours for the male to build a bubble nest, and he'll come back frequently to show off some more for the female. It's important the nest is built before any breeding can take place.
The First Meeting
If the initial discovery goes well, and you're confident that your bettas are interested in each other, you can remove the divider and let the male and female meet properly. After they meet, there's a sequence of events that should happen to culminate in successful breeding. Keep a close eye on your bettas in case the male gets too aggressive.
The female will swim over to the bubble nest to inspect it. If she's pleased with the male's efforts, the courtship will begin
The male will begin to chase the female around the tank. This can go on for a few hours
The pair will swim side by side, flaring their fins at each other. This is where the male can get aggressive — if the female doesn't respond, he may bite and nip at her.
This behavior is a lead-up to the actual mating process. It can take a few hours or even a day or two. While your bettas are courting, you shouldn't feed them.
Step Five: The Breeding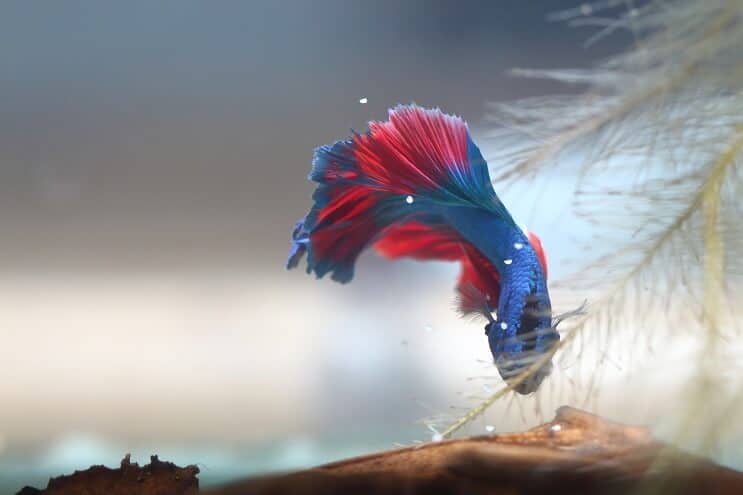 To breed, the male betta turns the female upside down and holds her close, so that he can fertilize the eggs as she lays them. The eggs sink to the bottom of the tank, and the male scoops them up and takes them to the bubble nest.
It often takes a few of these embraces before the female starts to lay eggs. It's important to note that the female will likely lie on her side and look ill and lifeless while she's laying the eggs. If you're a first-time betta breeder, this might be worrying. Don't worry, this is normal.
You can expect around 30–40 eggs to be laid, but some bettas can lay hundreds.
Step Six: Remove the Female
Once the mating is over and all the eggs are laid, the male should let go of the female and start busily taking the eggs to the bubble nest. Now it's time to remove the female.
Courtship is an exhausting process, and there's a chance that your female betta could have been injured. The male sometimes attacks the female after breeding, seeing her as a threat to the eggs. In fact, the male could be right — some females do eat their own eggs. The male is the one who cares for the eggs, so there's no need for the female to stay in the tank.
Step Seven: Maintenance and Hatching
Male bettas are good fathers and care for their eggs until they hatch. The males may rearrange the bubble nests, or build new ones.
It's important to keep the tank warm and humid. The best way to do this is by wrapping plastic wrap around the tank and keeping it in a warm environment.
You might notice your male eating a few eggs. Before you panic, remember that it's unlikely that every single egg will have been fertilized, especially if there are hundreds. Your male betta could be eating unfertilized eggs. It's best not to feed the male until the eggs have hatched.
After around 36 hours, the fry will start to wriggle out of their bubble nests. It's too soon for them to hatch, and the male betta will catch them and put them back in the nest. During this time, the male betta will hang around beneath the bubble nest, keeping an eye on his young.
The betta fry should hatch after around four days. They will then be ready for their first feed. The male betta's work is done. At this point, it's best to take him out of the tank, as he might try and eat his children now that they've hatched.
Warning Signs to Watch Out For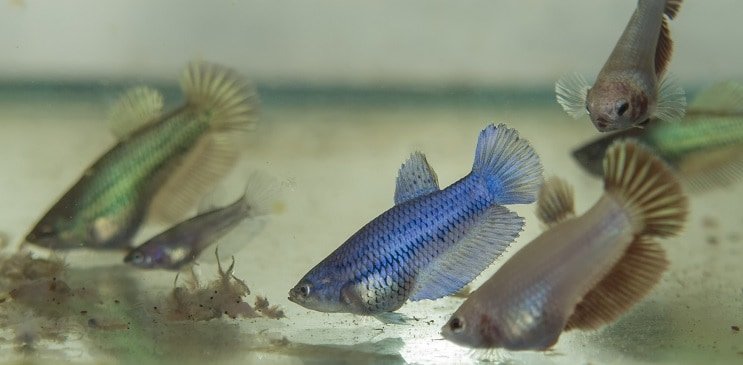 Breeding bettas can be tricky for first-time breeders. Simply tossing a male and female betta in a tank together and leaving them alone for a few days isn't good enough — you could end up with a dead female and no eggs.
Here are a few warning signs that indicate that breeding betta fish isn't going well.
The female shows no interest in the male — Depending on the female's personality, she could be quiet and shy, which doesn't mean she isn't interested in courtship. However, if your female betta doesn't display the breeding marks on her body and tries to avoid the male, this means she either isn't interested in the male or isn't ready to breed. You should take her out and try with another female
The female destroys the male's bubble nest — Which means that she's not happy with the nest. At this point, you'll need to take her out and try again later with the same pair. If she destroys it a second time, the pair isn't compatible. Try again with a different female or a different male, or a whole new pair
The male is far too aggressive — While some aggression is normal during betta breeding, you mustn't let it go too far. Male bettas can seriously injure or even kill female bettas. If the female doesn't show any interest in breeding with the male, the male will grow more frustrated and aggressive. If you have any concerns at all, take the female out of the breeding tank
The female is badly injured — If your female is desperately trying to hide and avoid the male or is visibly injured or bleeding, take her out of the tank
The Bottom Line
Breeding bettas is an exciting and rewarding process. As long as you're careful with your bettas and do plenty of research, there's no reason why you shouldn't welcome a few dozen betta fry into your aquarium.
Breeding your own bettas is the best way to make sure you have healthy, happy, and beautiful fish.