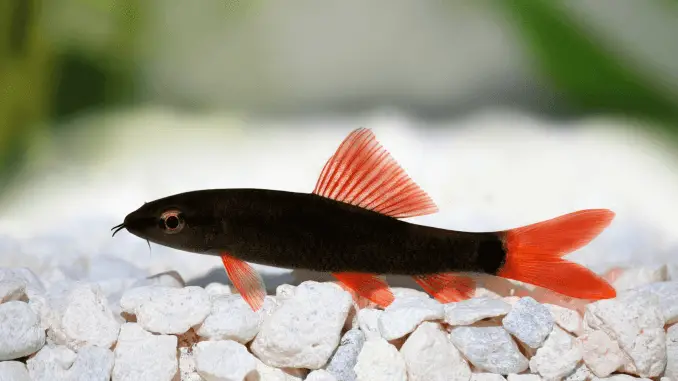 The rainbow shark is a freshwater fish of the Cyprinidae family. Despite its name, this species isn't a true shark — it's so-called because of its shark-like appearance.
Rainbow sharks have gray, black, or dark blue bodies with vibrant red or orange fins. The fish are popular due to their unique appearance, but they have higher care needs than other aquarium fish and can be territorial.
Rainbow Shark Facts & Overview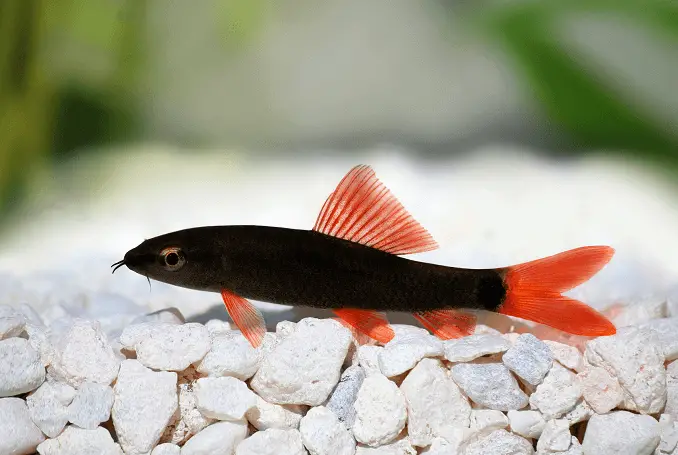 | | |
| --- | --- |
| Scientific name: | Epalzeorhynchos frenatum |
| Common names | Rainbow shark, red-fin shark, red-finned shark, ruby shark, rainbow, green fringelip labeo, whitefin shark, sharkminnow, and whitetail sharkminnow |
| Distribution: | Cambodia, Laos, Myanmar, Thailand, and Vietnam |
| Size: | 4–6 inches |
| Life expectancy: | 5–8 years |
| Color: | Gray, black, or dark blue, with red or orange fins |
| Diet: | Omnivore |
| Temperament: | Semi-aggressive |
| Minimum tank size: | 50 gallons |
| Temperature: | 72–79°F (22–26°C) |
| pH: | 6.5–7.5 pH |
| Hardness: | 5–11 dGH |
| Care level: | Moderate |
| Breeding: | Egg-scatterer |
Origin
Rainbow sharks are native to several major rivers in Southeast Asia, including the Mekong, the Xe Bangfai, and the Chao Phraya. The fish live near sandy river bottoms where plankton and algae are plentiful.
During the monsoon season, they migrate upstream with the high floodwaters and retreat back to lower river sections when the floods dry up.
Even though these fish are common in the wild, they are solitary, territorial fish that avoid one another's company and spend much of their lives alone.
Rainbow Shark Size & Lifespan
Full-grown rainbow sharks grow up to six inches in length in the wild, and four inches in captivity. The average purchase size is a lot smaller — usually around two inches — and many fishkeepers don't realize how large these fish will get.
Females are wider in the mid-section than males. The two sexes are not distinguishable by length.
In the wild, rainbow sharks live up to eight years. In captivity, with excellent care, they can live up to six years.
Availability
Rainbow sharks aren't as common as some aquarium fish, but many pet stores and most online stores sell at least one species. Because this fish is less popular than others, it isn't always in stock on all websites.
The cost of a rainbow shark is about $5. They prefer to be the only fish of their kind in the tank, so buying just one is recommended.
The following online stores sell common and albino varieties:
Appearance & Behavior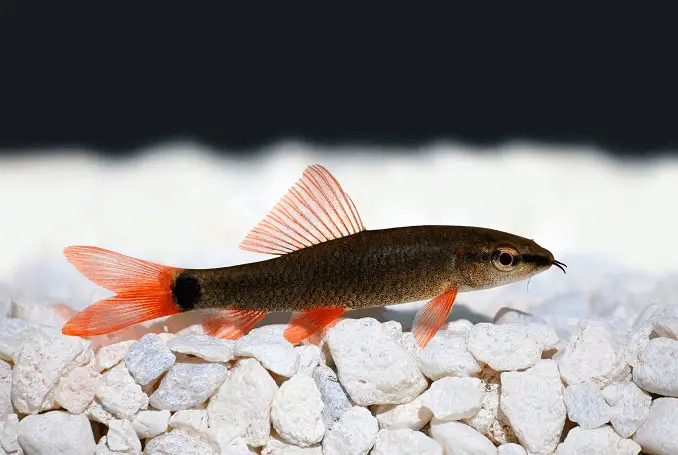 Rainbow sharks have shark-like elongated bodies, flat bellies, and blue or gray coloration. In captivity, they're semi-aggressive.
Colors, Patterns, Fins, and Sex Differences
The rainbow shark's body is either black, blue, or gray, with vibrant red or orange fins and a red or orange tail.
It has a pointed snout and a long, flat stomach, with a shark-like upright dorsal fin. The dorsal fins have up to 11 branched rays, and the tail is forked.
Males are thinner than females and develop black lines on their tail fins when sexually mature. Females are paler than males. Stressed or diseased fish are dull in color.
A common color variation is the albino rainbow shark. Albino rainbow sharks have the same red or orange tails and fins as other species, but with white, almost-translucent bodies, and red eyes.
Typical Behavior
In the wild, rainbow sharks are passive and don't bully or bother other fish. However, in captivity, they have aggressive and territorial tendencies, especially if there isn't enough room in the tank.
Adults swim quickly around the bottom of the tank and are most active at night.
Juveniles are timid and spend a lot of time hiding. Mature fish their dominance by biting, chasing, and head- and tail-butting other bottom-dwelling fish.
Rainbow Shark Care & Tank Requirements
Rainbow sharks are possible to care for in captivity, but the fish require more care than other freshwater fish. The most important tank requirements are consistent water parameters and plenty of swimming space.
Feed rainbow sharks algae wafers, insect larvae, and aquatic insects.
Habitat and Tank Requirements
The natural habitat of rainbow sharks is warm, freshwater rivers with sandy substrate. You should replicate this environment in the tank with matching water parameters and decorations.
This species requires a large tank of at least 50 gallons, with an aquarium length of at least 48 inches, and a low fish-to-water ratio. The more space you provide to, the less aggressive and territorial the fish are.
Caves, hollowed decor, and plants provide a place to hide, which reduces aggressive tendencies. Java fern, Java moss, and hornwort are good plants for the tank.
Choose a sandy substrate to mimic the sandy riverbed in the fish's natural environment.
Tank Conditions
The ideal tank conditions for rainbow sharks are:
| | |
| --- | --- |
| Water type: | Soft, well-oxygenated freshwater |
| Tank size: | Minimum 50 gallons, and an extra 50 gallons of water for one extra rainbow shark |
| Water temperature: | 72–79°F |
| Substrate: | Fine sand |
| Tank setup: | Plants, caves, hollow decorations |
| Acidity: | 6.5–7.5 pH |
| Water hardness: | 5–11 dGH |
| Filter: | Yes, to mimic the fast-flowing water of the rainbow shark's natural habitat |
| Bubbler: | Yes, to oxygenate the water |
| Lighting: | Yes, LED tank lighting provides natural day/night cycles, but no special lighting is needed |
| Water heater: | Yes, to maintain consistent, warm water temperatures |
These fish requires consistent water parameters to thrive in their environment, and consistent pH is particularly important to avoid stressing the fish or causing disease.
Disease
There are several diseases that rainbow sharks are prone to in captivity:
Ich
Ich is a parasitic disease that causes white, salt-like spots on the affected fish's body. Symptoms of ich include flashing (when the fish rubs its body against rough surfaces), lethargy, and loss of appetite. Poor water conditions are usually the cause of ich in rainbow sharks.
Treat ich by quarantining the fish in a separate tank and adding one tablespoon of salt per five gallons of water. Increase the temperature by two degrees to speed up the life cycle of the parasite.
Swim Bladder Disease
Swim bladder disease, or swim bladder disorder, causes the affected fish to sink to the bottom of the aquarium or swim nose-down, tail-up. The disease is caused by constipation or intestinal parasites and can be remedied by feeding the fish green peas.
More serious cases of swim bladder disease require surgery.
Tank Mates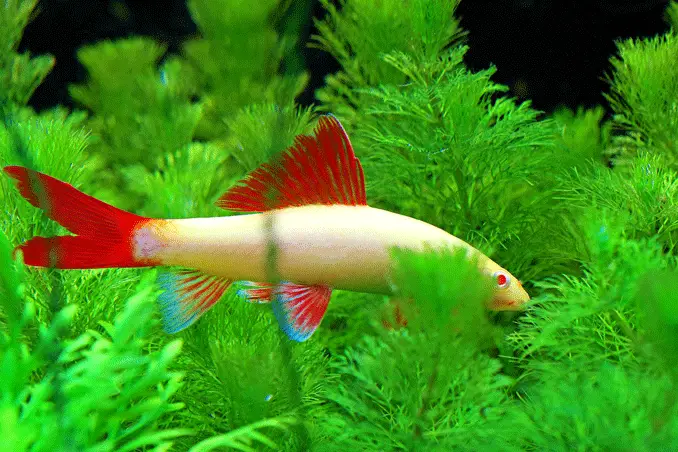 Rainbow sharks are suitable tank mates for peaceful fish that swim in the top sections of the aquarium, as long as there is plenty of room for the fish to have their own space.
You can house more than one of the species if you have at least 100 gallons of tank space, but keeping them alone is recommended in order to prevent stress and hostility.
Don't house this species with shy fish, like the marbled hatchet fish and otocinclus catfish, which find the rainbow shark's aggressive nature overwhelming.
Great tank mates that are calm and strong enough to defend themselves against a rainbow shark's aggression are:
Place the rainbow shark in the aquarium after its tank mates to prevent it from trying to assert the entire tank as its own.
Diet and Feeding
Rainbow sharks are omnivores that enjoy a diet of meat and plants. In the wild, they eat algae, zooplankton, insect larvae, decaying plant matter, insects, and crustaceans. You should replicate this varied diet in the tank, ensuring the fish is supplied with the nutrients it needs to thrive.
These fish aren't picky eaters. You can feed them a variety of foods that sink to the bottom of the tank, like algae tablets, insect larvae, and zooplankton.
Live crustaceans are a nutritious food that gives the fish the opportunity to catch and eat its prey. Vegetables like spinach, peas, lettuce, and zucchini are good plant-based alternatives to algae.
To retain bold coloring and encourage healthy growth, feed your fish high-protein foods, such as brine shrimp or bloodworms. You can feed these foods in live or frozen forms.
Feed three times per day. Provide enough food for thefish to eat in five minutes, and discard leftover food to keep the tank clean.
Breeding
Wild rainbow sharks reach sexual maturity when they have exceeded four inches in length, and they mate in the months of October and November.
Breeding in captivity is challenging because of territorial, aggressive behavior in confined spaces. Very few people manage to breed this species successfully, and there's a high chance that the fish will attack, injure, and kill one another.
How to Breed Rainbow Sharks
If you want to attempt to breed rainbow sharks, proceed with caution — and follow these steps:
Establish a separate breeding tank. The tank should be at least 75 gallons and should contain freshwater and an aquarium-grade gravel substrate.
Add liquid dechlorinator to the water as recommended on the bottle, and add a filter and water heater. Decorate the tank with rocks, caves, and plants to provide shelters where fish can hide from one another.
Place the male and female in the tank. Wait for one week to see if they tolerate one another. Remove one of the fish immediately if the pair begins to fight.
If the fish haven't attacked one another within the first week, stimulate breeding by feeding the fish high-protein foods like brine shrimp, and by changing 25% of the tank's water daily using a bucket.
Continue to provide high-protein foods and change the water daily for another week. If your breeding attempts are successful, the male and female will rub against one another and the female will scatter eggs on the substrate.
The male will fertilize the eggs within the same day by spraying milt (a fluid containing sperm) onto the eggs.
Transfer the eggs to a separate fry tank using a fish net. The fry tank should be 10 gallons in size and should contain a mini heater and an air stone attached to an air pump to circulate water.
After two days, the eggs will hatch and the fry will feed off the egg sacks for another two to three days.
Once the fry's yolk sacks have been depleted, feed the fry liquid fry food for up to two weeks, then feed the fry baby brine shrimp. Once the fry have reached one inch in length, move them to their own separate tanks and feed them adult fish food.
Should You Get a Rainbow Shark for Your Aquarium?
Because of the rainbow shark's territorial behavior, you shouldn't get this fish unless you have a large enough tank and peaceful — but not shy — tank mates.
Don't buy one if you're a beginner aquarist looking for a calm, low-maintenance fish for your tank.
They are beautiful, active fish, and are easy to look after when housed with the right tank mates. Aside from the fish's aggressive tendencies, they are entertaining to watch in the aquarium.
Rainbow Shark FAQs