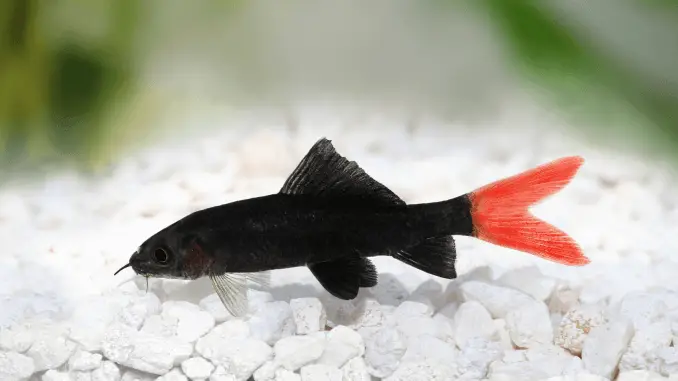 The red tail shark is a medium-sized freshwater fish of the Cyprinidae family.
Red tail sharks are popular with fishkeepers because of their shark-like resemblance and feisty personalities. They are hardy, but the fish's territorial nature makes them moderately difficult to care for.
Red Tail Shark Facts & Overview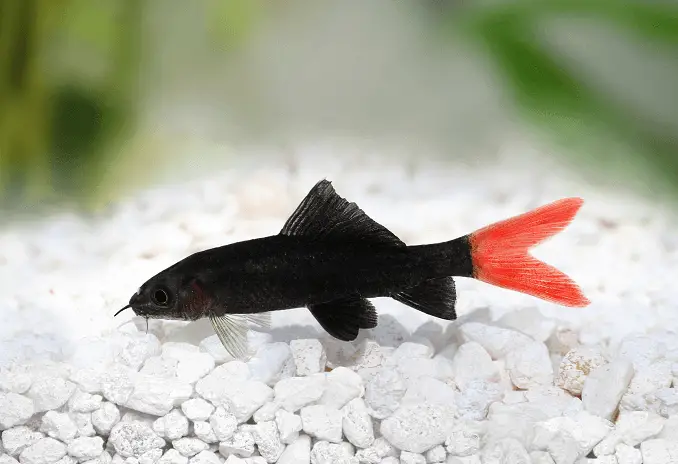 | | |
| --- | --- |
| Scientific name: | Epalzeorhynchos bicolor |
| Common names | Red-tailed black shark, redtail sharkminnow, red tailed labeo |
| Distribution: | Thailand |
| Size: | Up to 6 inches |
| Life expectancy: | 5–8 years |
| Color: | Black with a red or orange tail |
| Diet: | Omnivore |
| Temperament: | Semi-aggressive, territorial |
| Minimum tank size: | 55 gallons |
| Temperature: | 72°–79°F (22°–26°C) |
| pH: | 6.0–8.0 pH |
| Hardness: | 5–15 dGH |
| Care level: | Intermediate |
| Breeding: | Egg layer |
Origin
Red tail sharks, also known as redtail sharkminnows, are native to the Chao Phraya basins in Thailand. These fish inhabit lowland streams, rivers, and creeks with rocky or sandy substrate.
Red tail sharks are critically endangered in the wild and were thought to be extinct until 2011.
Captive-bred red tail sharks are still abundant and readily available in local pet stores. The International Union for Conservation of Nature (IUCN) has advised on conversation actions to preserve this fish in its natural environment.
Adult Size & Lifespan
Red tail sharks grow up to 6 inches in length, and females are larger and wider than males. These fish live to between five and eight years old in captivity. Females and males have similar life expectancies.
Stable water parameters and a spacious tank help red tail sharks live long and fulfilling lives.
Availability
Red tail sharks are easy to find in pet stores and online aquarium stores. The fish cost between $3 and $7 per fish on average.
You can find red tail sharks at:
Buying directly from a reputable breeder ensures the red tail shark is healthy and has been raised in sanitary conditions. Avoid breeders and shops selling red tail sharks for less than $3 because a cheap fish is more likely to be sick or poorly treated.
Appearance & Behavior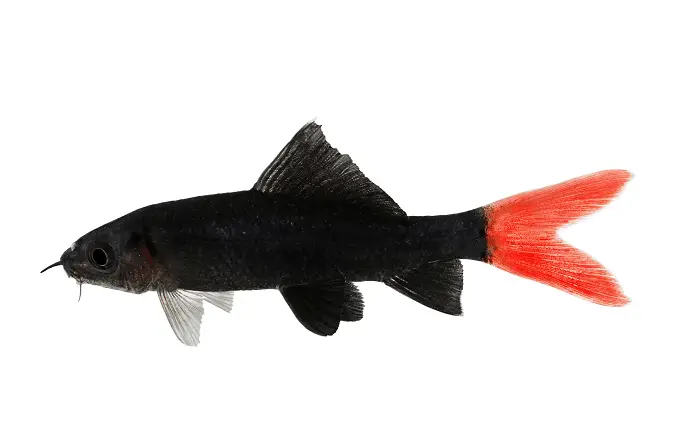 The red tail shark gets its name from its shark-like appearance and distinctive red tail. Red tail sharks are territorial and can be aggressive toward other fish, including their own kind.
Colors, Patterns, Fins, and Sex Differences
Red tail sharks have streamlined, jet-black bodies with vibrant red forked tails. The snout of the red tail shark is pointed and the dorsal fin is triangular-shaped. Some red tail sharks have a white tip at the top of their dorsal fins. They may lose their tail hue when stressed or sick, or when water conditions are poor.
Male adult red tail sharks have brighter coloration, slimmer bodies, and a more pointed dorsal fin than females. The fish develop noticeable differences when they have reached maturity (15 months old).
Red tail sharks are similar in appearance to rainbow sharks. Both species are part of the Cyprinidae family and have red tails. The main physical difference is that rainbow sharks have red fins, whereas red tail sharks have black fins.
Typical Behavior
The red tail shark is renowned for its feisty personality. Red tail sharks establish territories and often harass and chase other fish that enter these spaces. A spacious tank with lots of hiding spots and vegetation can reduce the fish's aggressive tendencies.
Red tail sharks are active, fast swimmers that dart around the bottom of the tank. They are aggressive to fish of their own kind, preferring to live alone.
Juvenile red tail sharks are more timid than adults and need lots of hiding spots to feel safe and comfortable. Red tail sharks are nocturnal, meaning they're most active at night.
These fish should only be housed with fish that can keep to themselves because red tail sharks bully small, slow-moving fish, especially when competing for food.
Red Tail Shark Care & Tank Requirements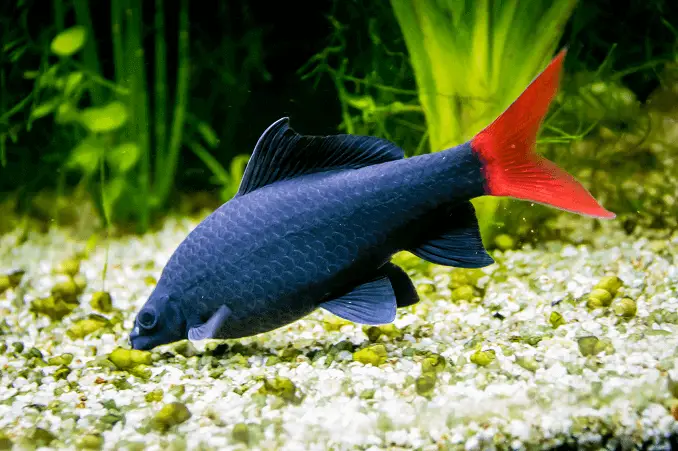 Red tail sharks are hardy but aggressive and are moderately difficult to care for. In the pet trade, red tail sharks are captive bred. However, replicating elements of the red tail shark's natural habitat helps the fish feel happy, secure, and comfortable.
Feed red tail sharks live or frozen foods, such as bloodworms and daphnia, to enhance coloration.
Habitat and Tank Requirements
Red tail sharks prefer fast-moving bodies of water with dense vegetation and rocky substrate.
They need a high amount of dissolved oxygen in the water, which can be created with air stones.
Tank Conditions
The red tail shark's preferred tank conditions are:
| | |
| --- | --- |
| Water type: | Freshwater, with regular partial water changes to maintain cleanliness and keep parameters stable |
| Tank size: | A 55-gallon elongated tank is best. Red tail sharks are active bottom-dwellers and need ample space to roam. An elongated tank provides more room for exploration and increases oxygen levels in the water |
| Water temperature: | 72°–79°F (22°–26°C) |
| Substrate: | Incorporate rocks and pebbles of varied sizes to mimic the red tail shark's natural habitat. Avoid fine gravel as the red tail shark may accidentally ingest this when scavenging. A dark-hued substrate helps the fish feel comfortable and shows off its vibrant red tail |
| Tank setup: | Decorate the aquarium with fine leaved plants, caves, and driftwood to provide hiding spots and areas for the red tail shark to set up its territory. Floating plants, such as java moss, water wisteria, and hornwort, keep the water shaded |
| Acidity: | 6–8 pH |
| Water hardness: | Soft, with a hardness between 5–15 dGH |
| Filter: | Opt for a filtration system that generates a strong current. Red tail sharks are accustomed to fast-flowing water and often swim against the current to expel excess energy |
| Bubbler: | A small weighted bubbler (air stone) helps to diffuse air into the aquarium |
| Lighting: | Avoid harsh lighting and direct sunlight. Red tail sharks are nocturnal and active in dark and dim environments |
| Water heater: | Yes, to maintain consistent, warm water temperatures |
Red tail sharks thrive in water with stable parameters, plants, a strong filtration system, and lots of space to explore.
A tank that's too small can cause red tail sharks to become stressed and aggressive. Fishkeepers should invest in a secure, weighted lid, as red tail sharks are known to jump out of the tank.
Disease
The most common diseases that affect red tail sharks are fin rot and Ich. Most diseases are preventable with ideal water parameters, a healthy diet, and regular water changes. Water fluctuations should be kept to a minimum.
Inspect red tail sharks daily for signs of illness. Common symptoms include loss of appetite, lethargy, a change in swimming patterns, and deterioration of scales or fins.
Ich
This freshwater fish disease is caused by the external parasite Ichthyophthirius multifiliis. The signs of ich are salt-like white spots on the fish's body, appetite loss, and flashing, where the fish rubs against objects.
Red tail sharks with ich must be quarantined in a separate, clean tank. Water temperature should then be gradually increased by a few degrees to eliminate the parasite.
Fin Rot
Fin rot is an infection caused by poor water conditions or improper oxygen levels. Symptoms include tattered and frayed fins, coloration loss, and inflammation at the base of the fins.
Fin rot is treatable with antibiotics. Keeping water clean and at the appropriate parameters helps prevent fin rot.
Tank Mates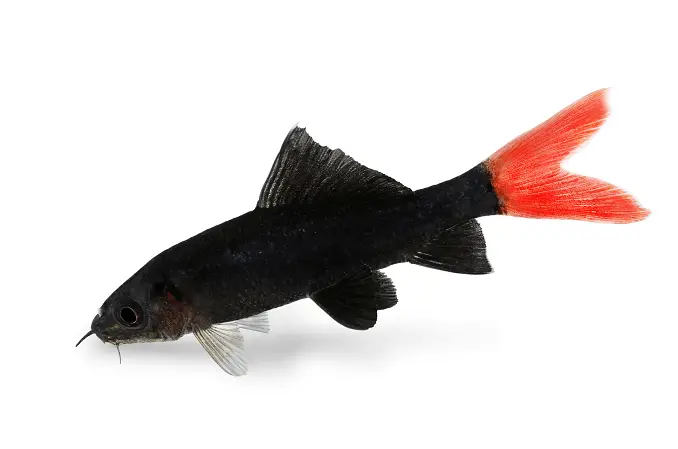 The red tail shark is semi-aggressive and requires boisterous, top-dwelling, medium-sized tank mates that can match the shark's hot temper.
Red tail sharks are solitary fish, and shouldn't be housed together unless the tank is spacious enough for each red tail shark to have its own territory.
These species make great tank mates for red tail sharks:
Red tail sharks tend to bully slow-moving, timid, long-finned, and small fish, like angelfish, fancy guppies, and bettas. Invertebrates shouldn't be added to the tank because red tail sharks eat them.
Diet and Feeding
These fish are omnivores and enjoy scavenging for food. The fish have a down-turned mouth which they use to scrape algae from rocks. In the wild, a red tail shark's diet consists of insects, crustaceans, plant matter, and worms.
Red tail sharks should be fed a varied diet of pellets, live or frozen foods, and vegetables like zucchini and blanched peas. Algae wafers are a nutritious food option for this bottom-dwelling fish. Live food can make the red tail shark's coloration more vibrant. Ideal live and frozen foods are bloodworms, daphnia, and brine shrimp.
Feed the red tail shark once every couple of days, ideally between dusk and dawn. Food that sinks to the bottom of the tank, like sinking pellets, is best for red tail sharks.
Breeding
Red tail sharks are egg layers. Breeding red tail sharks in a home tank setup is virtually impossible because the fish is aggressive toward others of its kind.
Red tail sharks available in the pet trade are bred in commercial farms, where hormones are used to encourage breeding.
Should You Get a Red Tail Shark for Your Aquarium?
The red tail shark is a robust and lively fish with a fierce personality. Red tail sharks are moderately difficult to care for and need at least a  55-gallon tank or bigger.
You should get a red tail shark if you have a large enough tank with caves and plants for the red tail shark to retreat to, but with enough open space for the fish to roam freely. Red tail sharks aren't suitable in community tanks housing small, timid, or long-finned fish.
With the right care and environment, red tail sharks are captivating fish that'll bring a splash of color to the aquarium.