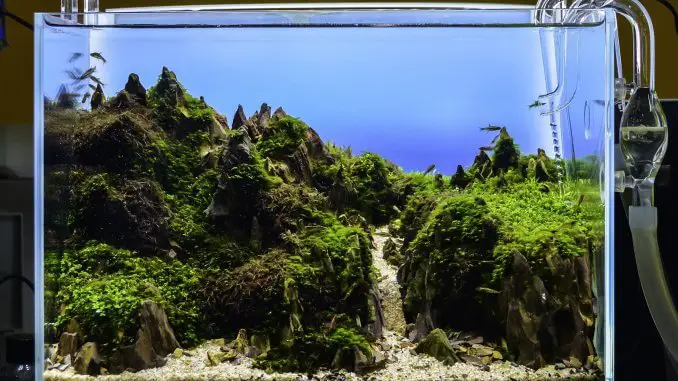 Lots of parts go into running a successful aquarium. From a filter that cleans the water to a heater that warms it, everything works together.
One of the most important pieces of equipment is the lighting.
Light plays a bigger role in an aquarium than you might think, but its most crucial role is for the growth of plants and corals.
LED aquarium lighting is growing in popularity as it offers many benefits over traditional lighting. There are so many LED lights that it can be difficult to choose the one that is right for you – an ideal LED light for one tank might not be suitable for another.
This guide will talk you through exactly how to find the perfect LED lighting for your tank.
What is LED Aquarium Lighting?
Most people add lights to their tank because it is the best way to show off the colors of anything you add to the tank (such as fish, plants and decorations).
By having control of the lighting you can simulate day/night cycles – since your aquarium likely does not have access to natural sunlight. Most fish will exhibit various behaviors that change with the lighting.
LED aquarium lights are generally bright options that are designed to control both temperature and lighting in your tank.
They are ideal for plants and corals.
Plants need the light for photosynthesis, without access to it they will stop growing and eventually die.
Corals are symbiotic with photosynthetic algae called zooxanthellae. The algae use the light to photosynthesize, then passes nutrients to the coral. If corals do not get enough light the algae will die, and with it the coral.
New tanks usually come with lighting fitted into the lid. You will probably have to purchase LED lights separately and fix them externally on top of the tank.
They tend to be more powerful than the common T5 and T8 alternatives, they also use less energy.
There are many models on the market, each with different looks and functions.
The Best LED Aquarium Lighting Reviewed
Best Beginner LED Aquarium Lighting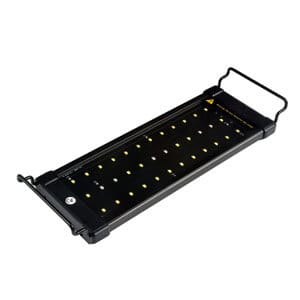 Available in five different sizes, there will definitely be a light to fit your tank in this selection of lights.
The NICREW Classic LED lighting comes on an extendable bracket which can be adjusted to suit any size fish tank.
These energy efficient, bright LEDs create a shimmering light throughout your aquarium and can be set to two different modes.
The white and blue LED setting is perfect to replicate daytime and the blue LED lights alone mimic nightlight perfectly.
This product should only be used over panel or glass covered aquariums.
Pros:
This is an affordable middle of the range lighting system.
Great for growing plants.
The light can be adjusted to suit many different tank sizes.
Very good build quality and incredibly durable.
Cons:
No timer, dimmer or other adjustments included.
The power lead is quite short.
Supports can fall out of the ends of the light if stretched.
Hood with Integrated LED Lighting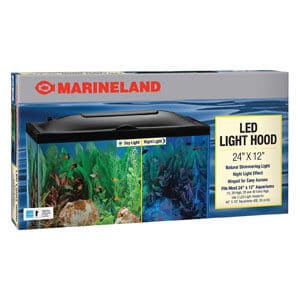 This sleek and contemporary hood comes in three different sizes, to suit different sized aquariums.
This MarineLand Hood with inbuilt lighting is a great option if you just have a tank and no equipment yet.
The beauty of buying this hood with inbuilt lights is that the hood is designed specifically around the lights, and it holds them securely in place even when the hood is open.
MarineLand are a reputable and well-known brand within the aquarium industry and this hood was designed with both practicality and style in mind. The lighting provides a natural shimmering light with the option of having a night light effect too.
It is available in three different sizes which should fit most standard size aquariums.
Pros:
Low profile and neat looking hood.
Changing the light mode between day and night is easy.
It is very easy to install and setup.
Has a really secure hinged opening to attach to your tank.
Simple yet efficient design.
Cons:
This won't fit uniquely shaped aquariums.
No small hinged door for feeding, you need to open the whole lid.
There is only one slot in the back for equipment.
Best Reef LED Lighting For Saltwater Aquarium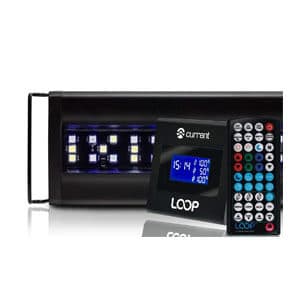 This bright lighting is ideal for marine tanks and helps to enhance the colors of your saltwater fish and corals.
This lighting system is extremely easy to install with extendable brackets. It has a number of different modes which can be set using the remote and hub it comes with.
It can be set to dim periodically to create a clouded over effect, storm mode and evening mode – it also has a sunrise and sunset setting.
This lighting system allows you to control your LED lights wirelessly.
Pros:
Suitable for reef tanks.
Very simple to install and run.
You can sync your pump with your lighting.
Quality and well-built light.
Cons:
The cables are not very long so mounting options are limited.
Program can be difficult to set.
Affordable LED Lighting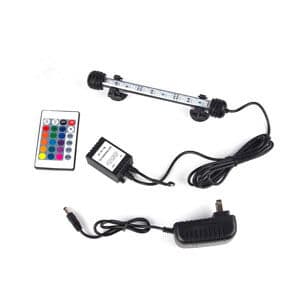 This submersible and water-proof lighting is great for beginners or for a quarantine tank with four different color modes.
The SMIFUL LED lighting is affordable and comes in range of different sizes from 7.5 inches to 23 inches so you will find one to suit most aquariums.
It has 15 RGB LED lights with four different modes which can be controlled by a wireless remote. The light also has an adjustable dimmer, with a rise and dawn setting on the remote to adjust the brightness.
The lighting bar is waterproof, so can be fully submerged. It is really simple to attach to your fish tank, and comes with two suction cups.
This light is also explosion safe as it is made from acrylic.
Pros:
This light is fully submergible.
It can be controlled to suit the perfect brightness.
Long power cord makes it easy to use.
Very simple to set up and great value for money.
Cons:
Not ideal for planted tanks.
Remote needs to point directly at the light to work.
Build quality isn't very durable.
Low Energy LED Lighting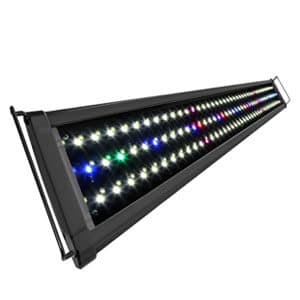 This extendable lighting system has high efficiency and low energy usage which saves your money and extends the use of the LED lights.
This lighting is ideal for anyone who is on a budget and wants to save money on energy costs. It is also perfect for the more energy conscious fish keeper.
The lights are mounted on an extendable bracket which means that one of the three models is bound to fit your tank size.
Koval claim that the LED lights can be used for at least 50,000 hours, which reduces the cost of buying replacements bulbs. These lights contain the full color spectrum with 129 bright lights in 5 different colors.
There are three different control modes, including all LEDS on, just blue LEDS on or all LEDS off.
Pros:
Slim-line design gives it a modern feel.
This system produces excellent lighting.
One of the best LED lights available on the market.
Great for planted tanks.
Cons:
Towards the more expensive price range.
No fancy features or programs.
The brackets do not have a locking mechanism.
Best Nano LED Lighting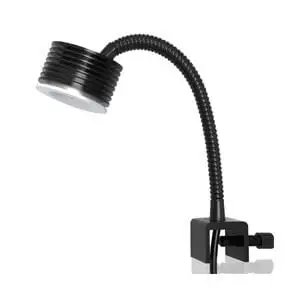 If you are looking for LED lighting for your nano tank, this light is for you. This quality lighting also comes with a dimmer switch.
If you have a nano tank and you need a quality light, the Lominie will be perfect for your tank.
This light sits on the side of your tank, attached by a wide clamp that can fit over tanks with glass as thick as 25mm.
The light has a manual dimmer which allows you to increase or reduce the brightness of the lights according to your setup. It is best suited to planted tanks because of the strong penetrability and equally-distributed lighting.
It is also available for different tank sizes, so if you like the thought of clip on lighting but have a larger tank, there is also an option for you.
Pros:
Really high quality lighting.
The lighting is housed in solid rustproof aluminum.
Comes with a 12 month warranty and 100% money back guarantee.
Lighting is 360° fully adjustable.
Cons:
The dimmer switch is temperamental.
Lights won't attach to rimmed tanks.
The instructions are not that clear.
Premium LED Lighting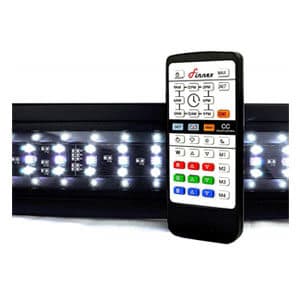 This is the ultimate customizable lighting system for planted aquariums, giving you full control over your tank.
The Finnex LED is completely customizable allowing you to create the perfect lighting for your fish and plants.
It can be set to create a different type of light throughout the day from a bloody sunrise to a cool blue evening.
This makes sure that your plants and fish are exposed to an almost perfect replication of their natural environment.
The remote has four customizable slots for you to create your own lighting combinations and intensities too.
Pros:
This is a fully customizable unit.
Looks quite stylish with a thin modern casing.
The remote is simple to use.
Fits rimmed aquariums.
Cons:
The extender legs can fall out when on full extension.
High price tag but lighting is very customizable.
The power cord is quite short.
How To Choose LED Aquarium Lights For Your Tank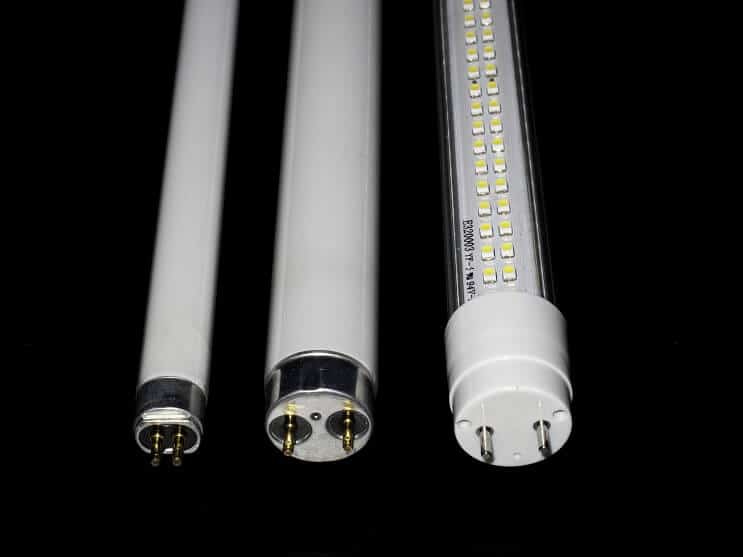 There are lots of LEDs to choose from. Some are bigger, some are brighter and some come with additional features to make your job easier.
It is normal to get a bit confused when looking through all the options. There are some key factors to think about when choosing which LED is right for you.
Size
The size of the lights you need will vary based on many different factors.
Tank size is the most obvious place to start. Larger tanks will need longer lights to ensure that the entire length is lit. More powerful lights are needed for deeper tanks as it is harder for light to reach deeper areas.
The species and quantity of photosynthetic organisms will also impact the size of the lights, as they will need different intensities.
While corals are restricted to tropical and subtropical waters, aquatic plants have a much wider geographic range. This means the lighting requirements of one plant species could be dramatically different to another. Species is not the only consideration. A plant's age could affect their lighting requirements too. Those still growing will need more light.
Make sure you have researched the plants in your tank to determine their preferences, this will give you a good idea of which LED aquarium lights you are looking for.
Light Intensity
Your tank is different to everyone else's, and there is no set amount of light that your tank needs.
Some organisms need more light than others, so consider what you have in your aquarium. For example, most plants will be happy with 10 lumens per liter, but some species are more demanding and might require 40 lumens per liter.
Using lumens per liter as way to work out which lights you need is a good method, but it is not perfect. The light won't be spread evenly through the tank because it is harder for light to penetrate deeper areas.
Therefore, use lumens per liter as a rough estimate when considering the lights you need.
Features and Cost
Lighting an aquarium is not as simple as turning a light on and off, there are lots of features to allow for greater control over the lighting.
Many can be managed remotely. Some run on a timer, some can change intensity and some have multiple colors to supply a range of wavelengths. A quick look around will reveal the abundance of features on offer.
The range of LEDs available for aquariums is vast. Prices will change from one light to the next, but everyone should be able to find one within their price range.
Lights with more features will be more expensive. If you are willing to sacrifice some additional features you will find a cheaper light.
LED Aquarium Lighting Guide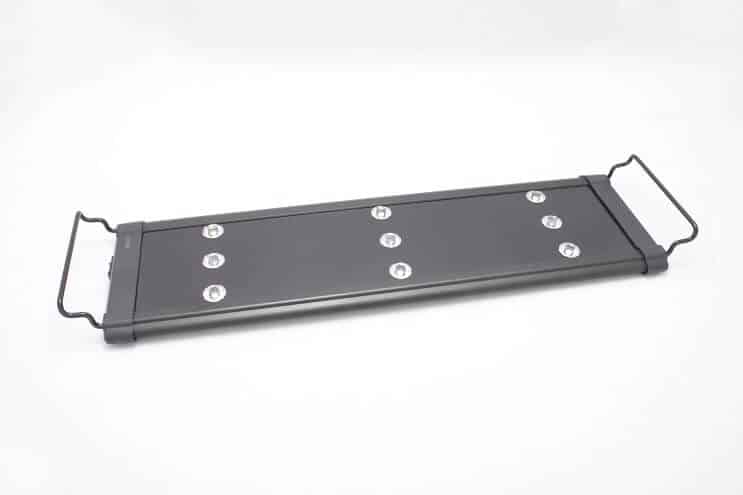 LED aquarium lighting can be installed in any tank as you set it up, but their increased power is great for plants and corals.
How Does Aquarium LED Lighting Work?
An LED aquarium light is made up of many small LED lights arranged together to produce a bright light.
Different lights will produce different wavelengths and intensities. LED stands for light-emitting diode.
When a current is passed through the diode, light is emitted. The current converts electrons in the diode into photons. These small energy pockets release their energy in the form of a bright light.
The color of the light is determined by the amount of energy needed to convert the electrons into photons.
White light is achieved by combining a few different colors of light (each with different wavelengths). Usually this is a mixture of the primary colors; red, blue, and green.
Benefits of LED Aquarium Lighting
Lighting is crucial for a successful planted or reef tank. There are lots of options to choose from but there are plenty of benefits to picking LED lights.
They are one of the most powerful types available. This power can provide intense light that is perfect for plants or corals from sunny areas of the world, such as tropical reefs or African lakes.
A brighter light will result in the faster growth of photosynthetic life.
Another advantage is they have a lower energy consumption than a lot of other bulbs. This is better for the environment as you will be using less electricity. This will save you money too as your energy bills will reduce slightly.
LEDs last quite a while (30,000-50,000 hours), so you won't have to replace them as often. This saves you money and hassle since you won't have to keep buying and switching your lights.
Planted Aquarium LED Lighting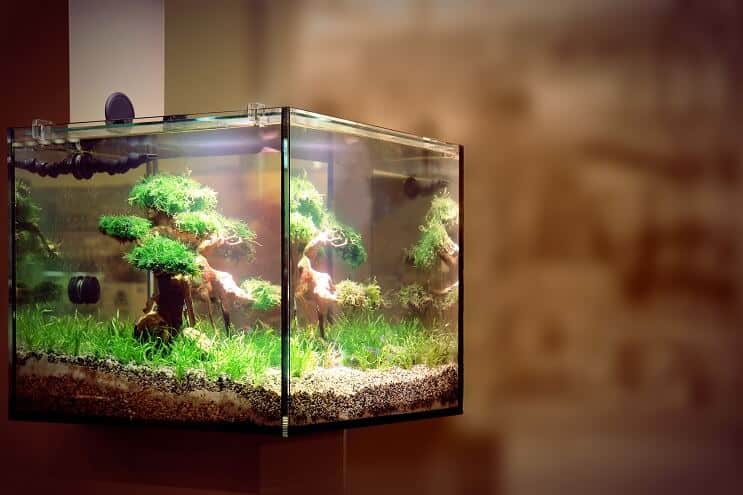 Plants are photosynthetic and need sunlight in order to grow – without access to light they will die. Therefore, you will need to consider the positioning of your plants. Avoid dim areas or spaces shaded by other plants/decorations.
If you have a tall tank and the plants are lower down, you will need higher intensity LEDs to penetrate the deeper waters.
Each species will have its own lighting preferences. Those from tropical climates will need more intense light. By researching the plants you want, you can plan species in accordance to light.
There are many different LEDs available, so you won't struggle to find the ideal one for your setup.
Reef Aquarium LED Lighting
Reef setups let you combine colorful saltwater fish with some unique corals.
Corals look like plants and, in terms of lighting, have similar requirements. They too need direct light to photosynthesize. The main difference is that it is symbiotic algae that carry out the process rather than the coral polyps themselves.
It is important to remember that corals are actually animals. If you are keeping a reef, the corals will need to be treated differently to plants, as they have different demands (such as feeding requirements). Again, make sure to research thoroughly beforehand.
How To Set Up LED Aquarium Lighting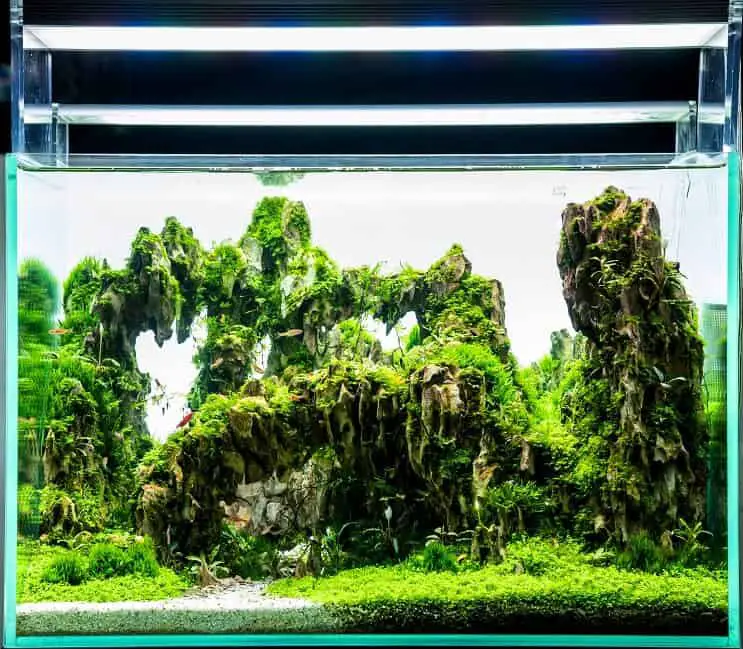 Setting up aquarium lighting should not take up much of your time.
Many aquariums come with a kit when you first buy them. This usually includes built-in lighting, but it is rarely LEDs. You will have to purchase them separately and fix them externally.
Since there is such a wide range of LEDs, some will need to be set up differently to others.
Most come with fittings that can attach to the lid or the walls of your aquarium.
Usually a setup will require an even spread of light across the tank, but sometimes just certain regions need to be lit for plants or corals. So think about where the light will reach as you attach the lighting to your tank.
Once the lighting is attached, most lights will be ready to go. It will just be a matter of turning them on and off when needed.
More expensive models might need to be set up digitally, such as setting a timer for the lights.
Summary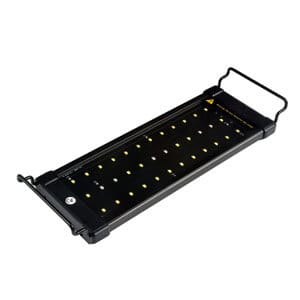 Available in five different sizes, there will definitely be a light to fit your tank in this selection of lights.
There is more to lighting an aquarium than you might think. While there is lots of choice, picking the right lighting is not that complicated.
Most people use the lights that come with their tank, which is fine most of the time.
However, LEDs are a great option for those looking to optimize their lighting. They are more powerful, last longer and use less energy than traditional T5/T8 bulbs.
Start by researching the preferences of the plants and animals in your tank and this should quickly narrow down the LED selection. Once bought and installed, LEDs are simple and effective. You can then move onto the next problem, like choosing the right filter.
What do you use LED lighting for? Let us know in the comments section below…