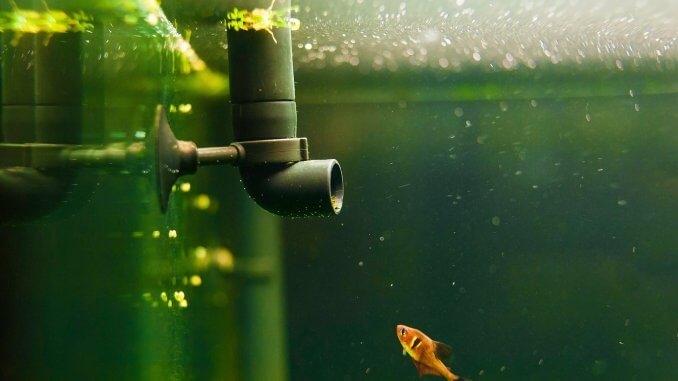 Choosing an aquarium filter can be difficult at times.
They all vary in shape, size, and functionality.
We understand the struggle of navigating through all of this and wondering what to take into consideration and what to ignore.
In this article, we are here to advise you on hang-on-back (HOB) filters.
What is a HOB Filter?
A hang on back (HOB) filter is a type of filter for your aquarium that hangs on the back wall of your tank.
They are classified as simple external filters. However, they are usually not as bulky as canister filters and can be used in a wider range of tanks.
All the mechanisms, filtering materials, and the pump are stored in an enclosed case. They are sometimes referred to as backpack filters, and now you can see where that name comes from.
It works as follows:
A water intake tube carries water (via a nozzle) from the tank to the filter.
Then, inside the case the water is filtered by the sponge or any other material.
Finally, filtered water then goes back into the tank through the chutes, creating a waterfall like flow. This flow helps mix the water more effectively and also helps oxygenate it.
The filtration technique that we described in the example above is used in the majority of HOB Filters and is also known as the waterfall method.
Some have the option to regulate the flow of water, this is ideal for people that find the sound of water pouring into the tank very irritating.
Ultimately, easy maintenance and operation is why they continue to be very popular in the world of fishkeeping.
5 Best HOB Filters Reviewed
If you are new to fishkeeping it can be tricky to work out what equipment you need, let alone decide which type of filter to get.
We have made it simple for you by reviewing five of the best hang-on-back filters.
Most Affordable: Penn Plax Filter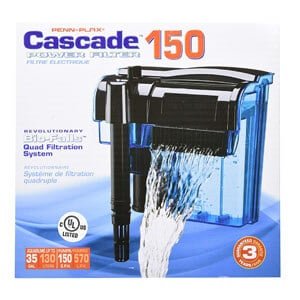 The Penn Plax Cascade filter series is great for aquariums from 5 to 100 gallons, providing crystal clear water for fresh and saltwater aquariums.
This filter comes in 6 sizes for tanks from 5 gallons up to 100 gallons.
Flow rate varies depending on the model you choose, ranging from 20 to 300 gallons of water per hour. The model number you choose indicates the flow rate. For example, the cascade 20 filters 20 gallons of water per hour.
Each model has a four stage filtration system and provides all your biological, chemical and mechanical filtration needs.
It has a self-leveling case which keeps the filter level in almost all aquariums. It also has an adjustable flow rate and intake tube which allows you to create the perfect system for your setup.
As well as being powerful, it is also really light and quiet.
Pros:
This filter is easy to assemble.
It is affordable and well priced.
Comes with a three year guarantee.
The media is easy to change/replace.
Their is lots of space to put your own filter media.
Cons:
Intake tube has large opening which can suck up tiny fish.
Supplied media it comes with isn't the best quality.
Unit is somewhat bulky.
Large sized units can be noisy.
Most Quiet: The Aqueon Power Filter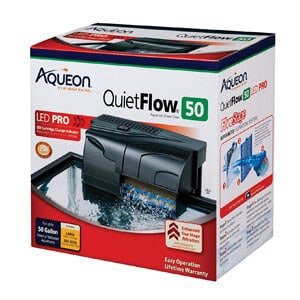 This hang on back filter is self-priming and will start up automatically after cleaning or power shortages.
This filter has more stages of filtration than most, with four stages (mechanical, biological, chemical and a specialty filter pad).
Filter media cartridges are really simple and easy to replace, and contain more activated carbon than other brands.
This filter is also known as one of the quietest on the market. The internal pump has been designed to reduce the amount of noise, eliminate leaks and also self-start after being cleaned.
Coming in four different sizes, there is a filter to suit most tank sizes from 10 gallons all the way up to 75 gallon tanks.
Here are the amount of gallons each model can filter per hour:
QuietFlow 10 – 100 GPH
QuietFlow 20 – 125 GPH
QuietFlow 30 – 200 GPH
QuietFlow 50 – 250 GPH
QuietFlow 55/75 – 400 GPH
Pros:
This filter comes with a lifetime warranty.
Self-priming feature makes it easier to setup.
Has an LED light which signals when the filter pad needs changing.
It is one of the quietest filters on the market.
Cons:
A pre filter sponge is needed for the intake tube if you have small fish.
This filter is smaller, so it has less space for media.
Larger models seem to be slightly louder than the smaller one.
Best Value: Marineland Power Filter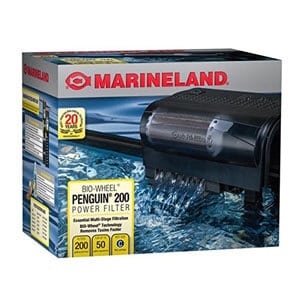 This easy to use filter delivers all three stage of filtration that you need and come complete with filter cartridges.
This power filter is really simple to setup. All you need to do it connect the parts, prime it with water and hang it on the back of your tank.
It has an adjustable water flow which allows you to create the perfect current to suit the fish you are keeping. It also had an adjustable intake tube for improved water circulation.
The Penguin 100 is ideal for tanks up to 20 gallons.
The Penguin 150 is ideal for tanks up to 30 gallons.
The Penguin 200 is ideal for tanks up to 50 gallons.
The Penguin 350 is ideal for tanks up to 70 gallons.
The model of filter lets you know the flow rate which you can expect, for example the Penguin 350 has a flow rate of 350 GPH.
Pros:
It has a unique BIO-wheel designed to eliminate ammonia and nitrite.
The cartridges are easy to replace.
If any of the parts stop working, it's really simple to fix.
The filter and cartridges are all reasonably priced.
Cons:
The motor makes a normal amount of noise, but the water noise is quite loud.
It can make a bubbling noise if your water level is too low.
The impeller is known to break but is easy to replaceable.
Mid-Range: Tetra Power Filter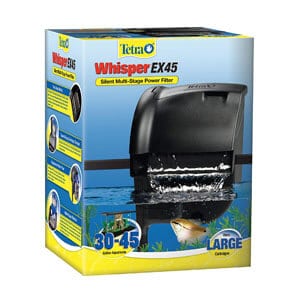 Available in four different sizes, these filters are ready to use straight out of the box.
This series of filters made by Tetra, are perfect for both beginners and hobbyists alike.
It uses timestrip technology and a patented carbon filter carrier, to bring you a simple and easy to maintain the filter. The timestrips let you know when the carbon filter needs to be changed.
There is an access door on the top of the filter which allows you to changes the filter cartridges, and it also has a submerged motor which needs less maintenance than others.
This filter is available in four different sizes, each one appropriate for a different sized tank.
The model number lets you know the maximum size tank this filter is ideal for, for example the EX20 is ideal for tanks up to 20 gallons.
Tetra Whisper Power Filter EX20 – 110 GPH
Tetra Whisper Power Filter EX30 – 160 GPH
Tetra Whisper Power Filter EX45 – 240 GPH
Tetra Whisper Power Filter EX70 – 340 GPH
Pros:
This filter has been carefully designed for maximum ease and simplicity.
It is really easy to setup.
Tetra are known for their excellent customer service.
It has a continuous flushing action to stop debris from building up.
Cons:
If you have large fish, they may be able to knock the extension tubes off.
You will need to add extra filter media if your tank is heavily stocked.
The output tube does not create much water movement.
It does not have an adjustable flow rate.
Best Quality: Fluval Power Filter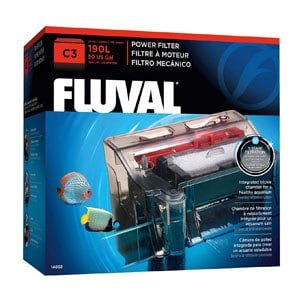 Providing aquariums with five stages of filtration, the Fluval Power Filter series are ideal for tanks from 10 to 70 gallons.
There are three models in the Fluval Power Filter series, the C2, C3 and the C4. Each of them provide 5 stages of filtration, but you need to choose the correct one for your tank size.
The C2 is perfect for tanks in between 10 and 30 gallons. It has a flow rate of 119 gallons per hour.
The C3 is ideal for aquariums between 20 and 50 gallons, and has a flow rate of 153 gallons per hour.
The largest model (the C4) is ideal for tanks that are 40 to 70 gallons, and produces a flow rate of 264 gallons per hour.
Stages one and two of the filtration process are the mechanical stage. It uses a foam pad which has both porous foam to trap large particles, and a dense polyester material to capture fine debris.
The third stage is the chemical carbon insert, the fourth stage is the biological bio-screen and the fifth and final stage is the biological C-nodes.
Pros:
Each filter medium has its own section so it's easy to change.
Maintaining this filter is really easy.
You can use your own brand filter media.
The intake tube is telescopic.
Cons:
The media baskets are quite small.
If your tank is heavily stocked, the sponge will need rinsing often.
There are reports of this filter being noisy
How to Choose the Right HOB Filter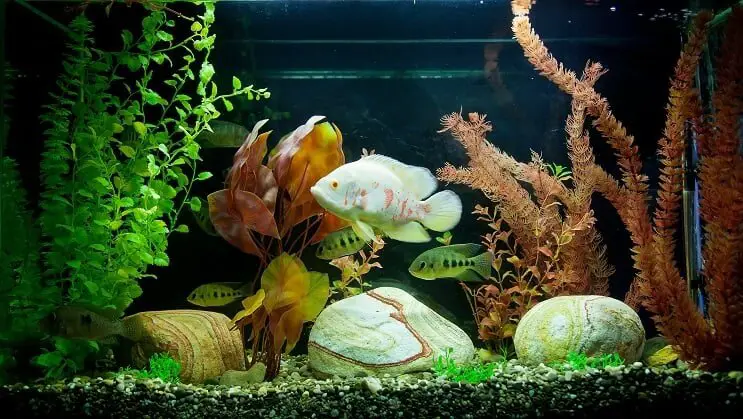 There are a number of things you need to consider to help you choose the right hang on back filter for your tank setup.
Required Flow
Media Type
Size of Tank
Required Flow
These filters allow you to take control of the water flow. They will usually have an adjustable slider either on the inflow tube or somewhere else on the case.
Normally, flow requirements depend on what type of fish (or other animals) you are keeping.
A good filter should be able to go through all the water in your tank about three or four times in an hour. In other words, a filter with the output of 30 gallons per hour will be ideal for a 9-10-gallon tank.
The filter's output capability is also important. It's usually stated as the volume of water filtrated in an hour. This is usually what you will see advertised first on all HOB filters along with the recommended volume.
Media Type
The most common filtering material found is a simple sponge. They are relatively cheap, easy to clean and don't need changing often.
Other popular filter media types include ceramic rings and bio-media.
To increase the efficiency of filtration you can use sponges covered with activated carbon or other biological compounds.
Most tanks will be fine with just a sponge though.
Size of Tank
Most HOB filters are designed for small aquariums. As you can guess, there is no use for these filters in large reef tanks.
Choosing the right filter for the right volume is very important. Under-filtered tanks will make your fish sick and can result in death.
We have already mentioned the output capability. Make sure this is taken into account when choosing the filter.
How to Set Up and Maintain a HOB Filter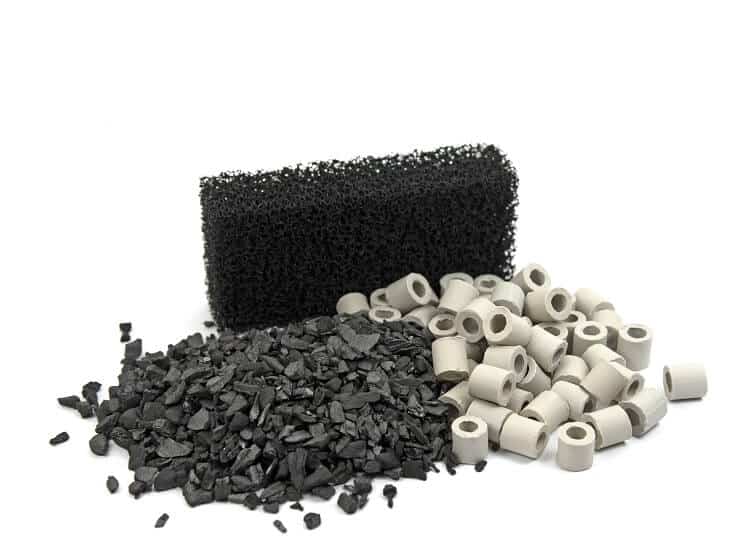 They are easy to set up and operate – there are no complicated instructions or difficult assembling procedures.
Before setting anything up, consider the size of your tank and find the right sized filter. Then you need to decide where you are going to place it. It visually looks much better if you use a colored covering sheet or an aquarium background where the filter is placed.
It shouldn't take any more than 5 minutes to set your filter up.
Add the filter media. Some filters have individual baskets which indicate where each type of media should go.
Hang the filter in place. There is usually a cut on your tank lid to indicate where to place the filter. If there is no cut out, you can decide where the filter will go.
Now you should prime the filter. Priming the filter involves manually filling the filter with water, however some filters have a self-priming system too.
Finally, plug the filter in.
In terms of cleaning, these filters don't need much. The filter should be cleaned as your aquarium starts to get dirty. To do this unplug it, disassemble it and thoroughly clean all the pipes, tubes or chutes.
You should take out the sponge, get rid of anything stuck to it and also rinse it in a bucket of tank water. Whilst the sponge is out you should replace the filter media.
FAQs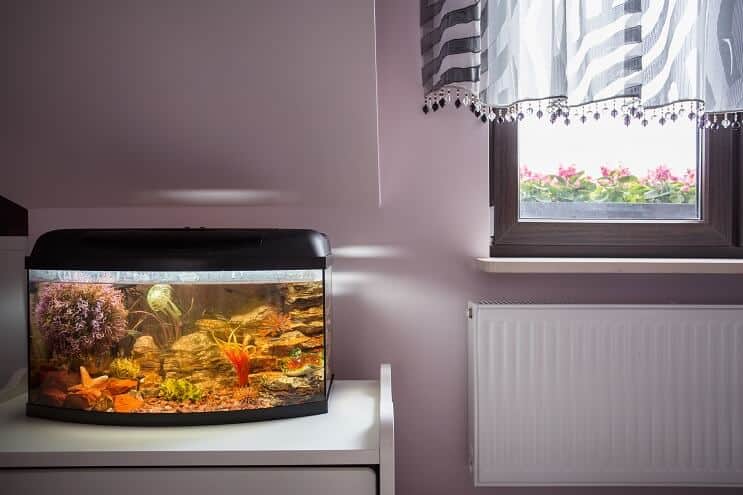 Why Would You Need This Type of Filter?
Choosing a filter is a complex process and even though it may sound like the HOB filter is the right one, there may be other better options. Lets take a look what makes hang on back filters a good choice and where you might use them.
Given their usual size and the fact that they take up next to no space in the tank, these filters are ideal for small aquariums (5-10 gallon).
That is why these filters have become an appealing choice and can be seen in home and professional tanks worldwide.
They are much cheaper than other types of filters, and parts are easily replaced.
Also as the main part of the filter is not immersed in water, it is very easy to clean.
Can You Use a HOB Filter for a Saltwater Tank?
The HOB filter can be used in saltwater tanks.
In smaller saltwater tanks (less than 15 gallons) they can be used as the main filtration system.
However, in larger saltwater tanks they will be used secondarily, as support.
What will be different from the freshwater tank is the media type used for filtration. Most saltwater tanks need biological filtration by the environment itself – your filter will provide simple mechanical filtration and take care of the waste removal.
If you are unsure or have any other questions about saltwater tanks, take a quick look here!
Canister Filter vs HOB Filter
The first difference you will notice between the hang on back filter and the canister filter is the size. The canister filter is an external filtering device and takes up significantly more space, outside the tank. So, the mobile hang on back has an upper hand here if you want a space saving filter.
Which one is more efficient at the actual filtration? This depends on your needs. The size of Canister filters allow you to store more media inside, increasing the effectiveness of biological filtration, whereas HOB filters usually won't be suitable for larger aquariums.
However, there is no need to purchase a huge external filter if you only have a small aquarium. You will be better off saving money and getting a hang on back filter. Besides, they are much easier to clean, and you won't have to worry about changing the media as often.
What about the price then? Starting prices for most simple canister filters will be somewhere around $25-$35.
To sum up, they are much better if you have a small tank and don't need to filter lots of water. They don't take up much room and are generally quiet – they are ideal for 15 gallon tanks.
Canister filters are a good choice for larger tanks (20+ gallons). Thanks to the size and higher filter capacity, they will be able to handle more waste and larger volumes.
Summary
The hang on back filter is a wonderful solution for small tanks.
They don't require a whole lot of maintenance, are easy to install and are affordable.
HOB filters are also very reliable and can be used without any problems both by experienced aquarists and beginners.
If you spend a touch more you will get a filter with built-in functionality, like different adjustable sliders or interchangeable chutes – this makes them even more user-friendly.
The most affordable is the Penn Plax Filter. Whereas the best quality is Fluval Power Filter.
What filter do you use? Let us know in the comments section below…