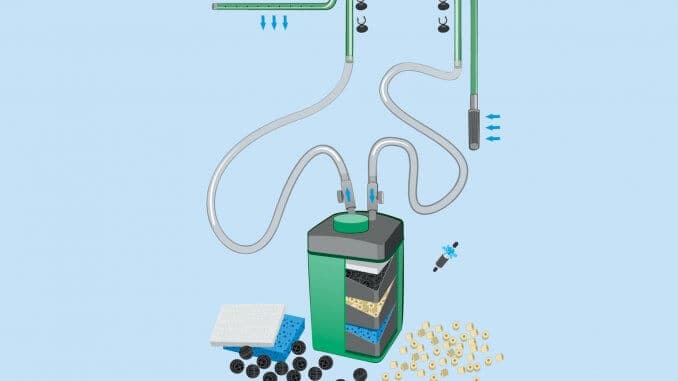 Filters are essential in all aquariums to keep the water clean and remove any toxins which build up and become harmful for your fish.
There is a huge selection of filters available, from HOB, to canister, to undergravel filters, so how do you know which one to choose for your aquarium?
Canister filters are a popular choice because they are very efficient and are generally considered superior to other types of filters.
You can use these filters in many different setups, from turtle tanks, to freshwater or saltwater tanks. They are compatible with many setups and the flexibility of the media available means you can create the perfect filtration for your tank.
Best Canister Filters Compared
PRODUCT
FEATURES
LATEST PRICE
1. Penn Plax Cascade Canister Filter


Very sturdy
Includes a spray bar.
Fold-up handle

Check Price
2. Fluval External Filter


3 year warranty.
Multiple filtration baskets
Easy to setup.

Check Price
3. Eheim Classic Canister Filter and Media


Very quiet.
Reasonably priced
Easy to setup

Check Price
4. AquaTop CF Series Canister Filter


A great flow rate
Adjustable height intake tube
Priming function works well

Check Price
5. Sunsun 3 Stage Aquarium Canister Filter


Reasonable priced
Thick hoses
Comes with a spray bar

Check Price
6. MarineLand Magniflow Canister Filter


Easy to setup and maintain
Plenty of room for different medias
Very well made

Check Price
7. Hydor Professional External Canister Filter


Very well priced
Simple to set up
Very quiet when running

Check Price
All You Need To Know About Canister Filters
Canister filters are external filters – this means they sit outside of the fish tank. Apart from this, they work like any other filter to remove waste from the aquarium.
They are usually a box or cylinder shape, and quite large. They typically have two tubes that connect to the filter. One tube (the intake tube) takes the dirty water from the tank, and brings it to the filter.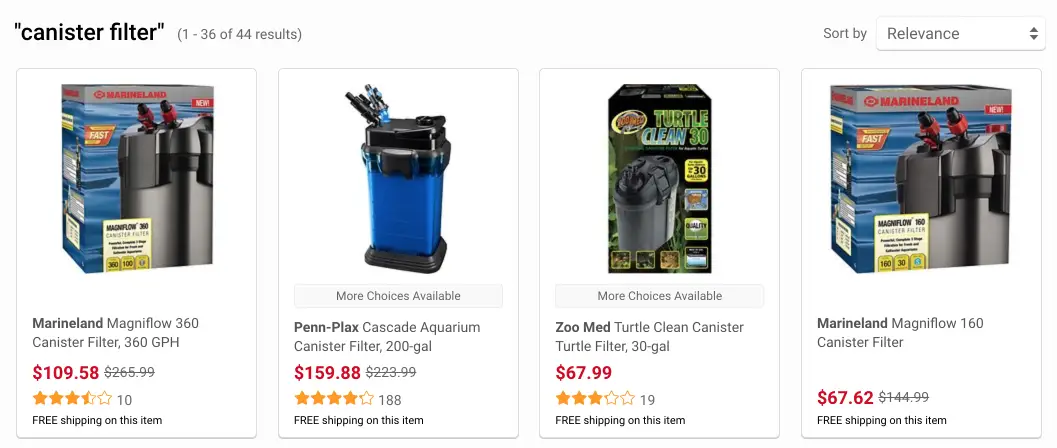 Whilst the water is inside the sealed canister, it is run through a series of filter media. Depending on the type of media you choose to include, it can provide all three filtration needs; chemical, biological, and mechanical.
Once the water has passed through the filter media, it is then pumped back into the tank through a tube or spray bar.
Most canister filters come with an inbuilt water pump which they use to pump the water back into the tank, however, some models need a separate water pump.
They should be installed once your tank has been set up, and they are available for tanks of all different sizes, but are most commonly used for larger tanks (20 gallons+).
The Best Canister Filters: The 2020 Product Review
There are plenty of canister filters available for you to choose from, and sometimes it can be difficult to figure out which one you need.
We've made it simple for you by reviewing them all to help you choose the best one for your setup.
Penn Plax Cascade Canister Filter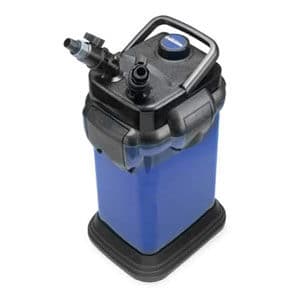 These filters have stackable media trays which allow for multi-stage versatile filtration.
The Cascade canister filter comes in five sizes.
Depending on which model you opt for, there are a different number of media baskets (2-5) available to create your own filtration system. These filters are really simple and easy to install – they can be set up and filtering the water in 30 minutes.
It has a push-button primer which makes it really easy to start up, it also has a control for the flow rate and a rubber base which keeps the unit in place.
This filter comes complete with all the equipment you need to set it up including filter baskets, start-up filter media, and input/output tubing.
Pros:
The filter has a quiet operation.
It is very sturdy – all parts are made from strong plastic.
The price includes a spray bar.
It has a fold-up handle which let you pick it up easily.
Cons:
It is on the more expensive side.
No auto-priming, so it can be difficult to prime the first time.
Known to consume quite a lot of power.
Fluval External Filter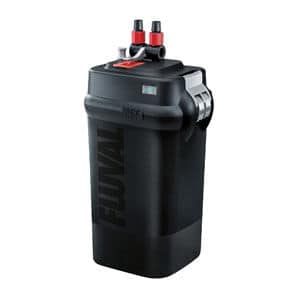 This filter comes in three different sizes, meaning there is one suitable for all-size aquariums up to 100 gallons.
The Fluval canister filter is a multi-stage filtration system that can be used for both freshwater and saltwater aquariums.
It is available in four different sizes:
This filter is quiet due to the precise bearings – this minimizes vibrations and reduces noise.
All the filtration stages are separated which makes it really easy to maintain the system and allows a lot of versatility so you can add the types of media necessary for your tank.
There are a number of other features which make maintenance really quick and easy. The AquaStop Valve stops water from flowing without the need to disconnect the tubes. This eliminates leaks and mess.
You also get lift lock clamps which quickly secure and lock the motor housing in place. There is no need to manually siphon the water to get the filter working as it has an instant prime feature.
Pros:
Comes with a 3 year warranty.
Multiple filtration baskets which allows versatility.
Different sizes available to suit every aquarium.
Really easy to setup.
Come with large filter sponges.
Cons:
Over complicated instructions.
The tubing isn't the standard size so finding replacements is hard.
It's quite industrial looking.
Eheim Classic Canister Filter and Media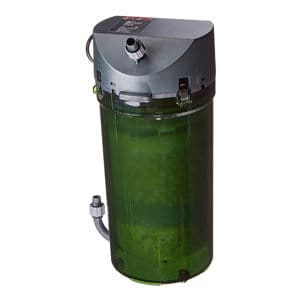 Coming in three different sizes, the Eheim canister filter is a well-known and reliable brand for all your filtration needs.
The Eheim canister filter comes in five different sizes.
These filters have been tried and tested since the company started in 1949 – so they have over 70 years worth of knowledge to create the best filters.
Eheim filters are known for being high quality, with very quiet running sound and low energy consumption.
They have a long-lasting flexible silicon sealing ring in the pump head which allows you to remove and clean it thoroughly.
These filters can be filled with a huge range of different filter media, from cartridges to sponges and pads. It comes with an inlet pipe, spraybar, hose and all the installation accessories you will need.
Pros:
It comes with all the filter media you initially need.
This filter is very quiet.
It is reasonably priced and good quality.
Easy to setup and maintain.
The media is easily accessible.
Cons:
It doesn't have an instant primer.
The instructions aren't very detailed.
Some people don't like the color of the pipes (green and grey).
The filter media has to be ordered online.
AquaTop CF Series Canister Filter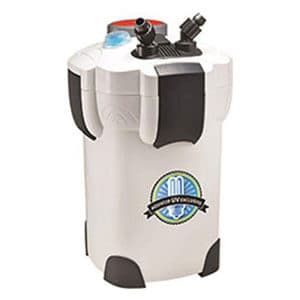 Suitable for both freshwater and saltwater tanks, this filter is ideal for mechanical, biological, and chemical filtration.
This AquaTop filter has three different sizes for tanks up to 175 gallons.
These filters come with a 9 watt UV sterilizer, three filter pads, a coarse filter sponge, and all the necessary components for installing it.
It also comes with activated carbon, ceramic rings, and bio-balls.
You might have noticed that the UV sterilizer has not been mentioned in any of the other filters which we are reviewing. That is because this is the only filter that has this unique feature.
The UV sterilizer works to eliminate microorganisms like algae and parasites.
Pros:
A great flow rate (up to 525 GPH depending).
It has an adjustable height intake tube.
The priming function works well.
It comes with all the media you need.
Cons:
It is quite expensive.
The lid can be difficult to put back on after cleaning.
Known to produces air bubbles for the first few days.
The spray bar is tricky to install.
Sunsun 3 Stage Aquarium Canister Filter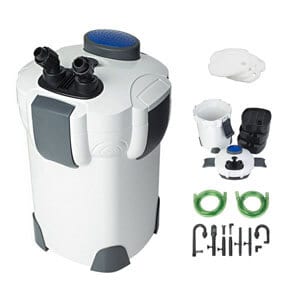 A sleek modern canister filter which is available in three different sizes for tanks up to 150 gallons.
This filter is a sleek, modern looking unit that comes in three different sizes.
The HW302 is great for tanks that are up to 75 gallons, the HW303 is for tanks up to 100 gallons, and the final model (HW304) is ideal for up to 150 gallon tanks.
Each one comes with three media trays which can be adapted to hold the media of your choice. Examples of media that you can include in the trays are activated carbon, ceramic rings and bio-balls.
It comes with everything you need to install the filter, including starter pads and hoses.
This external filter has a self-priming pump which eliminates the need for you to manually siphon the water to start the filtration process off.
Pros:
Reasonable price for a great quality filter.
The hoses are quite thick and move plenty of water around.
It comes with a spray bar.
Really simple and easy to clean.
Cons:
Only comes with one type of media so you need to buy more.
The spray bar sits up quite high in the aquarium.
Poor written instructions but the diagrams are clear.
MarineLand Magniflow Canister Filter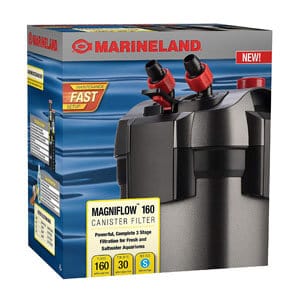 This reputable and well-known brand offers a multistage filter, available in three different sizes, for tanks up to 100 gallons.
MarineLand are a reputable brand within the aquarium industry.
This three stage filtration is ideal for both saltwater and freshwater aquariums. The canister lid is specially designed to ensure a water tight seal.
It comes with plenty of filter media; the polishing pads remove fine debris, the bio-filter balls and ceramic rings provide plenty of space for the growth of beneficial bacteria and the black diamond carbon removes odors and discoloration.
The canister filter is available in three different sizes:
Pros:
It comes with all the filter media you need to get started.
Very easy to setup and maintain.
There is plenty of room for different medias.
This filter is good quality and very well made.
Cons:
If you move the hoses they become loose quite easily.
The instructions are confusing.
Known for getting a few air bubbles when it first starts.
Hydor Professional External Canister Filter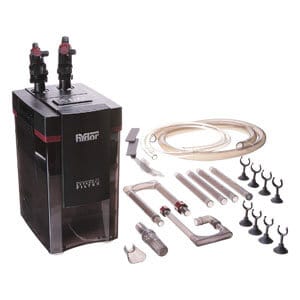 Available in five different sizes, there is a Hydor filter to suit every tank size.
This is a relatively new brand in the aquarium industry, but already they are becoming a well-loved brand known for high quality.
The filters are made from sturdy plastic and the base has four rubber feet which give it plenty of stability.
It has telescopic intake tubes and an easy self-priming system. Even if you haven't used a canister filter before, this one is really easy to set up.
This filter has a really quiet operation and is perfect for all tank types, from fresh or saltwater to turtle or reef tanks.
Pros:
The filter is very well priced.
It's really simple to set up and easy to maintain.
Very quiet when running.
Long thick hoses for maximum water flow.
Cons:
The media baskets have to be lined up perfectly to allow the filter to close again.
Drips can develop at the connection points.
The media it comes with isn't great and will need replacing.
How to Choose the Best Canister Filter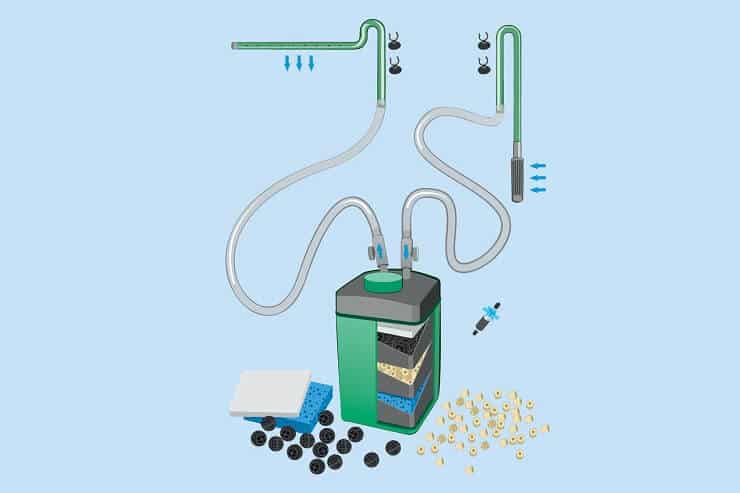 The best canister filter will vary from person to person. To choose the right aquarium filter for your setup, you need to consider the following factors:
Required Flow Rate
Stocking Levels
Filter Media
Reviews and Price
Aquarium Size
The main consideration when choosing the right filter is the size of your tank.
Most filters come with a recommended tank size so it's easy to figure out which is the best one for your setup. If you are uncertain, always go for a bigger size. Over-filtering your tank won't hurt your fish, whereas under-filtering the tank can be fatal for them.
Required Flow Rate
The flow rate is the volume of gallons that can be filtered per hour. The higher the number, the better.
Canister filters generally have a higher flow rate than most other types of filters, but they can still vary from brand to brand.
Stocking Levels
The type of filter you need, and the flow rate you want will depend on how heavily stocked your tank is.
With more fish in the aquarium, the more waste they will produce and therefore the more filtration you will need.
Turtles for example, need much more filtration than a group of small schooling fish.
Filter Media
You might want to choose the filter based on how much media it is able to hold. Most canister filters can hold at least two different types of media, and the beauty of these filters is that you can adapt the filter media and use the best setup for your tank's needs.
Some filters have up to six baskets, which you can place lots of different types of filter media in.
Reviews and Price
The last consideration when choosing the best filter will be the price, and customer reviews.
Bear in mind that canister filters are typically more expensive that other systems such as undergravel filters. Some are cheaper than others, depending on whether you want a basic setup or a fancier setup with auto-primers and other features.
All of the filters that we have featured in the roundup have good customer reviews, but it's always a good idea to read the reviews for yourself so you can check that the filter will meet the needs of your tank.
Best Media for Canister Filters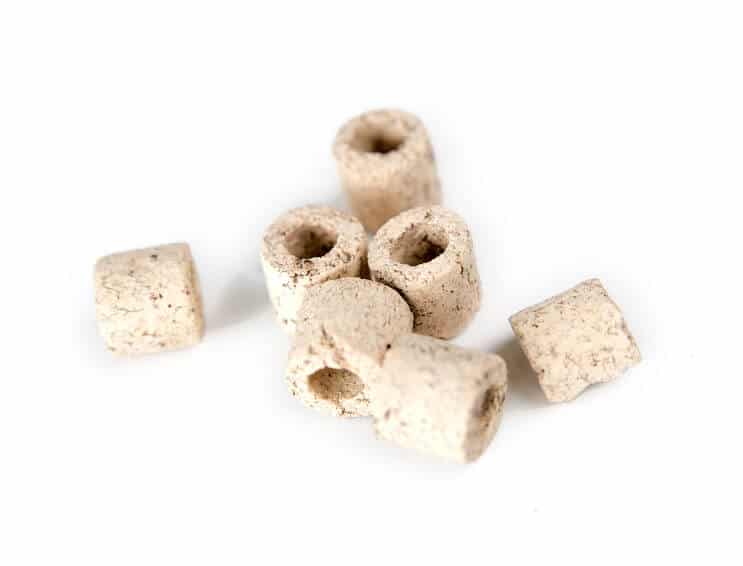 There are lots of different options when it comes to choosing the right media for your filter.
Most canister filters have the ability to mechanically, biologically and chemically filter the water in your tank.
These are the stages of filtration that your water should pass through in order to purify and clean the water for your fish.
Mechanical filtration removes the physical waste, biological media is where good bacteria colonies build up to deal with the ammonia and nitrite levels, and chemical filtration deals with the other unseen chemicals that build up in the water.
For each stage, there are lots of media to choose from, here are some of the most popular ones.
Mechanical
Some popular choices for mechanical media include:
Bio-balls (small porous cylinders)
Filter pads (thin pieces of cloth-like material)
Filter floss (a thick spongy material)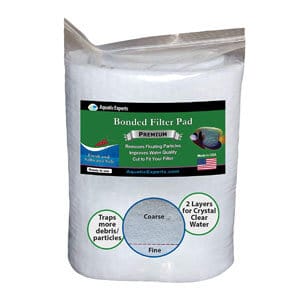 This is Amazon's top pick for mechanical filter media, these dual layered filter pads work in two ways. The top layer traps large particles which the bottom layer traps finer particles.
Biological
Biological media should have lots of surface area to build up beneficial bacteria – this will keep ammonia and nitrite levels in the water safe.
Again, there are plenty of different options. Here are a few of the most popular:
Bio balls/Bio globes (sphere shaped balls)
Bio ceramic rings (ring shaped ceramic pieces)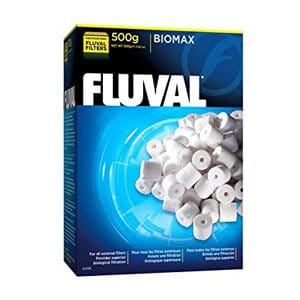 These Fluval BIOMAX rings create an optimal environment allowing beneficial bacteria to thrive. They have a complex pore system, and more capacity than other biological media.
Chemical
Activated carbon is one of the most popular choices of chemical media, this helps to eliminate harmful compounds which are dissolved in the water such as chlorine and copper.
A few other popular choices are:
Synthetic polymers
Ion exchange resins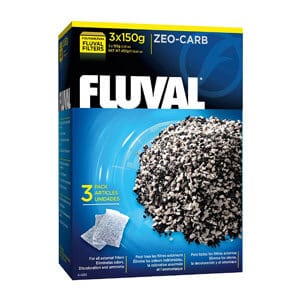 A combined blend of activated carbon and ammonia remover, work together to eliminate impurities, odors and discoloration. Each pack lasts around one month.
Check Canister Filter Media On Amazon
Canister Filter Setup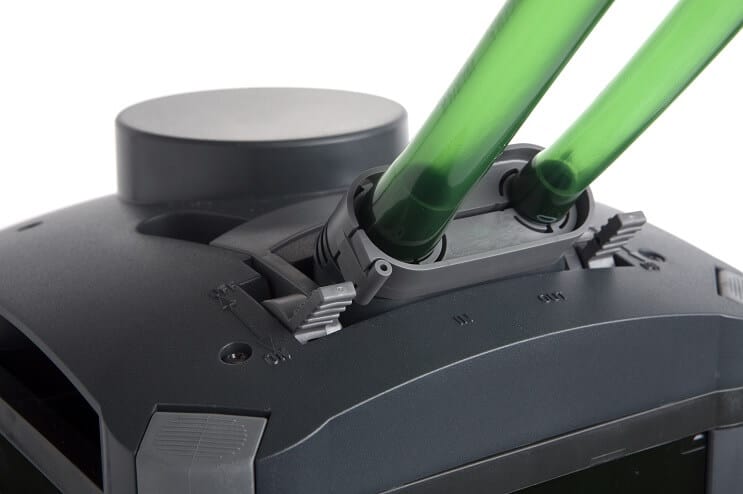 The first thing you need to do is check you have all the parts needed to set the filter up. This should include the: filter, hoses, connectors (clips + clamps), intake and output tubes (+ fixtures), filter media and media trays.
Next, make sure your tank is ready. It should be completely set up, including being filled with water.
Now place your filter underneath the tank. The positioning varies according to each model, but it should sit somewhere between 8 inches, to 4 feet below the tank. Make sure the tubes can reach the tank without any slack, loops or kinks.
Once the filter is in the right place you can insert the filter media into the baskets. Ideally your mechanical media should be placed in the first basket, the biological media in the second and the chemical media in the third.
Now you will need to prepare the intake and output tubes. Most have connecters which allow you to fasten them onto the canister and run them up to your tank (remember, no loops or kinks).
The last step is to start the filter – this varies depending on the brand. Some have an auto-prime feature, others need manually priming. When you have followed all the instructions on your filter, you can plug it in and make sure everything is running smoothly.
Which is the Best Canister Filter? (Summary)
You should now have a good idea of exactly what a canister filter is, the media you need to put inside it, and how to set it up.
But what would be the best canister filter for you?
This really depends on the size of your aquarium, how many features you want, how much space you have to mount the filter, and the price.
Our two favorites are the Fluval canister filter, and the Eheim canister filter. They are both well-known brands within the industry, good quality, and are easy to setup and maintain.
Are you choosing your first canister filter or do you have some expertise already in this area? We've love to hear from you either way in the comments section below…