Fishkeeping can take up quite a bit of your time, but you might not always have the time to spare. This does not have to stop you from keeping fish, an automatic fish feeder helps to solve the problem.
This is a great way to feed your fish if you are away from home during feeding times. Perhaps you have frequent work trips, or maybe you are just going on holiday.
These feeders will drop food into the tank, keeping you free to get on with your busy schedule.
Choosing the one that's right for you can be difficult, everyone's situation is different. So make sure to read this entire article before buying one to make sure your money is not wasted.
In this article we review the best automatic fish feeders, discuss how to use them and much more…
What is an Automatic Fish Feeder?
Every aquarium needs some equipment to keep your fish healthy – common ones include: a filter (to clean the water) and a heater (to warm it up).
Automatic fish feeders are electronic devices that feed your fish when you are not around. You can control the portion sizes and the frequency of meal times.
They are effectively a container of food that runs on a timer, dropping food into the water at the programmed time.
Depending on the model, they can run for six weeks without having to be refilled.
Most are plastic with a clear container and a digital screen for you to program the settings. Some look slightly different because there is more than one type of automatic feeder (more on this later), but they usually sit on the side of the aquarium.
They can be used in any type of tank: cold-water, tropical and marine.
If you keep fish in a pond, there are models out there for you too.
Even the fishing industry uses them.
The Best Automatic Fish Feeders Reviewed
Eheim Automatic Fish Feeder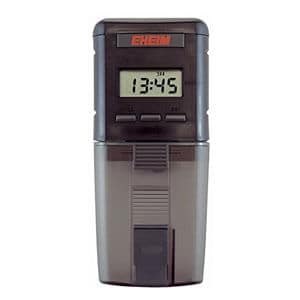 This easy to set up and use fish feeder can hold up to 6 weeks worth of food for your fish.
This auto feeder is our number one pick.
It has an easy to use digital LCD screen which allows you to program up to 8 feeds per day, an integrated fan and ventilation system, an adjustable slider to set the ideal portion sizes and splash proof buttons.
The drum volume is 100ml (3.3 fl. Ounces) which is enough space to hold up to 6 weeks of food.
This feeder is battery operated and has a two stage low battery level indicator so you know when to change it.
You can buy it on its own or in packs up to 10 which is perfect for those more advanced aquarists who have a number of tank setups.
Pros:
Comes with a 3 year guarantee.
Well known reputable brand.
Very simple to set up and use.
Easy to use digital LCD screen.
Cons:
Can only use one type of food.
The door/feeding hole is not very sturdy.
It's one of the higher priced feeders.
Torlam Auto Fish Feeder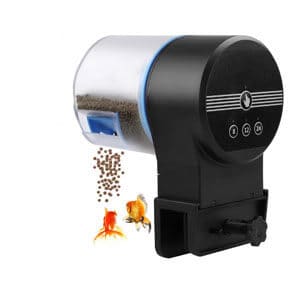 This feeder can hold a 21 day supply of food for your fish, and will accommodate most types of foods.
This feeder uses a timer to release food over a period of several hours and it also has a moisture resistant hopper which keeps the food fresh.
There is also a manual override button, if you want to feed your fish straight away.
It has three different timer settings, so you can choose to feed your fish over an 8 hour, 12 hour or 24 hour cycle.
This device can be powered by battery or USB.
It can hold enough food to last your fish up to 21 days, you just need to adjust the slider to decide how much food you would like to be released.
Pros:
This feeder is very easy to set up.
It has a manual feed button incase you want to feed your fish instantly.
Keeps food fresh with it's moisture resistant hopper.
Well known for its outstanding reliability.
Cons:
The mounting clamps which it comes with are quite small.
Does not have a timer instead you choose from one of the three cycles.
The plastic is quite flimsy.
Proche Fish Feeder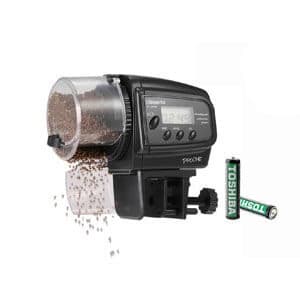 This feeder allows you to automatically feed your fish, turtles, newts or frogs up to 4 times a day.
The Proche feeder is a rotating barrel type feeder, with a digital screen. The screen allows you to set four feeding times with either one or two rotations per feed.
You can also adjust the slider which alters the amount of food which is dropped for your fish, by either making the hole smaller or larger.
It can be installed in two different ways, depending on which you prefer. The first, is to fix the feeder to the tank wall using a holder, the second is the stick the feeder onto the lid with a double-sided sticker.
This feeder requires 2 AAA batteries, which will last for up to 3 months.
Pros:
It can feed up to 4 times per day.
Very easy to set up and comes with complete user guide.
Has a 12 month warranty for peace of mind.
Easy to control slider to adjust how much food is release.
Cons:
The timer display can be difficult to read under sunlight.
It has a flimsy feel to it so be careful when setting it up.
The timer is difficult to adjust making quick changes difficult.
Penn Plax Budget Feeder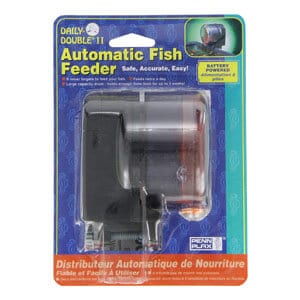 A simple, easy to use fish feeder which can dispense food twice a day for up to four weeks.
This fish feeder is ideal for those aquarists looking for a simple straightforward feeder.
It is great for Betta fish.
Penn Plax are a reputable company within the aquarium industry and what they have created is a basic fish feeder which will feed your fish twice a day.
This is an inexpensive, battery operate feeder that is easy to set up and operate.
It does not have any moisture control, but as long as the room you keep your fish in is not too humid, it will be fine.
With this feeder you can use either flakes or pellets, and it has a large enough drum to hold up to four weeks worth of food.
Pros:
Very simple to set up and maintain.
Has a second food drum which holds enough food for another week.
It is easy to fill with food.
Has two setups either free standing, or clamped.
Cons:
Limited time programming – only 12 hour intervals.
No moisture control.
Timing intervals start when batteries are inserted and can't be changed.
Eheim Twin Automatic Feeder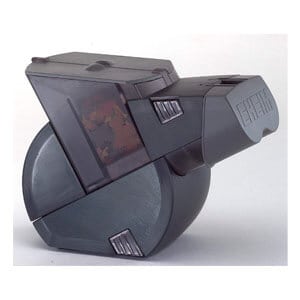 This large twin feeder has two separate food chambers which can each be individually programmed.
This feeder is perfect if you have different species in your tank that need feeding different types of foods.
Most regular feeders only allow you to feed one type of food because they only have one chamber for the food to be loaded into. This feeder has two chambers which lets you put different foods in each, for example flakes into one and pellets into the other.
Each chamber can be programmed separately so foods can be released at different times throughout the day.
Both the chambers are aerated to make sure that the food stays dry, and it has a large LED display on the front.
Pros:
You can mix and match food types.
The unit is easy to set up.
This feeder is very energy efficient.
There are lots of different programming options which allows you to choose the best times for you.
Cons:
Small compartments make it tricky to load food.
This feeder is quite tall so you need a large opening in the aquarium hood.
Not suitable for small fish tanks.
P7000 Pond Fish Feeder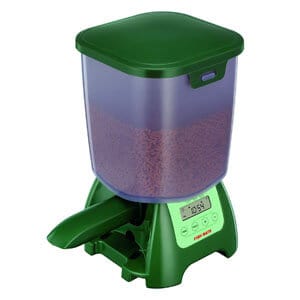 This battery operate pond feeder has a large capacity and is perfect for small to large outdoor ponds.
This automatic feeder is ideal for anyone who wants to feed their pond fish on a regular schedule, or even if you're just going away for a few days and need a reliable way to feed them.
It's ideal for both large and small ponds because you can use the LCD control panel to set how often and how much you'd like to feed them.
This feeder can also be used manually which allows you to feed on demand, and if you don't want to have to program the feeder, you can also just use the frequent feed mode.
On this mode, it will dispense 3 teaspoons of feed at regular intervals throughout the day.
The P7000 Pond Feeder has a snap lock lid, and is very easy to clean as it is dishwasher-proof.
Pros:
LCD panel which allows you to control the frequency and how much you feed.
Battery operated so it doesn't need to be close to a power source.
Simple and easy to clean/maintain.
Advanced Anti-jam dispensing system to stop any blockages.
Cons:
It can't be programmed for every other day as it runs on a 24 hour cycle.
Instructions can be confusing.
You will need to make a cover for it if you live in a wet climate.
How Does an Automatic Fish Feeder Work?
Automatic fish feeders sit on the side or the top of the tank, releasing food at intervals and portion sizes decided by you.
They have three main parts: a hopper, a timer and some method to set the portion sizes and time intervals.
The hopper is the part that holds the food, you fill it up and the food will gradually be removed. The timer rotates the hopper, dispensing food in the process. They can be powered by either batteries or power cords, depending on the model you buy.
Some devices will have suction cups to sit on the inner wall of the aquarium, others have mounting brackets that hook over the side of the tank.
Certain models have a 'feed now' button. This drops food into the tank outside of the programmed times. It is helpful for testing that the feeder is working without waiting for the programmed time to come around.
New designs are making it possible for feeders to be controlled from your phone also.
They need to be maintained, but this isn't too difficult. Clean the device when you clean the tank. Replace the food too, and make sure everything is dry to prevent it malfunctioning.
Remember, with an auto feeder you will only be able to use dried foods in your feeder. If your fish enjoy live or frozen foods (like bloodworms), perhaps you could switch to freeze-dried foods.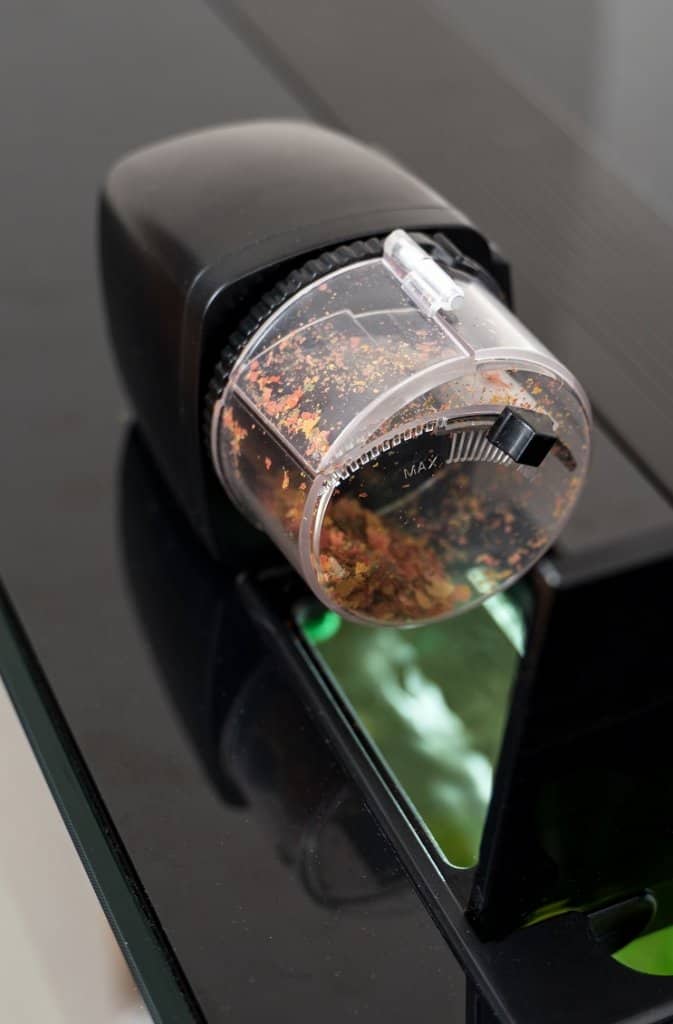 How to Choose an Automatic Fish Feeder?
The amount of time you are going to be away will influence your choice. If it's just for a few days, then you can use a portion control fish feeder. If you are away for a few weeks at a time, you will need a rotating barrel.
You must also consider which foods your fish need. If you have a community of fish that need different foods, then you are better off with a portion control feeder so that the required food is getting to everybody.
Larger foods will need a portion control feeder too.
What are the Different Types of Automatic Fish Feeders?
There are two common types of auto fish feeders. They both produce the same result but they operate slightly differently.
Rotating Barrel Fish Feeders
These are the most common types and they have the simplest design.
At feeding time, the barrel rotates and releases food into the tank. The amount of food released is determined by the size of the hole in the barrel, but you have control over how big the hole is.
This type of feeder holds the most food, so it is great for people who are going away for extended periods of time – some models can hold six weeks worth of food.
However, rotating barrel feeders only have one compartment which can cause problems for community aquariums. You can fill the barrel with multiple types of food, but you can't be sure that they will be dispensed evenly.
For example, maybe you want to mix flakes and pellets. Too many flakes could be released compared to pellets and your bottom-dwelling fish might then go underfed. Choosing just one food type with these feeders.
Larger dried fish foods should be avoided – algae wafers and sticks can block the barrel opening.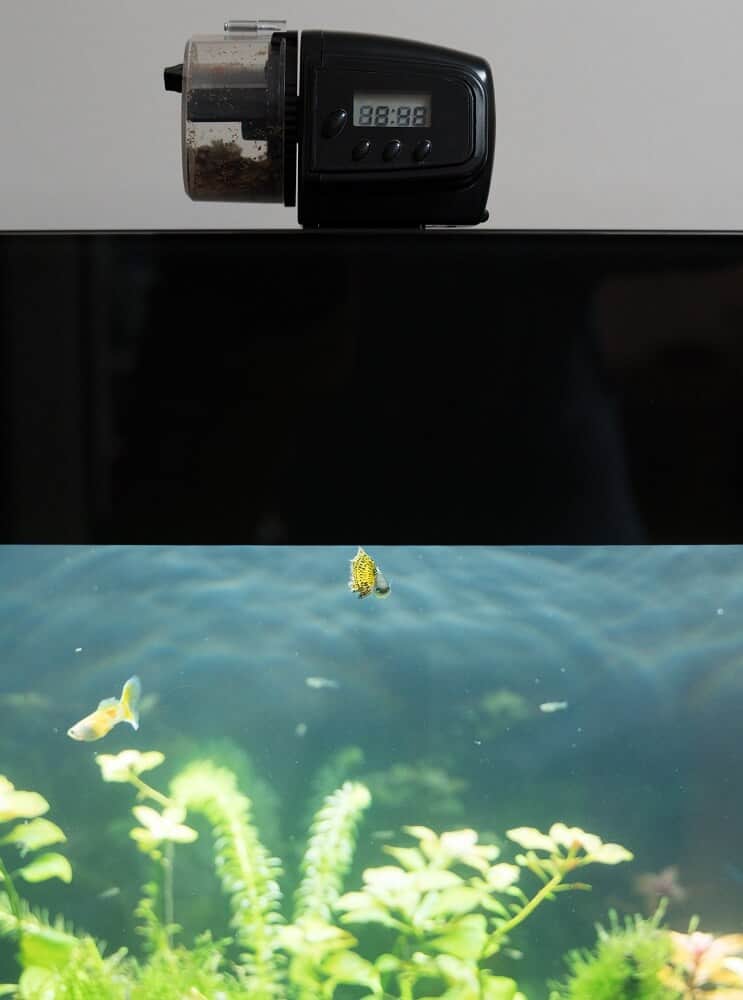 Portion Control Fish Feeders
As the name suggests, you get great control over how much food enters your tank with these feeders.
They have a circular arrangement of trays. You fill each tray with the food you want to be released to the tank at one time, you then set the timer. At feeding time, the entire contents of one tray is emptied into the tank.
You can measure out each meal and mix different food types (even larger dried foods) ensuring everyone gets the right amount of the food they need. This is ideal for community aquariums.
The main problem with portion control feeders is that they hold less food, so you can't be away as long. Most models have 10-14 compartments which is 10-14 days worth of food.
How to Set Up an Automatic Fish Feeder
Automatic fish feeders can be added to your tank at any point – even after you've set the tank up.
Position the feeder away from the other equipment in your tank so that the food does not interfere with anything once it's released.
When you've decided on the location, you need to mount it. The way you do this will vary depending on the model you have. Most come with brackets for you to mount the feeder on the outside of the tank, others have suction cups to sit on the inside of the aquarium.
Next, add the power supply (either batteries or a cord).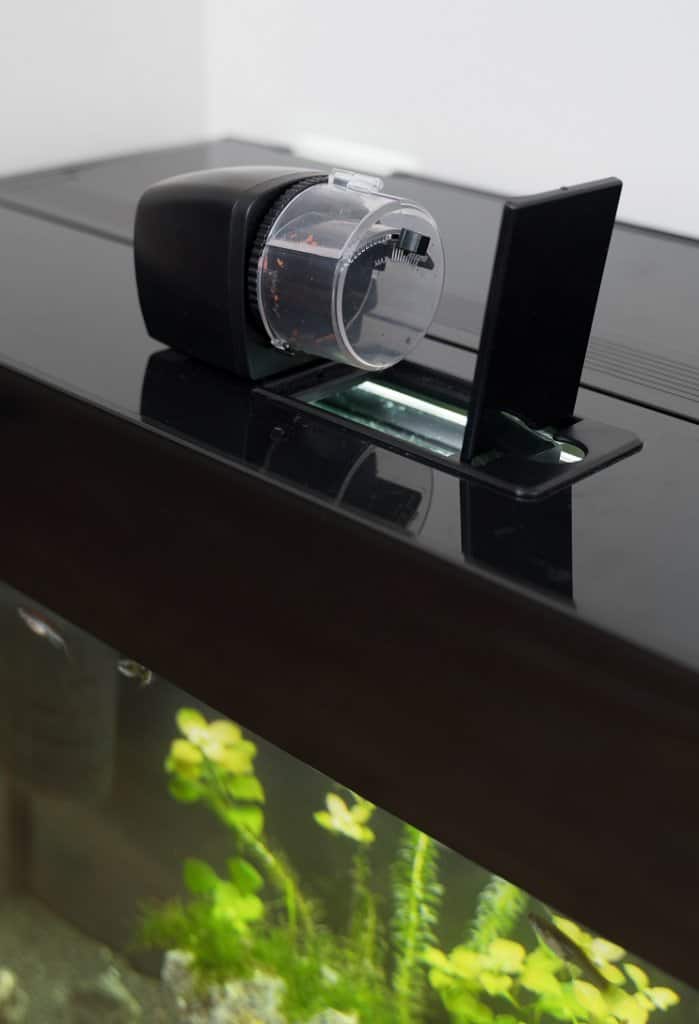 Now you can fill the feeder with food. Use the buttons around the digital screen to adjust the settings. You should have the option to control portion size and frequency (for most people this is once or twice a day).
If your device has a 'feed now' button, use this to test that everything is working smoothly. If not, make sure you are around at the first programmed feeding time to check it's working.
Summary
Automatic feeders save you time and can get you out of trouble if you have nobody else to step in at feeding times when you are away.
However, you need to get the right model for your situation.
Our favorite feeder is the Eheim Automatic Fish Feeder, however if you don't have the budget the Torlam is a great alternative.
Once you have found the right feeder, it is easy to set up and operate. You can leave it to do its job without a worry.
What kind of automatic fish feeder do you use? Let us know your experiences in the comments section below…