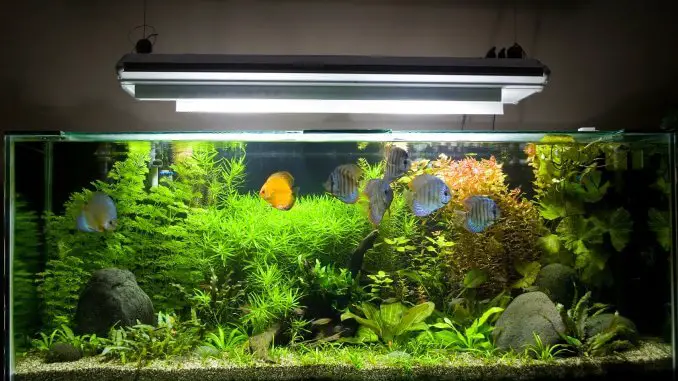 Keeping an aquarium clean is crucial for the health of your fish.
In poor conditions, it's easy for disease to spread. Even the most experienced aquarists may encounter disease or algae in their tank, resulting in the loss of fish.
UV sterilizers are here to help.
They are designed to kill off harmful microorganisms before they cause problems for your fish.
This article will cover everything you need to know about aquarium UV sterilizers. What are they? Do you need one? How do you pick the right one? Read on to find out more…
What is an Aquarium UV Sterilizer?
A UV sterilizer is a filtration device designed to keep your tank healthy and clean.
Your fish won't survive long in a dirty aquarium. It's easy for pollutants to build up and diseases to spread – this is why filters are used.
Filters draw in water, pass it through a mechanical cleaning framework and then release it back to the tank. Even though the water comes back cleaner, microorganisms can survive.
Aquarium sterilizers kill off free-floating microorganisms by exposing them to lethal levels of radiation. They function in a similar manner to filters by drawing in and releasing aquarium water.
The water is pumped through a crystal sleeve and passes a high-intensity ultraviolet light. The device is covered in an opaque canister to stop the ultraviolet light reaching the rest of your tank.
They come in various shapes and sizes, but most sit on the side of your aquarium.
Any aquarium with enough space can house a UV sterilizer, such as tropical, saltwater and reef tanks.
Exposure to ultraviolet light can cause various things to happen to the microorganisms. Their cell membranes can rupture or their DNA (or RNA) is destroyed.
This is an effective way to reduce disease outbreaks in your aquarium. Most bacteria, viruses, and parasites are killed before they can infect your fish. This does not make disease transmission impossible though.
Free-floating microalgae are also killed by UV systems. Once killed the algae remains in the tank so the water could stay green. You can perform water changes to remove the dead algae and add some clearer water.
Algae can be extremely problematic for both beginner and experience aquarists, so everyone can benefit from an aquarium sterilizer.
For this reason, they are increasingly being used in ponds where algae can spread quickly.
The Best Aquarium UV Sterilizers Reviewed
The Best Aquarium UV Sterilizer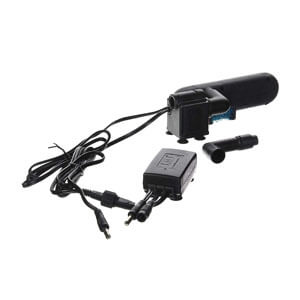 If you are looking for a top of the range, trusty, and reliable sterilizer – this is the one for you.
Here is our top choice UV sterilizer for aquariums.
This unit eliminates cloudiness, algae outbreaks and makes your water crystal clear. The technology sits inside a small case which means it can be easily hidden inside the tank.
It is fully submersible and easy to install. A simple plug in and go unit and comes with a four year warranty.
This sterilizer even has an LED light which signals when the bulb needs to be changed.
It can be used in both saltwater and freshwater aquariums and should be used with a filter for maximum results.
Pros:
Works very quickly for green algae blooms.
Our top pick for UV Sterilizers.
Comes with great customer service.
Smart design reduces chances of leaks or damage to the bulb.
Cons:
Cables are visible in the tank.
It's not completely silent.
Only works on free floating algae.
Aquarium Canister Filter with UV Sterilizer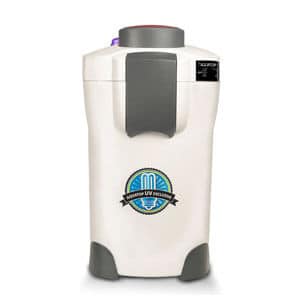 Perfect if you are looking for an external filter with an inbuilt UV sterilizer, this filter is available in three different sizes.
This is one of the most popular canister filters available.
It comes with an inbuilt UV sterilizer which works alongside the filter to eliminate algae, parasites and unwanted bacteria. Although it's made out of plastic, it is still sturdy. It has three media trays that allow you to add your own filtration to create the perfect system.
This setup has a self-priming pump so you won't need to manually siphon the water through the filter to get it going.
It comes in three different sizes, each one filtering slightly more gallons per hour.
Pros:
Comes with three different flow rates.
Quick and easy to prime.
Package include filter media to get you started.
Very simple to setup and is quiet when running.
Cons:
Requires own brand media and replacement parts.
It's not a very attractive looking filter.
This sterilizer takes up a lot of space.
Submersible Aquarium UV Sterilizer
Fluval's Underwater Filter is an optimal water filtration system for aquariums. Equipped with foam filter media, it helps to provide effective and thorough mechanical and biological filtration. A fine foam pad traps small debris while a bio-foam captures debris and nitrifying bacteria. The nano filter has adjustable output with an attachable spray bar that distributes a gentle, even flow of water, making it safe for delicate fish or shrimp.
Pros:
Optimal water filtration system for aquariums that ensures proper oxygenation for clear water and a healthy environment.
Fine foam pad traps small debris while bio-foam captures larger debris and nitrifying bacteria.
Ideal for freshwater, saltwater, and reptile environments.
Cons:
The bulb needs to be changed annually.
This particular unit has no water flow control.
Suction cups are hard to move once they are in place.
Unique UV Sterilizer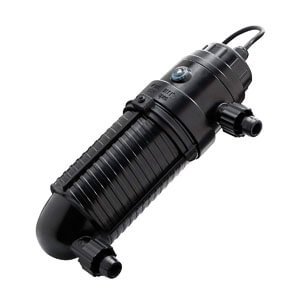 The unique sterilizer features a twist flow design which increases the UV exposure to the water giving a more thorough clean.
Similar to other UV sterilizers, this unit works by removing unwanted free floating algae and other parasites/bacteria from your tank.
Using a unique twist-flow design, water is exposed for a longer period to the ultraviolent light.
This light comes in four different sizes (one to suit nano tanks all the way up to 500 gallons in size).
An advantage with this sterilizer is that it can be used in both freshwater and saltwater setups.
Pros:
This sterilizer is very easy to setup.
It comes with a 12 month warranty.
Does a great job at removing algae blooms.
Has a clear window so you can see when the bulb is running.
Cons:
Sterilizer is on the expensive side.
You will need additional tubing to use it as an inline sterilizer.
The unit is quite large.
Inline UV Sterilizer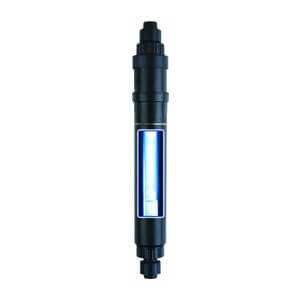 This easy to install, in-line aquarium UV sterilizer is really easy to install and will work alongside your filter to keep your tank clean.
This unit is perfect for people who don't want lots of equipment display in their tank. It can be integrated into any filter setup because it has three different size fittings.
It's really simple to connect and install, and can even be used as a hang on back sterilizer if you don't mind it being in view.
This sterilizer can be connected to a water pump, powerhead, or the return pipe of the canister filter and is ideal for both saltwater and freshwater setups.
Pros:
Very good value for money.
Comes with a variety of different size fitting.
It's multifunctional and can be placed in a number of different places.
Small unit, so it does not take up much space.
Cons:
This particular UV Sterilizer is not submersible.
It's made of quite thin plastic.
Does not come with a powerhead.
Pond UV Sterilizer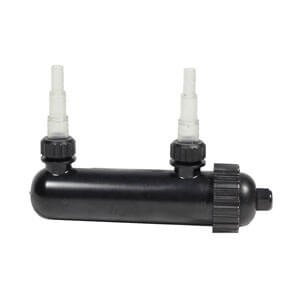 Ideal for large tank setups or ponds, this clarifier is great for ponds that are up to 2,000 gallons in size.
This is our top choice for a pond UV Light – it will help to remove green algae from ponds as well as prevent nasty odors.
The 9W UV bulb lasts for up to 8,000 hours.
It can be installed inside or outside of your pond and has an indicator light which lets you see when the unit is running.
This particular sterilizer is suitable for ponds up to 2,000 gallons, so should be ideal for most setups.
Pros:
It can work underwater or out of water.
Unit is very easy to disassemble and clean.
Really simple but effective unit.
Comes with a long cord allowing you to run it to a power source.
Cons:
It can be difficult to find compatible tubing.
The sterilizer will float if you put it in the water.
How to Choose the Best UV Sterilizer for your Tank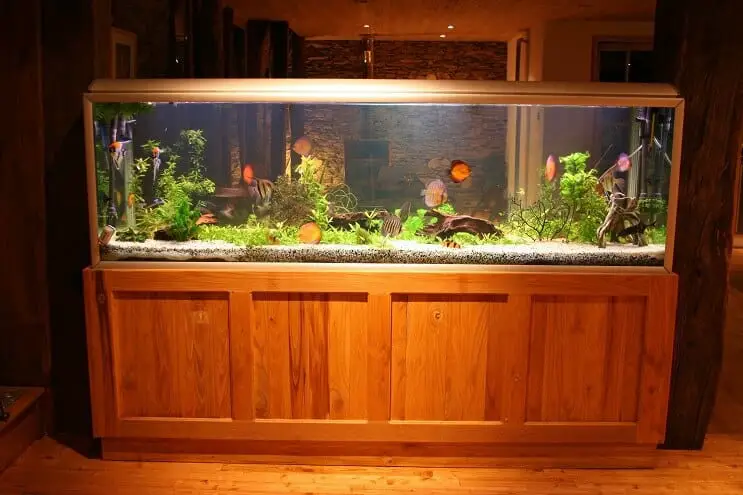 All tanks are different, so each will have it's own needs.
Fortunately, there are lots of UV sterilizers, so there is one to suit everyone. They are all simple to use, most just sit on the side of your tank like a heater.
One factor to think about is the size of your tank. Bigger tanks need a stronger pump to deal with the larger volume of water.
The packaging will indicate the aquarium size that the UV aquarium sterilizer can be used with.
If you have a smaller tank, you might want to consider the size of the equipment – choosing a smaller model will give your fish more swimming space. Some UV sterilizers are built in as part of a filter or can be connected to one. This could save you a bit of money as you only need one water pump.
The next things to consider is the power and wavelength of the bulb.
The most powerful bulbs will be able to kill most microorganisms; weaker bulbs will struggle with certain types. The wavelength of the ultraviolet light does not tend to vary too much. Some wavelengths are optimized for killing different types of microorganism, so this also depends on your unique setup.
Watch out for features that can make an aquarium UV sterilizer more efficient. For example, the crystal sleeve sometimes forces water through in a zigzag pattern to maximize ultraviolet exposure.
Once you know what your tank needs, you can look at additional features. These are luxuries that will raise the price of the device, but they can make your life easier.
An example is the ability to deal with both saltwater and freshwater, since some models are designed to deal with one or the other.
Benefits of a UV Sterilizer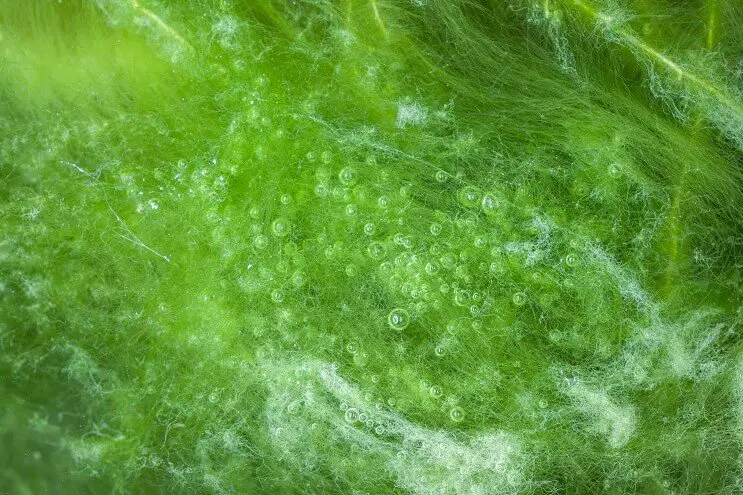 The main reason people use UV sterilizers is to kill bacteria, viruses, parasites or algae. This will improve the health of your aquarium.
Microorganisms like these can cause disease, stressing your fish and potentially killing them. Nobody wants to lose their fish, so killing the disease is a top priority.
An aquarium sterilizer can help to get rid of diseases and possibly prevent them in the first place by killing the pathogens before they infect your fish.
Also, algal blooms can quickly get out of hand in anyone's tank, even if you are keeping algae-eaters. A large bloom will quickly use up the oxygen in the water and suffocate your fish. Killing off the algae will have similar benefits to killing off disease.
There are also a few secondary benefits. You will save money, time, and effort associated with trying to maintain a tank during a disease outbreak or algal bloom.
How Do You Install a UV Sterilizer?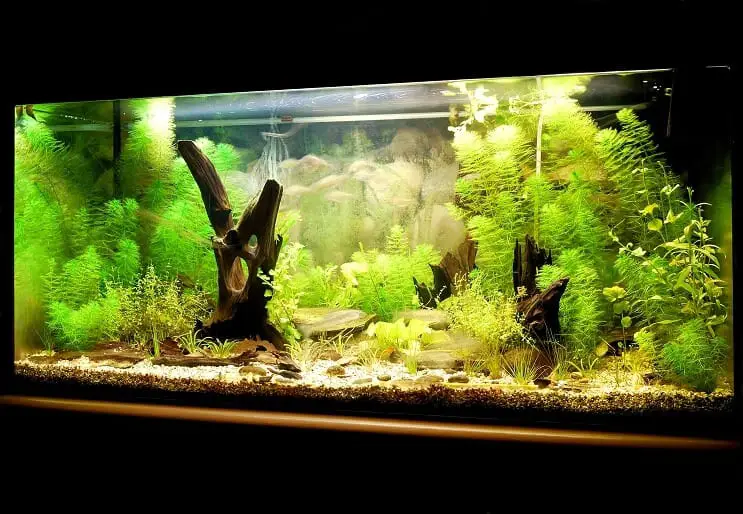 This should be a simple process as most are installed in a similar way to common canister filters.
Before you add it to the tank, dismantle it to familiarize yourself with the components – this will help when your clean it later.
You should make sure to place it away from other pieces of equipment and decorations so that nothing blocks the water inlet. It needs to be somewhere easily accessible so that you can reach it for cleaning. Be careful while installing it, the crystal sleeve can be quite fragile and can easily break if knocked.
If your aquarium UV sterilizer works by attaching to the filter then place it last in the filtration line, so that water passes through the filter before passing through the sterilizer.
The filter will remove solids first, maximizing the efficiency of the ultraviolet light.
When you first set it up, make sure that it's working. Check that the water is being drawn in and released smoothly – listen out for unexpected noises.
How Do You Use a UV Sterilizer?
Once installed, you need to maintain your aquarium sterilizer just like any other piece of equipment in your tank. This is simple to do and should not take long.
Just like a filter, UV sterilizers are dependent on a pump. Keep this clean so it does not get blocked.
Cleaning the crystal sleeve is also important. The ultraviolet light will struggle to penetrate any dirt that builds up, making the whole device much less efficient when it's dirty.
Every now and then you will have to change some parts, such as the bulb, when they expire.
If your sterilizer ever stops working, remove it from the aquarium and dismantle it. You can then see if any components are dirty or broken. If you need to replace a part, look online and in stores for a replacement designed for your model.
The water changes become particularly important when using UV sterilizers to get rid of algae. The free-floating is killed off but remains in the water, so it remains green. Water changes will remove the dead algae.
UV Sterilizers FAQs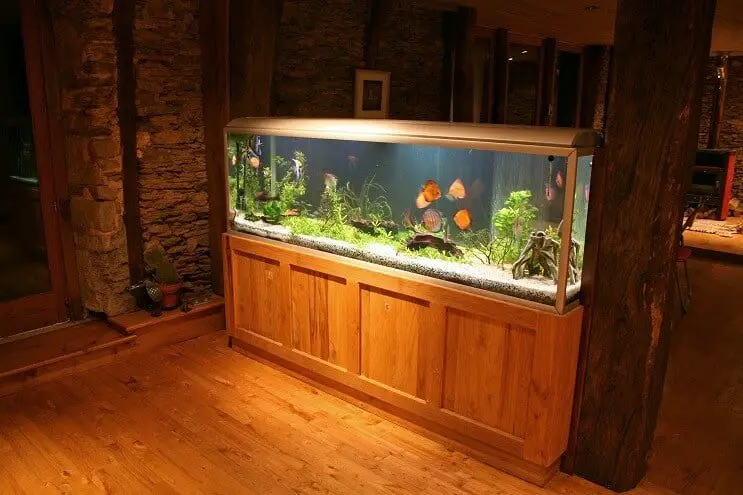 Do I Need A UV Sterilizer?
Aquarium UV sterilizers are very helpful to maintain a healthy environment.
People struggling with disease outbreaks or algal blooms might consider buying one to help with the problem.
How Do I Pick The Best UV Sterilizer?
There are lots of UV sterilizers out there, so it can get a little confusing when choosing the one you need.
The main factors to consider are the power of the pump and the power of the bulb. You need to consider the size of your tank and the types of microorganism you want to kill to determine the right combination.
How Do I Maintain My UV Sterilizer?
Maintenance is quite simple – it's just a matter of cleaning it so it can function efficiently, just like you would a filter.
This involves cleaning the crystal sleeve and pump whenever you get a chance, and replacing failing parts, like the bulb.
Summary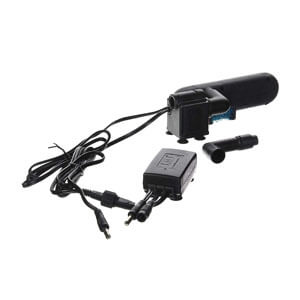 If you are looking for a top of the range, trusty and reliable sterilizer – this is the one for you.
An aquarium UV sterilizer can get you out of a tight spot if you find that disease or algae has spread through your tank. They will also help to prevent future outbreaks and help to keep your fish alive.
In the long run sterilizers actually save you money as they keep your tank healthy, meaning you should not have to replace your freshwater or saltwater fish.
They are easy to install and look after, and are recommended for both beginners and experienced fish keepers alike.
Do you have a UV sterilizer? Let us know in the comments section below…