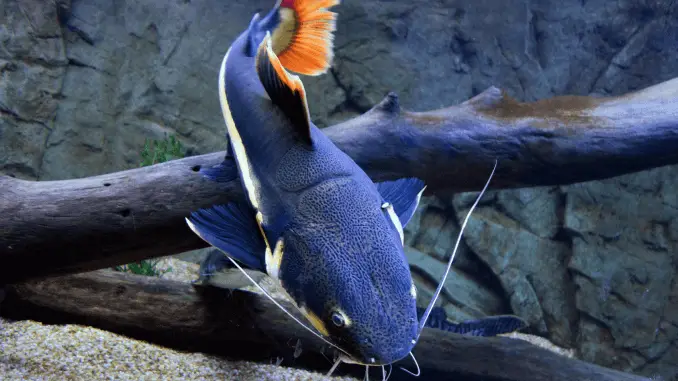 The redtail catfish is a freshwater fish of the Pimelodidae family. These fish have grayish-brown bodies with red tails, long whiskers, and large mouths. Redtail catfish are difficult to care for because of their enormous size and predatory nature.
These catfish are popular with experienced aquarists who have extremely large tank setups and find the challenges involved in the fish's care rewarding.
Redtail Catfish Facts & Overview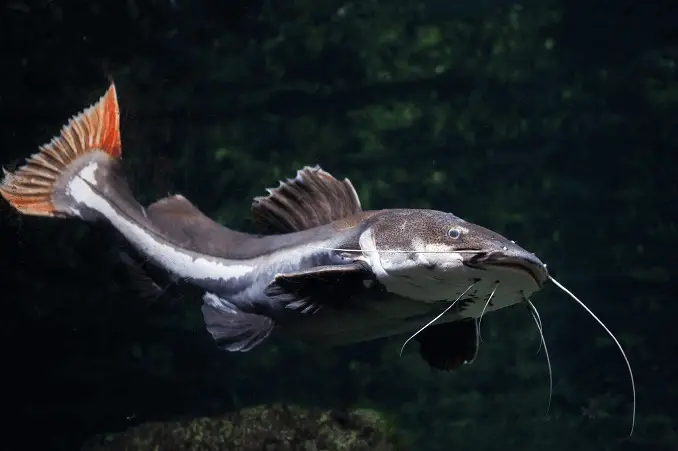 Origin
Redtail catfish (Phractocephalus hemioliopterus) are found in the Amazon, Orinoco, and Essequibo river basins of South America, which span across Ecuador, Venezuela, Brazil, Colombia, and Peru. These bottom-dwelling fish are common in the wild and thrive in large rivers and streams.
Redtail catfish are the sole surviving species of the genus Phractocephalus.
Adult Size & Lifespan
In the wild, fully-grown redtail catfish reach up to six feet in length and can weigh up to 180 pounds. Due to their enormous size, redtail catfish are often treated as game fish by anglers. Captive redtail catfish are three to four feet long on average.
Juvenile redtail catfish are small — only a few inches — but grow rapidly. There are no known size differences between male and female fish. Redtail catfish have an average lifespan of 15 years in captivity but live longer in the wild.
Availability
Redtail catfish are widely available in the US. Unfortunately, redtail catfish are often sold as juveniles to fishkeepers unaware of their rapid growth and adult size.
Many store-bought redtail catfish are given up and rehomed into public aquariums once they become too big to handle. Avoid buying redtail catfish if you lack experience and can't accommodate the fish's adult size.
A juvenile redtail catfish costs between $20 and $40, while adults can cost up to $200. Redtail catfish can be bought online from Aqua-Imports or Arizona Aquatic Gardens.
Appearance & Behavior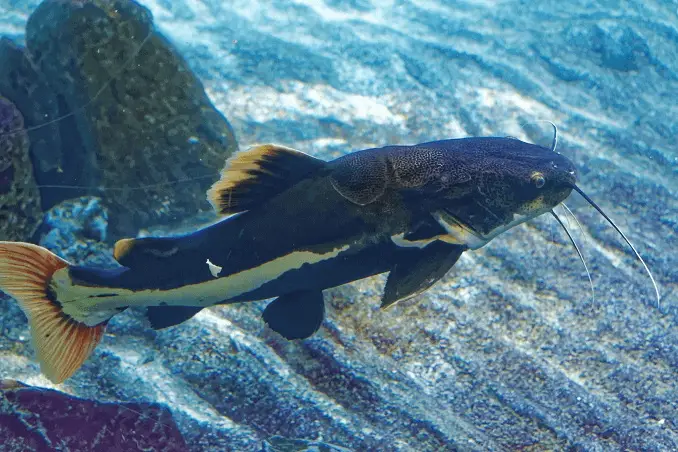 The redtail catfish gets its name from its vibrant red tail. Redtail catfish are territorial and are natural predators.
Colors, Patterns, Fins, and Sex Difference
The redtail catfish has a grayish-brown, spotted body with a red tail. The dorsal and caudal fins are orange in coloration, and the fish has long barbels (whiskers) on its mouth. A pale yellow band spans across its body.
The redtail catfish is slender and has a flat underbelly. They aren't sexually dimorphic, meaning it's impossible to tell females and males apart. When stressed, redtail catfish lose their vivid tail coloration.
Typical Behavior
Redtail catfish are bottom-dwelling fish that prefer to live alone. These fish won't hesitate to attack smaller species, and they often exhibit territorial aggression if there are too many fish in the aquarium. Juvenile redtail catfish are shy and require lots of hiding spots to feel at ease.
Redtail catfish are slow swimmers and spend most of their time in the bottom regions of the tank. They are rarely active during the day.
Despite their voracious appetites and predatory nature, these fish are peaceful when kept with the right tank mates and in the appropriate tank conditions.
Redtail Catfish Care & Tank Requirements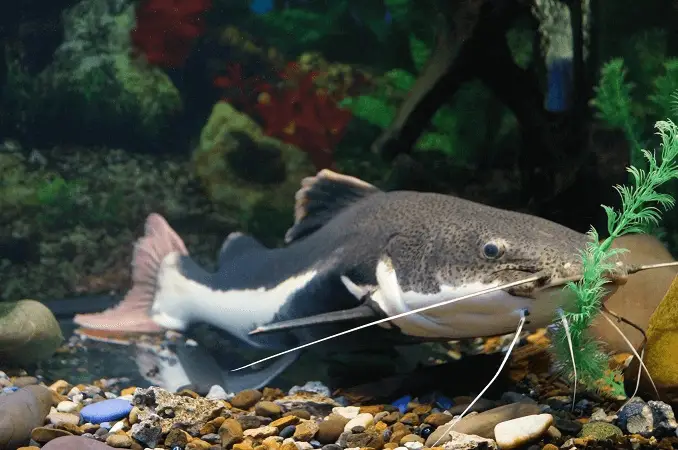 Redtail catfish are difficult to care for because of their large size and semi-aggressive nature. These fish require a 1,500-gallon aquarium or larger to thrive.
Replicating their natural habitat helps the fish feel at home in captivity. Feed them a varied diet and ensure food sinks to the bottom of the tank.
Habitat and Tank Requirements
Redtail catfish are found in a range of environments in the wild, including lakes, streams, and rivers. These fish do best in warm, moderately soft water.
Tank Conditions
Keep redtail catfish in the following tank conditions:
Water type:
Freshwater, with weekly changes (30% of water volume)

Redtail catfish are messy eaters and often displace substrate, so frequent water changes are essential
Tank size:
Minimum 1,500-gallon aquarium for mature fish. Juveniles should be moved to larger tanks as they grow
Water temperature:
70–79°F (21–26°C)
Substrate:
None. Redtail catfish may try to eat substrate
Tank setup:
Add a few decorations to provide hiding spots

Decorations should be sturdy and durable so they can't be displaced or eaten. Avoid driftwood and small rocks. Tie any loose decorations down.
Acidity:
6.0–7.5 pH
Water hardness:
Moderately soft water, between 3–12 dGH
Filter and heater:
Sump-style filter and external heating system. An external system is necessary to prevent the fish from damaging or eating it. Check daily for blockages

Avoid filters that generate a powerful current because redtail catfish are accustomed to slow-flowing water
Bubbler:
Not necessary
Pump:
Yes, to provide water movement for gas exchange
Lighting:
Dim lighting, as the fish become stressed if exposed to harsh, direct lighting. If a dimly-lit environment isn't available, create shaded areas with caves for the redtail catfish to retreat to
Monitor water parameters and test nitrate and ammonia levels regularly. Redtail catfish often surface to gulp air in poor water conditions.
Disease
Redtail catfish are hardy, but poor tank conditions can make these fish susceptible to common freshwater ailments such as fin rot, flukes, and nitrite poisoning.
Ensuring water conditions are optimal prevents illness. Avoid exposing redtail catfish to stressful situations, and quarantine new decorations or fish for two weeks before adding them into the aquarium.
Fin Rot
Fin rot is a bacterial or fungal infection that causes the fins to decay and appear tattered and dull. Other symptoms include sluggish behavior, fin inflammation, and appetite loss. Fish develop white edging on their fins if the fin rot is caused by a fungal infection.
Fin rot is treatable with antibiotics or antifungal medication, though redtail catfish are sensitive to medication. To treat, use antibiotics, increase water temperature slowly to 79°F, and ensure the pH level is correct.
Skin and Gill Flukes
Flukes are small, worm-like parasites that live in the skin or gills. They reduce the fish's ability to take in oxygen and cause lesions that can bring about secondary infections.
Symptoms of flukes include flashing behavior, breathing difficulties, lethargy, and appetite loss. Flashing is when the redtail catfish rubs its sides against the substrate, tank walls, or decorations.
Treat flukes with medication and keep the water clean. Avoid copper and potassium permanganate medications because redtail catfish are scaleless and sensitive to these particular treatments.
Nitrite Poisoning
Nitrite poisoning happens when redtail catfish are exposed to high nitrite levels over a long period of time. A sudden spike or drop in nitrite levels can kill redtail catfish within days. Symptoms of nitrite poisoning include infected barbels, sluggish swimming behavior, and rapid gill movement.
Treat nitrite poisoning by reducing feedings and increasing aeration. Carry out regular water changes and use water test kits to monitor nitrate and ammonia levels daily.
Tank Mates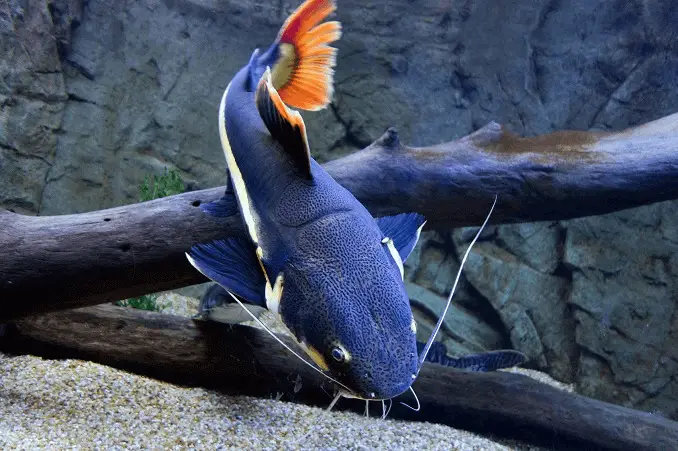 Redtail catfish shouldn't be housed together because these fish are highly territorial with one another. You can keep them with other species, but tank mates must be similar in size. Redtail catfish are predatory and eat smaller fish.
Suitable tank mates for the redtail catfish include:
Gars
Large stingrays
Large datnoids
Avoid invertebrates like shrimps and crabs because redtail catfish eat anything that can fit in their mouths. Keeping redtail catfish with other tank mates requires an immensely large aquarium — larger than most hobbyists can realistically provide and afford.
Diet and Feeding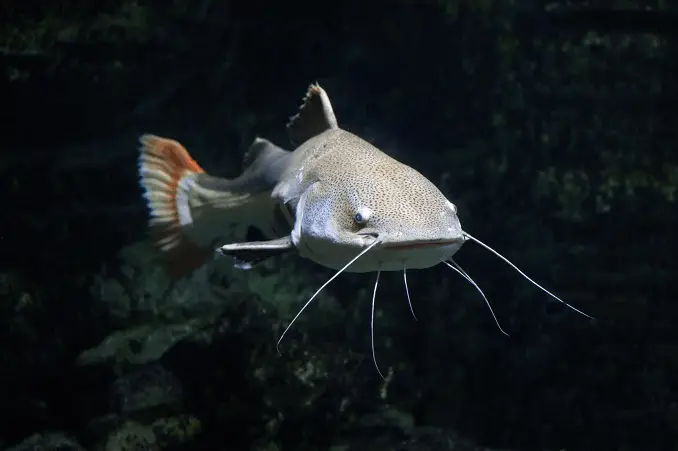 Redtail catfish are omnivores that require a protein-rich diet. In the wild, redtail catfish eat anything they can find, including crustaceans, small fish, insects, and fruit.
Ideal foods for the redtail catfish include sinking pellets and both live and frozen foods like shrimp, crayfish, small fish, and worms.
As a general rule, adults should be fed on a weekly basis. However, reduce or increase feeding frequency based on the fish's activity level. These fish become sluggish after a meal, and should only be fed when they become active again.
Avoid overfeeding redtail catfish, as they're prone to overeating and struggle to digest food. They shouldn't be fed the meat of mammals because they aren't able to metabolize this food properly. Juveniles should be fed high-quality flake food or pellets, every other day.
Breeding
Redtail catfish are egg layers. Breeding redtail catfish in a home aquarium isn't possible due to the fish's large size and aggressiveness toward its own kind.
Most redtail catfish in the commercial trade are bred in fisheries with the use of hormones.
Should You Get a Redtail Catfish for Your Aquarium?
Redtail catfish are hardy and attractive, but the fish's large size and predatory nature make it suitable only for experienced fishkeepers.
You should consider a redtail catfish if you can accommodate and afford a 1,500-gallon aquarium or pond setup, and will be able to care for this fish throughout its long, 15-year lifespan.
Don't get a redtail catfish — even a juvenile — if you can't accommodate its adult size, expect to breed the fish, or lack experience.
Under the care of the right fishkeeper, redtail catfish make captivating additions to a freshwater aquarium.