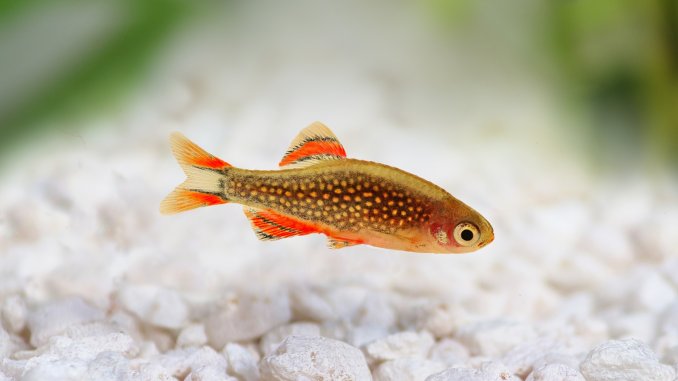 The celestial pearl danio is a freshwater fish in the danio family. These fish have dark blue bodies with white or yellow dots resembling a galaxy.
Celestial pearl danios are active and peaceful. The species is popular among aquarists due to its easy temperament and unique pattern.
Celestial Pearl Danio Fats & Overview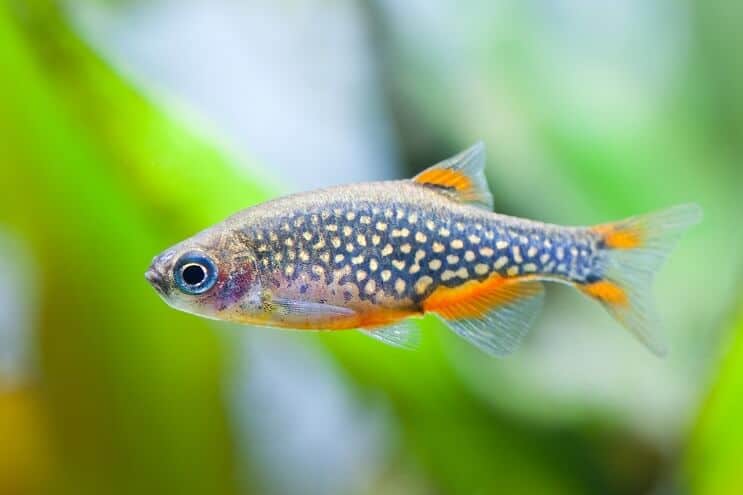 | | |
| --- | --- |
| Scientific name: | Danio margaritatus |
| Common names: | Celestial pearl danio, galaxy rasbora, fireworks rasbora |
| Distribution: | Myanmar and northern Thailand |
| Size: | 0.75–1 inch |
| Life expectancy: | 3–5 years |
| Color: | Dark blue with white/yellow spots in a galaxy pattern |
| Diet: | Omnivore |
| Temperament: | Peaceful |
| Minimum tank size: | 10 gallons |
| Temperature: | 71–78°F (21.6–25.5°C) |
| pH: | 6.5–7.5 |
| Hardness: | 1–5 dGH |
| Care level: | Moderate |
| Breeding: | Egglayer |
Distribution
Celestial pearl danios are native to freshwater ponds that are surrounded by rice paddies and grassland. These fish are commonly found in the Salween river basin area of the Shan Plateau in Myanmar.
The ponds, with an average depth of 12 inches, have slow-moving, clear water. Many aquatic plants and rocks, provide shelter, food, and spawning ground.
This fish species is common in the wild, though it almost became extinct due to its popularity with aquarists. Breeding in captivity has allowed the species to flourish in the wild.
Adult Size & Lifespan
Adult celestial pearl danios grow to be ¾–1 inch in length. These fish live between three and five years in captivity when well cared for.
Availability
Celestial pearl danios can be found in many pet stores. The fish are typically sold in shoals of 5 to 10. The cost ranges from $9.99 for one, to $69.99 for a shoal of 10.
Celestial pearl danios are available at these online stores:
Appearance & Behavior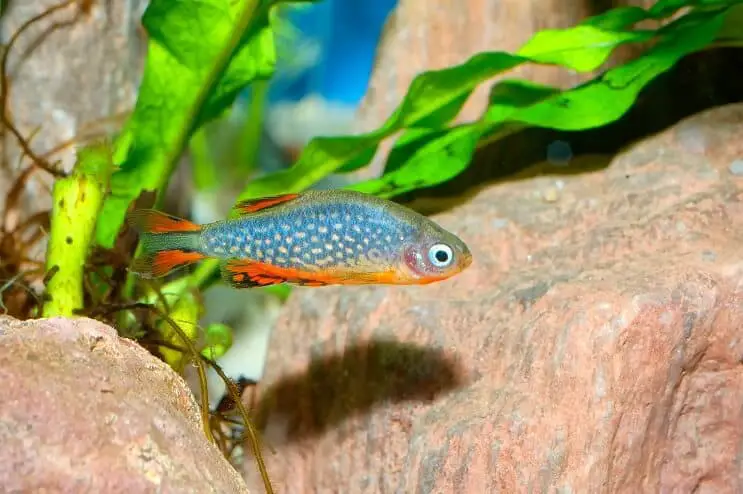 Celestial pearl danios have blue bodies with pearly dots and reddish fins. Like most other danios, these fish are peaceful.
Colors, Patterns, Fins, and Sex Differences
Celestial pearl danios have a narrow, fusiform body with prominent fins. Males are thinner and brighter, with a deep blue body and pearlescent spots all over the flanks. These dots are sometimes arranged in rows or in a galaxy pattern.
Males have a red stripe, lined with black, that runs through the middle of the fish's nearly-translucent dorsal fin. Males also have a red belly, and dominant males have a red stripe on their backs.
Female celestial pearl danios aren't as brightly colored and have less-bright pearly dots. On females, instead of red dorsal, pelvic, and caudal fins, these fins are orange and the anal fin is translucent.
Some females have an orange belly, while others have a golden belly. When they are ready to spawn, the females develop a black spot in front of their caudal fin, and the area becomes plumper.
Typical Behavior
Celestial pearl danios prefer to live in shoals of 10 or more. Keep more females than males in a tank because males will fight over the females.
This species hangs out in the bottom strata of a tank where it hides among rocks and aquatic plants. During feeding time, the fish swim to the middle and top strata.
Celestial Pearl Danio Care & Tank Requirements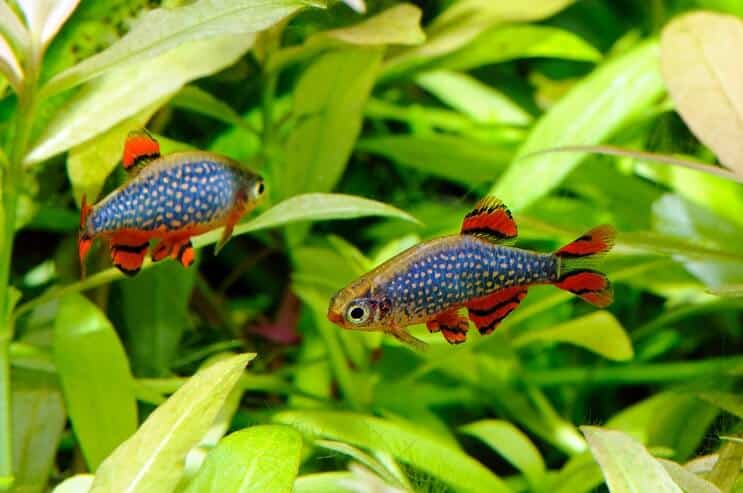 Celestial pearl danios are moderately easy to care for, but these fish become stressed easily which results in ill health.
In their natural habitat, these fish like to hide among the rocks and plants, so make sure tanks contain heavy vegetation. Don't put a strong pump or current generator in the tank.
These fish are omnivores, so feed them a combination of dry fish flakes, pellets, and freeze-dried or live invertebrates.
Habitat and Tank Requirements
A 10-gallon tank is ideal for a shoal of five to seven celestial pearl danios. This tank size ensures that there's plenty of space for the active fish to swim.
The species needs cool, clean water with low salt and mineral levels to mimic the fish's natural habitat. The tank water should be pH neutral.
Strong filtration via canister or power filters ensures there aren't too many pollutants in the water. Block the inlet tubes of the filtration system with sponges to prevent fish from getting sucked into a tube.
Lighting should be moderately bright, so use bright LED lights.
Include a multitude of aquatic plants like elodea, egeria, Java fern, bacopa, and rotala. Add floating plants like water lettuce or frogbit to provide top cover. The fish will snack on these plants and the vegetation provides hiding space for the shy celestial pearl danios. Decorate the tank with rocks to increase hiding spots.
Don't add driftwood or leaf litter to the tank as these release tannins into the water, which can be unhealthy for the fish.
For easy maintenance, choose a sandy substrate or use smooth gravel to avoid injuring the fish.
Tank Conditions
The celestial pearl danio needs the following tank conditions to thrive:
| | |
| --- | --- |
| Water type: | Freshwater |
| Tank size: | Minimum 10 gallons for 5–7 fish, or minimum 20 gallons for 8–15 fish |
| Water temperature: | 71–78°F |
| Substrate: | Preferably dark, fine sand |
| Tank setup: | Bright lighting, caves, rockwork, plants |
| Acidity: | 6.5–7.5 pH |
| Water hardness: | 1–5 dGH |
| Filter: | Strong filtration |
| Water movement: | Slow-moving |
| Water region: | Bottom strata |
| Water heater: | No, because these fish prefer cool or cold water |
The celestial pearl danio needs swimming space and lots of hiding places in a small tank. Ensure the water requirements mimic this species' cold, freshwater habitat.
Disease
Celestial pearl danios are prone to common fish diseases, particularly fin rot.
Fin rot causes a fish's tail to become discolored or to rot. The disease is caused by poor water conditions, fighting, and fungal/bacterial infections.
Fin rot treatment includes antifungal medication or antibiotics, depending on severity. Prevent fin rot by monitoring the pH and temperature of the water. Also, ensure that there aren't more males than females in the tank.
Celestial Pearl Danio Tank Mates

Because celestial pearl danios are tiny and peaceful, house them with other peaceful fish or fish that prefer the upper tank strata. Avoid large, aggressive fish that can eat this species.
Great tank mates for celestial pearl danios include:
Other danios
Pygmy hatchet fish
Endler's livebearer
Snails
Unsuitable tank mates for celestial pearl danios include:
Keeping Celestial Pearl Danios Together
Celestial pearl danios live in groups, so you should try to keep a group of 5 or 6; this will help keep them all healthy and active.
Keep an eye on how many males you have if your tank is small. In a small tank with few hiding places, males who are less dominant will be subject to attacks from other males.
To keep all individuals safe, ensure that you have plenty of room for fish to live and keep a healthy ratio of males to females. Including plants will give them a natural feel and also gives the males a good hiding place for when they start competing for females.
Diet and Feeding
In their natural environment, celestial pearl danios are omnivorous and eat plankton, plants, algae, and small vertebrae. In captivity, feed this species a varied diet, two to three times a day. To prevent overfeeding and poor water quality, remove any uneaten food after five minutes.
Popular foods for celestial pearl danios include:
Finely crushed dry flakes
Micro pellets
Small white worms
Moina
Daphnia
Grindal worms
Newly hatched brine shrimp
Finely ground freeze-dried krill
Frozen cyclops
Breeding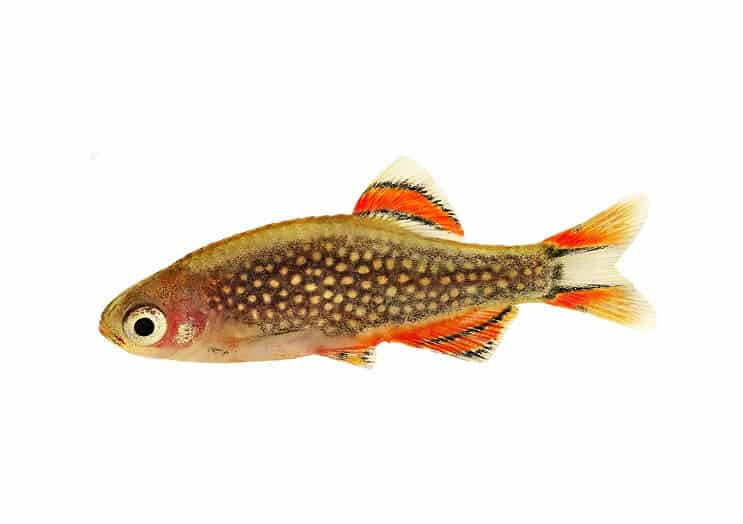 Celestial pearl danios are one of the easiest fish to breed. Once the fish are sexually mature, at three or four months of age, males and females try to breed daily.
Set up a breeding tank with Java moss or a spawning mop, aged water, aquatic plants, and an air-powered sponge filter. Add a male and female pair, or a male and a few females to the breeding tank.
When the female is ready to spawn, it develops a dark spot near the caudal fin. After the female lays her eggs, remove the adult fish from the breeding tank.
The eggs hatch in two to four days. Feed the fry micro foods for a week and then introduce newly-hatched brine shrimp.
Should You Get a Celestial Pearl Danio for Your Aquarium?
The celestial pearl danio, with its galaxy-patterned body and red fins, is an easy and beautiful addition to aquariums.
A celestial pearl danio is a good addition to a community tank where other small and peaceful fish species thrive. However, these fish aren't a good addition if the tank already has a large or aggressive fish population.
Celestial Pearl Danio FAQs