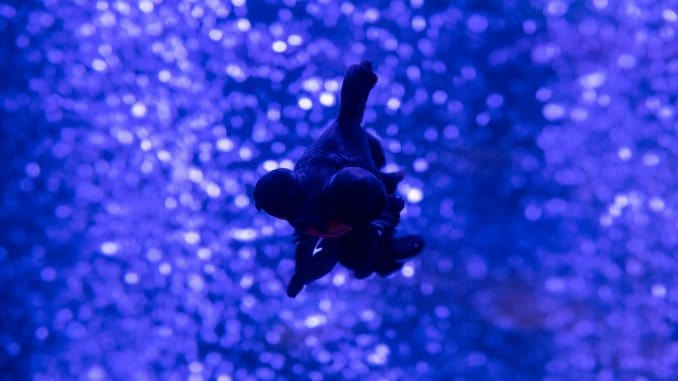 The black moor goldfish is a freshwater species of fancy goldfish and is a black-colored variant of the telescope goldfish.
Most common goldfish are orange, white, or red, but the black moor goldfish's stunning, black color makes it a popular goldfish among aquarists. These fish are peaceful and low-maintenance, making them ideal pets for beginner fishkeepers.
Black Moor Goldfish Facts & Overview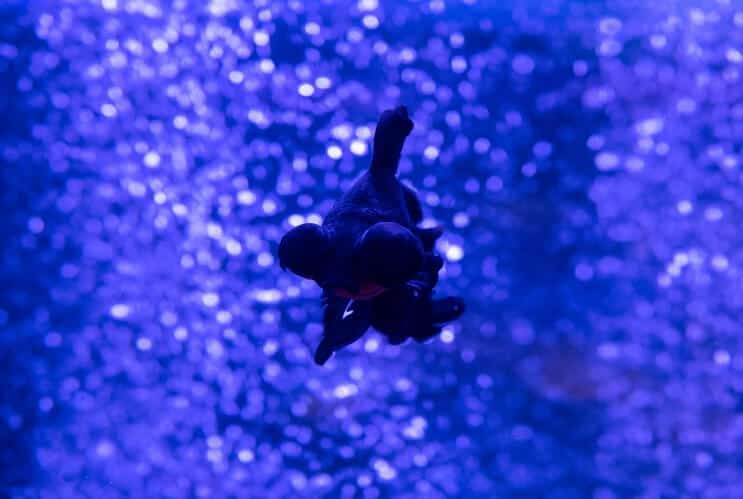 | | |
| --- | --- |
| Scientific name: | Carassius auratus |
| Common names: | Black moor goldfish, black telescope goldfish, dragon eye goldfish, black peony goldfish, black demekin |
| Distribution: | China |
| Size: | 6–8 inches |
| Life expectancy: | 10–15 years |
| Color: | Solid black, sometimes with gold or orange patches |
| Diet: | Omnivore |
| Temperament: | Peaceful |
| Minimum tank size: | 20 gallons |
| Temperature: | 50–75°F (10–24°C) |
| pH: | 6.5–7.5 |
| Hardness: | 5–15 dGH |
| Care level: | Easy |
| Breeding: | Egg layer |
Origin & Distribution
Black moor goldfish are selectively-bred, domesticated goldfish that are thought to have originated in China in the 1400s. The fish was first known as "dragon eyes" or "dragon fish." Black moors are believed to have been imported to the US in the 1800s.
The black moor goldfish is made by breeding the red telescope and the veiltail or fringetail fancy goldfish.
The natural habitats of these two goldfish species are freshwater lakes, canals, rivers, and reservoirs. These areas have slow-moving waters, a neutral pH, and a sand or dirt substrate. Red telescope and fringetail fancy goldfish are able to withstand a wide variety of temperatures.
Adult Size & Lifespan
The fully-grown, adult black moor goldfish is 6–8 inches long. Males are smaller and slimmer than females.
On average, a black moor goldfish lives for 10–15 years in captivity.
Availability
Black moor goldfish aren't as widely available as other goldfish species because this fish is a man-made variant and needs to be selectively bred. The easiest way to find black moors is online.
You can buy these goldfish for $6–$10 per fish from the following reputable stores:
Appearance & Behavior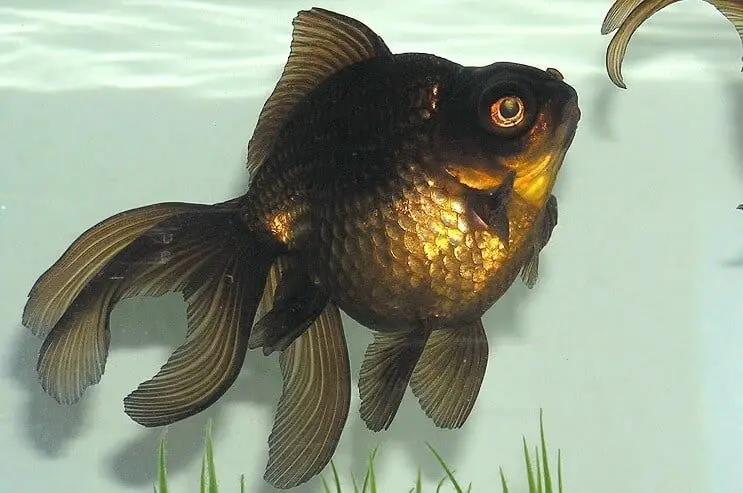 The black moor goldfish is a black fancy goldfish with distinct protruding eyes. The fish is peaceful, timid, and a slow swimmer.
Colors, Patterns, Fins, and Sex Differences
Black moor goldfish have egg-shaped bodies that are all-black bodies or black with orange or silver patches. The fish have long flowing fins and a fan-like tail.
Young black moor goldfish are bronze or gold. As the fish age, their bodies turn black and their eyes protrude. Despite their unusually large eyes, these fish have impaired vision.
Aside from size, there's no difference in appearance between male and female black moor goldfish, which makes sexing the fish difficult. During spawning season, males develop tiny white bumps, called breeding tubercles, on their pectoral fins.
Black moor goldfish become paler if they are housed in poor water conditions, don't receive enough light, or develop diseases like velvet.
Typical Behavior
The black moor goldfish is a peaceful, slow-swimming fish that gets along well with other fish and isn't territorial. This species is active and known to chase and nip the fins of other black moors.
This goldfish prefers to swim in the mid-levels of the tank and hides when startled by loud noises or aggressive tank mates.
During daylight hours, black moor goldfish are most active. The fish eat and explore the tank during the day, and sleep in caves or behind plants overnight.
Black Moor Goldfish Care & Tank Requirements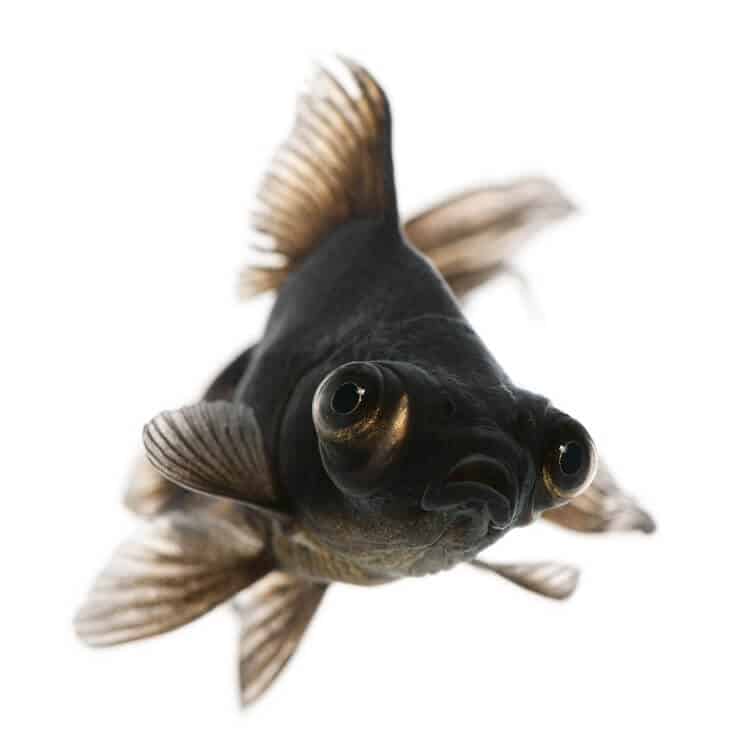 Caring for black moor goldfish is easy. The fish need a clean, freshwater tank environment with consistent parameters and a varied omnivorous diet of plants and proteins.
Habitat and Tank Requirements
Black moor goldfish don't have a natural habitat because they're man-made fish.
The natural habitat of the black moor's parent breed, the telescope goldfish, is stagnant or slow-flowing, murky waters in China. Replicate this environment in the black moor's home aquarium with proper water conditions and suitable decorations.
Line the base of the tank with a layer of sand or gravel. Black moor goldfish don't spend much time at the bottom of the aquarium, so tailor the substrate towards bottom-dwelling tank mates.
Provide hiding spots in the tank with caves, rocks, and plants like Java ferns and hornwort. Rocks and bogwort have a natural appeal, but themed decorations like miniature castles and shipwrecks can also be used.
The minimum tank size for a black moor goldfish is 20 gallons. The fish have long fins, that take up a lot of space, and they need enough room to swim around. For every extra goldfish, provide an additional 10 gallons of tank space.
Tank Conditions
Ideal tank conditions for black moor goldfish are:
| | |
| --- | --- |
| Water type: | Neutral, slow-moving freshwater |
| Tank size: | Minimum 20 gallons and an extra 10 gallons per additional black moor goldfish |
| Water temperature: | 50–75°F |
| Substrate: | Fine gravel or sand |
| Tank setup: | Rocks, caves, plants |
| Acidity: | 6.5–7.5 pH |
| Water hardness: | 5–15 dGH |
| Filter: | Yes, to provide a slow current and keep the water clean |
| Bubbler: | Not necessary as long as you have a good filter |
| Lighting: | Standard aquarium lighting on a timer |
| Water heater: | Not necessary because the fish enjoy room-temperature water |
Black moor goldfish are hardy fish that don't need fancy equipment to stay healthy. As long as the tank contains a high-quality filter, the fish should thrive.
Disease
There are several diseases and health problems that black moor goldfish are prone to in captivity:
Swim Bladder Disease
Swim bladder disease affects a fish's ability to control its buoyancy. A fish with swim bladder disease floats tail-up or nose-down, sinks to the bottom, or floats to the top of the water.
The best swim bladder disease remedy is to feed the fish a single green pea, followed by no food for 48 hours. Surgery may be required for severe cases.
Eye Damage
The black moor goldfish's eyes are delicate and more likely to become damaged because the eyes protrude from the head.
To prevent damage to the black moor's eyes, keep the fish in a tank with smooth objects and transfer the fish between tanks gently using a net.
Tank Mates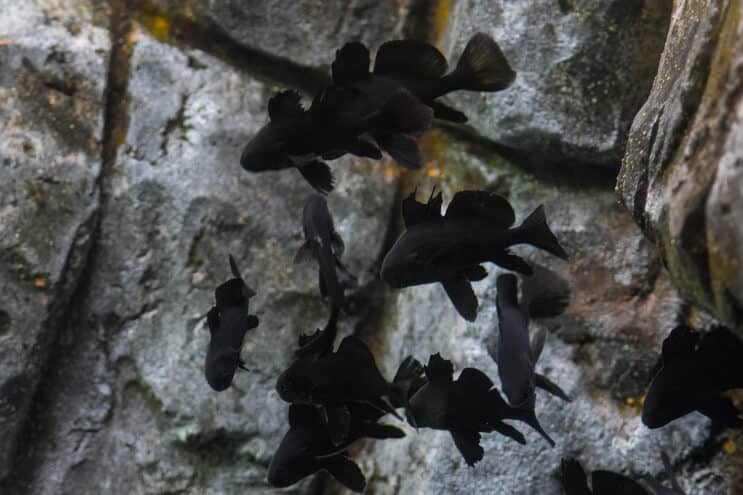 Black moor goldfish should be housed with peaceful fish that won't harass or bully them. Good tank mates for black moors include other fancy goldfish, small groups of shoaling fish, and large, slow-swimming fish.
Other suitable tank mates for black moor goldfish are:
Other black moors (buy the fish in groups of at least two for companionship)
Catfish
Avoid housing black moor goldfish with fin-nipping tank mates like tiger barbs, betta fish, and angelfish.
Keeping Black Moor Goldfish Together
Because this variety of Goldfish is so docile, you can keep them in groups without them displaying signs of aggression.
Diet and Feeding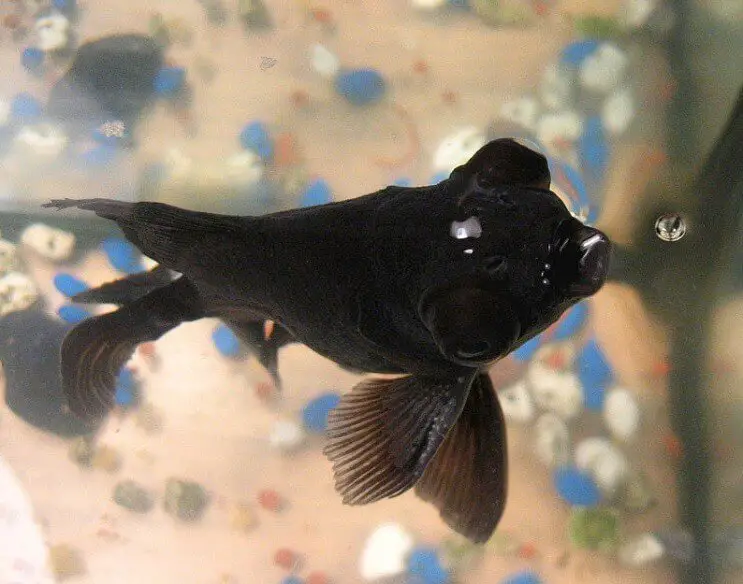 In the wild, the black moor goldfish's breed-parent, the telescope goldfish, eats insects, vegetable matter, small crustaceans, and detritus. Feed black moor goldfish a similar, varied diet in captivity.
The bulk of the fish's diet should be dried flakes or pellets. These foods are cheap to buy in bulk and provide a range of nutrients. Feed your fish live or frozen foods like brine shrimp, daphnia, and bloodworms, several times a week.
Green vegetables like blanched spinach, lettuce, and broccoli support the fish's digestive system and should be provided at least once a week.
Feed your fish twice a day, providing enough food that can be eaten in two minutes. Don't overfeed these fish because they're prone to obesity and related health conditions like bloat and swim bladder disease.
Breeding
Breeding black moor goldfish at home is easy, even for people with no prior fish breeding experience. The fish reach sexual maturity at about one year old.
To successfully breed a pair of black moor goldfish, follow these steps:
Set up a separate breeding tank with identical water conditions and decorations to the home tank.
Add a healthy male and female fish to the breeding tank. To mimic the seasonal changes that trigger spawning in the wild, slowly increase the temperature by 3 degrees per day until the temperature is 75°F.
If the male is interested in breeding, he will court the female by swimming around her in circles for several days.
An interested female will develop and release eggs on flat surfaces around the tank. Females can lay up to 10,000 eggs at once.
The male will brush over the eggs and fertilize them with his milt — a reproductive fluid containing sperm.
Once the male has finished fertilizing the eggs and moved away from the area, remove both the parents and return them to the home tank to prevent them from eating the eggs.
Remove the unfertilized eggs from the tank with a small scoop or net to avoid polluting the water. Healthy, fertilized eggs are clear-colored, while unfertilized eggs develop fungus and turn white.
The eggs will hatch three to five days after they're fertilized. Feed the fry small iron- and protein-rich foods, like baby brine shrimp, until the fry are about two months old.
When they're two months old, the fry can be moved to separate tanks and fed an adult fish's diet.
Should You Get a Black Moor Goldfish for Your Aquarium?
Black moor goldfish are unique, peaceful fish that are good pets for beginners and experts alike.
You should get a black moor goldfish if you have a suitably-sized freshwater tank that houses peaceful, slow-moving fish. Don't get a black moor goldfish if your tank contains territorial fish, aggressive fish, or fish that are known to nip this goldfish's long, flowing fins.
As long as you keep the black moor's water conditions clean and don't overfeed this goldfish, it should be a stunning, entertaining addition to your tank that will thrive for at least 10 years.