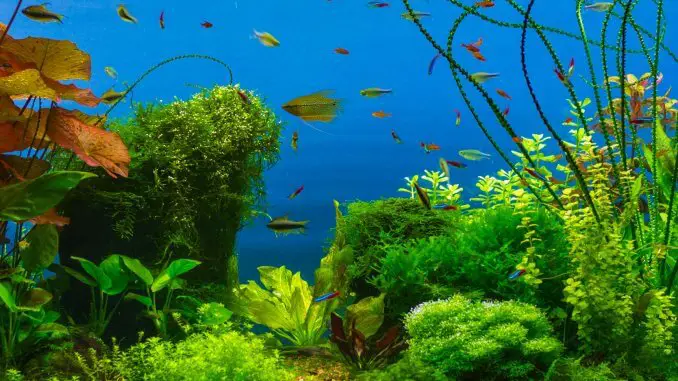 A 50-gallon tank gives you so much flexibility and freedom to keep many different types of fish. From freshwater tanks to paludariums – this one can do it all.
Or maybe you want to maintain a reef tan, no problem. There is plenty of space to replicate the ocean waters in this tank.
In this article, we cover everything you need to know about 50-gallon tanks, from stocking choices to the best tanks currently on the market and much more…
All You Need to Know About 50 Gallon Fish Tanks
PRODUCT
FEATURES
LATEST PRICE

1. SeaClear Acrylic Aquarium Combo Set

Combo includes aquarium, reflector and electrical 24″ light fixture
Acrylic aquariums are clearer than glass, 17 times stronger, and only half the weight!
More impact resistant and less prone to chipping or cracking than glass, making it safer around children and pets
Safe for Salt or Freshwater
You won't believe how your fish and decorations will pop when viewing this beautiful SeaClear aquarium

Check Price

2. SeaClear System II Acrylic Aquarium

Made from Acrylic which is stronger than glass and harder to scratch.
The setup is really easy – it even comes with picture instructions.
There is plenty of space to add more equipment in the back.
This tank is lightweight and doesn't weigh as much a as glass tank.

Check Price

3. AquaSprouts Garden

The AquaSprouts Garden is a self-sustaining aquarium & aquaponics kit for the home, office or school
Fish fertilize the plants. Plants clean the water for the fish. Fits any standard 10-gallon aquarium
Grow a variety of veggies, herbs, greens and decorative plants all year long
Perfect tool to explore how our natural environment works. Specialized teacher curricula available
This updated model includes adjustable drain extenders to quiet water flow

Check Price

4. Eheim Jager Aquarium Thermostat Heater

Fully submersible
Thermo safey control protects against running dry
Will automatically turn off when water level dips too low
TruTemp dial recalibrates the heater for precise temperature regulation
Made of shock resistant and shatter proof glass for fresh or marine water

Check Price

5. Penn Plax Cascade 700 GPH Canister Filter

Quick easy push button self-primer
Independant 360 degree rotating valve caps
Sturdy tip-proof base
Flow rate cut-off valves adjust water flow

Check Price

6. Flipper 10/20 Gallon Aquarium Stand

Get an aquarium stand that fits your needs with the Flipper 10/20 Gallon Aquarium Stand
Made of laminated MDF and particleboard, the medium brown woodgrain finish gives the Stand a classic look
Unique patent design can support a 10 gallon stand on one end or a 20 gallon stand on the opposite end. Tank is not included

Check Price

7. Aqueon Products-Glass-Aqueon Hood Led- Black 36 Inch 21108

Designed with your aquatic pets safety and health in mind
Materials designed in the USA
Quality driven, Competitive Price and Ease of use with Aqueon
Note:This product is made to fit 36" tanks. The fixture needs to be a bit smaller to fit an aquarium of 36 inches due to the trim on an aquarium. This product comes from the manufacturer saying 36 inch for this reason

Check Price
A 50 gallon aquarium is a very versatile tank – it provides enough space for a large number of fish as well as several even bigger types of plants.
It's a very flexible choice, allowing you to experiment with multiple types of setups. You can consider a species only tank, community tank or even a paludarium (more on setups later).
Probably the first shape that comes to mind when you think about this tank is a rectangle. However, now you can find square tanks, circular tanks or even one with a gradient!
What is important to remember is that once in a while you will need to allocate quite a bit of time for cleaning and maintaining the tank.
To make this easier there are various tools available, starting from ordinary pumps to help with draining to magnetic sponges to make cleaning easier. Alternatively, you can consider species that will help you with this task, like plecos or Corydoras.
These tanks are easily found and are popular with beginners and veteran aquarium hobbyists alike.
The price will depend on your choice of supplier and also where you live, as shipping can bump up the cost. On average, you will be looking at $200+, although this is generally the price for the bottom-tier tanks. You will also need to buy additional equipment – this will vary between $75 and $125.
50 Gallon Fish Tank Dimensions
Dimensions (W x L x H) of a 50 gallon tank should ideally add up to 11550 inches cubed. Usually, it would measure 36″ in length, 18″ in width, and 19″ in height.
The length here plays an important role, as it would be the primary factor determining the setup of your tank and also what species you will be able to keep- the longer, the better.
The Best 50 Gallon Tanks Reviewed
SeaClear Acrylic Combo Aquarium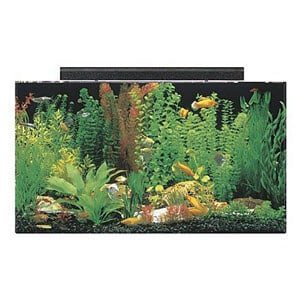 One of the cheapest aquariums available yet still maintaining a high quality and dependable aquarium.
This is the choice for a 50 gallon aquarium. It is a combo set, meaning that it includes both the tank, and reflector and a light fixture.
The tank is made from acrylic which is stronger than glass and around half the weight. For a tank this size, weight matters!
Acrylic makes it less prone to scratches and cracks, so this tank is perfect for busy homes with children and pets. The seams are pretty much invisible, and it comes with a lifetime guarantee. It also comes in three different color options; black, clear, or blue background.
You will need to add all your own equipment to this tank which is ideal if you have a preferred brand for heaters and filters.
Pros:
Comes with the best warranty in the industry.
Very reasonably priced.
Acrylic is very clear allowing you to see your fish perfectly.
This tank holds its temperature better than glass tanks.
Cons:
Only has a light fixture, no light.
You need to move the light fixture to feed the fish.
It is difficult to find a stand that perfectly fits this tank.
SeaClear Acrylic 50 Gallon Tank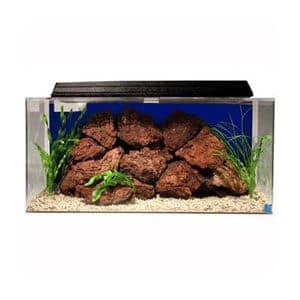 This acrylic tank comes with an inbuilt filter, hood and light fixture. With invisible seams, this tank is ideal for both beginners and experts alike.
Our second choice is another SeaClear tank. They pride themselves on providing the best quality acrylic aquariums around.
This kit is ideal for beginners who want a simple setup and don't want to add their own equipment. It comes with a tank, built in filtration, and a hood with inbuilt lighting.
The system has a wet/dry biological filtration system which is built into the back of the aquarium. There are chambers to accommodate biological, mechanical, and chemical filter media. There is also space to include your own heater and protein skimmer if you want to set up a saltwater tank.
This all in one aquarium is really simple and easy to set up, you just need to add water.
The dimensions of this tank are 36 x 15 x 16 inches.
Pros:
Made from Acrylic which is stronger than glass and harder to scratch.
The setup is really easy – it even comes with picture instructions.
There is plenty of space to add more equipment in the back.
This tank is lightweight and doesn't weigh as much a as glass tank.
Cons:
The openings at the top are quite small.
Can be tricky to feed the fish without moving light fixture.
You need to add your own lighting.
Starfire 50 Gallon Aquarium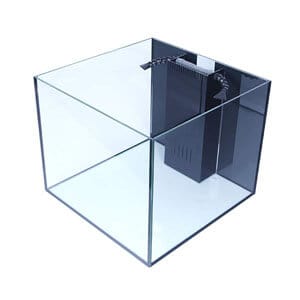 This rimless tank is one of the best reef aquariums, with all the plumbing and cabinet included.
This tank is ideal for aquarists who want to set up a reef or marine tank.
It comes as a complete package and includes the choice of a black or white cabinet. The cabinet is heavy duty and has two hinged doors.
This package also includes a sump, skimmer, and return pump, as well as all the tubing piping, bulkheads, and filter media which you need to get started with.
One of the only things which is not included is the light, which you will have to buy additionally.
Tank dimensions are: 24 x 24 x 20 inches, so its almost a perfect cube shape.
Pros:
This is a premium quality tank.
The sump is fantastic quality.
Great value for money.
The stand comes assembled.
Cons:
The overflow is quite bulky.
There are no instructions for the sump.
The skimmer will need replacing if you plan on heavily stocking your tank.
Tank Equipment
Heater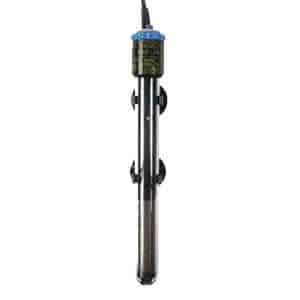 This top of the range, yet affordable heater is one of the most well-known and widely used heaters in the industry.
The heater is by far one of the most important pieces of equipment in your tank.
Before getting a heater, make sure that you know what temperatures your fish need, and make sure all your inhabitants can tolerate the same temperature range.
If you are sticking to the popular tropical setup, then the temperature is likely going to be between 75°F and 82.5°F. You can easily find a suitable tank heater online or in a store.
Filter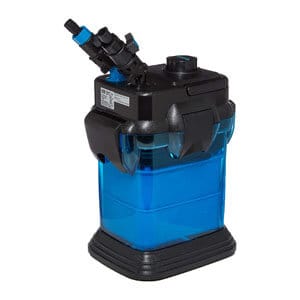 The Penn Plax Cascade 700 is the ideal filter for a tank of this size. Its powerful 3 stage filtration system is easy to set up and maintain.
You should be aware of what your fish require in terms of water filtration. Remember that filters not only take care of the waste but most of the time create a current as well.
In a 50 gallon aquarium, you can install almost any type of filter; internal or external.
The thing you should pay attention to though is their filtration capacity. Preferably, your filter should cycle the water in the tank about 3-4 times in an hour.
Stand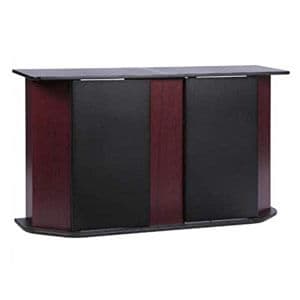 This deluxe fish tank stand has reversible panels and doors allowing you to customize the color of your stand.
This is optional but very handy.
Aquarium stands are used to stabilize large tanks and also to organize and store equipment – many stands have a plumbing compartment right underneath.
They come in all shapes and sizes.
Ultimately, it all comes down to where your aquarium is going to be showcased. If that is your house or apartment, a wooden stand will probably look the best.
Hood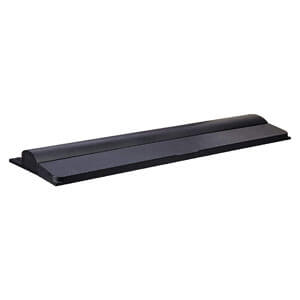 This hood will fit most standard-size 50 gallon aquariums and is designed to tightly fit inside the rim of the tank.
The hood for a 50-gallon fish tank is another handy addition. It becomes even more practical when you have very active fish.
If you don't have a hood, fish can end up outside the tank, easily leaping out of the water and over the wall.
Deciding which one you need is key to building a well-rounded tank. As good lighting is usually needed, choosing the right hood becomes even more important.
50 Gallon Fish Tank Stocking Suggestions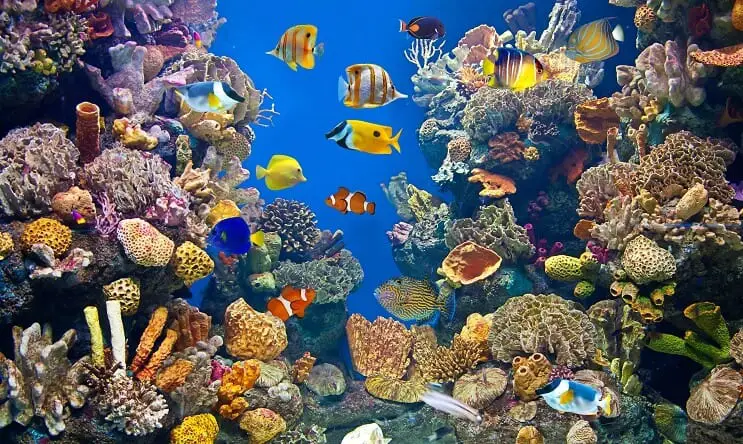 You can experiment a lot with a tank this size – it will be a wonderful choice for a community, species-only, reef tank, paludarium, or a simple saltwater aquarium.
The size of this tank allows you to keep a good range of different fish. You can even keep some other non-fish inhabitants, such as crabs, shrimps, or snails. All of this gives you an incredible amount of freedom!
50 gallons is plenty of room for the majority of species. Whatever fish you want, chances are they are compatible with a tank this size. Let's look at ideal fish for a tank like this before discussing setup options.
Stocking Suggestions
You can keep a whole range of beautiful Cichlids, including African, Dwarf, and Malawi. For most Cichlids a 50-gallon tank is going to be more than enough.
Cichlids are some of the most beautiful fish, for example, Peacock Cichlids.
If you are not big on Cichlids, consider another large group – Gouramis. They offer the same amount of color and liveliness, just without aggression.
On average you will be able to keep around 20 Gouramis in this tank.
Take a look at Paradise Fish, Pearl Gourami, Snakeskin Gouramis, or Red-backed Paradise. The best part about keeping small fish in a larger tank is that you can fit a lot more in.
Alternatively, you can go back to the roots and get yourself a couple of goldfish. To keep it fresh, try a pair of Orandas.
Remember that you can always go marine. There is a lot of good-looking saltwater fish that will fit nicely into your tank. The iconic Blue Tang or one of the most interesting and vivid fish in the world, Mandarinfish, will be great in a 50 gallon set up.
Now that you know your stocking choices, let's talk about setup choices.
Community Tank
One of the most popular choices (especially for a bigger tank like this) is a community aquarium.
Community tanks usually consist of several different species, that peacefully swim alongside each other and a couple of plants.
Most of the fish that we have mentioned above will be more than suitable for this kind of setup.
However, you will first need to decide whether you want a freshwater or a marine aquarium. The plant choice will also depend on that.

Species Only Tank
Another good setup idea is a species-only aquarium. This is usually done when you have particularly large fish that you want to keep or if you are just obsessed with one species.
Generally, this is going to be with fish like Angelfish, Oscar fish, or other Astronotus fish.
Alternatively, it can be aggressive fish that don't really get along well with each other, such as Bettas or Barbs. You can explore the great variety of other fish available and decide for yourself – just remember to make sure that you have enough space.
Paludarium Tank
Last but not least is the Paludarium setup. This is 50/50 and contains both aquatic and terrestrial plants as well as animals. It can also be home to a range of both freshwater and brackish fish.
It is entirely up to you to decide how you want to set it up, what animals to get and what plants to place. By far the biggest advantage of this setup is the diversity of life that you can include – fish, turtles, snails, reptiles, and even small crustaceans!
Just remember you should not focus too much on any part in particular – keep it varied and modest.
Even though you will only have a couple of individuals species-wise, combined, all of the animals together will bring a whole lot of diversity into your aquarium.
How To Set Up A 50 Gallon Fish Tank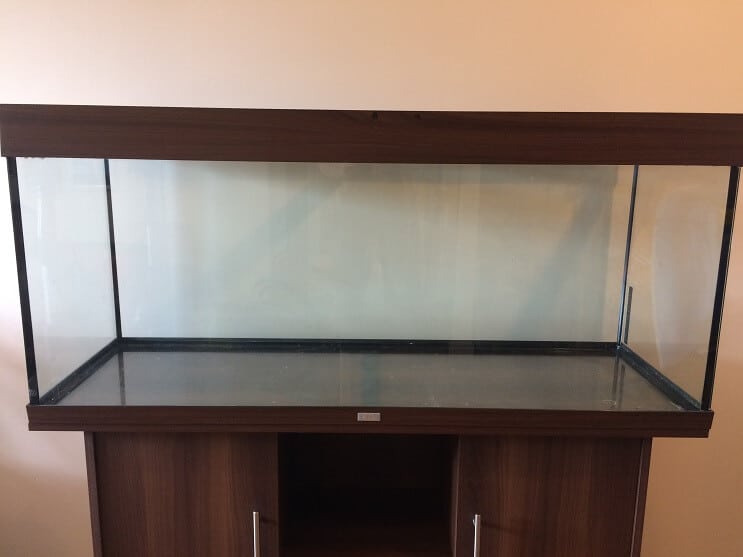 Setting up a 50 gallon tank is quite easy. There are only a couple of steps you should follow, the rest of the process will depend on the type of tank you're trying to establish.
First, you need to decide on the setup and whether your aquarium will be saltwater or freshwater.
This is important because some of the equipment required will be slightly different. And of course, for a marine tank, you will need to get the appropriate amount of salt.
When you get the tank, make sure you clean it properly. Tanks that come from stores may seem sterile, but they may not be.
After cleaning the tank it's time to set it up.
Firstly, you will need to find a suitable place for it. These tanks are heavy to move when they are empty, let alone full of water! So make sure it's level and is placed away from direct sunlight and any heat sources.
After the tank is where you want it to be, it's time to add the substrate.
Depending on the substrate, apply a cover for the base or leave it uncovered. Now, simply add the substrate and distribute it evenly, so it covers the bottom of your aquarium.
Now that the substrate is done, let's talk about other essentials.
When it comes to choosing the equipment, make sure to check the water requirements of your fish, plants as well as any other aquarium inhabitants. Normally, a powerful internal or external filter with a quality filtering medium and a good light is needed.
In addition to the equipment, you should also consider getting some supplements to maintain water chemistry. In larger tanks like this, relying only on a filter might not be enough. Supplements that support stable water chemistry can include anything from anti-algae to nutrients.
Finally, we get to the fun part, adding your fish. Make sure that water conditions (temperature, chemistry, nutrients, substrate, furnishing, lighting) in the tank are stable and safe before adding them.
To avoid stressing your fish, don't take the fish out of their original packaging straight away. Leave them in their bag and every ten minutes or so, slowly add tank water until the bag is full.
Then you can release the fish into the water.
Summary
A 50-gallon tank is an ideal choice regardless of your previous experience. It can support a wide range of setups, so there is no need to worry about restraining yourself.
Whether it's a species only or a community tank, you will be able to successfully arrange all that in this tank. The only thing that might cause some inconvenience is cleaning, especially if you keep very demanding or large fish.
That should not scare you away though, with the right equipment this will take nearly as much time as cleaning a 5 gallon tank.
Our favorite 50-gallon tank is SeaClear's Combo Aquarium, it is the perfect choice for most people.
Let us know in the comments section below if you have any questions…