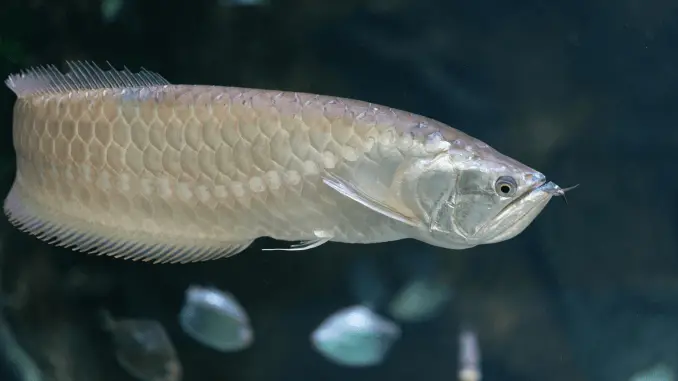 The silver Arowana is a freshwater fish of the Osteoglossidae family. Native to South America, the fish inhabits the waters of the Amazon, Essequibo, and Oyapock river basins.
Silver arowanas are desired by many aquarists because of the fish's massive size, silverish color, and aggressive temperament. Silver arowanas aren't good community fish and require large aquariums and special care to stay healthy and thrive.
Silver Arowana Facts & Overview
| | |
| --- | --- |
| Scientific name | Osteoglossum bicirrhosum |
| Common names | Bony-tongued fish, monkey fish, dragon fish |
| Distribution | South America |
| Size | 3–4 feet |
| Life expectancy | 10–15 years |
| Color | Silver |
| Diet | Omnivore |
| Temperament | Aggressive |
| Minimum tank size | 300 gallons |
| Temperature | 75–85°F (24–29°C) |
| pH | 5.0–7.5 |
| Hardness | 1–8 dGH |
| Care level | Advanced |
| Breeding | Mouthbrooder |
Origin
The silver Arowana (Osteoglossum bicirrhosum) is a freshwater fish native to the black and white floodplains of South America. Silver Arowana are found in the Amazon, Oyapock, and Essequibo basins.
Silver Arowana inhabit very calm waters and swamps in shallow flooded areas and can't swim through rapidly moving waters. This fish species isn't listed on the IUCN Red List of Threatened Species.
Adult Size & Lifespan
Silver arowanas have long bodies and grow up to 3 feet long in captivity and up to 4 feet long in their natural habitat.
Male and female silver arowanas are of similar size and don't have distinctive external differences. Although challenging, sexting adult silver arowanas is possible with meristic comparison.
The silver Arowana has an average lifespan of 10 to 15 years in captivity and up to 20 years in its natural habitat.
Availability
The silver Arowana is occasionally available in most pet stores. Silver arowanas are popular with fish keepers and are often out of stock.
These online stores currently have a stock of the silver Arowana:
A 4- to 6-inch-long silver arowana costs from $50 to $200 and an 8- to 10-inch-long silver arowana costs from $280 to $320.
Appearance & Behavior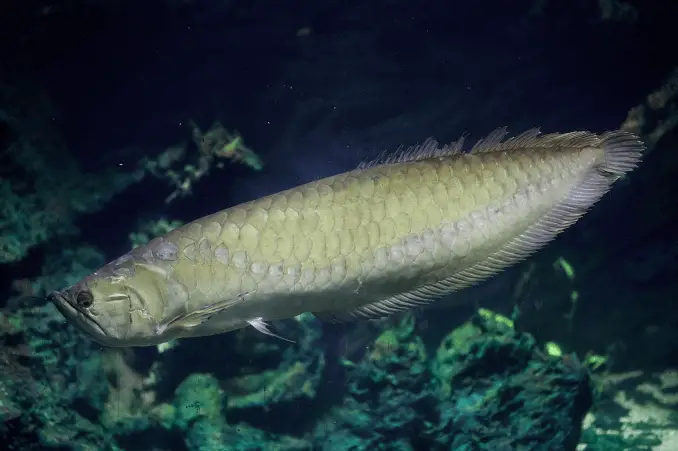 The silver arowana's slender silverish body makes this species popular among fishkeeping enthusiasts. Silver arowanas are solitary fish that look majestic while swimming in a tank.
Colors, Patterns, Fins, and Sex Differences
Silver arowanas have long and lithe bodies similar to the band fish's body shape. Silver arowanas appear wide when viewed from the front, and thin when viewed from the side.
The silver arowana's fins are the fish's most distinctive trait. Dorsal and anal fins extend along most of the fish's body to an unusually small tailfin. The tailfin is a single fin but it appears connected to the anal and dorsal fins. This fish species has thin pectoral and pelvic fins.
The silver arowana has two distinct barbels at the tip of the lower jaw. These barbels act as sensory devices and help the fish detect and catch prey.
The fish's mouth is located at the top of the body and opens like a drawbridge. This trait allows the silver arowana to swallow large prey quickly. The fish has a bony tongue, and its jaw, palate, tongue, and pharynx are covered with teeth.
The silver arowana is a pale silver color. Large opalescent scales cover the entire body and become highlighted in red, green, and blue as the fish ages. The most popular color morph of silver arowana, the albino silver arowana, has strong yellow or orange coloring and translucent pink eyes. The scales of juvenile silver arowanas have a slightly bluish tint.
Sexting silver arowanas are challenging because males are the same size and color as females. The main difference between male and female silver arowanas is that males are typically slenderer and have a longer anal fin.
Typical Behavior
Silver arowanas are one of the biggest predators in the aquarium trade. Juvenile silver arowanas can be kept together with other fish species, but adults try to eat any fish that can fit in their mouths. Although silver arowanas can't coexist with smaller fish, they might tolerate fairly large and slightly aggressive fish species as tank mates.
This freshwater fish likes to stay near the water's surface, waiting for prey. Silver arowanas are commonly referred to as monkey fish because they jump from the water to catch prey. Despite their predatory natures, silver arowanas are easily startled by sudden movements — this species' aquarium should be kept in a low-traffic area.
Silver Arowana Tank Requirements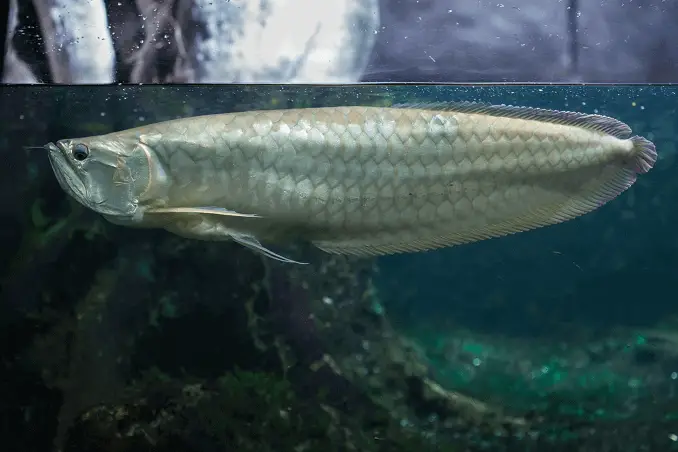 The silver arowana is challenging to care for. This fish species is recommended for experienced aquarists who can accommodate the fish's specific needs.
Set up the silver arowana's tank to mimic the fish's natural habitat. A very large tank with a secure lid, high-quality water, and a strong filtration system makes the silver arowana feel at home. Although the Amazon river is full of plants, silver arowanas prioritize swimming space over a lush living environment, so plant the tank sparingly.
Silver arowanas are omnivores, and plant matter makes up only a small part of their natural diets. In the aquarium, the silver arowana eats feeder fish like minnows, crabs, crickets, shrimp, and sometimes larger flakes or pellets.
Habitat and Tank Setup
The silver arowana is a hardy tropical fish. The species is tolerant of pH changes and hard water in captivity, which reflect the fish's habitat conditions in the wild.
These fish grow fast and need a lot of space to swim freely. In their natural habitat, silver arowanas jump out of the water to catch food, and may also try to jump out of the aquarium. A wide, shallow tank with a secure lid prevents the silver arowana from gaining momentum and jumping out of the aquarium.
The silver arowana inhabits clean, clear water. Because of their massive size, the fish produce a lot of waste and benefit from regular water changes and a powerful filtration system. Recreate the fish's natural environment by using a powerful filtration system that doesn't produce strong water movements. Set the water outflow tube near the bottom of the tank to create slow-moving water conditions. Change 50% of the water weekly to maintain good water quality.
The silver arowana needs space to swim and occupies the upper levels of the aquarium. Aquascape the silver arowana's tank sparingly, arranging the plants around the back of the tank and leaving the middle section open.
Cover the bottom of the tank with gravel and anchor the plants into it. Use driftwood or rocks to decorate and create hiding places in the tank.
Tank Conditions
The minimum tank size for an adult silver arowana is 300 gallons. For juvenile silver arowanas, the minimum tank size is 55 gallons. The silver arowana has a rapid growth rate, so it's better to start this fish off in a larger tank that can support the fish's fast growth.
Failing to provide the right tank size for a silver arowana leads to many problems, including stunted growth. Small aquariums make these fish stressed, claustrophobic, crowded, and aggressive.
Fill the silver arowana's tank with soft fresh water. These fish are used to living in warm water, so maintain the water's temperature within 75 to 85°F.
The silver arowana is found in slightly acidic water conditions. Keep the pH level inside the rank between 5.0 and 7.5. Fill the tank with clean, fresh water at a hardiness level of 1 to 8 dGH. Although these fish tolerate some fluctuations, keep their tank water parameters within the recommended range.
Water type – Soft, freshwater
Tank size – Minimum 300 gallons
Water temperature – 75 to 85ºF
Substrate – Gravel
Tank setup – Plants, driftwood, rocks
Acidity – pH 5.0 to 7.5
Water hardness – 1 to 8 dGH
Filter – Yes, silver arowanas produce a lot of waste and need a strong filtration system to keep the tank clean
Bubbler – No, an air pump isn't necessary unless the silver arowana gasps for air at the surface of the tank or is kept in a small tank
The silver arowana needs a large tank and lots of space to swim freely. Perform weekly water changes and set up a strong filtration system to maintain good water quality and keep the aquarium clean.
Common Silver Arowana Health Issues and Diseases
Silver arowanas are hardy fish and rarely get sick in a well-maintained tank. However, lack of space, poor water quality, and stress increase the risk of these fish getting sick.
The silver arowana may develop the following conditions:
Dropsy — Caused by fluid buildup inside soft tissues and fish's body due to a bacterial infection. This condition is more common in juvenile silver arowanas. Treatment for dropsy includes antibiotics and quarantining sick fish
Physical injury — Caused by rubbing against sharp objects, which can damage the silver arowana's barbels. To prevent injuries, remove all sharp objects from the tank, including sharp rocks and pointy pieces of driftwood
Drop eye syndrome — Occurs when the eyeball is tilted downward, causing the fish to always look down. Silver arowanas tend to develop drop eye syndrome from looking for food on the bottom. Surgery is the only cure for this condition. Placing colorful balls on the surface of the tank will encourage the silver arowana to look up and help prevent drop eye
Silver Arowana Tank Mates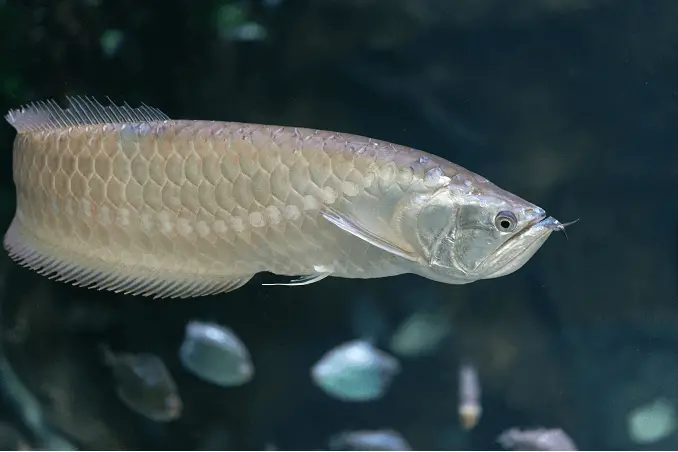 Finding suitable silver arowana tankmates is challenging. Silver arowanas usually don't get along with other silver arowanas unless they're housed in a huge tank where they can stay out of each other's way. To create a small community, choose large, semi-aggressive tank mates that are able to defend themselves against a silver arowana.
Suitable tank mates for the silver arowana are:
Parrotfish
Large catfish
Large plecos
Jaguar cichlids
Pacus
Bichirs
Green terror cichlids
Non-fish aquarium species, like snails and shrimp, aren't good tank mates for a silver arowana because the silver arowana might eat them.
Silver Arowana Diet and Feeding
The silver arowana is an omnivore and plant matter makes only a small portion of its diet. In the wild, silver arowanas feed on smaller fish, insects, and insect larvae. Silver arowanas have been known to eat anything that can fit in their mouths, including rodents, birds, snakes, and monkeys.
These fish aren't picky eaters and eat all kinds of live food. In captivity, feed a silver arowana a healthy diet of live and frozen foods. The fish thrive on a varied diet that consists of feeder fish, shrimp, night crawlers, red worms, earthworms, and crickets.
Sometimes silver arowanas accept dry diets, so try feeding them flakes and pelleted food to give the fish a balanced diet. Feed juvenile silver arowanas two to three times a day and adults once a day. Only feed what the fish can eat within two minutes.
Breeding the Silver Arowana
Breeding silver arowanas in captivity is challenging. These fish have a long courtship period and spawn only once a year, during the flood season, in December and January. Most silver arowanas sold in stores are bred on fish farms in South America.
During courtship, which lasts from one to two months, silver arowanas display their fins, circle, and nip one another. Before spawning, a bonded pair builds a nest for a female to lay the eggs in. The male fertilizes the released eggs and scoops them in his mouth, where they'll stay for two months until the egg sacs have been absorbed.
The fry is fairly large when it emerges from the male's mouth. Feed the fry with feeder fish and brine shrimp two to three times a day.
Should You Get a Silver Arowana for Your Aquarium?
The massive and majestic silver arowana is an icon in the fish world. Beautiful to look at, the fish is solitary and needs a spacious aquarium to move freely and thrive.
The silver arowana is a hardy fish, best suited for experienced fish keepers with the space, time, and resources to keep it healthy and happy.
Silver Arowana FAQs
Here are some common questions about silver arowana care:
Are Shrimp Good for Silver Arowanas?
Yes, shrimp are good for silver arowanas. Shrimp are highly nutritious and are an excellent source of protein. Feed the silver arowana shrimp as a part of a balanced and varied diet to support the fish's growth and overall health.
What Is the Best Food for Silver Arowanas?
The best food for silver arowanas includes earthworms, shrimp, small fish, large insects, frogs, crustaceans, and nightcrawlers. In the aquarium, feed the silver arowana a healthy and varied diet of frozen and live foods. Offer the fish pellets and flakes if it's willing to eat dry food.
Are Feeder Fish Good for Silver Arowanas?
Yes, feeder fish are good for silver arowanas. Feeder fish, like minnows, are a good option for juvenile and adult silver arowanas. Minnows are a great source of protein and fatty acids, which are necessary to sustain such a large fish as a silver arowana.
Does the Silver Arowana Fish Bite?
Yes, the silver arowana is known to bite people. Some silver arowanas may bite aquarists during feeding and cleaning times. To avoid being bitten during feeding, try different feeding techniques or use prongs to keep your fingers safe from the silver arowana's teeth.
Is the Silver Arowana Hardy?
Yes, the silver arowana is a hardy fish. Silver arowanas tolerate water changes in pH level and water hardiness and are unlikely to get sick in a well-maintained aquarium. Perform regular water changes, keep the tank clean, and feed a varied and balanced diet to keep the silver arowana healthy.
Do Silver Arowanas Need Light at Night?
No, silver arowanas don't need light at night. Silver arowanas are diurnal fish, meaning they are primarily active during the day and asleep at night. Turn off the lights in the evening to allow the fish to rest overnight.