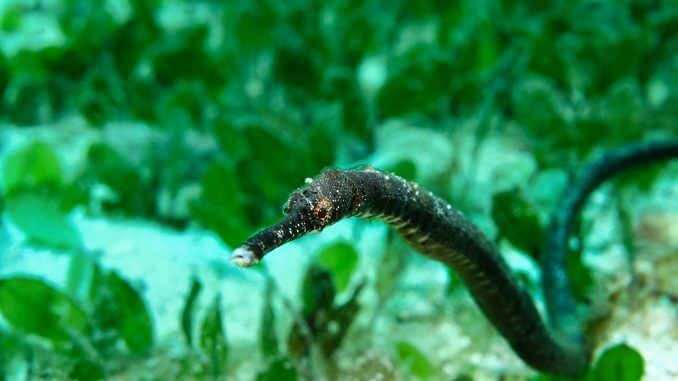 Pipefish, together with seahorses, form the family Syngnathidae.
They often get overshadowed by the seahorse, however pipefish are also very unique looking in their own right.
Pipefish would suit those moderate or experienced fish keepers who are looking for something a little bit different.
They require a good understanding of diet and care.
In this article, we are going to take a look at the different species of pipefish, how to care for them, their diet, tank requirements and compatibility with other fish.
If you are looking for a quick summary, have a look at the facts table below before reading on to see if they are suitable for you.
Pipefish Facts & Overview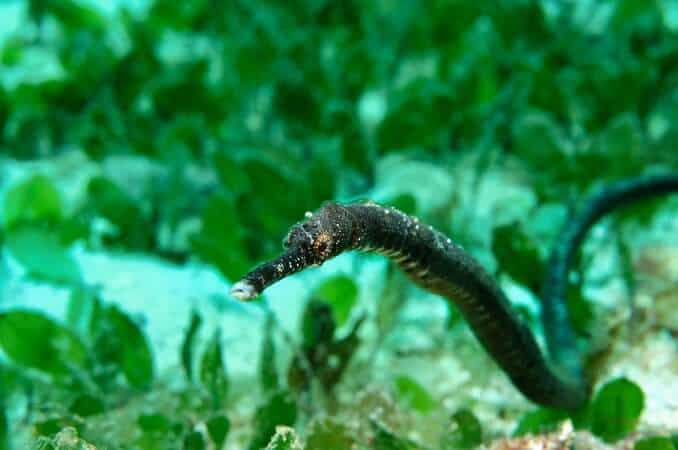 | | |
| --- | --- |
| Category | Rating |
| Care Level: | Difficult |
| Temperament: | Depends on species |
| Color: | Red, blue, yellow, brown, and black |
| Lifespan: | 5-10 years |
| Size: | Up to 8 inches |
| Diet: | Carnivore |
| Family: | Syngnathidae |
| Minimum Tank Size: | 30 gallons |
| Tank Setup: | Mature reef: rocks, caves, and gentle currents |
| Reef Compatible: | Depends on species |
| Compatibility: | Only other pipefish or seahorses |
Pipefish belong to the same family as seahorses (Syngathidae), and while they aren't one of the 47 types of seahorse, they share many of the same similarities.
They can be purchased for around $18 (depending on its size) and can grow up to 8″ long.
Typical Behavior
You can expect to see a wide variety of behaviours from your pipefish.
Sometimes they will slither through the grasses and across the floor in a serpent like manner, usually when they are searching for food.
If you have any vertical plants in your aquarium, pipefish are experts at blending in and mimicking their environment so you can expect to see them adopting a more vertical position with their head down, in an attempt to creep up on their prey.
You may also see your pipefish moving quickly in a horizontal bullet like manner when they spot prey that they are hoping to catch.
Because of this behaviour Pipefish can be very entertaining to watch, especially when you have a pair.
Appearance
Pipefish have a similar shaped head and snout to the seahorse. Their mouths are small, narrow and toothless and create a vacuum to suck tiny crustaceans in.
Their bodies look quite different to that of the seahorse though.
Pipefish have slender, straight, bodies which are able to camouflage well with seagrasses and weeds.
Their long, rigid bodies look like they have armor plating around them which protects them from predators.
Although they are better swimmers than their distant relatives, they are certainly not strong swimmers. They move around slowly as they only have a tiny dorsal fin, mostly using gentle currents, and require frequent rest.
Some species have a prehensile (capable of grasping) tail, but many do not.
Pipefish come in a wide variety of colors and there are over 200 species.
Most people, who keep pipefish in their aquariums, opt for brightly colored fish in shades such as purple, orange, red, green black, and brown. There are even some pipefish that can change color in order to adapt to their surroundings.
Habitat and Tank Requirements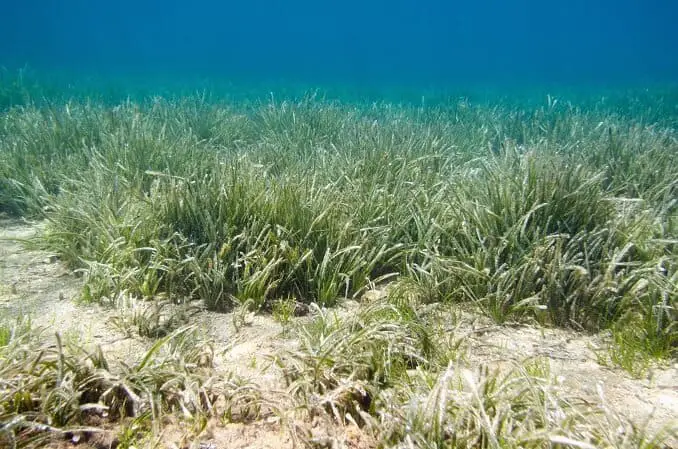 The majority of pipefish are found living in tropical and subtropical salt water.
In the wild, they typically inhabit lagoons, eelgrass, seagrass and coral reefs. They use the grass and reefs for camouflage, both to protect themselves from predators and to suck in their unsuspecting prey.
There are a few species that can survive in freshwater too, however, this is quite unusual and most prefer marine or brackish water.
Pipefish require a slow water current to move and get around as they are quite poor swimmers.
How does this transfer to your tank setting?
Tank Conditions
The preferred setup for pipefish is a saltwater tank with plenty of rocks, grass, and coral to hide in.
You'll also need to include plenty of caves and overhangs to provide shelter, with lots of colour to replicate the natural environment they are used to.
Pipefish are best being kept in pairs or groups and the tank should be a species only tank, or with their relative – the seahorse.
Pipefish originate in tropical waters, and so the water should be kept between 72oF – 77oF.
The pH balance of the water should stay between 8.1 and 8.4, with a carbonate hardness (dKH) of 8-12 and a specific gravity of 1.020-1.025.
Pure water has a pH level of around 7, so Pipefish require alkaline water.
Pipefish are visual eaters and so they need good lighting in order to find food.
Care
Pipefish are a difficult bread to care for, especially for new fishkeepers.
For this reason, many people avoid pipefish because they think they are VERY difficult to care for.
The truth is, some species of Pipefish are, but there are a number of species which are suitable for the average fish keeper to include in their aquarium.
These include, those pipefish with a less aggressive nature such as the Dragonface Pipefish.
Perhaps people think they're difficult to look after because they don't handle the transition from wild to captivity well. This is mainly due to them not being fed properly during transport.
However, after the initial difficulty of transporting and transferring a wild pipefish to the aquarium, they can be quite resilient and thrive in a range of different aquarium environments.
When you select your pipefish, you need to look out for signs of bacterial infections.
The pipefish should not have any cloudiness in its skin, fins or eyes. Ensure that the pipefish is not rapidly breathing too.
Rapid breathing could be a sign of distress, for example if they have only recently been transferred from the wild to captivity, however it can also be a sign of a bacterial infection.
Typically, pipefish bred in captivity are a lot hardier than those caught in the wild. However, there are currently very few pipefish being bred in captivity other than hobby breeders.
Be on the look out for common saltwater diseases since PipeFish can pick them up in an aquarium just like any other species.
For example, Saltwater Ich (or Ick), also known as White Spot Disease. This is caused by a parasite called Cryptocaryon irritans and is characterized by white spots appearing across the affected fish's body.
Other symptoms include respiratory difficulties, fatigue, and a loss of appetite.
The are many medications available from pet stores to treat this disease, and other common ones.
Copper medicines tend to be the most effective, but be aware that the copper can cause problems for invertebrates.
Use a quarantine tank to complete the treatment process before returning them to your main aquarium. This helps to reduce the spread of the disease between your fish and avoid negative impacts of medicines on tank mates.
Diet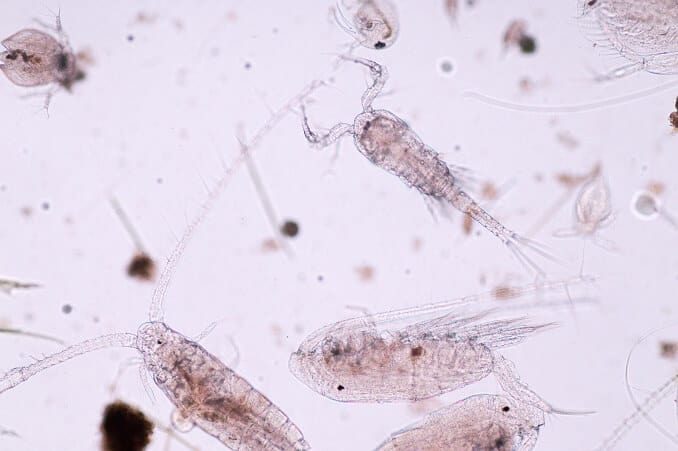 Pipefish are visual eaters and so they need good lighting in order to find food.
Pipefish are not great at competing for food and for this reason they should be kept in a tank with only other pipefish or seahorses.
They are carnivores and use their long snouts to suck in small crustaceans, plankton, and other live foods such as small shrimp, copepods and amphipods.
Larger pipefish will sometimes eat small fish, and freshwater pipefish will sometimes each insect and worms.
In general, pipefish are great at getting into all the nooks and crannies due to their slim body shape, however they have a short digestive tract so they need to feed little and often or they run out of energy very quickly.
To maintain a good diet in a pipefish aquarium, the tank should be well established, with lots of live rock and macroalgae to house large pod populations.
When you introduce your pipefish into the aquarium, you should make sure you have a number of different live foods at the ready (even if you've seen them being fed with frozen food, a new environment may set them back and they may not eat frozen food).
Your pipefish will need a variety of live foods, to provide them with a complete nutritional diet.
You should select foods that originate from a marine environment as they are rich in Highly Unsaturated Fatty Acids.
Freshwater organisms lack these acids, so if you choose to feed your pipefish with freshwater live foods, they need to be enriched with products which contain the fatty acids; such as Vibrance which contains unsaturated fatty acids, vitamin C and many other minerals.
Here is a summary of the different live foods that are suitable for your pipefish.
| Food Type | Description |
| --- | --- |
| Amphipods | These segmented crustaceans are present in most tanks, and often on filter pads. To make this most of this food source, you can place a small plastic box filled with algae which allow them to hide away and breed. |
| Baby Brine Shrimp | In the first 12 hours of hatching, they have a yolk which has some nutritional value to pipefish. They should be fed to the pipefish when they first hatch. |
| Brine Shrimp | This is the most common food given to pipefish, yet it has no nutritional value so is one of the worst foods to feed them. Pipefish have a short digestive tract so can't absorb any of the very few nutrient available. They can be enriched, but should not be used as a staple food. |
| Cleaner Shrimp Larvae | If you put a pair of these in your tank they will produce small larval shrimp (they are hermaphrodites so no need to sex them). This will create and endless supply of shrimp larvae for your pipefish. |
| Copepods | Copepods are the best food for small pipefish, however they are not easy to culture and may go unnoticed by pipefish because they are so tiny. There are three types which are suitable for pipefish; calanoid, cyclopoid and harpacticoid, the latter being the easiest to culture. |
| Ghost Shrimp & Other Clear Shrimp | Commonly found in rivers and streams, they make great food. They are usually available at fish stores. Like Brine Shrimp, if used as the main part of the diet, they need to be enriched. |
| Isopods | Great seahorse food and good Pipefish food. Be cautious of parasites on the isopods, a tell-tale sign is having large eyes. |
| Mysis Shrimp | A great food which is not often refused. Mysis Shrimp reproduce unbelievably quickly, every 1-2 weeks. |
| Red Shrimp | This food is very rarely refused by pipefish however they are difficult to get hold of and can only be bought online. They're near impossible to culture at home because of their slow reproduction rate. |
Unless you have a very large tank, you may find that there is not enough space or natural food in the tank for your pipefish.
This is a very common problem and unfortunately starvation can sometimes go unnoticed until it's too late with Pipefish.
This is why some people choose to also use frozen foods and to also enrich the foods to offer them a complete nutritional diet.
You may be able to transition your pipefish onto frozen food, but some pipefish don't recognize this as a food source despite attempts at retraining them.
If your pipefish do take to frozen food you should choose the smallest products possible due to the limited size of their mouth. Frozen mysis and frozen cyclop-eeze are the best types you can use.
You can also get most of the live foods listed above in frozen form. Use a cheese grater to make the food small enough for your pipefish to eat.
It's important to be aware, that many wild pipefish refuse frozen foods altogether.
If you plan on keeping wild caught pipefish, you should make sure that you are dedicated to sourcing live food for the span of their life. This can be anywhere from 5 to 10 years.
If you plan to enrich the food, this should be tailored to your tank and the types of food you're already offering your pipefish.
Top-Tip
You should feed your pipefish small amounts, three times a day. It's important not to over-feed them because it can go un-eaten and make your tank dirty very quickly.
Pipefish Species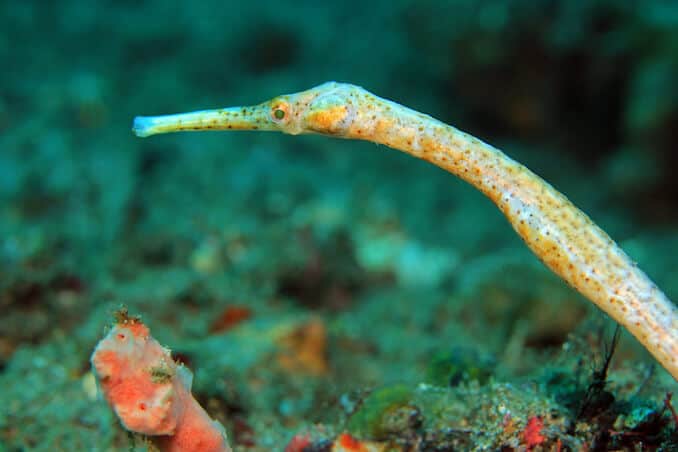 With over 200 species of pipefish available, only a few of them have been tried and tested in tank conditions.
The most common pipefish for aquariums are Flagtail pipefish and Dragonface pipefish.
Flagtail pipefish are split into two types; Dunckerocampus spp. And Doryrhamphus spp. Flagtail pipefish are fantastically coloured.
Doryrhamphus spp. do well in reef tanks, however, they are aggressive to their own kind.
Dunckerocampus spp. are much more peaceful and less aggressive and in some instances can be kept in groups. However, they are much more difficult to ship and they contract bacterial infections quickly.
The typical pattern is that the smaller the species, the more aggressive it is.
Flagtail pipefish
I'll give you a brief overview of each Flagtail pipefish species in the summary below.
| Species | Description |
| --- | --- |
| Bluestripe Pipefish (Doryrhamphus excisis) | This is one of the most hardy types of flagtail pipefish and a great choice for Pipefish beginners. They are around 3" long but despite their small size they are active and need a large area. Be careful housing two together, choose two, one of each sex, that are of similar size or they may fight each other to death. |
| Janss Pipefish (Doryrhamphus janssi) | A great reef aquarium pipefish. Larger than the bluestripe pipefish, not as aggressive but still a fighter. Should not be mixed with any other doryrhamphus species. Spends most of its time swimming upside down. |
| Banded Pipefish (Dunckerocampus dactyliophorus) | The most common type of pipefish in the Dunckerocampus category. Better to buy from a captive breed source. Usually live in pairs happily; however there have been reports of aggression. |
| Yellow Banded Pipefish (Dunckerocampus pessuliferus) | Doesn't have a great chance of survival in captivity. Only advisable for expert and dedicated aquarists. |
| Multibanded Pipefish (Dunckerocampus multiannulatus) | Not a common fish in the hobby. Will readily fight with other males. |
Dragonface pipefish (Corythoichthys spp.)
There are 12 recognized species of Dragonface pipefish but only three of them are regularly seen in the hobby; The Network Pipefish (Corythoichthys flavofasciatus), the Scribbled Pipefish (Corythoichthys intestinalis), and The Messmate Pipefish (corythoichthys haematopterus).
Dragonface Pipefish, like many other species do not handle shipping well either and if they aren't fed frequently enough are unlikely to survive.
Many places that stock these fish do not differentiate between the different species, they are just labelled as 'dragonface pipefish'.
The care is the same for all the species.
Dragonface pipefish need to live in large aquariums with lots of macrofauna and live food as they rarely learn to feed on frozen food.
The tank should be at least 30 gallons.
They like to live in pairs and, if you have a tank large enough, can live in groups.
Compatibility
Pipefish are best kept in an aquarium with only pipefish or seahorses. It is possible to keep them with other fish, but it is not recommended.
If you do choose to keep them in an aquarium with other fish, ensure the fish will not compete for their food.
Pipefish are slow swimmers and find it difficult to compete with faster fish for their food.
You should avoid aggressive and territorial fish at all costs.
In no circumstances should pipefish be kept with puffers, maroon clowns, or clams.
Depending on the species, pipefish should either be kept alone or in pairs.
Some people manage to keep pipefish in groups but you should only do this if you are an experienced aquarist and have a large enough tank.
As a guide, you should allow for 20 gallons of water per Pipefish.
It's quite a spectacle if you keep them in groups because they will often cling onto each other's tails and create a long train.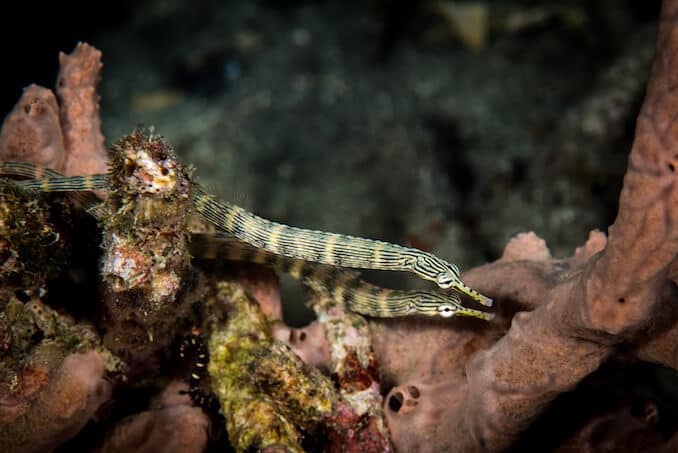 Breeding
It is the male pipefish that carry the young, and depending on the species they are either carried on a spongy area on the tail, or a pouch.
In order to mate, the pair will go through a number of rituals and then need to be traveling at the same speed.
The female will then deposit her eggs. The female does this with a number of males in order to increase the chances of offspring.
Young Pipefish are left to fend for themselves immediately, so many do not survive. Only 1% of Pipefish live to reach maturity and continue the life cycle.
In an aquarium, it is safest to catch the baby PipeFish and separate them from anything that might want a small snack.
The young are very delicate, so maintaining a clean environment is crucial for raising them. Perform partial water changes every day to prevent the build-up of pollutants.
Some success has been had by feeding the fry live copepods and other plankton before forcing them to switch to frozen foods once they are fully grown.
Is the Pipefish Right For You?
You probably have a good idea now whether or not the pipefish is ideal for you, but let's do a quick recap.
Are you looking for a slightly alternative and unusual fish?
Do you have a large enough tank? It should be at least 30 gallons for a single pipefish.
Does your tank have a food source which is great enough to sustain the pipefish? If not, do you have access to live food?
Do you have a tank specifically for pipefish only?
Do you know how to choose a healthy looking pipefish? (e.g. No cloudy patches, rapid breathing etc…)
If you answer yes to all of the questions above then the Pipefish would make a great pet for your aquarium.
If you already keep pipefish, or are thinking of buying one, we'd love to hear from you below!