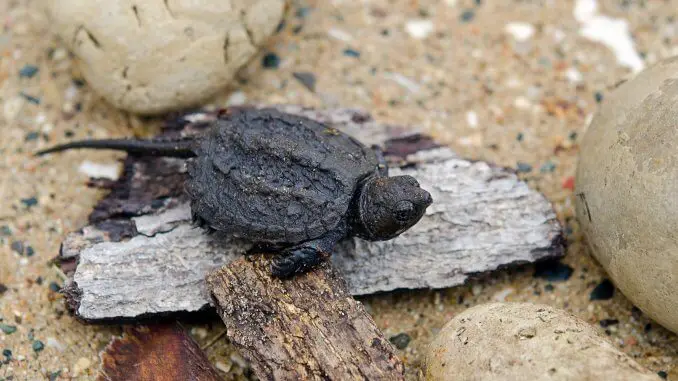 The baby snapping turtle is a freshwater turtle of the Chelydridae family. These turtles look similar to alligator snapping turtles, but alligator snapping turtles are bigger and heavier.
Baby snapping turtles are around 15 inches long with light brown, oval-shaped shells, and yellowish tails, legs, and necks. Despite their small, cute appearance, these turtles are aggressive predators that often fight to the death.
This species of turtle is popular amongst aquarists due to its entertaining behavior, but the turtles can't be housed in community tanks due to their aggressive nature.
Baby Snapping Turtle Facts & Overview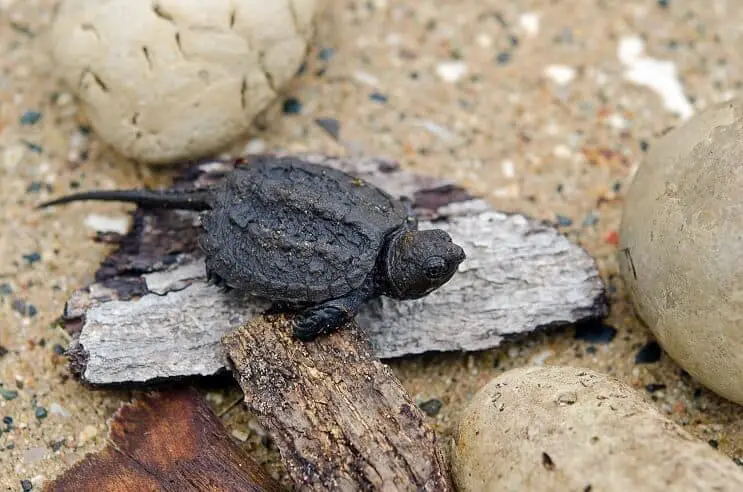 | | |
| --- | --- |
| Scientific name: | Chelydra serpentina |
| Common names: | Baby snapping turtle |
| Distribution: | North, South, and Central America |
| Size: | Up to 20 inches |
| Life expectancy: | Up to 40 years |
| Color: | Brown shell and orange or yellowish skin |
| Diet: | Omnivore |
| Temperament: | Aggressive |
| Minimum tank size: | At least 100 gallons for a baby, 150 gallons for a full grown turtle |
| Temperature: | 72–78°F (22–25.5°C) |
| pH: | 6.8–7.2 |
| Hardness: | 6–12 dGH |
| Care level: | Moderate |
Origin
The baby snapping turtle is commonly found in North, Central, and South America, including Ecuador, Mexico, New England, and eastern Canada.
Baby snapping turtles live in fresh or brackish swamps and streams, and are part of the snapping turtle family.
Adult Size & Lifespan
Fully-grown baby snapping turtles are up to 20 inches long and weigh up to 75 pounds, although the average weight of snapping turtles in captivity is about 35 pounds. Males and females grow to the same size.
The average lifespan of a baby snapping turtle is between 40 and 50 years. In the wild, due to threats to their habitats, baby snapping turtles only live for up to 30 years.
Availability
Baby snapping turtles are widely available in reptile stores online. The typical cost of a baby snapping turtle is $10–$45.
You can buy a baby snapping turtle from the following stores:
Appearance & Behavior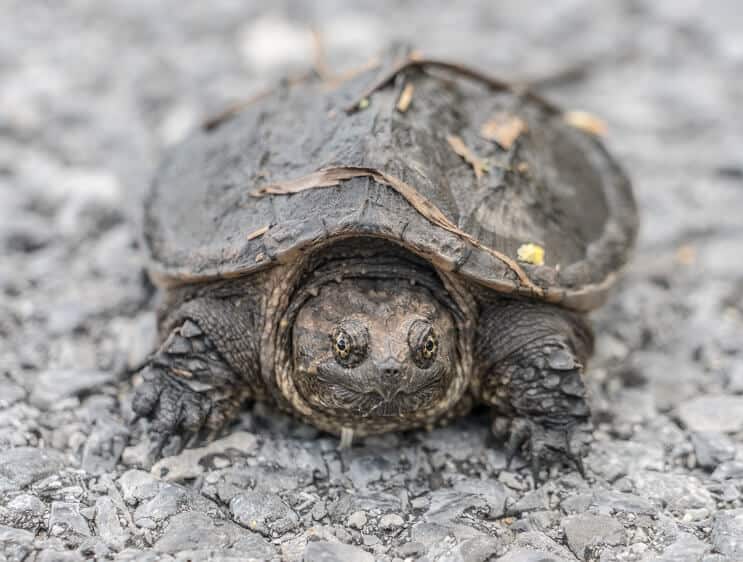 Baby snapping turtles have brown or olive-colored bodies and aggressive personalities.
Colors, Patterns, and Size
The baby snapping turtle shell comes in brown and orange, while the skin can be brown, orange, or yellow. The belly region of the turtle is mottled with brown and orange colors.
The baby snapping turtle has an oval-shaped carapace that's widest at the back. Hatchling snapping turtles have more circular-shaped shells than adults.
Baby snapping turtles have large heads, small, black eyes, and sharp, hooked beaks that they use to kill prey. The turtles have webbed feet with sharp claws, and long, jagged tails. Male baby snapping turtles have thicker and longer tails than females.
Typical Behavior
The baby snapping turtle is an aggressive species that usually lives alone in the wild. To prevent fighting in captivity, baby snapping turtles should be housed in separate tanks.
Baby snapping turtles spend their time swimming around, hunting for food, and relaxing above the surface of the water. The turtles are known to hiss and snap at things in their environment if they feel threatened.
In the wild, baby snapping turtles are nocturnal creatures that burrow in the sand or hide when stalking prey or hibernating, but the turtles are unlikely to exhibit this behavior in captivity.
Baby Snapping Turtle Tank & Water Requirements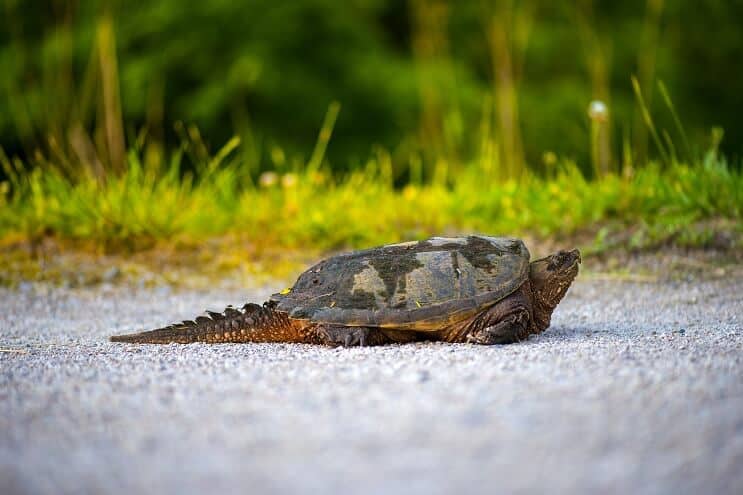 Baby snapping turtles are used to living in fresh or brackish warm waters with plenty of swimming and basking space. In captivity, the turtles need a large, water-based tank with a pebbly substrate, a basking area, and good filtration.
Habitat and Tank Requirements
Baby snapping turtles need a 10-gallon tank while they're still hatchlings. When they reach full size, the turtles should be housed in a tank of at least 150 gallons, or an outdoor pond. Provide at least 10 gallons of water for every 1 inch of the turtle's shell length, so a 20-inch-long turtle should be housed in a 200-gallon tank.
The water in the tank should be deep enough for the turtle to swim, but not too deep — the turtle should be able to lift its head out of the water while sitting on the bottom of the tank.
The substrate should be round sand or gravel, with a covering layer of silt, at least 3 inches deep.
Place a flat rock on the substrate at one end of the tank to give the turtle an optional platform to climb fully out of the water. A large log or a basking dock can also be used as a basking area.
Plants aren't essential for a turtle tank, but hornwort and java fern are good options for decoration. Don't add more than two or three plants to the tank, and don't compromise open swimming space.
Water Conditions
Keeping the water clean with a high-power filter is one of the most important aspects of raising a baby snapping turtle. As the turtle grows, it produces more waste, and a good filter maintains hygienic water conditions.
This guide shows the ideal tank and water conditions for a baby snapping turtle:
| | |
| --- | --- |
| Water type: | Slightly acidic, highly oxygenated freshwater |
| Tank size: | Minimum 150 gallons for a fully-grown turtle |
| Water temperature: | 72–78°F |
| Substrate: | Smooth, pebbly |
| Tank setup: | Large rocks, branches, plants |
| Acidity: | 6.8–7.2 pH |
| Water hardness: | 6–12 dGH |
| Filter: | Yes, a strong filter is required to remove waste from the tank |
| Bubbler: | Yes, to provide aeration in the tank |
| Lighting: | Not essential because baby snapping turtles get their UVB requirements from their diet, but a UV lamp of 10% or less can be used |
| Water heater: | Yes, to keep the water warm |
Care & Diet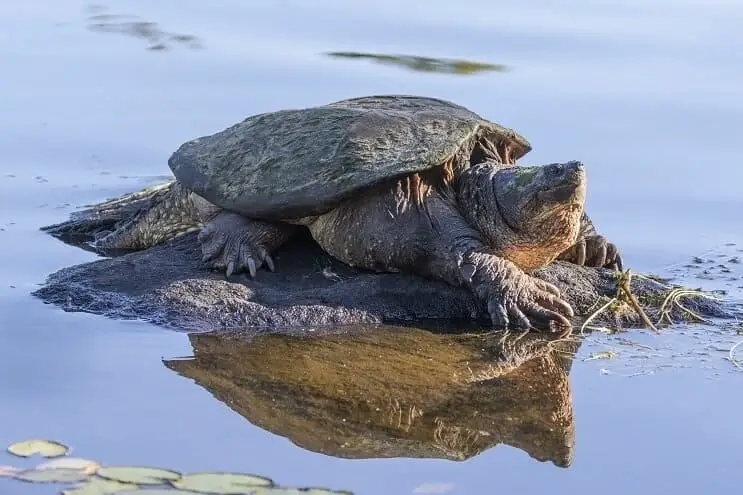 Baby snapping turtles are hardy and easy to care for. Feed baby snapping turtles a combination of live and artificial foods. Some of the common diseases that affect baby snapping turtles are fungal infections, shell rot, and hypovitaminosis A.
Diet and Feeding
In the wild, baby snapping turtles are omnivores and eat whatever they can find, including fish, small turtles, reptiles, invertebrates, and plants. Mimic these turtles' diet in captivity with commercial turtle food and live food.
Provide enough food for a baby snapping turtle to eat within 15 minutes. Remove leftover food to prevent the turtle from overeating and to maintain good water quality.
Small fish, shrimp, and pre-killed rodents are good live or frozen foods to feed a baby snapping turtle. Pellets and flakes provide a complete nutrition source.
Plant-based foods to include in the turtle's diet are water lettuce, duckweed, freshwater plants, and cut-up fruit.
Optionally, dust the turtle's food with multivitamin and calcium supplements to provide additional nutrition.
General Care
Baby snapping turtles look after themselves and don't have any social needs, but they produce a lot of waste, so keeping the tank's water clean is essential. As long as you use a good tank filter and feed the turtle a healthy, varied diet, it is easy to raise a baby snapping turtle.
Common Problems
Some of the common diseases and health issues affecting baby snapping turtles are:
Shell Rot
Shell rot occurs when parts of the turtle's shell deteriorate, and is usually caused by chemicals in the water or poor water quality. To treat shell rot, remove the turtle from the water and remove the dead areas of the shell. Apply antibiotics like silver sulfadiazine cream as recommended by your veterinarian.
Prevent shell rot by maintaining clean water conditions and carrying out partial weekly water changes.
Fungal Infections
Dirty water and insufficient basking are the most common causes of fungal infections in a baby snapping turtle. Fungal infections cause white blotches on the turtle's skin. Speak to your veterinarian about suitable anti-fungal treatments for the turtle's infection.
Keeping on top of waste removal is the best way to avoid fungal infections.
Hypovitaminosis A
Hypovitaminosis is caused by a lack of vitamins. The most common hypovitaminosis in turtles is hypovitaminosis A, which affects the turtle's vision, reproduction, growth, and immune function. Signs of this condition are swollen eyes, a runny nose, and rasping breathing.
Treat a vitamin A deficiency by using supplements and ensuring the turtle eats plenty of foods containing vitamin A, including commercial foods, leafy greens, and live fish.
Is a Baby Snapping Turtle Dangerous?
Baby snapping turtles are known to bite when they're threatened, and their teeth are powerful enough to cut through skin. These turtles don't attack unless provoked or the turtles feel like they're in danger. To stay safe, don't handle a baby snapping turtle.
Baby snapping turtles are also aggressive to other turtles, so this species should be housed alone.
Breeding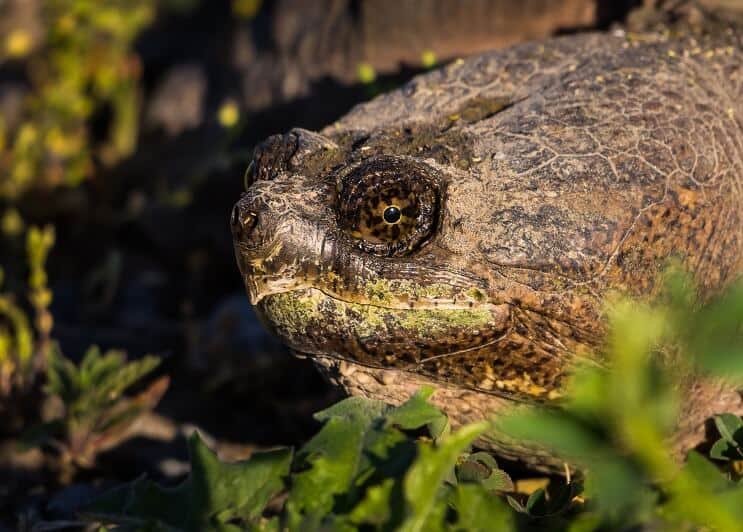 Baby snapping turtles reach sexual maturity when they're about 6 inches long. Males reach this size at about five years old, and females reach this size at between six and seven years old.
The process of breeding baby snapping turtles is:
Choose a healthy male and female baby snapping turtle.
Lower the water temperature gradually, week by week, to stimulate
brumation and get the turtles ready for mating
Cautiously introduce the male and female to a breeding tank with the same conditions as the home tank. The male will aggressively force itself on the female. If the male is being too aggressive, separate the turtles
In the case of successful breeding, the pair will mate in the water. Remove the female and place her in a cage with moist, soft soil
After several weeks, the female will become restless and dig in the soil to build a nest, then lay the eggs
The eggs should be incubated in the position that they were laid by the mother for up to 80 days before they begin to hatch
It takes several days for all the hatchlings to leave their eggs. Once the hatchlings are crawling around, place them in a large enclosure
Tank Mates
Almost all fish, reptiles, and small turtles are seen as prey by baby snapping turtles so, ideally, the turtle shouldn't be housed with tank mates.
However, if you want to add baby snapping turtles to a community tank, the ideal tank mates for these turtles are fast-swimming fish that have a chance of avoiding being eaten, like:
Should You Get a Baby Snapping Turtle for Your Aquarium?
Baby snapping turtles are lively, entertaining reptiles, but these turtles are not suitable for all people and environments.
You should get a baby snapping turtle if you have the space to house a single turtle in a large tank, and can provide healthy food and top-quality tank filtration.
Don't get a baby snapping turtle if you want to add a turtle to a busy community tank. Baby snapping turtles eat fish in the wild, and the turtles will view their tank mates as food.
Despite their incompatibility with most other species, baby snapping turtles are fun, unique turtles that are enjoyable to watch even as a single species in a tank.