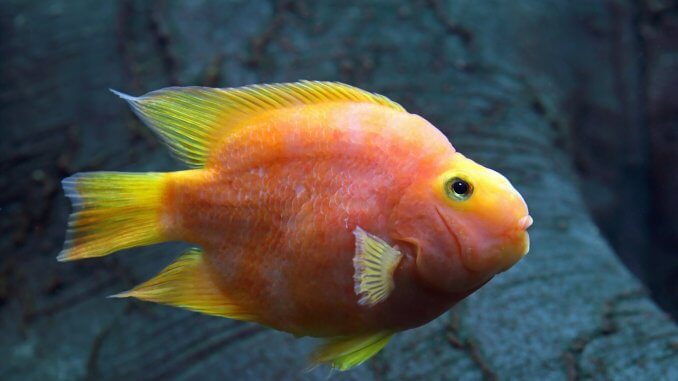 The blood parrot cichlid is a freshwater fish of the cichlid family. Blood parrot cichlids are hybrids between the redhead cichlid and midas cichlid. Blood parrot cichlids have beak-shaped mouths with googly eyes, broad fins, and bright orange scales.
A blood parrot cichlid is a peaceful fish that works well in community tanks. Blood parrot cichlids are popular because they're beautiful and can recognize and respond to aquarists. However, the fish is unpopular with some aquarists due to its intermediate care level and its hybrid breeding, which causes genetic deformities.
Blood Parrot Cichlid Facts & Overview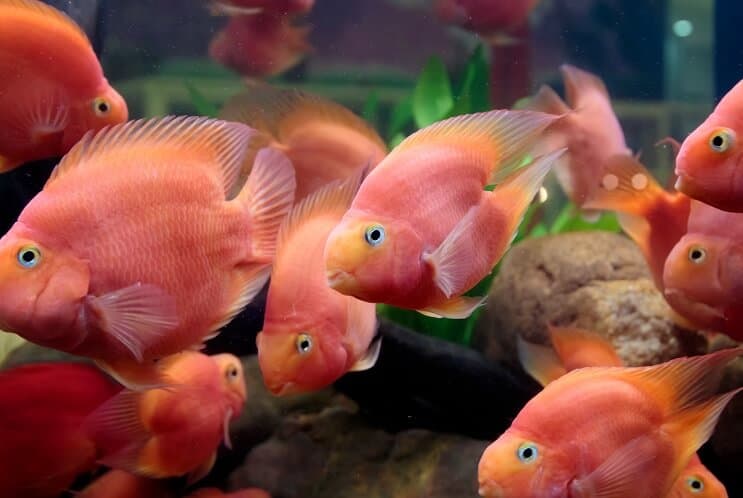 | | |
| --- | --- |
| Scientific name: | Amphilophus citrinellus x Heros severus, Amphilophus citrinellus x Paraneetroplus synspilus |
| Common names | Blood parrot cichlid, blood-red parrot cichlid |
| Distribution: | Taiwan |
| Size: | 7–8 inches |
| Life expectancy | 10–15 years |
| Color: | Bright orange, yellow, red (gray is rare) |
| Diet: | Omnivore |
| Temperament: | Peaceful |
| Minimum tank size: | At least 30 gallons |
| Temperature: | 76–80°F (24.4–26.6°C) |
| pH: | 6.5–7.4 |
| Hardness: | 3.3–6.6 dGH |
| Care level: | Intermediate |
| Breeding: | Challenging because most males are sterile |
Origin
The blood parrot cichlid is a hybrid species originating from Taiwan in 1986. The Taiwanese bred the Costa Rican midas cichlid (Amphilophus citrinellus) with the Mexican redhead cichlid (Paraneetroplus synspilus). Both cichlid parents were freshwater fish from rivers and basins.
Blood parrot cichlids also come from the hybrid between midas cichlids and banded cichlids (Heros severus) from South American freshwater basins. Blood parrot cichlids aren't found in the wild.
Adult Size & Lifespan
Blood parrot cichlids are one of the larger cichlids. Adult males reach 8 inches, while adult females reach 6 inches long. Blood parrot cichlids live 10 to 15 years. Their lifespan depends on an aquarist's care and the fish's living conditions.
Availability
Blood parrot cichlids are challenging to find in pet stores. Some exotic pet stores keep hybrid cichlids. Blood parrot cichlids range from $9.99 to $61.99. Find blood parrot cichlids at these online stores:
Appearance & Behavior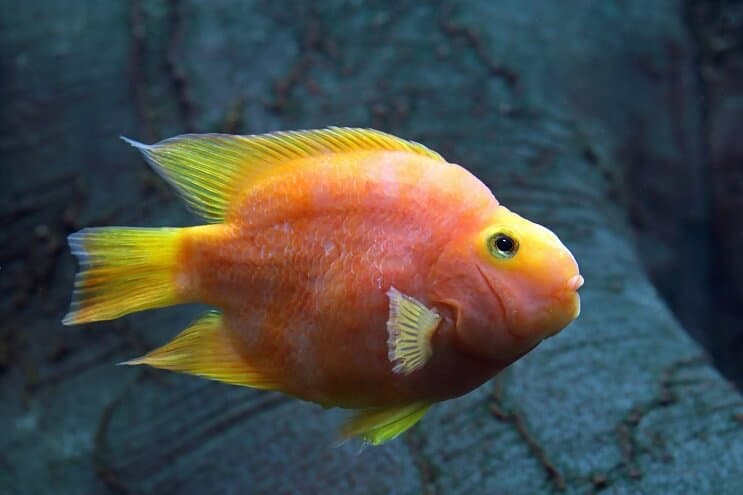 A blood parrot cichlid gets its name from its beak-like head and large eyes that look like a parrot. These cichlids are peaceful community fish with shy natures.
Colors, Patterns, Fins, and Sex Differences
A blood parrot cichlid has a beautiful bright orange body with cascading translucent fins. Some of these fish are yellow and red, and the rarest color is gray. Some breeders unethically dye their fish to obtain new colors, shortening the fish's lifespan.
Blood parrot cichlids are easily recognized by their large eyes, broad fins, and parrot-style beaks. Adult males are longer and slimmer than females, while females have plumper bodies.
Unfortunately, the blood parrot cichlid has genetic deformities from hybrid breeding. The fish's nuchal fins are enormous compared to its head. The blood parrot cichlid's small mouth opens vertically and cannot close properly, and it has a row of teeth going down its throat, which obstructs eating.
The mouth also makes self-defense more difficult, which is a problem if the fish is housed in a tank with aggressive fish.
Common appearance changes when blood parrot cichlids are ill or stressed include:
Swollen body
Cloudy eyes
Increased mucus production
Color fading
Typical Behavior
A blood parrot cichlid sleeps at night, surfs the substrate for food, loves hiding in caves during the day, and swims around the middle of the tank. These fish even recognize their owners.
Blood parrot cichlids are peaceful when surrounded by community fish and the tank has enough space. The fish becomes aggressive under stress or when housed with aggressive fish, and it acts territorial in an overcrowded tank — the species is known to nip at other fish's fins if the tank is crowded or if the other species in the tank are aggressive.
Behavioral signs that these fish are ill or stressed include:
Scratching against tank sides or decorations
Loss of appetite
Lethargy
Blood Parrot Cichlid Care & Tank Requirements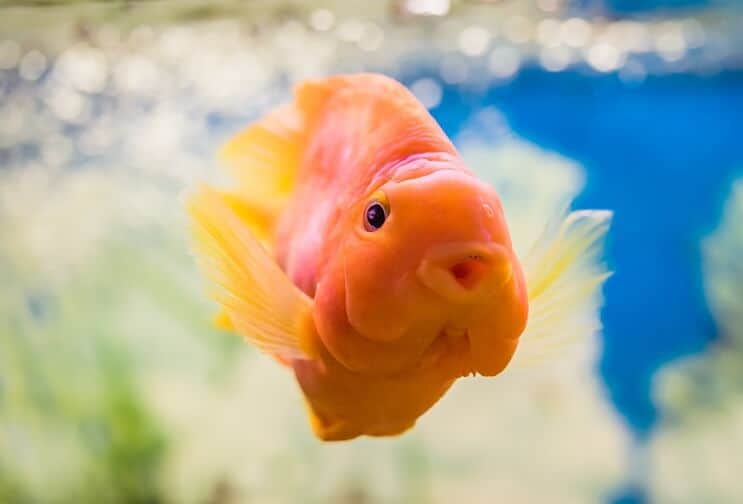 A blood parrot cichlid is best kept by at least intermediate aquarists because the fish requires specific tank conditions. This species has no natural habitat, so aquarists should closely follow experts' recommendations on food and tank requirements.
Habitat and Tank Requirements
Blood parrot cichlids are hybrid fish with specific needs that need to be met to keep them healthy. Both parent cichlid fish come from freshwater basins and rivers with plenty of space, so a blood parrot cichlid's tank should contain a soft substrate to replicate river sand.
Change 20% of the water once a week because blood parrot cichlids produce plenty of waste. Water changes keep the fish healthy and happy.
Tank Conditions
| | |
| --- | --- |
| Water type: | Freshwater |
| Tank size: | Minimum 30 gallons, add 10 gallons for each additional blood parrot cichlid |
| Water temperature: | 76–80°F (24.4–26.6°C) |
| Substrate: | Fine gravel or sand that the fish can dig in |
| Tank setup: | Driftwood, clay pots, java fern, hornwort, and anubias |
| Acidity: | 6.5–7.4 pH |
| Water hardness: | 3.3–6.6 dGH |
| Filter: | Yes, because this species produces a lot of waste |
| Bubbler: | Not essential |
Blood parrot cichlids have specific tank requirements, including the following:
Blood parrot cichlids remain healthy when the right tank conditions are maintained. This fish has the most beautiful coloration in the proper temperatures, lighting, and acidity levels.
Disease
Blood parrot cichlids are prone to some illnesses, including the following:
Ick parasites: Caused by a type of fish lice that appears as white spots on a fish. High amounts of nitrate and ammonia cause ick parasites. Prevent parasites on cichlids by maintaining appropriate tank conditions. Treatment involves temperature changes, increased salinity, quarantine, and chemical treatments, depending on the severity of the infection.
Bacterial infections: Can occur due to injuries from rocks, coarse substrate, and fights with aggressive fish. The best prevention is to keep the tank clean and house the fish with peaceful fish. Fin erosion, lethargy, and discoloration are signs of bacterial infections. Treatment includes quarantine, potassium permanganate, and temperature changes.
Swim bladder disease: Typically affects blood parrot cichlids when they eat the wrong food. Prevention is as simple as feeding them the correct food. The first sign is the fish floating differently, sometimes on its side. Swimbladder treatment includes changing diet by adding bloodworms, brine shrimp (for extra protein), and shelled peas for six weeks. An Epsom salt bath is the last resort.
Tank Mates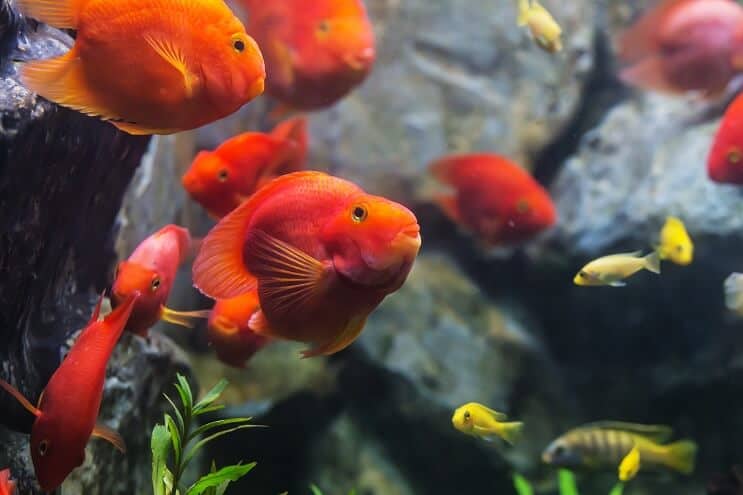 Blood parrot cichlids are excellent community fish when housed with other peaceful fish or fellow blood parrot cichlids. Never house this species with aggressive fish. Great tank mates for blood parrot cichlids include:
Diet and Feeding
Blood parrot cichlids don't exist in the wild, so they don't have a natural diet. The best food for this speices is a varied diet including both pellets and protein. Dry formulated cichlid pellets work well. For protein, feed the fish high-protein bloodworms and brine shrimp three times a week.
Blood parrot cichlids can't eat from the water's surface, so use sinking pellets. Limit the feeding time to a few minutes, three times a day. Remove the excess food to maintain proper water hygiene.
Breeding
Breeding two blood parrot cichlids is rare because the males are typically sterile. However, females still lay eggs, and the eggs can be fertilized by a rare fertile male blood parrot cichlid or by another cichlid species male. Avoid breeding with other cichlid species to avoid unknown hybrids.
Male and female blood parrot cichlids dance around each other when they're ready to mate. To help the pair spawn, ensure the correct tank conditions are being maintained — the ideal temperature is 76°F to 80°F and the acidity should be 6.5 to 7.4.
The female becomes fatter and finds a hard, flat surface to lay her eggs, if mating is successful.
The breeding pair protect the eggs by sticking around until the fries spawn, eating the fry if they get infected with fungus.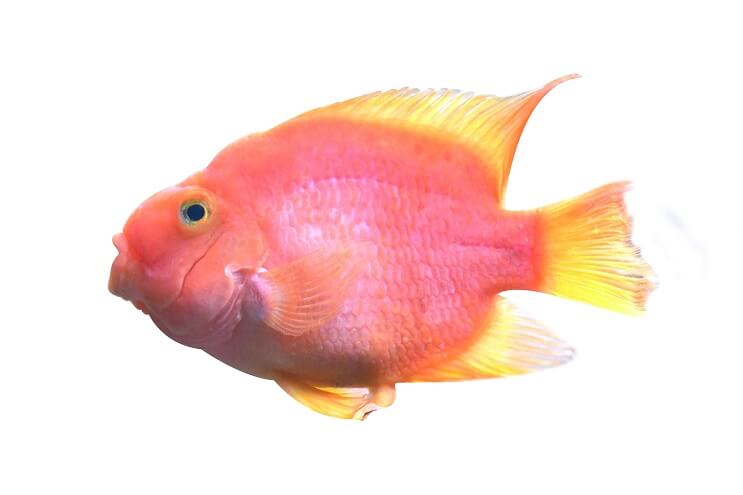 Should You Get a Blood Parrot Cichlid for Your Aquarium?
Blood parrot cichlids are gorgeous, colorful, and bird-like fish that live peacefully with other community tank mates. These active fish create beautiful color streaks in an aquarium as they swim. The blood parrot cichlid's good memory makes the fish popular with aquarists who enjoy interacting with their pet.
However, consider the slightly high-maintenance food and tank requirements before purchasing a blood parrot cichlid, and don't get one of these fish if the tank already contains aggressive species.