Welcome to Fishkeeping World. We're thrilled to have you as part of our community.
Fishkeeping world was created by a school of fish fanatics.
Our aim is to help educate anyone who wants to keep fish. Here, you can find out everything you need to know about keeping fish and aquarium maintenance.
We want to welcome everyone into our community, whether you're just starting out on your fishkeeping journey, or you are an enthusiastic fish keeper.
As Seen In:
Fishkeeping World Authors
Robert
Robert has been keeping fish for almost thirty years. He was first introduced to the world of fish through his Uncle's fascinating saltwater tank. After that, he was determined to have his own tank, and at the age of four his parents bought him his first fish tank. Since then, Roberts' love for fish has continued to grow, and he now shares this joy with thousands of others through his website, Fishkeeping World. Here he has carried out in depth research into many different species; experimenting with how to replicate both their natural habitat and diet into tanks, and has educated over 350,000 people in the past year alone.
Robert's Latest Articles
Rowan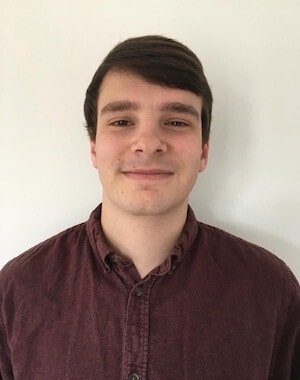 Rowan is a student from Oxfordshire, England. Fish have always been a big part of his life, he's been keeping some since childhood, and now he studies Marine Biology with an integrated master's degree at the University of Southampton. When starting to write, fish became the obvious thing to write about, since they're so involved in his life already. Other things Rowan enjoys are racket sports and board games. Though he's just beginning, Rowan hopes to keep writing about things he loves in the future.
Rowan's Latest Articles
Ryan
Ryan is a student at the University of Hawaii At Hilo. His parents allowed his love for fish to grow from a young age by filling the house with fish tanks: Lots of them. While he loved his freshwater tanks and massive Cichlid he ironically named Mercy, nothing kept his attention more than salt-water environments. This love has brought him to study Marine Sciences with a focus on conservation. When hearing about an opportunity to write about fish tanks, Ryan could not say yes fast enough. He remembers using websites like this to start his own tank and wanted nothing more than to be the one helping others start theirs. While he is still new to writing, his passion for the industry makes him eager to learn and share his knowledge.
Ryan's Latest Article
Where Should You Start?
Step One: Get in the Know
If you're new to fishkeeping, you're probably wondering what sort of aquarium you'll need, which breed of fish you want to keep and whether to choose freshwater fish or salt water fish.
If you're already keeping fish, you might be looking for specific species advice, breeding advice, or information on equipment.
Here are our post popular posts:
Step Two: Be a Part of our Community
We update Fishkeeping World regularly, so we've come up with a number of ways to keep you up to date.
Subscribe to our email list and be one of the first to hear about all things fish. From new articles on the wellbeing of your fish, to what to feed them, to expert tips.
We also post advice and photos frequently on our Facebook Page, our community is forever growing and we'd love for you to join us there.
Pinterest is also a great visual resource to check out different breeds and species. We have plenty of boards set up not only for species, but also for all your equipment needs.
And Finally…
We value each and every member of the Fishkeeping World community.
We love sharing information and advice with both newbies and old-timers, and don't forget we also love hearing from you.
So if there are any questions you have which haven't been answered on our website, or anything you'd like to share with us, we'd love to hear.
Thanks for being here!
Fishkeeping World